*Bourbon Culture is reader-supported. When you buy through links on our site, we may earn an affiliate commission.
Today I dive into my first ever review of NULU bourbon. It's been 3 years since my first run in with the brand which was a Honey Finished Bourbon that Rural Inn picked.
Unfortunately, Ray gave me a taste of it AFTER I had taken a trip to Belle Meade to get a bottle of their Honey Cask Finished Bourbon.
I didn't end up buying it because my reference point was already the GOAT of Honey Cask finishes. I found the NULU pick to be too sweet, almost like a large amount of honey was poured into each bottle.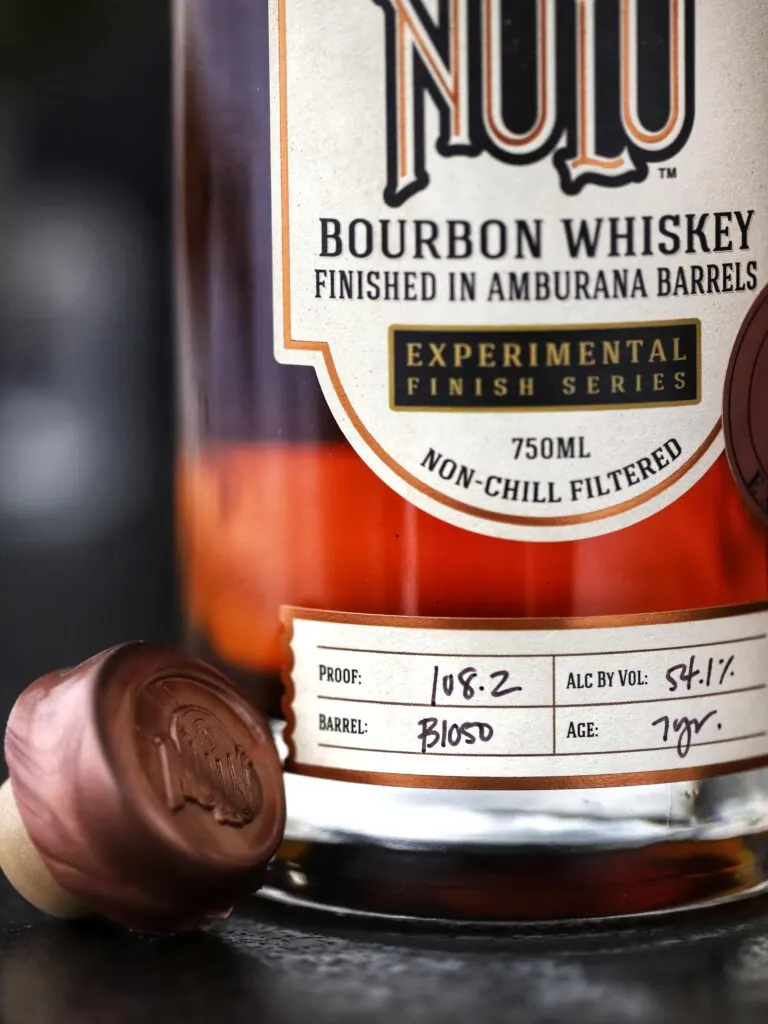 I know this sounds dumb to say, but after that experience, the NULU brand never appealed to me. It's not that I felt like they sourced inferior barrels or anything, it's just that it felt like there were already 100 Non-Distiller Producer's with 5 year old MGP bourbon to choose from.
In 2020, I was fully embracing scooping up Belle Meade Cask Strength Reserve batches. Then I moved onto Smoke Wagon Uncut + Unfiltered Batches. Then it was Stellum and Remus single barrels. NULU also never caught on with the many bourbon groups I'm part of, so there was never a FOMO effect that spread.
Plus, it was always on the shelves but it always seemed too young and too expensive – usually $65-75.
Honestly, the only reason why I'm even reviewing this bottle today is because of a generous friend. He alerted me to a nearby store called Red Barrel in Mooresville, Indiana who had received a shipment of NULU finished in an Amburana Barrel.
He's a sucker for Amburana and wanted to get a bottle before they sold out. I told him I'd pick it up for him and as a reward I got to drink some of it.
First a word on Amburana Wood: if you don't already know what it is, it's taking the American Whiskey (and beer) scenes by storm. This wood known as "Brazilian Oak" is fragrant and packed full of spices that you'd normally find in baked goods.
I've heard comparisons to Cinnamon Toast Crunch, Gingerbread and Snickerdoodles. All are accurate and yes, I'm foreshadowing here. They make barrels out of this wood that typically age a Brazilian spirit called Cachaça.
Amburana is so deeply fragrant that after only a few days can the effects be found on whatever liquid it comes in contact with. It really got the attention of whiskey drinkers after Starlight Distillery produced a bourbon and a rye that they called "Cigar Batch."
They made both bourbon and rye whiskey variants that were finished in Amburana Casks. In 2020, nobody else had anything like it. The reviews were almost entirely positive and the word spread quickly. A star was born.
These days, every distillery is fighting to get the next shipment of Amburana barrels. The only catch is that they are a restricted export item from Brazil due to the scarcity of the wood.
Only so much is allowed to be exported each year. It took over 2 years for more barrels to make their way to the United States in any kind of significant numbers.
During this time, producers have been trying to replicate the taste anyway they can; usually by adding Amburana wood chips or spirals directly into the barrel (or vat). The result is surprisingly similar to finishing in a barrel, but a barrel is always much more sexy from a marketing standpoint.
NULU was able to get ahold of some Amburana barrels recently and they went to work right away to finish some of their barrels of MGP bourbon in them.
Since they had a limited amount of them, priority was given to customers who had shown them the most loyalty. Red Barrel, a liquor store in Mooresville Indiana, saw this opportunity early on and made a big push to increase their NULU sales.
The results paid off and they were awarded a spot on the the short list to get an allotment of this Amburana finished bourbon I'm reviewing today.
Coming in at 7 years old and 108.2 proof, this bottle from their Experimental Finish Series was around $115 out the door when the final bill was rang up. To most customers, that's going to be too rich for their blood.
But for others it's comparable (and possibly preferred) to Starlight's Cigar Batch. The reason lies in the base bourbon. Starlight's bourbon is rather mediocre and relies heavily on the Amburana to make it better. Their rye whiskey version is better.
But MGP's bourbon, especially the kind that's 7 years old, is the superior choice. NULU typically sources the high-rye MGP mash bill (60/36/4) so this could be even more flavorful than I'm expecting. Will it be just as good as Starlight's? Let's find out. I sampled this neat in a glencairn.
Tasting Notes
Nose: Woah, this is like smelling literal snickerdoodle cookies. If you are the type that just wants a one word description, there you have it. Everything else will be fluff.
For those of you that desperately want me to expand more, it's really hard to find anything else outside of that, it's just so strong. I guess if I were to disect each part individually there is some caramel, vanilla, cinnamon, butter cookies, spiced honey, potpourri and sandalwood.
Oh yeah, the sandalwood is there big time. Have a wife that is always buying new candles like mine? Then you've probably smelled sandalwood.
Palate: Now I'm eating a snickerdoodle cookie. Whereas Starlight's can be described as more of a gingerbread flavor, this NULU pick is too sweet and lacking in the raw rye traits to be thought of as "gingerbread."
If there is any other flavor descriptors here, I'd say "Cinnamon Pinwheels." If you want to say Cinnamon Toast Crunch, fine. But it's not as sugary as that cereal. There is a faint amount of fruit on the palate that reminds me of raisins and citrus rind, but they're all so sweet.
I appreciate them being there because it breaks up the monotony of this cookie theme. Strangely, it's hard to get any other flavors on the back of the palate. It's like the Amburana wants all of the attention on the front of the palate.
Finish: Cinnamon spiced tea cakes. More snickerdoodle and finally a bit of gingerbread. The finish is really just a sweet and satisfying experience where everything is coated in a dust cloud of cinnamon and sugar.
There's also raisins soaked in syrup. The finish is shorter than usual, but this is somewhat common with finished my palate and finished whiskies.
Score: 7.7/10
It would be a crime to say bad things about this bottle of NULU. The nose is sweet and captivating and it's like instantly transporting yourself back to a childhood where every cookie tasted like heaven and you could eat as many as you wanted.
There are no off-notes and no sensation of youth in the underlying bourbon. If I weren't such a jerk, I'd say this is probably the perfect bourbon. But if you know me…
Final Thoughts
… then you know I always find a catch. There is one bad thing about this bourbon and that's the fact that literally all you'll find while drinking it is the notes that the Amburana wood gave it. It's hard to taste the bourbon underneath, which is a crime against that 7 year MGP.
Maybe you don't care. I almost didn't. But what I'm left with is a bourbon that's really kind of one-dimensional. Granted, if there was only one dimension I wanted to live in, it would be one where Amburana was the only thing I could taste. Your mileage may vary.
What I'm trying to say is that there is no depth when you finish a whiskey with something as strong as Amburana. Starlight's Cigar Batch, for all the more I like it too, suffers from the same fate. I guess it's part of the territory when you use barrels like this… everything tastes like a syrup additive was added in. But don't let me stop you from buying a bottle if you find one. It's going to be one of the most interesting and polarizing bottles in your collection. Sip it a little bit at a time and share it with your friends who have never had this type of finish before. If you enjoy the simple things in life and like spending $115 at a time, this bottle is for you.
Featured Products
Description:

The Aged & Ore Neat Traveler is a complete travel kit for spirits. We combined our widely praised Neat Glass with one of our 3oz Flight Bottles and housed them together in a custom EVA travel case. Perfect for a night away with your favorite pour. The tie
Description:

The Aged & Ore Bottle Flight is a premium set of 4 custom silicone wrapped glass bottles designed to transport and share samples of your favorite spirits. The flight bottles come in a custom EVA travel case that fits perfectly in any small bag. An Aged &
Description:

This Bundle combines two of our crowd favorite products, creating the ultimate travel bundle to bring along your favorite spirits and glassware. Bundle Includes: Neat Traveler (Gray) Bottle Flight (Gray) Note: This bundle is only available in gray and col
*Bourbon Culture is reader-supported. When you buy through links on our site, we may earn an affiliate commission.