Prior to this review, I've only had one other experience with Traverse City and their whiskey. That was in 2019 when I was helping Ray at Rural Inn pick a barrel. The brand rep was hanging around while a small group of us were tasting through the samples of what would have been a barrel proof bourbon. In the end, we all concluded that no barrels seemed good enough to choose and to this day, Ray has never chosen a single barrel from them.
But this is a review about Traverse City's rye whiskey. All of Traverse City's bourbon and rye offerings so far have used a blend of their own whiskey and sourced barrels from MGP in Indiana. The one thing that makes them different is that they choose to age their sourced barrels on site in Michigan. That's strange because Traverse City is a full 2 climate zones colder than where they could've let them age in Lawrenceburg. The whiskey is bound to taste different because maturation won't occur as quickly the further north you go.
Traverse City and blending
Founder Chris Fredrickson's approach to making his products was to gradually wean his company off of the barrels of MGP he was buying. Over time, the blends have gradually been shifting from containing 90% MGP to around 5-10% today. The confusing part is, there is no mention of this on the label. There is also no visible "bottled on" date, leaving you in the dark if you find a bottle in a store and don't know how long it's been setting there.
So if you're unsure what you've got, turn the bottle around and read the rear label. If it says "distilled in Indiana" on the back, the product is 100% made in Indiana. But if says "Produced and Bottled by the Traverse City Whiskey Co," then it's a blend of MGP and Traverse City's own whiskey. I imagine in the future the bottles will say "Distilled and bottled by Traverse City Whiskey Co."
The rear label on the bottle I'm reviewing today does not say where it was distilled, so it's a blend. Since this bottle was sent to me this year (2023), I've heard the ratio might contain around 5-10% of MGP's 95/5 rye whiskey. Traverse City distills a 100% rye whiskey themselves, so the taste should be quite intense.
I can't find any hints as to the age, but I'm guessing this will have a profile around 6 or 7 years old. Since it's bottled at barrel proof, this should allow me to find all of the flavors it contains with ease. So how does it taste? Let's find out. I sampled this neat in a glencairn.
Tasting Notes
Nose: Lots of citrus peel notes are obvious right off the bat. There's a robust amount of spice too like cinnamon and ginger. Melted Rolo's candy and butterscotch pudding brings a sweet sensation along for the ride. There is a strange scent similar to Marzipan which I know doesn't come from the MGP rye. Does Traverse City's rye whiskey have a nutty side to it? Finally, there are faint notes of cherry and coffee beans around too. Overall, this nose is really nicely done. No youthful notes and every aroma is very impactful overall.
Palate: The mouthfeel is very oily which is always a sensation I love picking up in whiskey. You can definitely tell this is a rye because I'm finding green notes galore (herbs, mainly). Peppermint, tarragon, rosemary and pine needles are actually a really excellent combination to behold. There's also citrus flavors that mingle with a peppery spice and clove for depth. There isn't much age to the palate either, but I do find a tiny bit of oak. It's not enough to fool you on its age though.
Finish: A minty/menthol aftertaste sweeps over my tongue after the sip is complete. There are some nice accompanying flavors like chocolate, cinnamon and black pepper. I even find lingering fruit notes too like dried apricot and cherry pieces. It's a solid finish for an equally solid rye whiskey.
Score: 7.5/10
This is one of the more floral and herbal rye whiskies I've had in a while (that doesn't come from Canada). The highest compliment I can think of for this rye whiskey is just how much of a "complete" product it tastes like. All too often, I get a distillery that's making their own product or blending it with a sourced whiskey (as is the case here) that can't cover up the mistakes they made in the distilling/maturation process. That's not the issue here. Traverse City has demonstrated they have the chops to make some very impressive rye whiskey.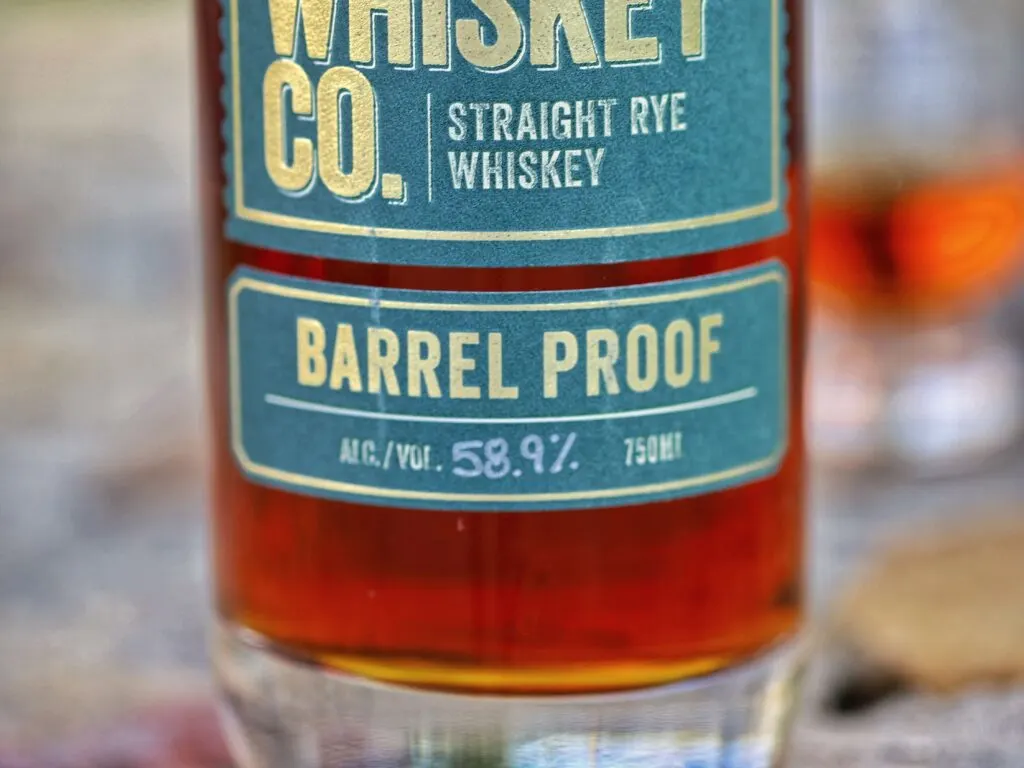 Final Thoughts
I wasn't too sure about Traverse City before I opened this bottle. However, I can assure you that they're on the right path – at least as far as their rye whiskey is concerned. I'll be tasting their bourbon and cherry infused whiskey next which should give me a good understanding of their core lineup. But in the meantime, if you're a fan of rye whiskey in the style of Alberta Distillers or Green River Distillers, then you're going to love Traverse City's rye whiskey. I may be a Buckeye but that doesn't mean I can't appreciate when "That state up north" makes something this good.
Featured Products
Description:

The Aged & Ore Neat Traveler is a complete travel kit for spirits. We combined our widely praised Neat Glass with one of our 3oz Flight Bottles and housed them together in a custom EVA travel case. Perfect for a night away with your favorite pour. The tie
Description:

The Aged & Ore Bottle Flight is a premium set of 4 custom silicone wrapped glass bottles designed to transport and share samples of your favorite spirits. The flight bottles come in a custom EVA travel case that fits perfectly in any small bag. An Aged &
Description:

This Bundle combines two of our crowd favorite products, creating the ultimate travel bundle to bring along your favorite spirits and glassware. Bundle Includes: Neat Traveler (Gray) Bottle Flight (Gray) Note: This bundle is only available in gray and col
*Bourbon Culture is reader-supported. When you buy through links on our site, we may earn an affiliate commission.