*Bourbon Culture is reader-supported. When you buy through links on our site, we may earn an affiliate commission.
In late 2019, Sazerac released a very small batch of whiskey under the label of "Mister Sam Tribute Whiskey." With only 1200+ bottles distributed and no mention of the word "bourbon" on the label, the taters of bourbon passed right by it. After all, there wasn't much initially to study.
The bottle specs indicated that some Canadian whiskey had been blended into it and there was no mention of an age statement. The high SRP of $250 also was a deterrent. I, too, was one of the people who passed on it at least twice because I was thought it was something along the lines of a Hiram Walker "Chronicles" or Pendleton Director's Reserve. Only after all of the bottles were snagged up did the market realize what it fully was.
Drew Mayville, the last Master Blender of Seagram's (when it was still a functioning company) was given full creative control and access to every warehouse in Sazerac's arsenal (this would include, among others, Buffalo Trace, Barton and a Canadian distillery in Montreal). The distillery in Montreal was purchased directly from the dissolution of the Seagram's empire and continues to distill to this day.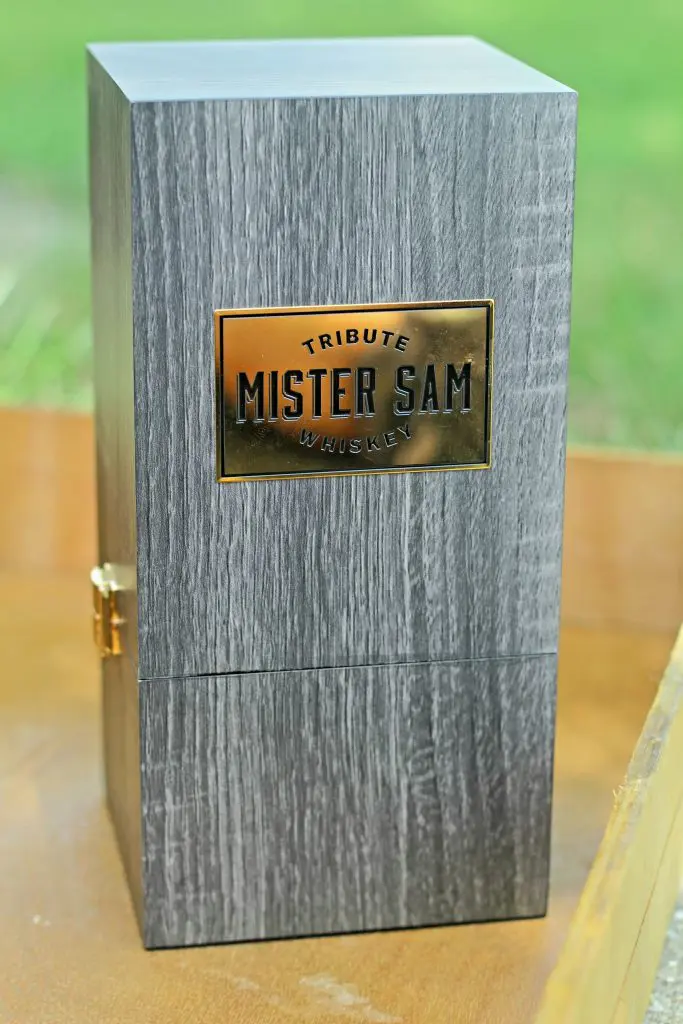 In early 2020, as more drinkers opened their Mister Sam bottles and shared their feelings on it, demand exploded and so did prices. The Covid-19 pandemic's effects on the secondary market made prices raise even higher and currently these $250 bottles are now seeing secondary sales around $1,000… when you can find them.
But how is the whiskey inside? Is it even worth it? Or is it a gimmick designed to demonstrate that any limited release Sazerac puts out can fetch outrageous prices? I am lucky to have the opportunity to find out for myself thanks to a generous friend. This was sampled neat and in a Glencairn.
Mister Sam Tribute Whiskey Tasting Notes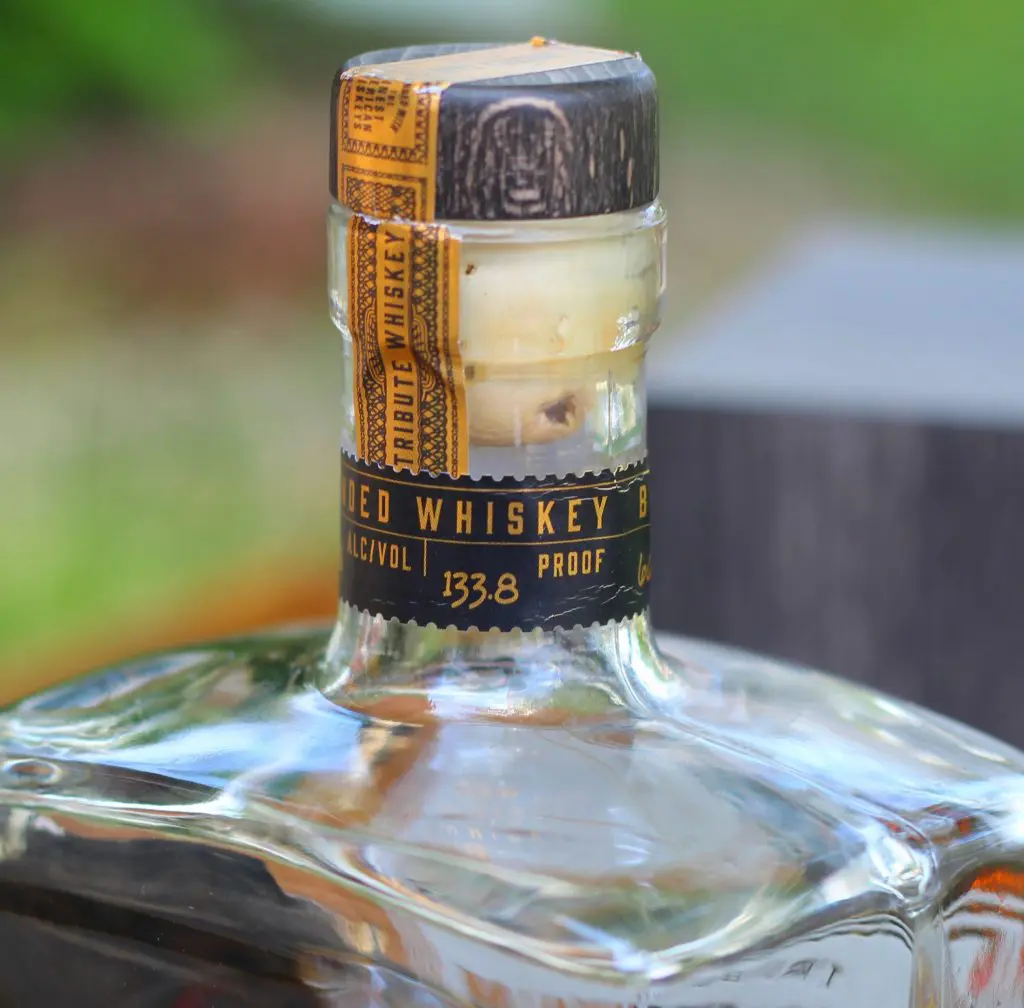 Nose: The intensity of this whiskey on the nose is literally BTAC-level. There is so much going on here with notes of dark cherries, baked apples and wood varnish. I even find a banana note that lingers about. The dessert sweets keep coming with crème brulee, butterscotch simmering in a pan and grade B maple syrup (how Canadian!). Cinnamon and chocolate sprinkled pinwheels add even more baked goods scents with a heavy aromatic punch of unlit cigar tobacco. This is amazing.
Palate: The spice on this one hits hard with rye spice traits everywhere. But they play nicely with the lush spread of fruit juices swirling about like cherries, orange rinds and even some Hi-C Tropical Fruit Punch notes.
The cinnamon spice is sharp and is accompanied by some other spicy brethren: clove, chili powder, spearmint and shaved ginger root. There's tons of oak that's very well integrated and really shows off the age of this liquid. The mouthfeel is thick, almost like a spoonful of sticky molasses. But for as powerful as all of these scents are, I'm still able to detect a very delicate and floral rosewater note.
Finish: The finish is impressive and never lets off the gas, even at the very end. It's still hot, but much like William Larue Weller, you feel like you're surfing on the cuff of the largest wave just far enough ahead to not get wiped out.
The menthol cooling is unreal and is accompanied by typical high-rye flavors like mint, lime-aid, citrus rind and cherry licorice. But it doesn't end there because the tannins sweep in and add depth and complexity that has existed since the beginning… dry tobacco leaf, drying oak and the outside of a Honeybaked Ham complete with cloves. It's such a treat.
Score: 9.7/10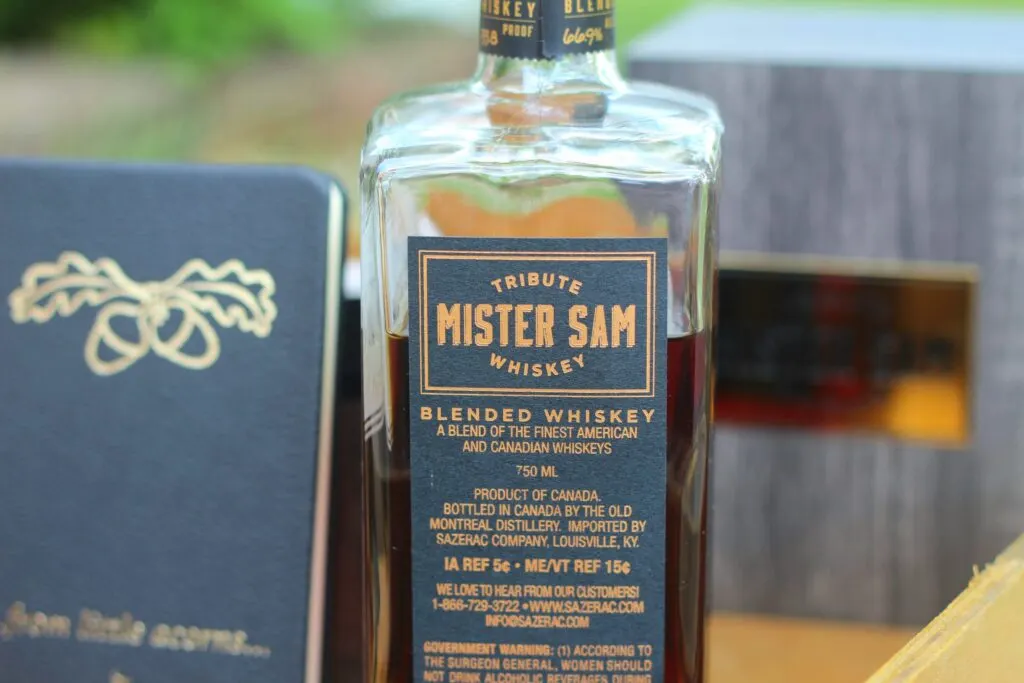 Mister Sam Tribute Whiskey is the real deal. In a world where BTAC never touches the shelf and the bourbon acolytes are constantly in a tizzy to get the next best thing, this release was both obtainable and justifiable in price. It's just too bad we (I) had to realize this after they were all sold out. Sure, there'll be more future releases of crazy blends, but this one was special for what it was.
I happen to believe that everything played well nicely and seemed like it all fit. In fact, if I had to describe which whiskey that this even tasted like, I'd have to describe it as a blend of multiple whiskies. It has the deep, tannic beauty of GTS, the fruit and spice flavors of WLW, the citrus and baking spice of THH and interestingly, the punchy sweet character of an MGP Light Whiskey.
Mister Sam Tribute Whiskey Summary
Mister Sam may be an almost perfect whiskey with one little ding being the heat can feel like it's getting away from you sometimes and it seems like if you drink it too quick, it'll come off as much more dry than it truly is, but if you want a hugely entertaining, excessively bold whiskey where the age shines through as much as the proof, then Mister Sam is the one whiskey that you should seek out.
Ratings Breakdown
1 | Disgusting | Drain pour (Example: Jeffers Creek)
2 | Poor | Forced myself to drink it
3 | Bad | Flawed (AD Laws 4 Grain BiB, Clyde Mays anything)
4 | Sub-par | Many things I'd rather have (Tincup 10 year)
5 | Good | Good, solid, ordinary (Larceny, Sazerac Rye)
6 | Very Good | Better than average (Buffalo Trace, OGD BiB)
7 | Great | Well above average (Old Ezra Barrel Proof, Old Weller Antique)
8 | Excellent | Exceptional (Michter's Barrel Proof Rye, Four Roses Barrel Strength)
9 | Incredible | Extraordinary (GTS, 13 Year MGP or Canadian Rye)
10 | Insurpassable | Nothing Else Comes Close (William Larue Weller)
Featured Products
Description:

The Aged & Ore Neat Traveler is a complete travel kit for spirits. We combined our widely praised Neat Glass with one of our 3oz Flight Bottles and housed them together in a custom EVA travel case. Perfect for a night away with your favorite pour. The tie
Description:

The Aged & Ore Bottle Flight is a premium set of 4 custom silicone wrapped glass bottles designed to transport and share samples of your favorite spirits. The flight bottles come in a custom EVA travel case that fits perfectly in any small bag. An Aged &
Description:

This Bundle combines two of our crowd favorite products, creating the ultimate travel bundle to bring along your favorite spirits and glassware. Bundle Includes: Neat Traveler (Gray) Bottle Flight (Gray) Note: This bundle is only available in gray and col
*Bourbon Culture is reader-supported. When you buy through links on our site, we may earn an affiliate commission.