Modern-day Michter's got its start by purchasing a large stock of aged barrels – likely from United Distillers – from 1997 to 1999. Joe Magliocco met up in Kentucky with business partner/friend Steve Ziegler and Dick Newman to help pick them out. Once they were purchased, they contracted out some bottling lines to produce Michter's 10 Year Bourbon and Rye Whiskey. These bottles were considered a "premium" label back in those days and were priced around $38.
United Distillers was only one part of the company that would eventually become Diageo in 1999. Diageo began to shed brands, inventory and physical buildings during their transformation. Brands like Old Fitzgerald and buildings like the Bernheim Distillery were sold to Heaven Hill and excess bourbon was sold off to the highest bidder.
By 2000, Michter's no longer had a source for their whiskey. So they turned to Julian Van Winkle III who had his own warehouse and bottling line set up in Lawrenceburg, Kentucky. After he signed a contract with Buffalo Trace in 2002, he could no longer do business with Michter's. Luckily for Joe and his team, Julian introduced Joe to Even Kulsveen, owner of Willett. While many of you are salivating at rare barrels that Michter's bought off of Willett, there was another perk of Joe developing a relationship with Even – access to bulk whiskey.
I feel like I need a chart or a map to show you how this all worked out, but there was a lot of bulk whiskey available for sale back in the early 2000s. Joe was looking for something inexpensive to bottle up and came across some young (probably 4 years old) rye whiskey and whiskey aged in used barrels blended with bourbon (aka "Early Times") that fit the bill. Both of these were distilled and aged at the Early Times Distillery in Louisville (which is now called Brown Forman Distillery). They would eventually be bottled as Michter's Unblended American Whiskey and Michter's Single Barrel Straight Rye Whiskey starting in 2003. Both of the labels used a new bottle shape that would separate it from their older Michter's 10 Year siblings.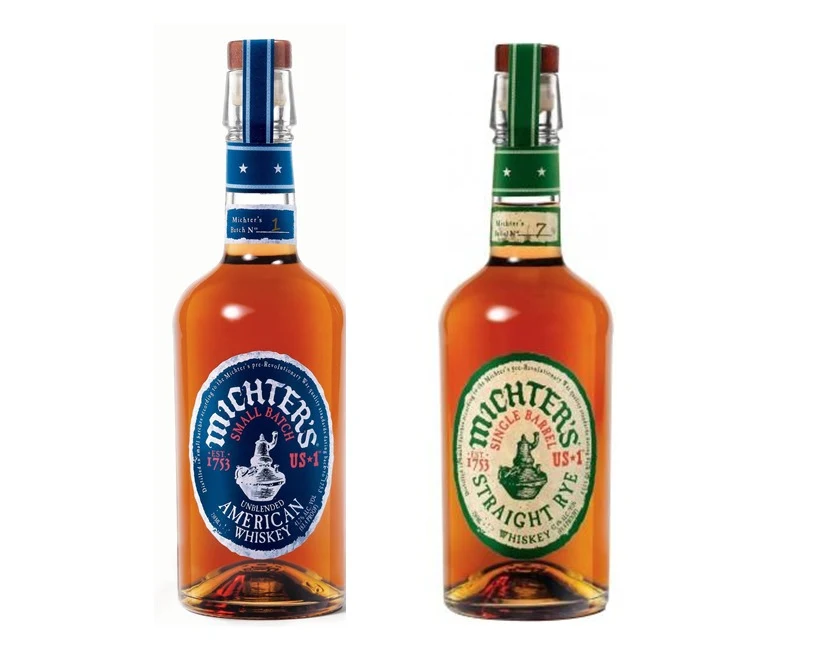 Michter's Single Barrel Rye Whiskey
Michter's has never sold a rye whiskey product that was batched. Every release has been a single barrel. I don't know why they do it this way, but it is now an integral part of their identity. Early batches were given sequential numbers (starting with 1) on the neck label. It wouldn't be until around 2012 that they were given a specific code that identified the month and year it was bottled.
The bottle I'm reviewing today is about as new as they come. Its code is 23D1682 which means it was bottled in April 2023. The 23 indicates the year while the D indicates the month. 1682 is probably a internal reference to the barrel number.
This particular barrel has a very high chance of being distilled, aged and bottled entirely by Michter's. They began distilling their own whiskey in 2015 with the opening of their new distillery which is literally a football field's length from the Brown Forman Distillery.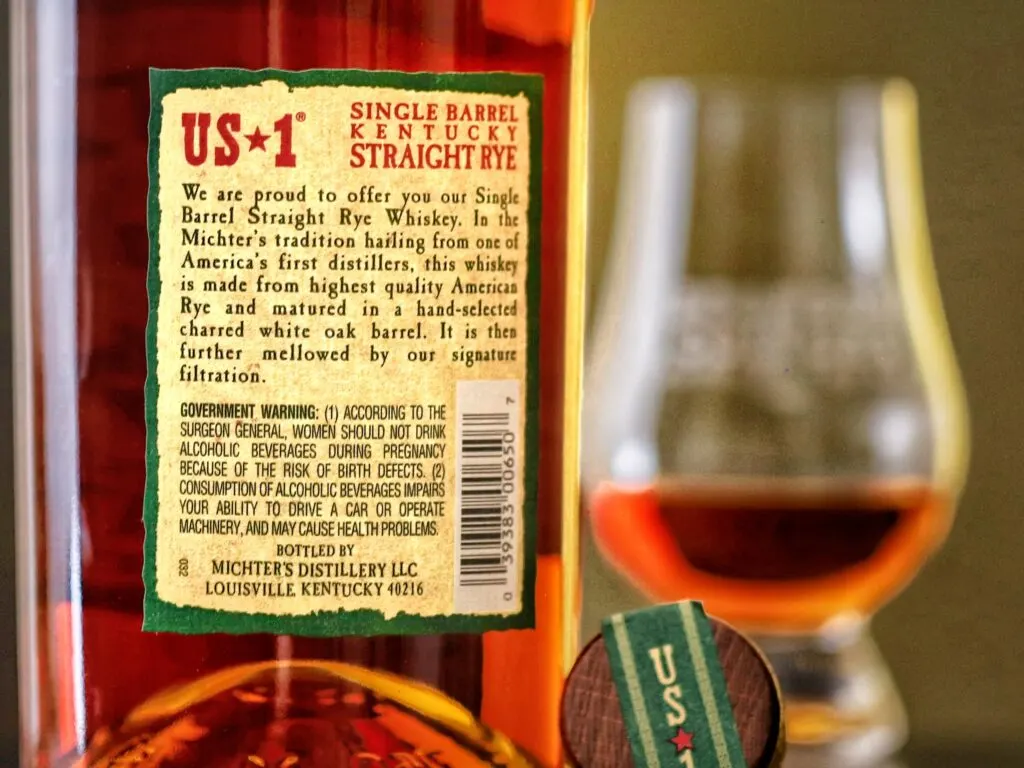 The specs for Michter's rye whiskey mash bill are similar to Woodford Reserve's rye whiskey – 53/33/14 (rye/corn/malted barley). It's put into a toasted and charred barrel at 103 proof and matured in a heat cycled warehouse for at least 4 years. The proof is low at 84.8 proof, but when you consider that most Michter's Barrel Strength Rye bottles are between 108 and 110 proof, it's not as proofed down as you'd think.
Still, a bottle like this will have limitations, but it should be a fairly easy-sipping introduction to rye whiskey for people who do not yet like that style of whiskey. So what did I think about it? Let's find out. I sampled this neat from a glencairn.
Tasting Notes
Nose: I can tell instantly that the corn in the mash bill has positively impacted the sweetness throughout. Sweet spoonbread with a hint of maple fills my nostrils. Or is it more like a Kettle Corn? Let's just say it's both. Anyway, it mixes with a healthy amount of oak and vanilla. I thought this would smell much younger than it actually ends up being. It is also much more aromatic than I was anticipating. There is an almost potpourri aspect to it. Wow, what a nose!
Palate: Beautifully restrained rye spice adds an elegant touch to all of the flavors I find here. Honestly, this tastes like it's above 90 proof as far as intensity of the flavors. The heat is still very restrained. I can find flavors like Andes after-dinner mints and peppermint candy canes. Honey sweetness mixes with baking spices like cinnamon, clove and nutmeg. Shaved ginger root goes perfectly with cherries and apricots. I was totally expecting to be let down by this sub-85 proof rye whiskey and feel like I have to apologize for being so wrong.
Finish: Lingering notes of chocolate, cinnamon and oak give a complex feel to the end of the sip. There are even remaining rye notes like mint, ground pepper and marjoram. The finish is also pleasantly sweet too with some honey and a slight maple flavor too.
Score: 6.8/10
I can't believe that I've been ignoring this bottle all these years. I will be the first to admit that I let my low-proof prejudice get in the way of my curiosity for this bottle. But after tasting this, I can confirm that not only is it a damn good bottle, but it's also one of the best rye whiskies at this price and proof point.
Does everyone who drinks whiskey already know this? Or do people still sleep on it because they thought, like I did, that the low proof meant it was an inferior product? I really want to know! The proof is almost a non-factor because of how flavorful the whiskey is.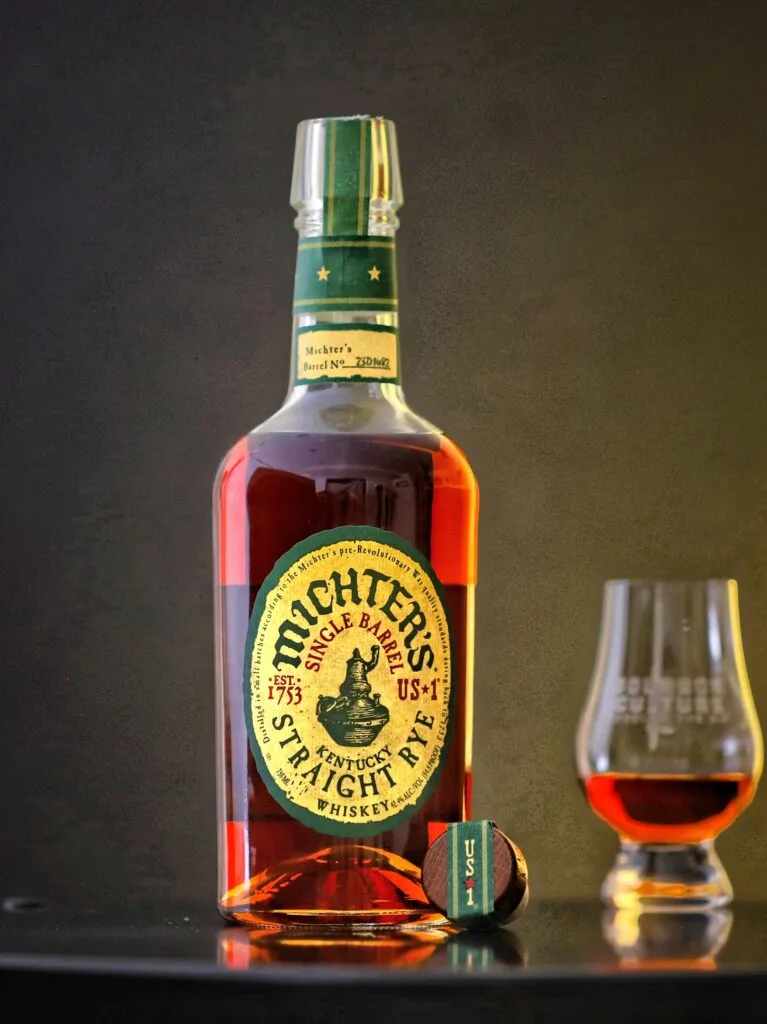 If you close your eyes and imagine that you're drinking a high-rye bourbon, you can easily fool yourself. It's sweet, complex and has an oily mouthfeel that I would not have suspected. Since the proof is so low, there is no distracting heat to chase away new drinkers either. It's really the perfect beginner's rye whiskey that can also satisfy a well-versed rye whiskey drinker too.
Final Thoughts
Before Michter's was a Kentucky brand, it was making whiskey in Schaefferstown, Pennsylvania. They made bourbon, rye whiskey and even a whiskey that couldn't be called either (aka Michter's Pot Still Whisky). With the exception of A.H. Hirsch, it was their rye whiskey that they made the best. There's just something about the Keystone State and distilling rye grain that go together like peas and carrots. The reason why I'm bringing this up is because after I tasted this bottle, it's clear to me that Michter's is keeping the tradition of making fantastic rye whiskey alive and well.
While it's never going to be the same as a true Pennsylvania rye, the care and craftsmanship towards making something that tastes this good shows me that modern-day Michter's takes the lineage of their name very seriously. Make sure to have this bottle on hand at your next whiskey tasting to spread the word.
Featured Products
Description:

The Aged & Ore Neat Traveler is a complete travel kit for spirits. We combined our widely praised Neat Glass with one of our 3oz Flight Bottles and housed them together in a custom EVA travel case. Perfect for a night away with your favorite pour. The tie
Description:

The Aged & Ore Bottle Flight is a premium set of 4 custom silicone wrapped glass bottles designed to transport and share samples of your favorite spirits. The flight bottles come in a custom EVA travel case that fits perfectly in any small bag. An Aged &
Description:

This Bundle combines two of our crowd favorite products, creating the ultimate travel bundle to bring along your favorite spirits and glassware. Bundle Includes: Neat Traveler (Gray) Bottle Flight (Gray) Note: This bundle is only available in gray and col
*Bourbon Culture is reader-supported. When you buy through links on our site, we may earn an affiliate commission.