*Bourbon Culture is reader-supported. When you buy through links on our site, we may earn an affiliate commission.
When bourbon historians look back at the time period spanning from 2018 to 2022, I hope that they will finally reveal that the majority of the 12+ year old sourced Kentucky Bourbon that ended up in so many brands was made in Barton. The reason why I start this review off with a grievance like this is because as I was sipping on this bottle of Lucky Seven 14 Year "The Proprietor" and reading the reviews on it, it was like every reviewer suddenly had a memory lapse and said "I don't know where this comes from!" It comes from Barton, people. Come on.
Lucky Seven's bourbon source, revealed
There will be many that will jump up and down saying "but what about the Beam totes?!" or "It could be Heaven Hill!" Just stop already. I tasted this and there's no way that this tastes like any of those. And if my nose and tongue aren't enough to convince you, then I offer up the following facts: Ever since the end of 2018, about 95% (or more) of the sourced 12+ year old Kentucky Bourbon available on the market has come from Barton. It is used in Calumet Farms, Sam Houston, Kentucky Par, Cream of Kentucky, Kentucky Owl, Buckner's (Augusta Distillery), Blue Run and St. Cloud. I also feel very confident it's used in Preservation Distillery bottles and Barrell Bourbon.
Now that I've pulled back the curtain, I must clarify that bourbon sourced from Barton is not a bad thing. They are a Sazerac brand after all and have decades of distilling experience. I just don't know why more companies can't reveal that their barrels came from them. The obvious answer is a non-disclosure agreement, but there have been companies that were allowed to reveal that what they're bottling is from Barton. Couldn't these NDP's at least put "distilled in Bardstown, KY?" That would be enough confirmation for those of us who know. Maybe the most obvious answer is they don't want people to compare their bottles with other bottles of Barton if they're trying to charge more money for it (looking at you, St. Cloud)
Anyway, on to the NDP at hand today. Lucky Seven was founded by two guys with a passion for the movie industry. Their brand is named after the famed "Stage Seven" in Hollywood where many big-name movies have been made prior to winning awards and earning millions in ticket sales. That's why every Lucky Seven label has some sort of Hollywood theme to it.
In 2021, Lucky Seven rolled out with 14 year old single barrels that they called "The Proprietor." These single barrels had a wide range of proofs from as low as the 115's to as high as 134. They were farmed out to groups and liquor stores alike. The 130+ proof single barrels in particular have received a lot of praise from online reviewers. But the barrel I'm reviewing today "only" comes in at 117+ proof. It was picked by Bourbon Street Liquors in New Jersey. Let's see what it's like. I sampled this neat in a glencairn.
Tasting Notes
Nose: The nose is packed with some stellar oak notes that really display its age. Soft spices, crème brulee and a hint of brown sugar can all be detected. There are lots of dark fruit scents but it's hard to actually decipher them individually. It's a generic kind of fruit scent that is being muddled by all of the oak.
Palate: My tongue immediately picks up on a ton of oak and leather. This dram tastes every bit as old as its age statement says it is. A separate layer of baking spices also hits the tongue along with those non-descript dark red fruits. I want to say cherry leads the way, but it's obvious that there are other fruits that combine to taste more like a mixed fruit jam. Sweetness comes by way of hard caramel candies and a bit of vanilla. Aside from those notes, I'm not really picking up on too many other layers in this bourbon. Everything it does, it does well but it's not as complex as I thought it would be.
Finish: Leather leads the way after the sip is complete but oak is a close second. The tannic beauty at the end of each sip definitely represent its age well. There's also a lot of cinnamon and a bit of clove. Red Vines Twists hint to the rye content within while caramelized sugar and vanilla pudding keep the finish on the sweet side. There's even a mouthful of cigar wrapper that I can taste at the end too. It's a nice finish that goes on for a moderate-to-long time.
Score: 7.9/10
While drinking from this bottle, I couldn't help but draw comparisons to a recently reviewed bottle of Calumet 15 Year Bourbon that I have. They are roughly the same thing after all (with a proof difference of only 12). In the Calumet 15 Year, I found the palate to be somewhat flat. That's the vibe I'm getting here with The Proprietor too. It's not that it doesn't deliver some great flavors and scents, it just doesn't deliver anything that is new or exciting. This is truly just a "classic" tasting bourbon that has been aged for longer than normal.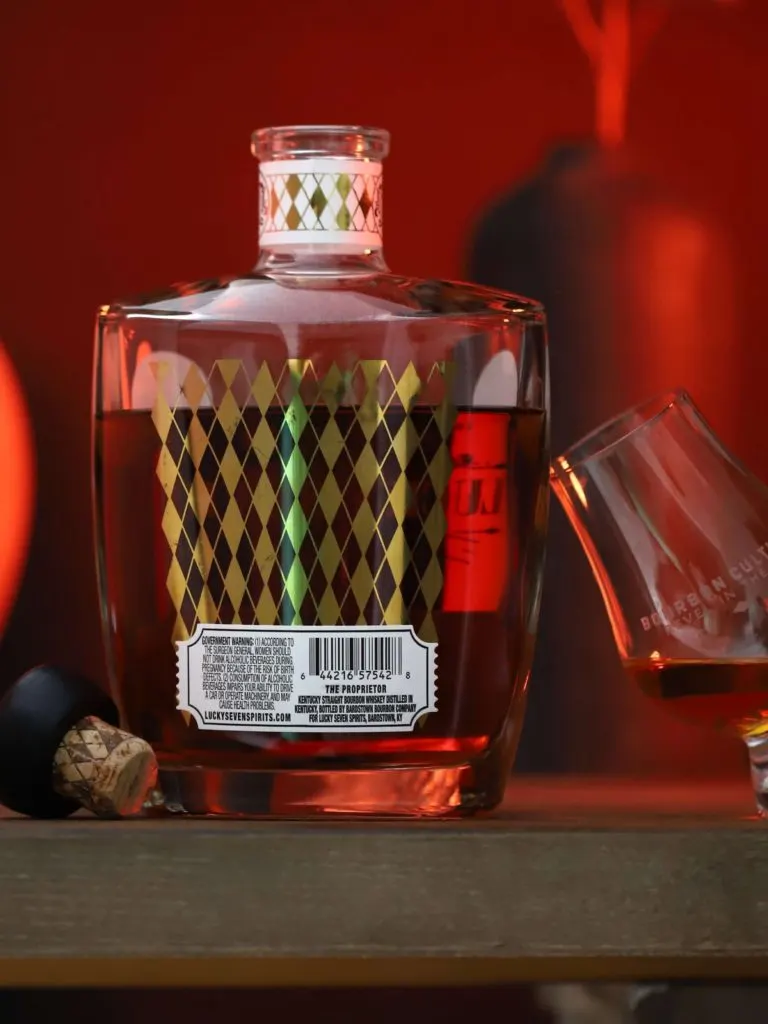 The main draw of Lucky Seven is obviously its packaging. I can see it being a great bottle to gift to an important person in your life. The bottle itself looks amazing and there are so many Easter Eggs in the details. For example the label is in the shape of a movie ticket. The cork is even colored with the same diamond argyle pattern that the back of the bottle is adorned with. It's truly a high-class looking bottle that I would want to display on my bourbon shelves. It would even be a bottle that I would offer to inexperienced bourbon-drinking guests because it showcases how enjoyable bourbon can be at a high age even though it's not that complex. Alternatively, it's also a bottle that I'd sip myself on nights where I don't want to worry about finding every little tasting note inside of it.
Final Thoughts
Lucky Seven has made quite the name for themselves since this release. But the real question will be if they can keep it going. Brands like Blue Run have ran out of their highly aged Barton barrels while brands like Calumet Farms and Sam Houston continue to release them year after year. Time will tell if there are more special releases like this from Lucky Seven in the future, but for the time being if you're looking to get a bottle of this I would advise you to find one with the highest proof. That seems to be the "golden ticket" to having a more complex and flavorful experience. But if you can't find Lucky Seven or if it's priced out of your price range, then any of the other brands that I listed above should do in a pinch.
Featured Products
Description:

The Aged & Ore Neat Traveler is a complete travel kit for spirits. We combined our widely praised Neat Glass with one of our 3oz Flight Bottles and housed them together in a custom EVA travel case. Perfect for a night away with your favorite pour. The tie
Description:

The Aged & Ore Bottle Flight is a premium set of 4 custom silicone wrapped glass bottles designed to transport and share samples of your favorite spirits. The flight bottles come in a custom EVA travel case that fits perfectly in any small bag. An Aged &
Description:

This Bundle combines two of our crowd favorite products, creating the ultimate travel bundle to bring along your favorite spirits and glassware. Bundle Includes: Neat Traveler (Gray) Bottle Flight (Gray) Note: This bundle is only available in gray and col
*Bourbon Culture is reader-supported. When you buy through links on our site, we may earn an affiliate commission.