*Bourbon Culture is reader-supported. When you buy through links on our site, we may earn an affiliate commission.
Many people rightfully consider Bourbon as America's cultural spirit. But there is another spirit that has been just as influential in America's history: Apple Brandy. While researching the history of Michter's for my giant article last year, I tracked down the myth of George Washington's troops procuring Michter's (which was known as Shenk's) rye whiskey for the Continental Army.
I couldn't find anything that substantiated that story, but I did stumble upon verified receipts showing George Washington's Army purchasing large amounts of apple brandy distilled by the Laird family. You may recognize that brand because it's still on the shelves today.
Collaborative Series: C&K Apple Brandy Finished Bourbon
Apple brandy distillation was even larger in the Ohio River Valley region. Alan Bishop (from Spirits of French Lick) knows an incredible amount of history concerning settlers growing specific apple varietals that produced the best apple brandy. It made me have a newfound respect for this spirit. Maybe I should review some apple brandy sometime? Speaking of Bishop, one of his first distillery jobs was with Louisville's own Copper and Kings.
Copper and Kings, or C&K for short, is an oddball among the sea of bourbon distilleries that Louisville Kentucky is known for. They primarily focus on brandies of all types. Utilizing pot stills and barrel finishing techniques, C&K is not afraid to take risks in creating new and exciting types of brandy. This caught the eye of another Kentucky distillery; Bardstown Bourbon Company.
Bardstown Bourbon Company is aiming to be the MGP of Kentucky. But while their own bourbon was aging back in 2019, they were busy sourcing bourbon from other Kentucky Distilleries, Cascade Hollow in Tennessee and MGP in Indiana.
MGP bourbon was saved for arguably the most special releases of the Bardstown Bourbon Company Collaborative Series. Early batches of the Collaborative Series saw unique barrel finishes being imparted on either Dickel bourbon or MGP bourbon. Enthusiasts were keen to snub the Dickel-based releases and quick to snatch up the ones that contained 10- to 12-year-old MGP bourbon.
Which releases contained MGP bourbon? Here are the 5:
Copper & Kings Double Mistelle Finish
Copper & Kings Apple Brandy Finish
Goodwood Brandy Barrel Honey Ale Finish
Copper & Kings Spanish Oloroso Sherry Finish
Copper and Kings Chateau de Laubade Finish
Out of all of those finishes, it's a toss up between the Chateau de Laubade and the Apple Brandy Finish as to which one enthusiasts think was better. They are definitely different beasts as the Armagnac finish of the CDL is much more earthy, grapey and dark. But
what makes the Apple Brandy finish so loved?
I hope to find out with my own bottle that I've taken entirely too long to review. So let's find out. I sampled this neat in a
glencairn
.
Tasting Notes
Nose:
It's like a match made in heaven with how well MGPs brown sugar, melted butter and wood notes compliment the apple notes from this brandy cask. It makes a scent akin to
apple cobbler.
The baking spices are amplified as well with notes of cinnamon, nutmeg and vanilla. What a treat!
Palate:
The
nose
transcends onto the palate. Flavors of
baked apples dusted with cinnamon and brown sugar
are delicious to taste while the taste of
poached pears drizzled with caramel
come out next. Cinnamon and red pepper flakes give each sip a nice burst of heat that is nicely controlled.
Well-aged oak, leather and tobacco leaf showcase this MGP bourbon's age. But it's the sharp tang of slightly acidic apple cider vinegar notes that offer fantastic contrast to each sip. I really enjoy being able to taste both bright acidic notes and rich, complex notes at the same time.
Finish: The finish offers no surprises which is fine by me. I love to taste the tart apple flavors as they meld with liquid brown sugar, orange extract, barrel char, leather and pipe tobacco. Lingering spices of cinnamon and nutmeg also remain. It ends exactly like it started.
Score: 8.4/10
In the past, I've been turned off from apple brandy finishes (specifically, Calvados) for overpowering the bourbon too much. I was slightly worried that this apple brandy finish could be like that too. Luckily, it was not! The finishing cask plays nicely with the aged bourbon in a big way.
The payoff is one of the best cask finishes to come out of Bardstown Bourbon Company. In fact, I have some advice for producers that find themselves with powerfully-oaked bourbon that may not be good enough to release on its own; finish it in bright, acidic apple brandy to take the edge off. The contrasting flavors pair really well with each other.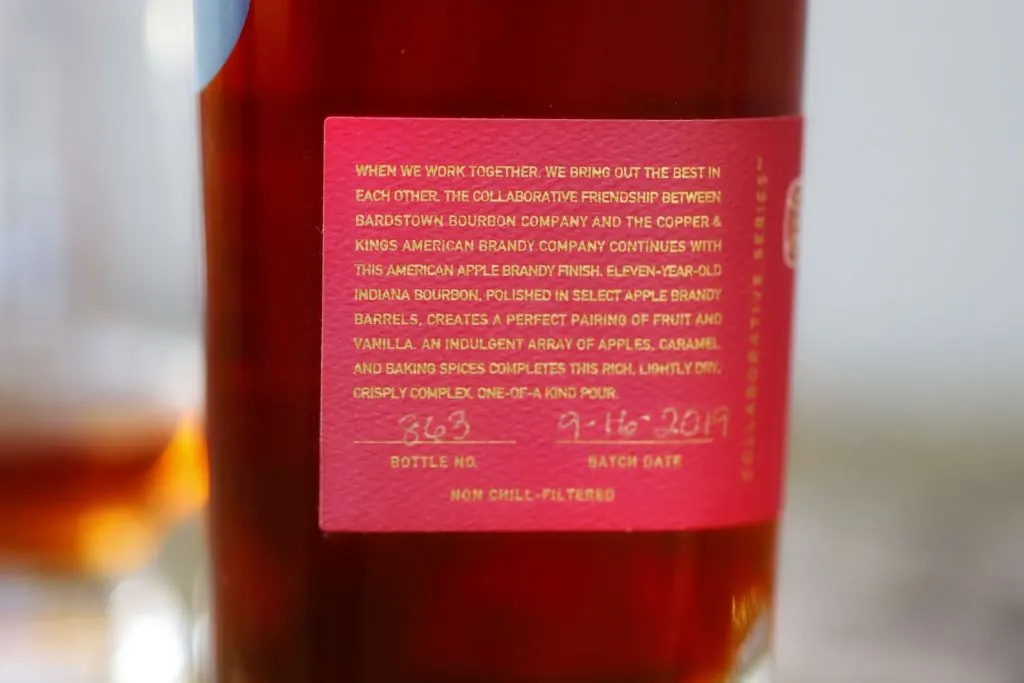 Final Thoughts
As I began to write this article, Bardstown Bourbon Company announced the completion of their Fusion series. This series used their own young bourbon and blended it with older bourbon sourced from various distilleries in Kentucky.
This means that at some point, all of the current labels may end. But until this happens to the Collaboration Series, we should treat each release as if it's the last time that particular bourbon is paired with that particular finishing cask. The era of BBC using MGP bourbon may have already ended, but the legend of this batch will live on forever.
Featured Products
Description:

The Aged & Ore Neat Traveler is a complete travel kit for spirits. We combined our widely praised Neat Glass with one of our 3oz Flight Bottles and housed them together in a custom EVA travel case. Perfect for a night away with your favorite pour. The tie
Description:

The Aged & Ore Bottle Flight is a premium set of 4 custom silicone wrapped glass bottles designed to transport and share samples of your favorite spirits. The flight bottles come in a custom EVA travel case that fits perfectly in any small bag. An Aged &
Description:

This Bundle combines two of our crowd favorite products, creating the ultimate travel bundle to bring along your favorite spirits and glassware. Bundle Includes: Neat Traveler (Gray) Bottle Flight (Gray) Note: This bundle is only available in gray and col
*Bourbon Culture is reader-supported. When you buy through links on our site, we may earn an affiliate commission.