2010-2015 was a time of great change for Brown-Forman's brands. Each of them began heavily pushing the development of new products. Old Forester would eventually develop the Whiskey Row Series as well as a rye whiskey. Jack Daniel's would begin development of their Special Release program, Tennessee Tasters line and also a new rye whiskey and malt whiskey. And Woodford Reserve began to distill rye, malt and wheat whiskies. They also rolled out with a new product called Woodford Reserve Double Oaked in 2015. But the first new whiskey release that came onto the market was Woodford Reserve Straight Rye Whiskey.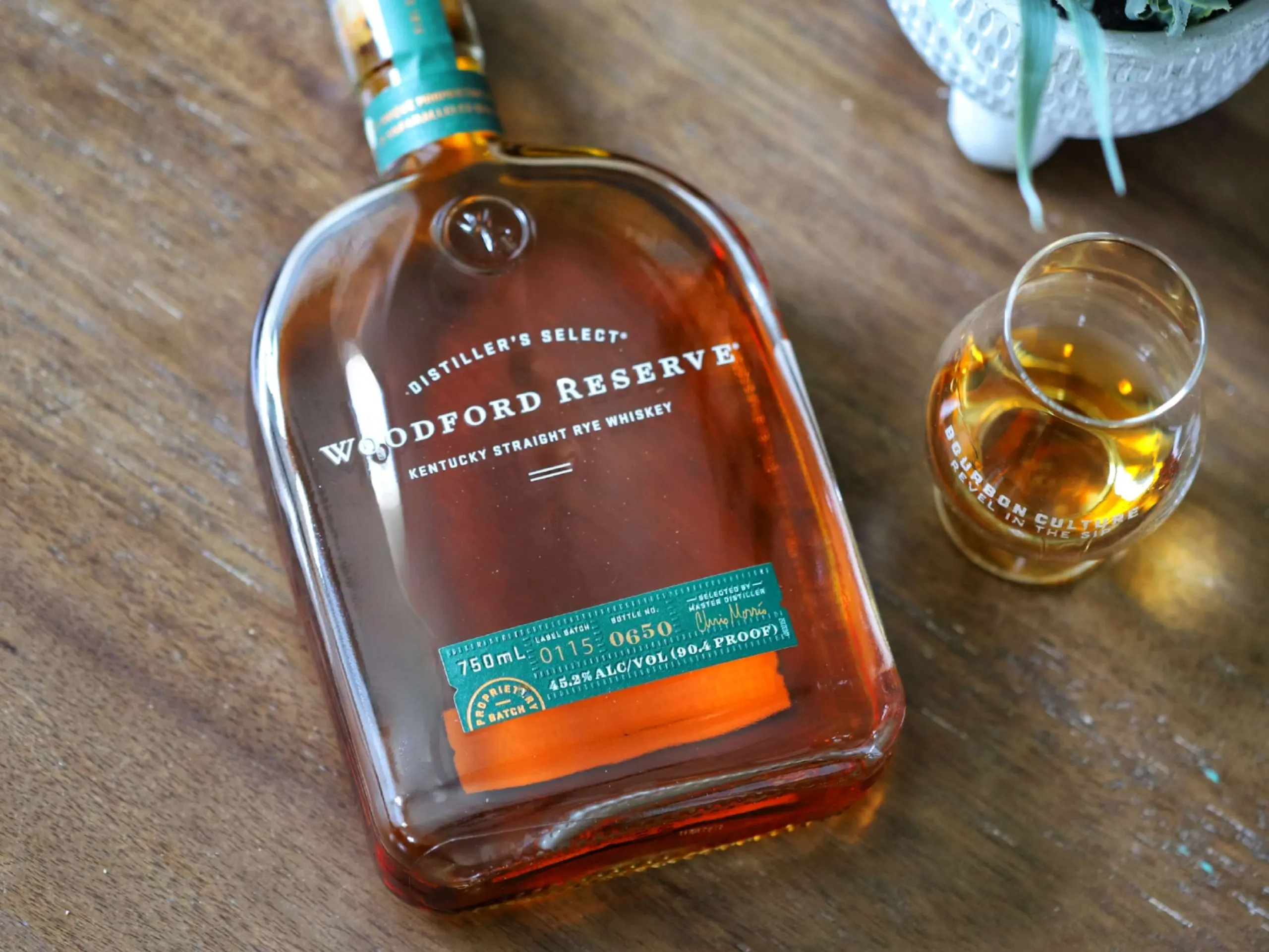 Woodford Reserve Straight Rye Whiskey starts with a mash bill of 53% Rye, 33% Corn and 14% Malted Barley. This mash bill contains a large corn percentage that closely follows the tradition of Kentucky rye whiskies using a very low percentage of rye grain. It is assumed that Woodford Reserve's rye whiskey is made from distillate produced at both the Woodford campus in Versailles and the Brown-Forman distillery in Shively.
Rye whiskey was not an uncommon sight to see fermenting at The Early Times Distillery (now called the Brown Forman Distillery). They had produced rye whiskey in the past for brands like Heaven Hill's Rittenhouse Rye from 1997 to 2007 following their giant distillery fire. They had also been contract distilling rye whiskey for Michter's up until 2015. It is rumored that Michter's recipe and the Woodford recipe are closely related to each other.
Woodford Straight Rye Whiskey was released in 2015 but carries no age statement (we know it's at least 4 years old though). It was bottled at 90.4 proof, like almost all Woodford products. It was joined by a Malt Whiskey in 2018 and a Wheat Whiskey in 2019. Woodford now produces 4 of the 5 major types of whiskey common to America. Could we see Woodford Reserve Corn Whiskey in the future to make it 5 for 5? I hope not!
So how does Woodford's rye whiskey taste? I didn't expect much more than a mixer, but Woodford usually prides themselves on being a more premium version of Old Forester, so I hoped that it would hold some sort of surprise. Now that I've had a chance to taste this bottle on several occasions, let's see what I found. I sampled this neat in a glencairn.
Tasting Notes
Nose: Sweet and light notes of creme brulee, cherry blossoms, vanilla and light floral scents show up first. There are additional aromas of mint, cinnamon stick and orange rind which really hint to its rye nature. Even melted toffee can be found, adding an extra layer of depth.
Palate: Light spice and even lighter oak notes. This seems to be somewhat similar to a standard bottle of Woodford Reserve bourbon except it has additional floral and spice notes. A small hint of chocolate as well as sweet grass flavors and bitter citrus rind are easy to find. Lemon oil, baker's chocolate, dandelion greens and a slight graininess are all present.
Finish: An excellent finish that lingers for a moderately long time. There are delicious flavors of caramel, barrel char, herbs and wildflowers. I even find a bit of tobacco and leather which is impressive in a rye whiskey that is likely not much over 5 years old. The finish even retains a certain amount of sweetness which I love.
Score: 6.1/10
Overall, this is a really nice rye whiskey that I've been passing up on shelves for years. The amount of flavors it contained impressed me. But after every session ended, I came back to the same conclusion: it's good but it needs more proof. If they came out with a standard release of this at, say, 105 proof (so that it wouldn't step on the toes of Old Forester's 100 Proof Rye) then I think they'd have a winner on their hands. As it stands, this is a "good enough" entry level rye whiskey that I'd put it in my top 5 ryes under $40. But ryes like that typically make their way into cocktails or get passed off to friends who are starting to get into whiskey, not friends who have graduated to the stronger stuff.
Final Thoughts
It's sad, in a way, that a rye whiskey this competent will be passed over by many drinkers. Brown Forman has such a great track record of well-made rye whiskies and yet they let them languish on the shelves in bottles of non-age stated (NAS), low-proof offerings like this. Since Woodford Reserve and Old Forester often copy each other, maybe we'll see the coming of a barrel strength version of this rye in the coming years (Batch Proof Rye Whiskey anyone?). But until that day happens, it's worth your time to at least buy a bottle, pour yourself a dram and sit back and imagine what it would be like at a higher proof. We all have dreams and this is one I'd like to see come true.
Featured Products
Description:

The Aged & Ore Neat Traveler is a complete travel kit for spirits. We combined our widely praised Neat Glass with one of our 3oz Flight Bottles and housed them together in a custom EVA travel case. Perfect for a night away with your favorite pour. The tie
Description:

The Aged & Ore Bottle Flight is a premium set of 4 custom silicone wrapped glass bottles designed to transport and share samples of your favorite spirits. The flight bottles come in a custom EVA travel case that fits perfectly in any small bag. An Aged &
Description:

This Bundle combines two of our crowd favorite products, creating the ultimate travel bundle to bring along your favorite spirits and glassware. Bundle Includes: Neat Traveler (Gray) Bottle Flight (Gray) Note: This bundle is only available in gray and col
*Bourbon Culture is reader-supported. When you buy through links on our site, we may earn an affiliate commission.