*Bourbon Culture is reader-supported. When you buy through links on our site, we may earn an affiliate commission.
Old Forester has been producing quality bourbon and whiskey for over 150 years now. They are one of the most fascinating brands in Kentucky because of their history that dates all the way back to 1870. When you're a brand as old and experienced as they are, you can imagine that they've mastered the art of every style of whiskey. But up until 2019, there was always one gap in their portfolio: a rye whiskey.
Old Forester creates a new rye whiskey from an old recipe
In 2019, Old Forester launched a 100 proof rye whiskey. It was immediately a hit among enthusiasts (and bartenders) for its great flavor and affordability. The rye whiskey mash bill was said to be from an old recipe that was used from a brand that was acquired by Brown Forman in 1940 called "Normandy Rye." The purchase of this company was initiated by Owsley Brown (son of George Garvin Brown) and continued to make rye whiskey for a number of years afterwards, eventually disappearing into the ether. The recipe used a higher percentage of rye than was normal for Kentucky rye whiskies: 65%. It also used a higher amount of malted barley; 20% in an effort to not only create a softer and more floral taste but to also ensure that the enzymes would be sufficient for full fermentation. Corn filled the rest of the mash bill and added additional sweetness.
But Old Forester wasn't a newb when it came to making rye whiskey. They had a number of instances where they were producing it behind the scenes for somebody. You wouldn't know it unless you found a bottle that listed "DSP-KY-354" as the place of distillation. This just so happened to be the case with Rittenhouse Rye from 1997 to 2008. After Heaven Hill's disastrous fire that destroyed their own distillery in 1996, distilleries like Old Forester offered their excess capacity to make whiskey for Heaven Hill until they regained their capacity again. Old Forester concentrated on rye whiskey while Jim Beam offered to make their bourbon.
In 2004, another producer approached Brown Forman asking for help to make whiskey for them: Michter's. Michter's had been sourcing bourbon and rye whiskey prior to that point from Willett (KBD) and also the defunct United Distiller's behemoth. But with dwindling stocks, Michter's needed a guaranteed tap of whiskey to turn to. Prior to 2004, Michter's had actually been able to buy excess barrels of rye whiskey that were on the market that were aged for only 4 years or so. It's unknown if those barrels were from Heaven Hill (as a majority of old-timers on Straightbourbon.com speculate) or Brown Forman. Brown Forman accepted Michter's money and began to contract distill to their specifications for the next 11 years after that. We don't know which mashbill they used, but we do know that one of the specifications was that all whiskey must enter the barrel at 103 proof. The rye whiskey that Michter's had contract distilled would go into everything from their single barrel Straight Rye Whiskey to their Barrel Proof Rye Whiskey and eventually their Michter's 10 Year Old Rye Whiskey.
Brown Forman decided during this time that since they were already competent in rye whiskey making, that they would use their talents to produce a rye whiskey for one of their own brands: Woodford Reserve. Woodford Reserve's own rye whiskey would come out in 2015 and used a mash bill of 53% rye, 33% corn and 14% malted barley. This dispels the rumor that Woodford's rye and Old Forester's new rye are the same thing (but could it be the same mash bill that Michter's uses?). After the contract with Michter's ended in 2015, Brown Forman decided to keep a good thing going and use their extra capacity to create a rye whiskey for Old Forester. Roughly 4 years later, Old Forester Rye Whiskey was born.
This leads us up to 2021 when Old Forester released a single barrel of barrel strength rye whiskey. Enthusiasts had anticipated this after Old Forester began to release single barrel bourbon at barrel strength the year prior, but the new rye whiskey was not going to be sold as store picks (just yet). Old Forester claimed that they did not yet have enough product to begin a single barrel program and that only 50 barrels or so would be released in the initial batch. No age statement was provided but if we are to do the math on the fact that their own 4-year-old rye whiskey came out in 2019, then we can imagine this is right around 5-6 years old. Keep in mind that 5 years is not 5 years in "Old Forester-speak." Their heat cycled warehouses *should* make this rye whiskey taste around 7 years old. Is that the case then? Thanks to two gracious friends, I was able to get a taste for myself.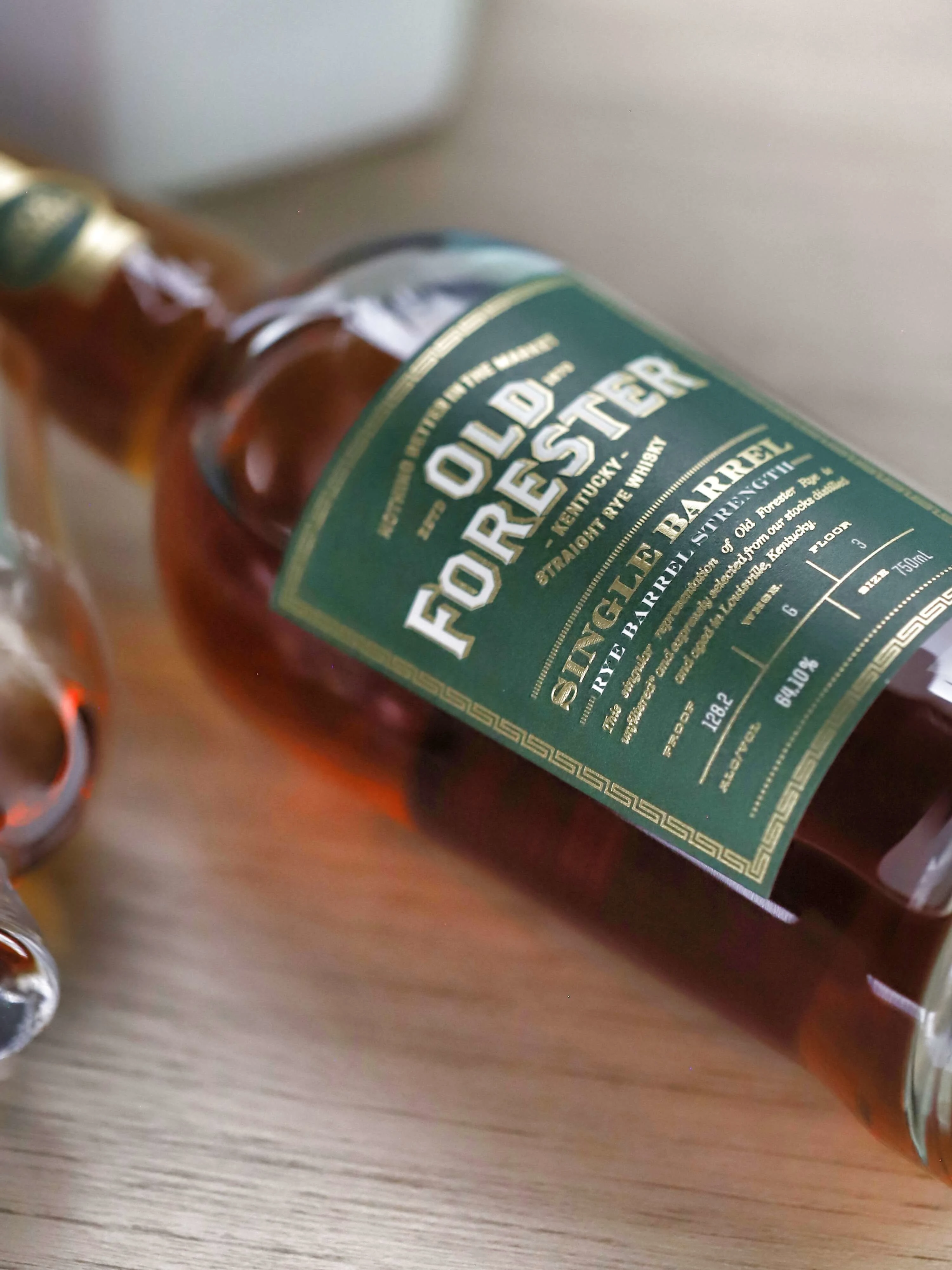 Tasting Notes
Nose: Sweet notes of honey, bubblegum and grainy corn muffins followed by fennel, mint and tons of floral and botanical notes. This has a great variety of greener scents that I love to find in ryes. Oak and tobacco leaf add some age to the nose and increase its complexity. This smells very similar to a Willett 4 Year Old Rye Whiskey, yet every now and then I catch a passing whiff of wet hay that reminds me of a craft rye whiskey.
Palate: A good amount of heat that has loads of sharp cinnamon, white peppercorn and red pepper flakes. That's not to say it's without sweetness, it's just that the heat lays on top of it. There are flavors of caramel as well as herbal notes like mint, oregano, dill (just a tiny bit) and fresh cut grass. Baking spices add additional flavors throughout like cinnamon and clove. I can taste oak, but it's not the most developed oak I've tasted. In fact, it borders on being "green" which is a detractor in my opinion. Fruit notes are few and far between but I can pick up on citrus rinds with lemon being most prominent.
Finish: Lingering notes of spearmint gum, molasses, citrus rind and honeydew melon all stand out. There are lots of lingering botanical and floral notes too, but I get a little bit of youthful "straw" that I don't find enjoyable at the end. Luckily the other notes keep it from being a poor finish.
Score: 7.6/10
There is so much to like in this bottle of Old Forester. Conversely, there seems to be one youthful note that stands out at each stage of the sip. I know that this is not the oldest rye whiskey out there, but if Old Forester is going to release only around 50 barrels of this stuff, you'd think that each barrel would be cream of the crop. This single barrel shows that they are on the right track but might need to let it age for another year or so to iron it all out. I was surprised to find some grainy scents and I think that the heat comes off as even hotter than its 128.2 proof would indicate. An experienced rye whiskey (and barrel proof whiskey) drinker will be able to shrug it off, but to a novice drinker, this will simply be too much to handle. Additionally, there were more "green" notes than I would have expected for such an experienced rye whiskey maker.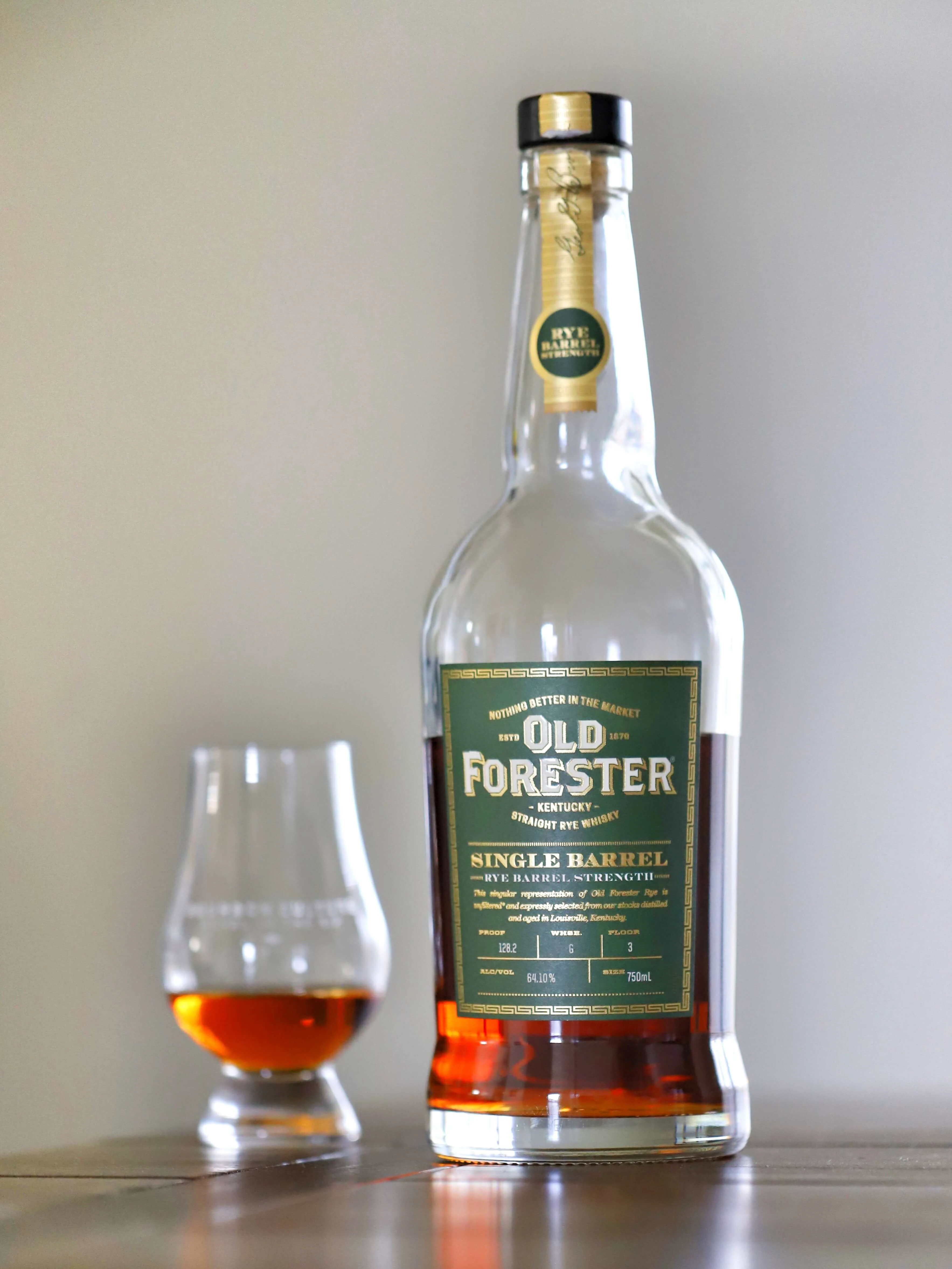 Final Thoughts
Throughout my session with this whiskey, the main thought in my head was how similar this tasted to a standard small batch bottle of Willett Family Estate 4 Year Old Rye Whiskey. In fact, the mash bills almost line up even though the Willett is a blend of two rye whiskey mash bills that average out to about 65% rye and a high percentage of malted barley. Willett's rye whiskey is also known for its strong presence of floral and botanical notes while also keeping enough sweetness to satisfy most drinkers. However the Willett's rye is about $30-40 less expensive than this bottle of Old Forester (at retail) and if we're talking secondary prices, which is the only way most of you are going to find this bottle, then it becomes even more absurd.
Over the last 2 years, I've really started to admire Old Forester products and was drooling with anticipation to try this. My expectations were deflated a bit after tasting this only because I felt like there should've been more. More maturity, more oak and more fruit. It's not a total letdown, but it's certainly nowhere near the $275 most flippers want for a bottle on secondary. But if you trust in my reviews and what I say, then hopefully you can put your mind and wallet at ease and just wait a couple more years when this bottle becomes more plentiful and, hopefully, better tasting.
Featured Products
Description:

The Aged & Ore Neat Traveler is a complete travel kit for spirits. We combined our widely praised Neat Glass with one of our 3oz Flight Bottles and housed them together in a custom EVA travel case. Perfect for a night away with your favorite pour. The tie
Description:

The Aged & Ore Bottle Flight is a premium set of 4 custom silicone wrapped glass bottles designed to transport and share samples of your favorite spirits. The flight bottles come in a custom EVA travel case that fits perfectly in any small bag. An Aged &
Description:

This Bundle combines two of our crowd favorite products, creating the ultimate travel bundle to bring along your favorite spirits and glassware. Bundle Includes: Neat Traveler (Gray) Bottle Flight (Gray) Note: This bundle is only available in gray and col
*Bourbon Culture is reader-supported. When you buy through links on our site, we may earn an affiliate commission.