*Bourbon Culture is reader-supported. When you buy through links on our site, we may earn an affiliate commission.
The Kentucky Owl brand has seen its fair share of ups and downs throughout its short life. But in my opinion, one of the highest ups so far has been their annual rye whiskey batch release.
Batch 1 has achieved legendary status and is revered among enthusiasts. Batch 2's lower proof and jump in price began to turn off many enthusiasts who were curious to start exploring the label.
By time Batch 3 came along, many enthusiasts simply ignored it because they could not fathom paying the high price of admission Kentucky Owl for something that was seen as losing its luster.
It's not that the rye whiskey inside wasn't good, but the mystery of where it was being sourced from and the rising costs of the bottles created a lot of mistrust with the brand.
Kentucky Heritage Distilleries
To get to the bottom of where this rye whiskey was sourced, first we have to look at the portfolio of Kentucky Heritage Distilleries that even have rye whiskey that is over 10 years old.
The list basically boils down to Jim Beam, Old Forester, Wild Turkey and Barton/Sazerac.
Of note, I'm leaving out Heaven Hill because after their distillery burnt to the ground in the late 90's, they were having Old Forester distill their rye whiskey for them up until recently.
Bulleit sources their 12 year rye from MGP (as does Luxco), so they're out too. I personally believe the majority of the blend to be rye whiskey from Barton. Since Dixon Dedman claims that it's more than one producer, I believe that there may be some barrels from Old Forester in there as well (since they sourced 10+ year old barrels to Michter's).
Kentucky Owl Rye
In 2020, it came as a shock when Kentucky Owl announced that they were terminating their rye whiskey line after Batch 4.
But they wanted the brand to go out with a bang, so they packaged it up inside of the shoddiest tube they could find (seriously, every tube I've seen appears to have water damage) and marked it up to an eye-watering $300.
Kentucky Owl never gave a reason why they were discontinuing the line or why they were bumping up the price an extra $100 either.
There are some guesses as to why though: their sources dried up, the barrels had become too expensive to purchase or the distributors noticed a steep decline in being able to move the products.
My guess is the former, but in reality we won't ever know due to the company's notorious veil of secrecy they shroud all of their products with.
Today I'll be taking a look at Batch 4 to see if this is $300 well spent or if it's one to avoid. For reference, very few rye whiskies share the same specs (age, origin, proof) as this bottle, so it's hard to compare another label to it. But I'm here to tell you how it tastes and I'll leave the value up to you. I sampled this neat and in a Glencairn.
Tasting Notes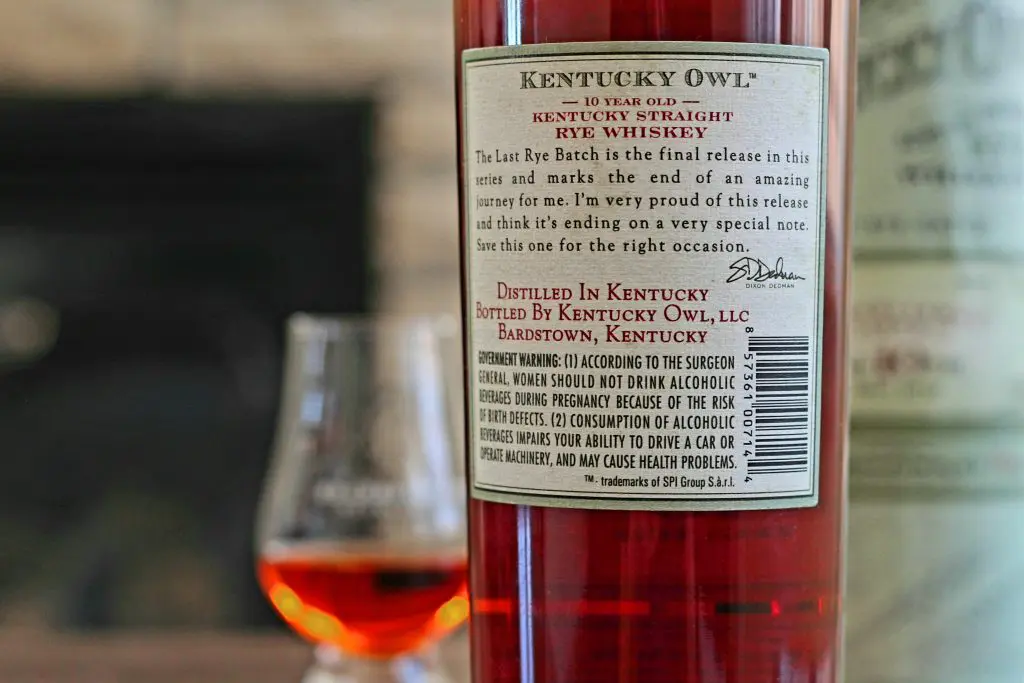 Nose: Scents of freshly baked gingersnap cookies allude to the rye spice within. But in typical Kentucky rye whiskey fashion, it turns sweet like a bourbon the more I smell.
Notes of cherry pie filling, candied oranges, grenadine syrup and strawberry cobbler all make this a very fruit-forward nose.
There are floral notes as well but they get pushed to the back by other sweet smells like crème brulee (emphasis on the caramelized sugar on top).
For some reason, there is even a hint of smoky ash that seems to pop up from time to time. It's all very balanced and deep.
Palate: Some Kentucky rye whiskies make it tough to tell if they're a bourbon or a rye. KY Owl Batch 4 doesn't seem to have this problem with the sharp rye flavors of cinnamon, gingerbread, mint and tarragon all leading the way.
The sweetness of caramel syrup is welcome, but there are still spicy notes of cloves, peppercorns and Red Hots candies that add extra depth.
Honeycomb mixed with cherries and an array of citrus zest (orange/lemon/lime) keep this rye whiskey on a brighter note as the whole palate shows off its incredible depth.
My mouth starts to drool at how much more flavorful this would be at cask strength (of note: no KY Owl Rye has been bottled at cask strength).
Finish: Not lifting its foot off the gas, the rye flavors keep on coming and stay long after the sip is done. Notes of mint, more floral notes, cherries, cinnamon and menthol all linger.
The age really comes through on the tongue as well with oak making an appearance along with tobacco leaf. They're both somewhat drying, but add the layers to the flavors that already exist.
Score: 9/10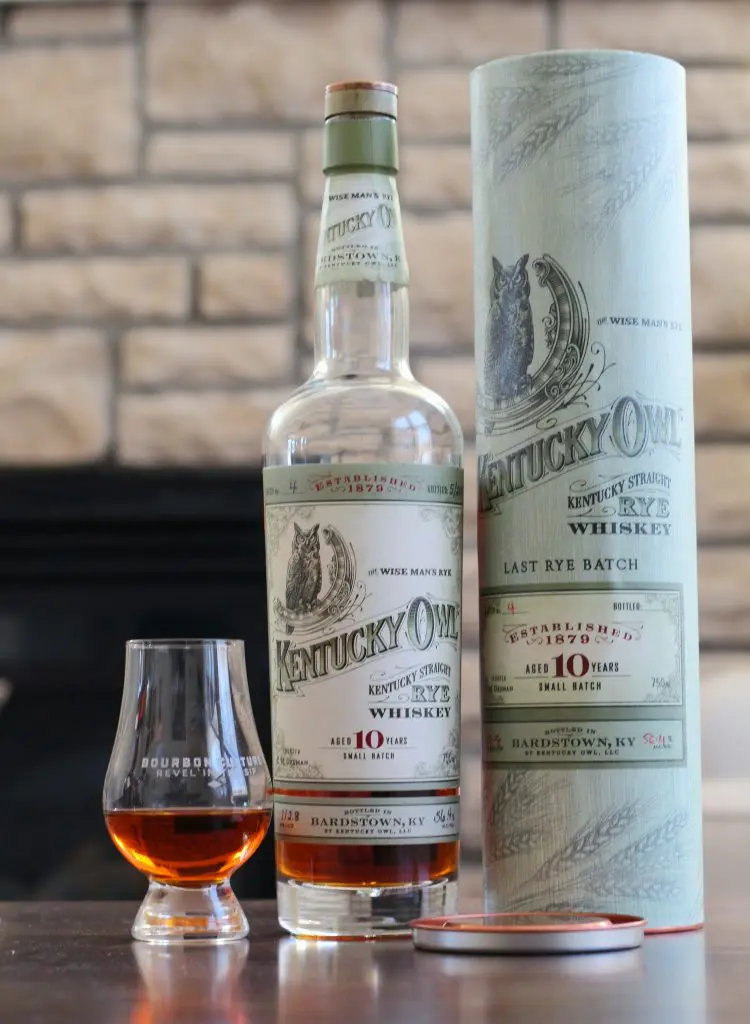 Kentucky Owl has certainly left its imprint on the rye whiskey scene by going out with a bang. I could think of the best parts of every Kentucky Rye Whiskey I've had in the past and find bits and pieces of it within.
To me, this certainly contained a lot of Sazerac qualities. The overall theme I found was a nicely balanced sweetness with loads of fruit. It also had some Beam elements in it by having some great peppery spice.
But I'm still not counting out that it doesn't contain Old Forester rye as I found qualities that remind me of it such as the floral notes and tannins at the end.
Overall, the depth of flavors was sublime. I'm going to shock a lot of people when I say that this last batch is on the same level as the legendary Batch 1, but it's true.
The value proposition is the one thing that makes this a hard sell. On one hand, had this stayed at $200, I would actually be able to justify it.
Many rye whiskies are already at that point on the secondary and aren't quite as good as KY Owl Batch 4.
Michter's Barrel Strength Single Barrel Rye Whiskey and Michter's 10 Year Rye Whiskey comes to mind. Parker's Heritage Heavy Char Rye Whiskey was a letdown to many as well and still doesn't meet the age or proof of this.
Beam's many rye whiskey labels always seem to lack a certain amount of cohesion and balance and their price points show they don't think that it's a premium product.
But KY Owl gives us the best of all worlds and gets them to work together. And while the price is a shame that it's this high, at least you can find these on the shelf of your local store.
Final Thoughts
This is very much a special occasion bottle, but when that occasion does come along, just know that it's going to be worth celebrating over.
Ratings Breakdown
1 | Disgusting | Drain pour (Example: Jeffers Creek)
2 | Poor | Forced myself to drink it
3 | Bad | Flawed (AD Laws 4 Grain BiB, Clyde Mays anything)
4 | Sub-par | Many things I'd rather have (Tincup 10 year)
5 | Good | Good, solid, ordinary (Larceny, Sazerac Rye)
6 | Very Good | Better than average (Buffalo Trace, OGD BiB)
7 | Great | Well above average (Old Ezra Barrel Proof, Old Weller Antique)
8 | Excellent | Exceptional (Michter's Barrel Proof Rye, Four Roses Barrel Strength)
9 | Incredible | Extraordinary (GTS, 13 Year MGP or Canadian Rye)
10 | Insurpassable | Nothing Else Comes Close (William Larue Weller)
Featured Products
Description:

The Aged & Ore Neat Traveler is a complete travel kit for spirits. We combined our widely praised Neat Glass with one of our 3oz Flight Bottles and housed them together in a custom EVA travel case. Perfect for a night away with your favorite pour. The tie
Description:

The Aged & Ore Bottle Flight is a premium set of 4 custom silicone wrapped glass bottles designed to transport and share samples of your favorite spirits. The flight bottles come in a custom EVA travel case that fits perfectly in any small bag. An Aged &
Description:

This Bundle combines two of our crowd favorite products, creating the ultimate travel bundle to bring along your favorite spirits and glassware. Bundle Includes: Neat Traveler (Gray) Bottle Flight (Gray) Note: This bundle is only available in gray and col
*Bourbon Culture is reader-supported. When you buy through links on our site, we may earn an affiliate commission.