*Bourbon Culture is reader-supported. When you buy through links on our site, we may earn an affiliate commission.
When Bardstown Bourbon Company launched their own line in late 2019, most people didn't know what to expect from the new startup. Sure, they had built a foundation to become the "MGP of Kentucky" but did they know what they were doing?
The answers came in the form of 2 base products that would be released semi-annually (at least I think that's been their concept). Fusion Series ($50) saw them take a well-aged Kentucky bourbon that was sourced from other distilleries and then blend it with a 2 or 3 year old distillate of their own.
Discovery Series ($115) saw various aged distillate from different Kentucky distillers blended together. It would not contain any of BBC's own bourbon.
Today we are taking a look at the most recent release; Discovery Series #4. For this release the blend breakdown is: 55% of the volume is 13yr old 74/18/8 mashbill (Barton), 37% of the volume is 15yr 78.5/13/8.5 (Beam Totes) and 8% of the volume is 10yr 75/13/12 (Wild Turkey or Beam, but likely Beam).
This will be my first time tasting any Discovery series release and I really don't know what to expect. But I am familiar with the concept of blending various distillates together from all of the Barrell Bourbon I've had over the years.
Would Bardstown Bourbon Company be able to blend just as impressively? There's only one way to find out. I sampled this neat in a Glencairn.
Tasting Notes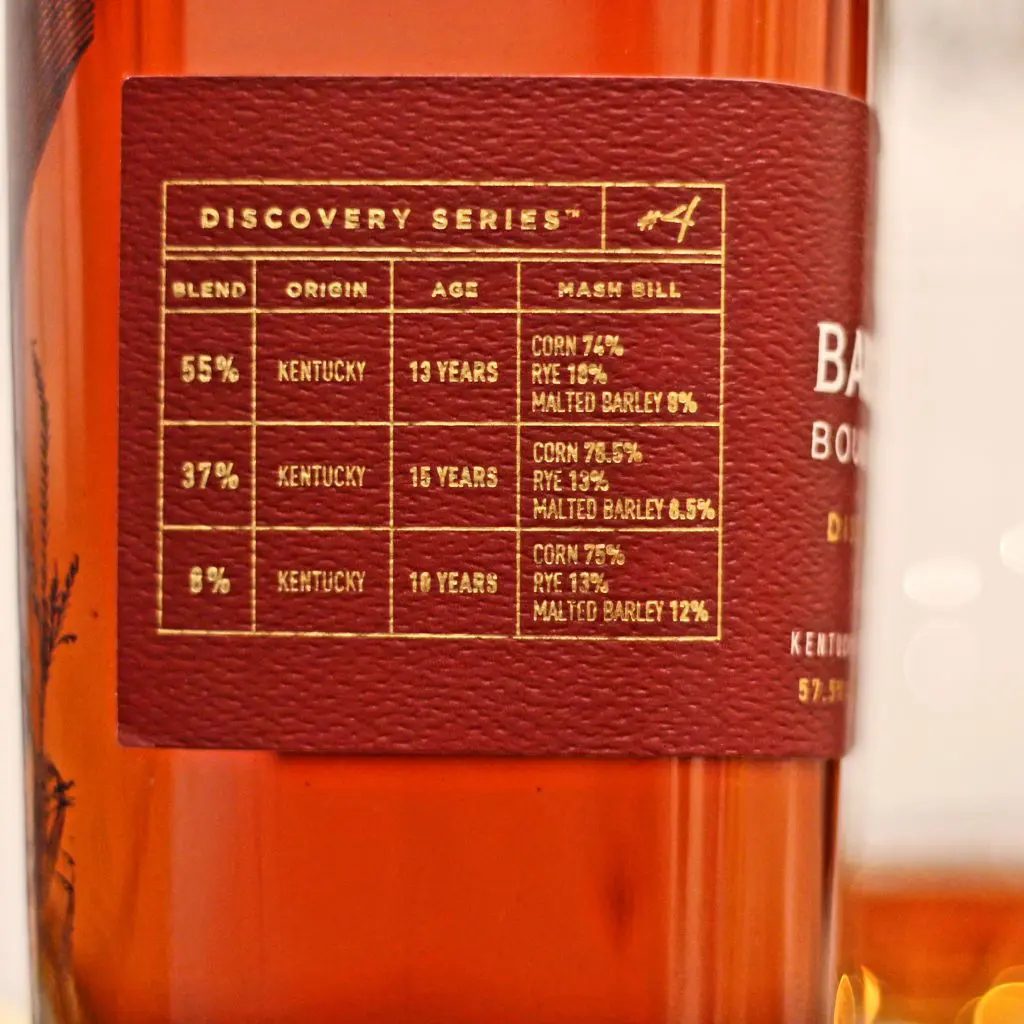 Nose: The oak on the nose is elite-level. Charred and toasted oak swirl around to the point where I'm almost questioning if this has been finished in a toasted barrel.
Even the toasted marshmallow note that I typically get with a toasted barrel finish is present. But enough about the oak, I'm still able to find some fun, sweet notes like warm chocolate sauce, Carmelo's candies, toffee and vanilla beans. I also am in love with the heavy whipping cream scent followed by a sprinkling of dark roasted coffee beans.
Suspiciously absent is a lot of fruit notes, but from what I can pull out it smells like a handful of dried trail mix fruits. But the heavy oak and sweet notes are extremely rich and hard to get past.
Palate: Despite everything the nose threw at me, it's actually the rye spice flavors that greet my tongue first. Notes of peppermint, clove and cinnamon hit first and give off some decent spice.
But just like the nose, it's not long before the flavors of chocolate ganache and slightly bitter oak reveal themselves. There is a nuttiness (toasted almonds and cashew butter) that I find throughout, but it is restrained and helps add layers of flavors. The fruits are present, but just like in the nose, they take a while to identify.
Eventually notes of toasted citrus peel and muddled cherries can be enjoyed but the star of the show seems to be the heavier, more aged notes.
Finish: The finish is a masterpiece of tannins fighting for your attention. Cured, dry oak, old leather and tobacco leaf all show you that you just drank some old bourbon.
It's not a totally one-sided affair as lingering flavors of toffee, stale peanut brittle and a little bit of peppermint also stick around.
Score: 8.7/10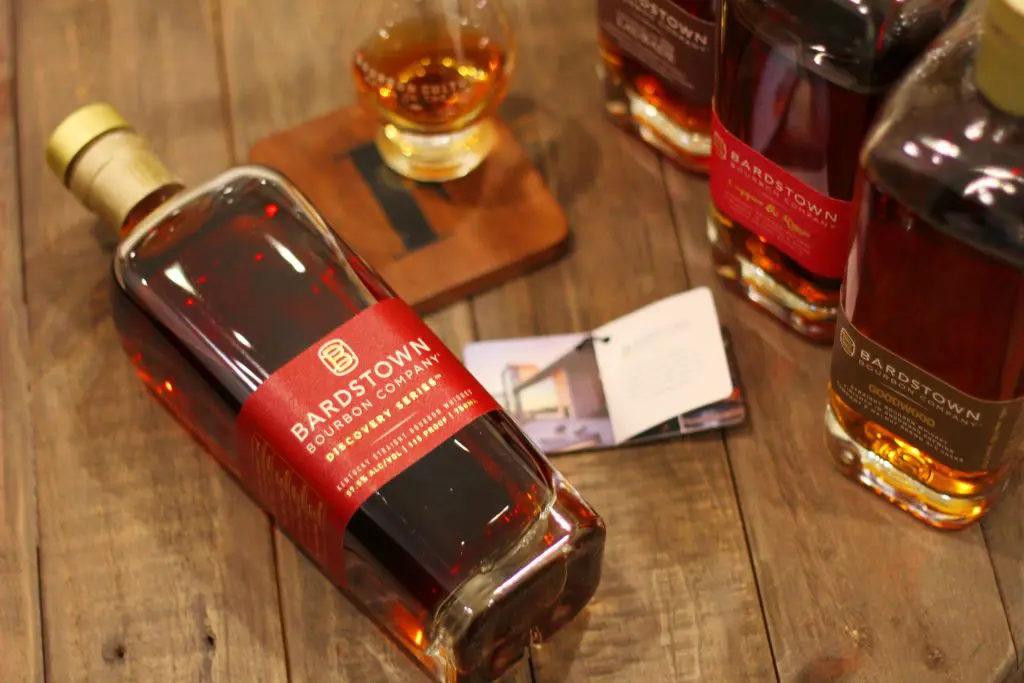 I sometimes get an epiphany when I drink bourbon this complex. So what was revealed to me with this one? The realization that this is what Barrell Craft Spirits 15 year Bourbon should be.
I get it, Barrell wants to show off that they can blend 15 year bourbon from Indiana, Tennessee and Kentucky to showcase their skill. But they also slap a $250 price tag on it.
However Bardstown Bourbon Company doesn't even bother trying to make Tennessee Bourbon work in their blends and they likely are saving their MGP barrels for their Collaboration Series.
Instead, they blend together stocks of Kentucky-only bourbon and find a way to make them greater than they'd be individually. That's no small feat.
Final Thoughts
So if I haven't made my point already, let me sum it up. BBC Discovery #4 is likely the greatest demonstration of just how good a blended bourbon can be by using distillate from only Kentucky producers.
It's rich, decadent and has enough proof to make you stand up and take notice. It's also around $115. Barrell Craft Spirits 15 Year Old Bourbon is a little bit older, but it runs you twice as much money and has Dickel blended into it (which ruins the flavor to many drinkers). It's also around 10 proof points less than Discovery #4.
Those proof points matter a lot because the one thing that has made the 2019 and 2020 BCS15 miss the mark of being an "incredible" bourbon has been their low-ish proof.
So for all the more I recommend Barrell Bourbon products in my reviews, I'm going to have to remember that there is another challenger out there lurking very close; BBC's Discovery Series. It's seriously that good.
Ratings Breakdown
1 | Disgusting | Drain pour (Example: Jeffers Creek)
2 | Poor | Forced myself to drink it
3 | Bad | Flawed (AD Laws 4 Grain BiB, Clyde Mays anything)
4 | Sub-par | Many things I'd rather have (Tincup 10 year)
5 | Good | Good, solid, ordinary (Larceny, Sazerac Rye)
6 | Very Good | Better than average (Buffalo Trace, OGD BiB)
7 | Great | Well above average (Old Ezra Barrel Proof, Old Weller Antique)
8 | Excellent | Exceptional (Michter's Barrel Proof Rye, Four Roses Barrel Strength)
9 | Incredible | Extraordinary (GTS, 13 Year MGP or Canadian Rye)
10 | Insurpassable | Nothing Else Comes Close (William Larue Weller)
Featured Products
Description:

The Aged & Ore Neat Traveler is a complete travel kit for spirits. We combined our widely praised Neat Glass with one of our 3oz Flight Bottles and housed them together in a custom EVA travel case. Perfect for a night away with your favorite pour. The tie
Description:

The Aged & Ore Bottle Flight is a premium set of 4 custom silicone wrapped glass bottles designed to transport and share samples of your favorite spirits. The flight bottles come in a custom EVA travel case that fits perfectly in any small bag. An Aged &
Description:

This Bundle combines two of our crowd favorite products, creating the ultimate travel bundle to bring along your favorite spirits and glassware. Bundle Includes: Neat Traveler (Gray) Bottle Flight (Gray) Note: This bundle is only available in gray and col
*Bourbon Culture is reader-supported. When you buy through links on our site, we may earn an affiliate commission.