*Bourbon Culture is reader-supported. When you buy through links on our site, we may earn an affiliate commission.
Dixon Dedman had already been sourcing and blending bourbon for his Kentucky Owl brand for 3 years before the release of his first batch of rye whiskey. The success of his limited release bourbons depended not only on the source of the bourbon he was blending, but his interesting double-barrel techniques. This involved either dumping a portion of the batches into new charred oak barrels or dumping portions into used barrels that contained another distillery's bourbon before it. The results they achieved from this method completely transformed the bourbon. If a majority of its original source was Barton before, it sure didn't taste like it by time it was bottled.
Kentucky Owl Rye Whiskey is born
In 2017, Dixon tried his luck on rye whiskey. He happened into a large lot of it that enabled him to create not just a huge initial batch, but 3 additional batches over the next few years. In fact, the first batch was something like 45,000 bottles which is about how many bottles of GTS that Buffalo Trace shipped out in 2018. The rye whiskey source has never been confirmed but behind the scenes sources believe it to come from Barton. Ironically, High West "ran out" of their two Barton-sourced rye whiskies in 2017 just as Kentucky Owl was starting to produce their own.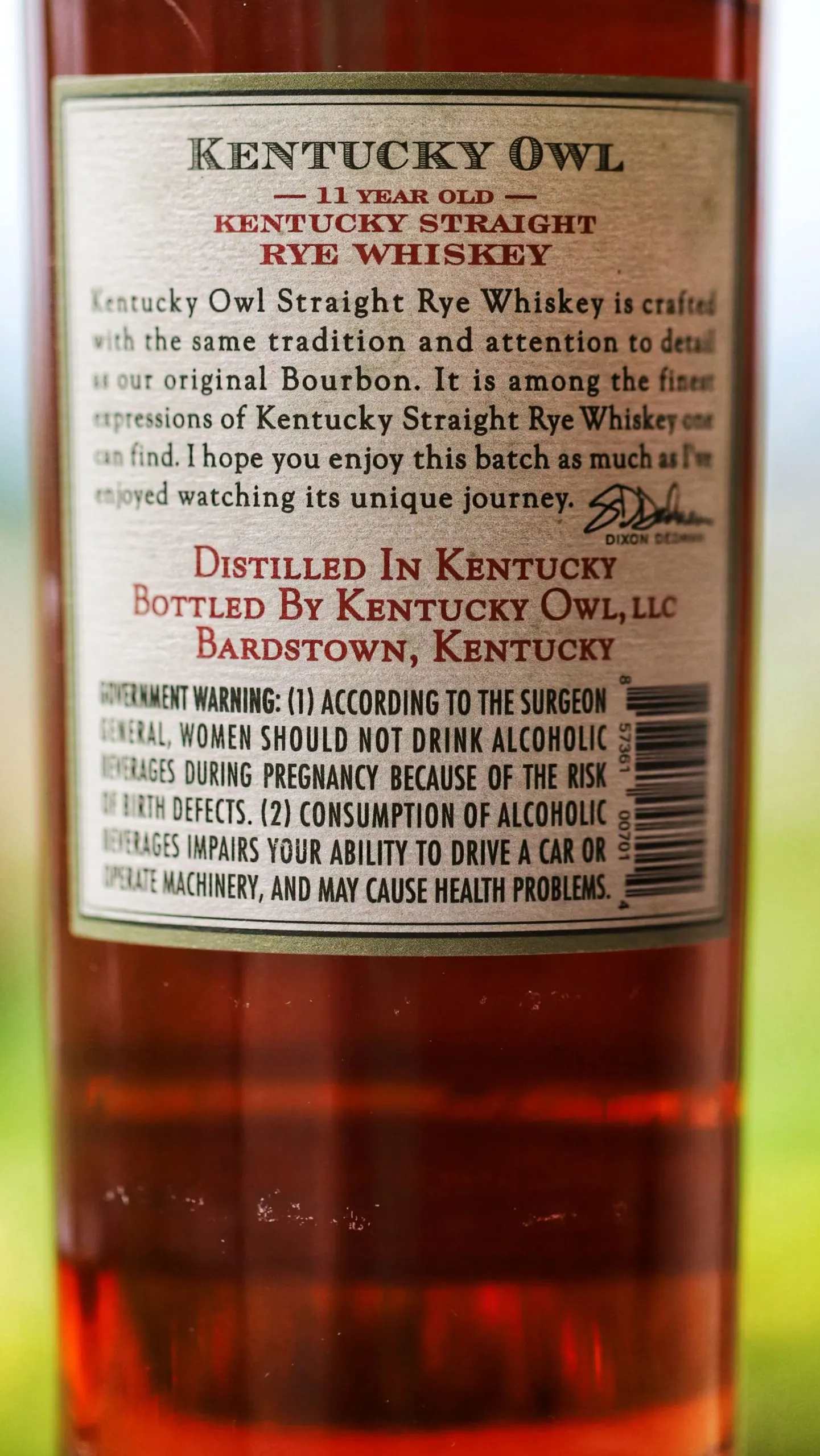 Based on age alone, we can narrow down a list of possible distilleries who would have stocks of 11-year-old Straight Kentucky Rye Whiskey available in 2017. They are:
Barton: They had been supplying 16-year-old rye whiskey to High West for the last 5+ years. There was an 80/10/10 rye whiskey mash bill and a 53/37/10 rye whiskey mash bill. They had also begun to distill the 65/35 rye whiskey years before it first went into the inaugural release of EH Taylor Straight Rye which was released in 2012.
Old Forester: Old Forester had stocks of 11+ year old rye whiskey at the time because they were responsible for contract distilling Michter's 10 Year Old Rye Whiskey since 2004.
Heaven Hill: They are unlikely because they had only recently begun to distill their own rye whiskey. Old Forester had been doing it for them after the Heaven Hill Distillery Fire in 1996 and stopped sometime around 2007-2008. They also had no rye whiskey product anywhere close to having a double-digit age statement in 2017.
Jim Beam: It's a stretch but some barrels could have come from Beam. Booker's Rye was claimed to be 13 years old and had just came out the year prior. However that was a one-off batch. Knob Creek would launch a 9 year old cask strength rye whiskey in 2018, but there may have been experimental batches created before that to test the waters for a larger batch.
Buffalo Trace: Had been using a vatted rye for their Sazerac 18 Rye Whiskey. Sazerac Rye and Thomas H. Handy ryes were too young at this point. Additionally, their EH Taylor Straight Rye was not considered to be any older than 7 years old at the time.
Wild Turkey: Cornerstone was released in 2019 with some 11 year old barrels blended into the batch, but otherwise Wild Turkey wasn't known as a rye whiskey powerhouse or one that was aging rye whiskies past 6 years old.
Willett: They only began to make their own product in 2012, so there's no chance their stuff could be old enough
Four Roses and Maker's Mark both don't produce rye whiskey
Knowing all of this and also knowing that Kentucky Owl's bottling facility was also in Bardstown, the deck is stacked in favor of the rye whiskey that Dedman sourced coming from Barton.
In a podcast with Bourbon Pursuit, Dedman briefly explained his process of how he created the rye whiskey for Batch 1 (and subsequent batches). He hinted that not all of his rye whiskey was from one producer, so he would take the rye whiskey from one barrel and dump it into another distiller's empty barrel (so Barton rye may have been dumped inside of an empty Old Forester rye barrel for instance). That way the flavors of the first whiskey would mingle with the leftovers from that barrel. He also cleared up the misconception that Kentucky Owl Rye Whiskey was bottled at cask strength. It's not. He said that Batch 1 ended up being around 130 proof (!) and then he proofed it down until he found the exact sweet spot that he liked. Batch 1 ended up being 110.6 proof.
It's no secret that Batch 1 is the most highly revered among rye whiskey fans. It's got a fanatic following and the secondary price to show for it. But how does it taste? I'm here to find out. I sampled this neat in a
glencairn
.
Tasting Notes
Nose:
The
nose
is rich and deeply layered.
Sweet cinnamon rolls
with warm vanilla icing indicate that this is not a super-high rye mashbill. There's a lot of warm baking spices that add just the right amount of heat and loads of flavor. I detect a small amount of floral notes that smell like a
bouquet of wildflowers.
There's also a note that smells like
flat root beer
that I don't think I've ever found in a rye whiskey before, but desperately hope to find again.
Palate: Spiced honey leads the way for an opening salvo of flavors that are both sweet and spicy. Classic rye notes like spearmint, ginger root and lemongrass all compete with baking spices like clove and cinnamon (Red Hots). Lighter herbal flavors like marjoram and oregano play nicely with the heavier tannins of oak coming from the distillate's barrel influence. There's even a fun bubblegum note that I love to find in rye whiskies.
Finish: The oak makes those 11 years in a barrel very noticeable. Lingering notes of cinnamon stick, leather and cooling menthol/mint give each sip a lot of depth. I'm also happy to report that the bubblegum note sticks around all the way to the end too.
Score: 9/10
There's no doubt about it, Kentucky Owl Rye Whiskey Batch 1 is a stunning whiskey. It's got everything a rye whiskey lover would want in their glass. I would've been let down if it wasn't spicy and floral but it was also the oak notes that gave it an extra layer of richness and age that separate decent rye whiskies from legendary ones. The proof is also perfect too. I know a lot of people would claim to have wanted to taste this at its true barrel proof, but the truth is that most of us would admit that our sweet spots are somewhere between 105 and 115 proof anyway.
Sure, there were half a dozen Kentucky Owl Bourbon releases prior to the first release of KO Rye Whiskey, but it's the rye that put them on the map. After it came out, Kentucky Owl exploded both in a positive and negative way. Dedman's popularity soared while Stoli Group offered him 3 dumptrucks filled with cash to take over the name and still have him blend future batches of whiskey. His friends and co-founders, Mark and Sherri Carter, decided to leave and go start their own company once it became too big.
Batch 1 may be the pinnacle of sourced rye whiskey, but it was also the straw that eventually broke the camel's back. Dixon eventually left the company that he started in 2021. For that one year though, Kentucky Owl was on top of the world and the first batch was undoubtedly the best rye whiskey of 2017.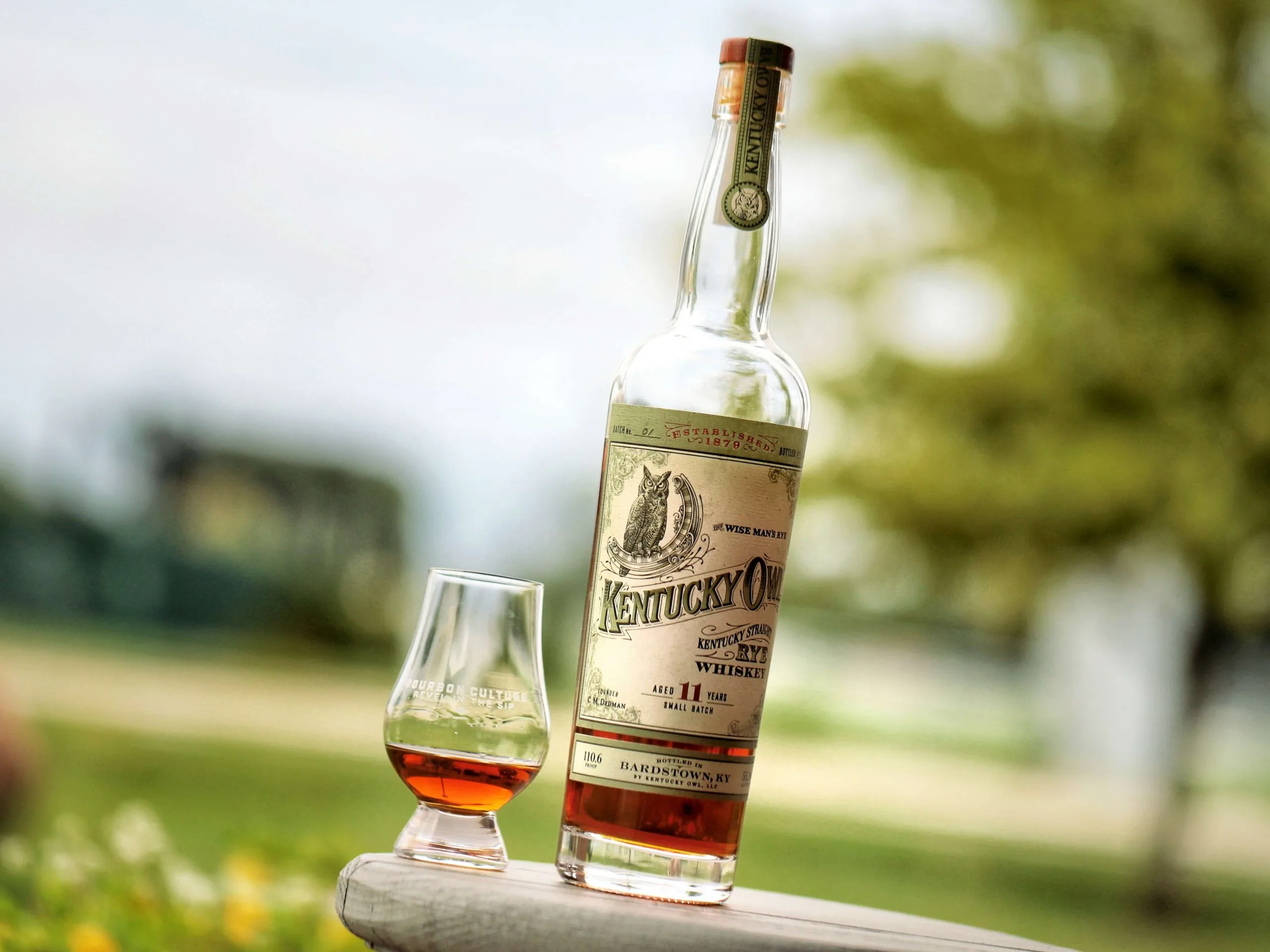 Featured Products
Description:

The Aged & Ore Neat Traveler is a complete travel kit for spirits. We combined our widely praised Neat Glass with one of our 3oz Flight Bottles and housed them together in a custom EVA travel case. Perfect for a night away with your favorite pour. The tie
Description:

The Aged & Ore Bottle Flight is a premium set of 4 custom silicone wrapped glass bottles designed to transport and share samples of your favorite spirits. The flight bottles come in a custom EVA travel case that fits perfectly in any small bag. An Aged &
Description:

This Bundle combines two of our crowd favorite products, creating the ultimate travel bundle to bring along your favorite spirits and glassware. Bundle Includes: Neat Traveler (Gray) Bottle Flight (Gray) Note: This bundle is only available in gray and col
*Bourbon Culture is reader-supported. When you buy through links on our site, we may earn an affiliate commission.