*Bourbon Culture is reader-supported. When you buy through links on our site, we may earn an affiliate commission.
For a while now Baker's Bourbon has been the red-headed stepchild of Jim Beam's Small Batch series. The price and the proof doesn't make sense to over 90% of consumers. Just look at the prices of 9 year old Knob Creek Small Batch and Single Barrels bottles.
Knob Creek bottles have historically had much better value proposition to bourbon enthusiasts than Baker's ever had. The age was higher and the proof was in the same neighborhood (Knob Creek Small Batch) if not higher (Knob Creek Single Barrels). And up until the packaging change of Baker's in 2019, one could argue that there was no aesthetic advantage between the somewhat ugly flask shape of Knob Creek and the somewhat ugly wine bottle shape of Baker's.
Even if I were to tell you that there are more differences than just price, proof and age that separates Baker's and Knob Creek products, it probably wouldn't be enough to persuade you to buy the Baker's. It is true that Baker's comes off of the still at 125 proof compared to Knob Creek's 130 proof, so Baker's theoretically should have a richer flavor.
They're both barreled at 125 proof which means that a decent amount of water gets added to the Knob Creek distillate before it goes into the barrel. Once again, I'm not sure that you'd be able to absolutely taste a difference in a blind taste test. But Jim Beam kept struggling to find a way to make Baker's different enough.
The solution came right around the time that Booker's 30th Anniversary had just been released. For Booker's 30th, a portion of barrels were 16 years old (modern Booker's is normally 6.5 years old for reference). The original plan for Booker's 30th was that ALL of the barrels used in that batch were to be 16 years old.
But when Beam tasters began sampling the 16yr old barrels, they realized many were over-oaked and unbalanced. This resulted in a large percentage of the final blend being 9 year old barrels because they tried to tone down the tannins. But the story behind Booker's 30th actually reveals that Beam has barrels of Bookers/Bakers aging in their warehouses that are somewhere between 9 and 16 years old. This led the powers-that-be at Beam to search their warehouses for older barrels to make a special edition of Baker's.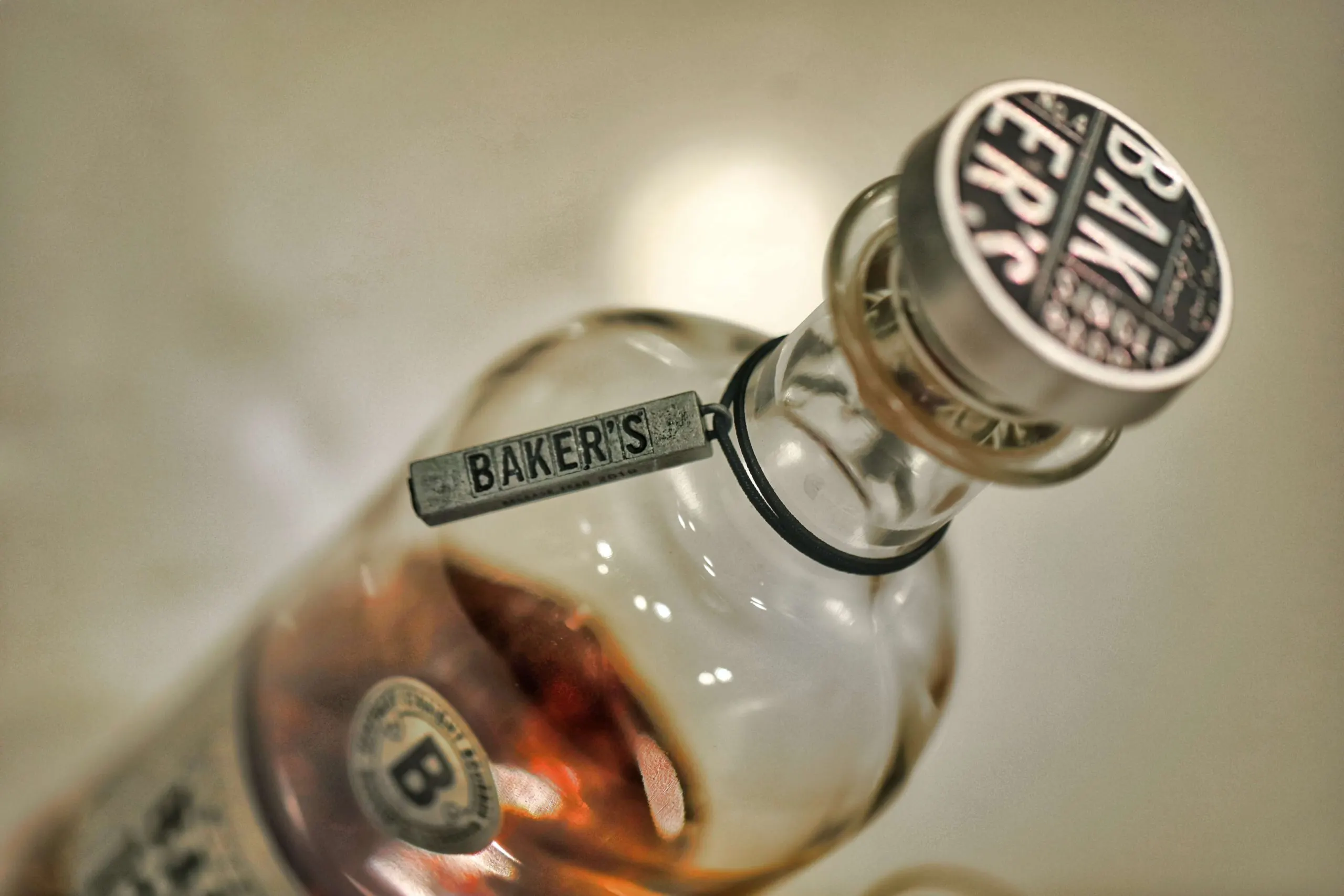 If you're thinking to yourself "well if they were too over-oaked for Booker's, then why would they be considered for Baker's?" The answer lies in what happens when whiskey is proofed down with water. Adding water is probably the most-used way to make an over-oaked bourbon palatable again.
It softens up the bitter compounds and allows more sweetness to come through. And although Beam never released the story or reasoning behind how they ended up with a good amount of 13 year old Booker's/Baker's barrels, my bet is that they found barrels that were likely not good enough at cask strength but tasted better when proofed down to 107 proof. Thus, Baker's 13 Year was born.
Baker's 13 Year Old Bourbon
Baker's 13 Year was priced at $100 from the start which both makes sense and doesn't. It makes sense if you look at the price of regular single barrel Baker's already being around $55. So the math says that you can double the price if you double the age. It doesn't make sense when you consider that in 2019, the market was flush with 14 to 15 year old single barrels of Knob Creek store picks available for $50.
On the other end of the spectrum, Booker's 30th was more or less the same flavor profile but was bottled at cask strength (125.8 proof). It was also twice the price of Baker's 13. All of these facts and figures paint the picture of how Beam arrived at this price point but the real question still stands: Is there anything special about a 13 year old single barrel of Baker's that truly makes it a $100 bottle? Let's find out. I sampled this neat in an
glencairn
.
Tasting Notes
Nose:
Classic Beam peanut funk greets my
nose
followed by what I refer to as "melted candy bar" notes of caramel and nougat. I know this is going to be a sweet sip just based on the
nose
alone. There are lots of sweet oak notes but for a 13 year old product, it doesn't smell like it sat in the barrel for that long.
I've detected more oak from a few 5 year old bottles of Old Forester.
It's still very pleasant and a lovely vanilla candle scent increases the depth.
Palate: Oh, this is really good. It is so velvety smooth on the tongue and the oak is rich and soft at the same time. The nose had me worried but you can taste all of the age even if the nose didn't show you it. The proof is also very easy to handle, as I expected. The flavor of tobacco amps up the depth after a couple and has this rich complexity that pairs nicely with all of the baking spices that are present. Caramel and roasted nuts are easy to identify and add a sweetness with a Beam touch that are instantly recognizable.
Finish: Oak and tobacco follow through all the way to the end of the sip. I would say the finish comes off as a nice, highly aged Knob Creek single barrel minus the heat. Caramel notes give the ending the perfect amount of sweetness. Roasted, shelled peanuts also continue to stand out throughout each part of the sip just as they should be.
Score: 8/10
Special release Jim Beam products always throw me for a loop. On one hand, I have always really enjoyed them. But on the other hand, they all kind of taste the same. Maybe this is why I consistently enjoy Little Book releases; they are inherently unique among the Beam portfolio.
Baker's 13 takes an already great bourbon and adds on an additional 6 years of age compared to the standard single barrel releases. The result is a rich and balanced bourbon that still tastes like… well, Baker's but with some extra oak and without some of the heat of its younger sibling.
Since the spice was toned down in this 13 year old release, it can actually make it taste less lively than its younger sibling. This is why I think that this 13 year old release could have benefited from a bump in proof. If it had been bottled around 115 proof, I think it would have done wonders for enhancing overall character and elevated its status in the realm of bourbon enthusiasts.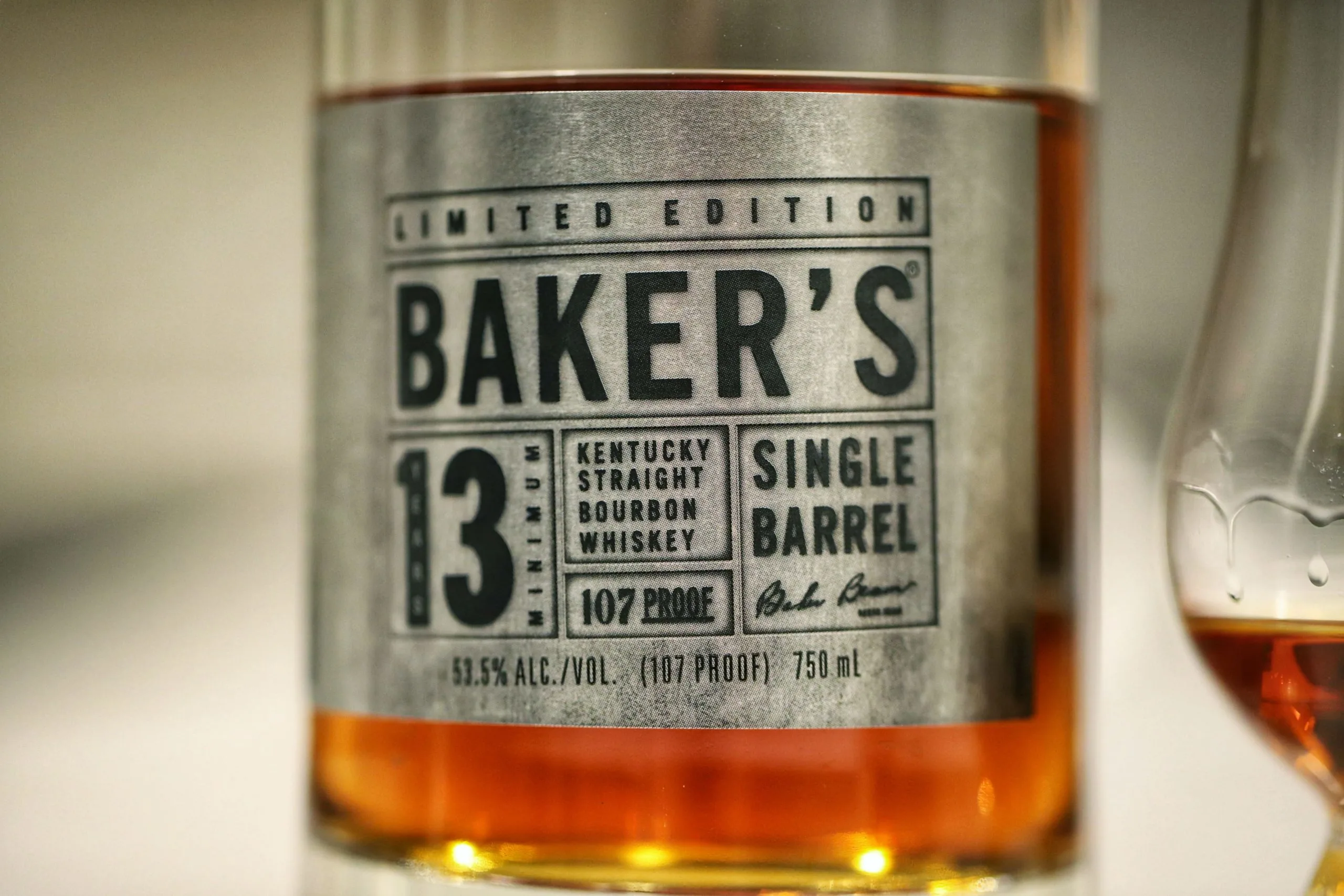 As it stands, Baker's 13 is a great bottle and probably deserves the price tag it originally had on it. But if you're considering buying one at inflated secondary market prices then I would advise you to spend that money elsewhere. There are better, more unique bottles for the money.
Featured Products
Description:

The Aged & Ore Neat Traveler is a complete travel kit for spirits. We combined our widely praised Neat Glass with one of our 3oz Flight Bottles and housed them together in a custom EVA travel case. Perfect for a night away with your favorite pour. The tie
Description:

The Aged & Ore Bottle Flight is a premium set of 4 custom silicone wrapped glass bottles designed to transport and share samples of your favorite spirits. The flight bottles come in a custom EVA travel case that fits perfectly in any small bag. An Aged &
Description:

This Bundle combines two of our crowd favorite products, creating the ultimate travel bundle to bring along your favorite spirits and glassware. Bundle Includes: Neat Traveler (Gray) Bottle Flight (Gray) Note: This bundle is only available in gray and col
*Bourbon Culture is reader-supported. When you buy through links on our site, we may earn an affiliate commission.