*Bourbon Culture is reader-supported. When you buy through links on our site, we may earn an affiliate commission.
It's always interesting to see what arrives in the mail from the distilleries that want me to try their whiskey. I wasn't expecting this bottle, but after receiving it, I was pretty intrigued with what I was holding.
An age statement of four years old and a decent proof (96) with liquid that looked fairly dark. The fact that I completely spaced that this was labeled as a "Rice Whiskey" is something I feel embarrassed about. It's so common to just assume that the bottles that come my way are bourbon.
I've found out two things when dealing with craft distilleries after they send me their bottles. Either they're super transparent and are ready to spill the beans on everything they do or they're tight lipped and don't respond to my requests for additional information.
The weird thing is that when a craft distillery holds back on the details, they've usually done a pretty good job of scrubbing their social media for the answers to these kind of questions. J.T. Meleck is interesting in the fact that we have yet to sync up to do a Q&A, but I feel like I didn't have to because their social media pictures kind of gives away all of the answers anyway.
JT Meleck crafts a rice whiskey
So here is what I've gleaned so far. First off, this rice whiskey uses a mash bill of 100% rice that's all grown on their farm (along with crawfish, which is why the front label has the outline of one). I honestly don't know much about how rice whiskey is made, so I reached out to ask if the mash was made with brown rice or white (which means the bran has been polished off).
I was curious because leaving the bran and germ on could result in a nutty flavor coming through. Jim Beam uses brown rice in their various whiskies that have used it (Little Book 4 and Jim Beam Urban Stillhouse Brown Rice Whiskey), but I don't want to assume anything. There are marketing pictures of J.T. Meleck bottles sitting in a piles of white rice and brown rice.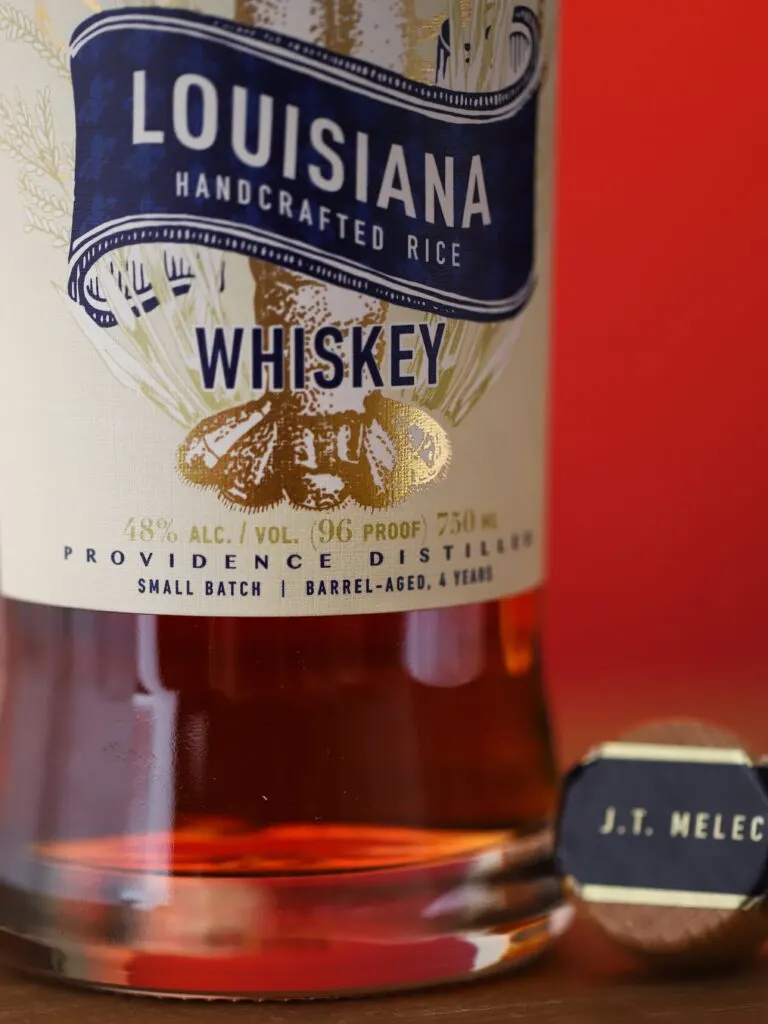 Moving on, the barrel entry proof (the proof of the liquid at the time it first gets added to the barrel) seems to waver slightly between 120 to 121.9 proof. This would make it similar to the entry proof used by Four Roses or MGP.
But what's unique is that when I was scanning their social media pictures, I noticed they were also bottling a barrel proof version of this whiskey and most of them had a proof of around 120 proof, the same that it went into the barrel as before aging began.
I found this intriguing because I would assume that any whiskey being aged in the hot and humid state of Louisiana would increase in proof. Maybe it has something to do with the role high humidity plays rather than just the heat that Louisiana is known for.
My sources at MGP told me that their warehouses next to Tanner Creek see higher humidity levels that usually result in lower barrel proofs when maturation is complete.
Speaking of the barrels and how they're aged, the pictures seem to indicate that only 53 gallon barrels are used. I believe that they used 30 gallon sized barrels at the very beginning, but they have since quit using them. I also noticed they're aged in a slightly unconventional way by mixing together upright/palletized barrels and horizontal barrels.
I wonder why they do this? Additionally, I did not observe them stacked taller than 3 high and they all seem to be aged in a metal pole barn smack dab in the middle of farm country. They also haven't made a lot of product since they started.
By my count, they first started distilling in 2018 and only reached their 1,000th barrel filled by June 10, 2022. The math works out to around 250 barrels per year – less than one per day (or one every business day).
The type of still they use is also unknown. I would assume it's a pot still based on the size of the operation, but the few pictures I've seen don't contain any images of the it other than a few copper pipes in the background.
So now that we know some of the basics about J.T. Meleck and their Rice Whiskey, the only thing left to do is to taste it and see what it's like. As usual, I sampled this neat in a glencairn.
Tasting Notes
Nose: Warm rice pudding with plenty of cinnamon. I could also say that the scent leans more towards tapioca pudding too. Let's just say pudding is a main component of the nose, haha. There's also a distinct buttery scent.
This is going to sound weird, but I'd narrow it down even closer and say it's "Irish butter." It's very creamy and pairs nicely with the pudding note I mentioned before. Wood and cinnamon are soft and subtle, but add some nice depth.
Palate: A very soft experience on my tongue. This doesn't have the "bite" of a traditional bourbon. There is no prickly black pepper spice.
There are no drying oak tannins. What I do find are more relaxed and doesn't necessarily speak to my tongue like a whiskey made with corn or rye does. I get odd flavors like lemon and blueberry sorbet.
The creaminess theme continues with notes of vanilla coffee creamer and plain Jasmine rice. I also pick up a bit of menthol on my tongue, likely from the rougher edges of a (supposed) pot still distillate.
There is one more strange taste that I cannot put my finger on. It's kind of like accidently licking some hand cream that has aloe vera in it. It's something I've never experienced in whiskey before. It's very sippable, but totally unlike anything I've had before
Finish: An incredibly smooth ending. No harsh burn but that doesn't automatically mean there is a lack of flavor either.
It's smooth and creamy. Melted white chocolate, that lingering aloe vera taste, rice pudding and nilla wafers. There's even a couple fruit scents like orange flesh and and canned cherry. This is one whiskey that will make you think for a minute after the sip is complete.
Score: 7/10
This is a hard whiskey to rate, but I think a 7 is a great start for such a young distillery. It's hard to rate because there's not much out there like it.
Is rice whiskey supposed to be so smooth and creamy? What happens to it as it gets older? I'm not sure, but I'd like to find out since this made a good first impression.
I think bourbon drinkers who lean more towards the low-rye recipes (Heaven Hill, Buffalo Trace and Jim Beam) would appreciate rice whiskey whereas those who want more spice and complexity with their whiskies may not.
I may be wrong on that since I fall into the latter category yet I found myself enjoying this.
Final Thoughts
If you're like me, you started out on one specific kind of whiskey to drink when you first went down the path of brown spirits. For most of us reading this, that was probably bourbon. It probably took a while for you to appreciate the unique and spicy nature of rye whiskey before you liked it too.
Maybe malt whiskey (Scotch, Irish or American Single Malt) became something you learned to enjoy later on. My point is that it takes a few attempts for our tastebuds and brains to wrap around the profile of a new kind of whiskey.
Rice whiskey like this bottle of JT Meleck has the advantage of being mostly agreeable from the first sip. But don't let a negative first experience chase you away if you try this once and find that you don't like it.
I think that as craft distillers grow and distributors expand their markets, that more people will have access to the other kinds of rice whiskey out there.
Maybe it will become a trend that cements itself as a style of whiskey that Americans like. If this happens, then I predict JT Meleck will be near the front of the line for desirable rice whiskies.
They make a very good product and one that I am seeing constant improvements on. They have a bright future and if you are on the fence about rice whiskey, this is as good of a product that you're going to find and is worth your time and money to buy.
Featured Products
Description:

The Aged & Ore Neat Traveler is a complete travel kit for spirits. We combined our widely praised Neat Glass with one of our 3oz Flight Bottles and housed them together in a custom EVA travel case. Perfect for a night away with your favorite pour. The tie
Description:

The Aged & Ore Bottle Flight is a premium set of 4 custom silicone wrapped glass bottles designed to transport and share samples of your favorite spirits. The flight bottles come in a custom EVA travel case that fits perfectly in any small bag. An Aged &
Description:

This Bundle combines two of our crowd favorite products, creating the ultimate travel bundle to bring along your favorite spirits and glassware. Bundle Includes: Neat Traveler (Gray) Bottle Flight (Gray) Note: This bundle is only available in gray and col
*Bourbon Culture is reader-supported. When you buy through links on our site, we may earn an affiliate commission.