*Bourbon Culture is reader-supported. When you buy through links on our site, we may earn an affiliate commission.
Spirits of French Lick is a distillery in Southern Indiana whose motto is "Respect the Grain." For years now, Alan Bishop has distilled his whiskey with a mindful eye that the aging process should not take away from the impact of the grain on the final product.
This is evidenced by the warehouse he ages his barrels in (called a Chai Cellar) essentially being a giant room that he keeps sealed off from the rest of his distilling operation. Temperature fluctuations are gradual and not as intense as you may find at many other distilleries.
I have personally been in his Chai Cellar in the middle of a hot July day and it felt very comfortable – probably around 75 degrees. Alan also specifies the char level of his new oak barrels should be a #2. This is very low compared to the standard #4 levels that is more widely used around the industry.
This steady kind of aging seems to vastly reduce the amount of wood/barrel char/liquid interaction that goes on. So if you love the taste of grains shining through with each sip of your whiskey, you're in luck when it comes to Spirits of French Lick. Change is coming, though.
Alan recently completed construction of two new metal warehouses that set on the edge of the distillery grounds. These warehouses should result in a much more impactful interactions between the wood and the distillate, perhaps changing the overall taste and profile of his whiskies in the long run.
In the meantime, the whiskies that continue to be released have likely aged in the Chai Cellar.
The focal point of the bottle I'm reviewing today is the heirloom corn variety that Alan has been creating for a few years now. He calls it "Amanda Palmer" and it's a corn that when you look at it, has three colors to the kernels.
Alan's love (bordering on obsession) with breeding corn varieties is most apparent in the articles he's written on the subject like in distillerytrail.com (link here).
He goes on to explain how he created it and even romances the story a bit about how he personally goes out to the field that he grows it at and harvests each ear BY HAND. The level of dedication this man has is next-level.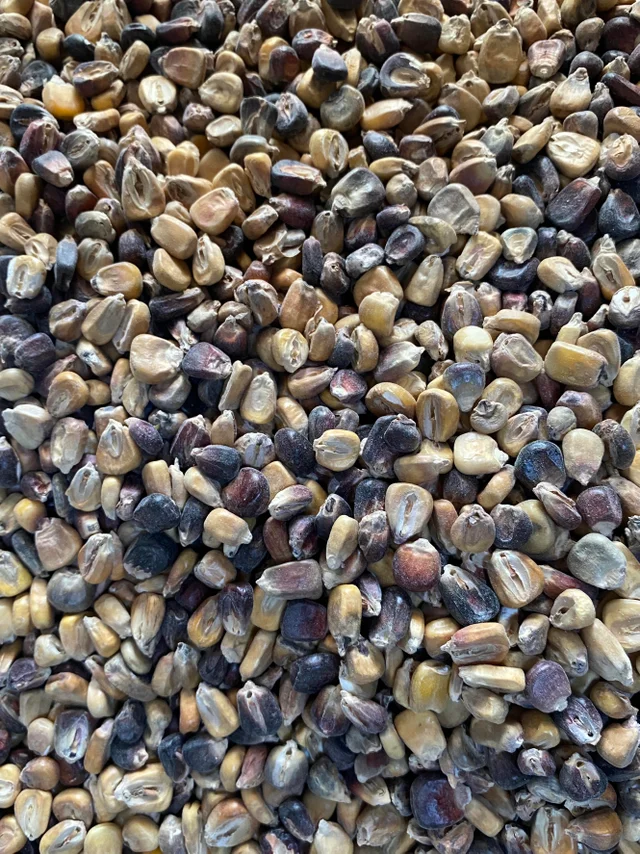 That's why I find it strange that Alan – who has complete control over his products from start to finish – has omitted the fact that this bottle of Hindostan Falls uses his "Amanda Palmer" corn.
Instead, it only uses the word "heirloom corn" in the ingredients (along with rye and malted barley). I was hoping to find it mentioned on the back label but even that is devoid of the name of the corn.
Why is that? Is he worried that any sort of negative reaction to the whiskey will ruin the corn's reputation in future products? The thought crosses my mind as I go to take my first sip. I sampled this, as usual, neat in a glencairn.
Tasting Notes
Nose: The nose if full of raw corn, cream of corn and vanilla cupcake with frosting. Don't get your hopes up with that last scent, there's very little of it to salvage the overall profile I find.
Overall, the nose smells as youthful as it tastes and there's a lot of undeveloped oak notes that seem determined to make you want to pull your nose back from the glass.
Palate: Corn, corn, corn. It's practically a one-note bourbon, this bottle. There's roasted corn on the cob, cornbread and a bit of Brach's Caramel Candy Corn with vanilla in the background.
The oak tastes neutral – like it was aged in a barrel that wasn't charred. That by itself seems to be the reason why I get a lot of youthful flavors on my tongue. I do find the most faint amount of chocolate lurking around too.
Overall, the corn is what really dominates here and if you're not good at picking out secondary notes, all you're going to taste is grainy corn notes.
The rye doesn't help much and may introduce more astringency and earthiness than anything. I'm of the mindset that the earthiness is coming from the actual corn though.
Finish: The finish may be the most pleasant thing about the whole dram, but that's not saying much. Corncakes play nice with cinnamon and clove, but there is a large amount of barrel char and earthiness that sticks on the tongue long after the sip is complete.
Score: 4/10
There's not much to like here. The last bottle from Spirits of French Lick that I reviewed was the Charles E. Ballard Corn Whiskey and I found myself liking that much more than this; an actual bourbon. That says a lot about the product.
The lack of sweetness contributed to less-appealing notes like earthiness and raw grain. Both were on full display. Even when I had a sip that wasn't bad, the best accolade I could think of to describe it was "boring."
This also doesn't help change my mind that heirloom corns (like Bloody Butcher Corn) just don't make good whiskey. I wish that wasn't true but I am disappointed again and again with whiskies that contain them.
I want heirloom varieties to work so bad, yet it seems like good ol' Yellow Dent Corn #2 (hell, maybe the GMO kind too) is the best kind for bourbon. I'm sure that will draw some ire, but it's what I've found to be true so far.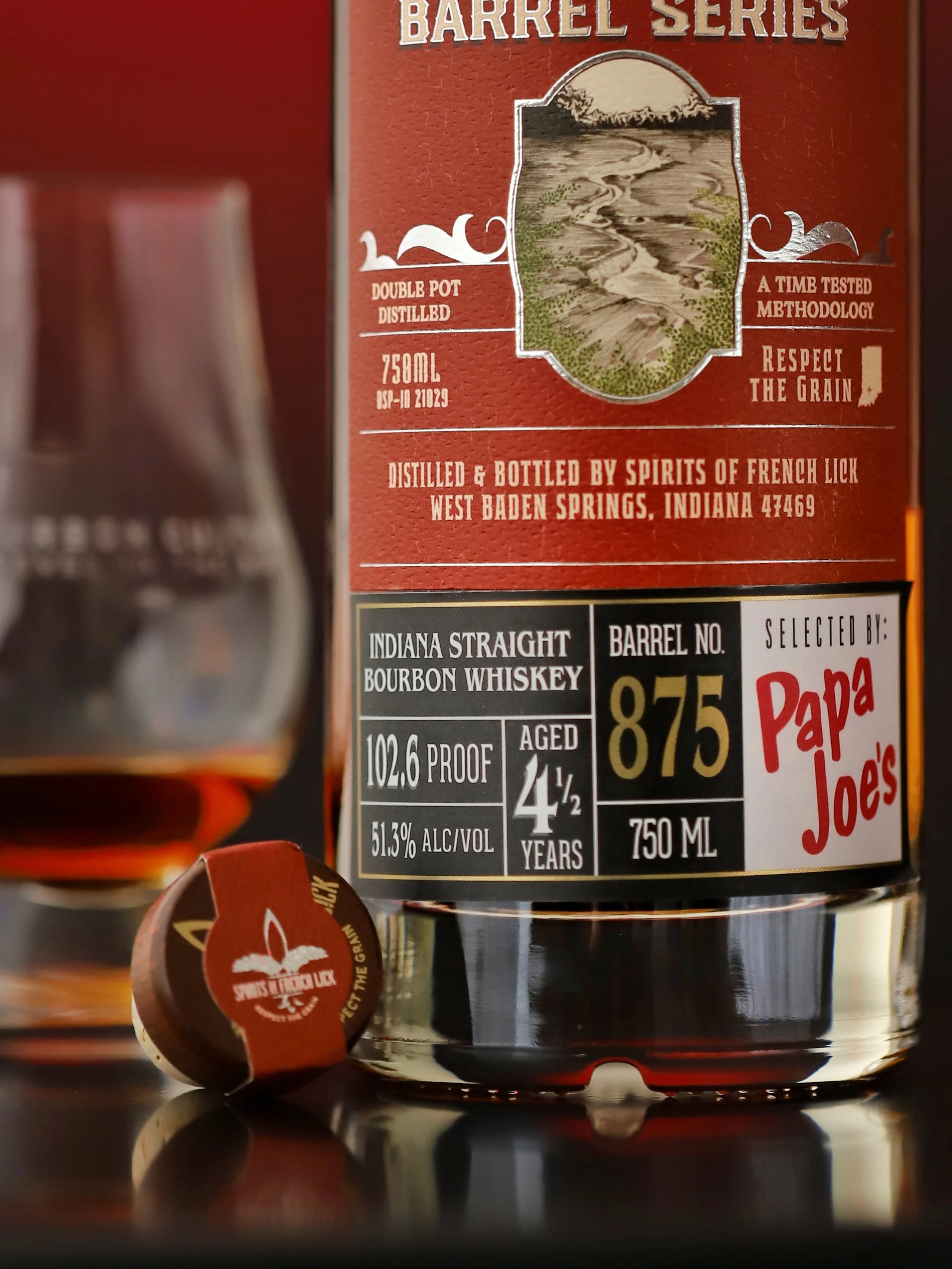 Final Thoughts
It is sad to admit that this bottle of Hindostan Falls bourbon is one of the bigger letdowns of the Spirits of French Lick family of whiskies. There's not a lot to like within because the corn takes over and simply smothers any other kinds of notes.
If Alan has worked for years to perfect this variety of corn, I fear that it may be a bust. There is an imbalance where the sweetness that corn would normally bring is lacking and the earthiness overwhelms most other flavors.
Going back to what I said above, maybe there was a reason why "Amanda Palmer Corn" was not included on the label.
This bourbon definitely does not make a good first impression for that varietal. Hopefully there is a fix for it, though. Maybe aging in those new metal warehouses will allow the distillate to become more filtered and refined through additional interaction with the wood.
Maybe more years in the barrel will simply "age away" the off-notes. And maybe Alan will elect to finally start using a higher char level on the barrel staves in an effort to modify the process of esterification a little bit more (yes I know 90% of esters are created before the whiskey is even aged).
I don't know the answers, but I do know what my senses tell me, which is that Hindostan Falls is a product that doesn't meet the standards that I know Alan and his team are capable of.
Featured Products
Description:

The Aged & Ore Neat Traveler is a complete travel kit for spirits. We combined our widely praised Neat Glass with one of our 3oz Flight Bottles and housed them together in a custom EVA travel case. Perfect for a night away with your favorite pour. The tie
Description:

The Aged & Ore Bottle Flight is a premium set of 4 custom silicone wrapped glass bottles designed to transport and share samples of your favorite spirits. The flight bottles come in a custom EVA travel case that fits perfectly in any small bag. An Aged &
Description:

This Bundle combines two of our crowd favorite products, creating the ultimate travel bundle to bring along your favorite spirits and glassware. Bundle Includes: Neat Traveler (Gray) Bottle Flight (Gray) Note: This bundle is only available in gray and col
*Bourbon Culture is reader-supported. When you buy through links on our site, we may earn an affiliate commission.