I struggle writing anything positive about Willett and the modern products they put out. I think that the hype around the products they used to release (that were sourced from truly great distilleries) has been unfairly applied to their modern products.
One thing I really don't like is how they are keeping all of their same bottles and labels the same even as the whiskey changes on the inside. Noah's Mill and Rowan's Creek are two big offenders but Willett Family Estate releases are guilty too.
Willett Family Estate Single Barrel Rye Whiskey
Willett Family Estate (commonly referred to as WFE among enthusiasts) is the flagship of the Willett brand. The tall, slender bottle is easy on the eyes and the family's coat of arms looks impressive. It has a sort of built-in allure and prestige to it.
The WFE bottles used to contain Willett's most prized barrels and now sell for thousands on the secondary market. Nowadays, Willett puts their own whiskey into these bottles. You can tell the bourbon apart from the rye whiskey mainly by looking at the color of foil that seals around the neck of the bottle.
Purple for bourbon and Green for rye whiskey (the label also clarifies this too).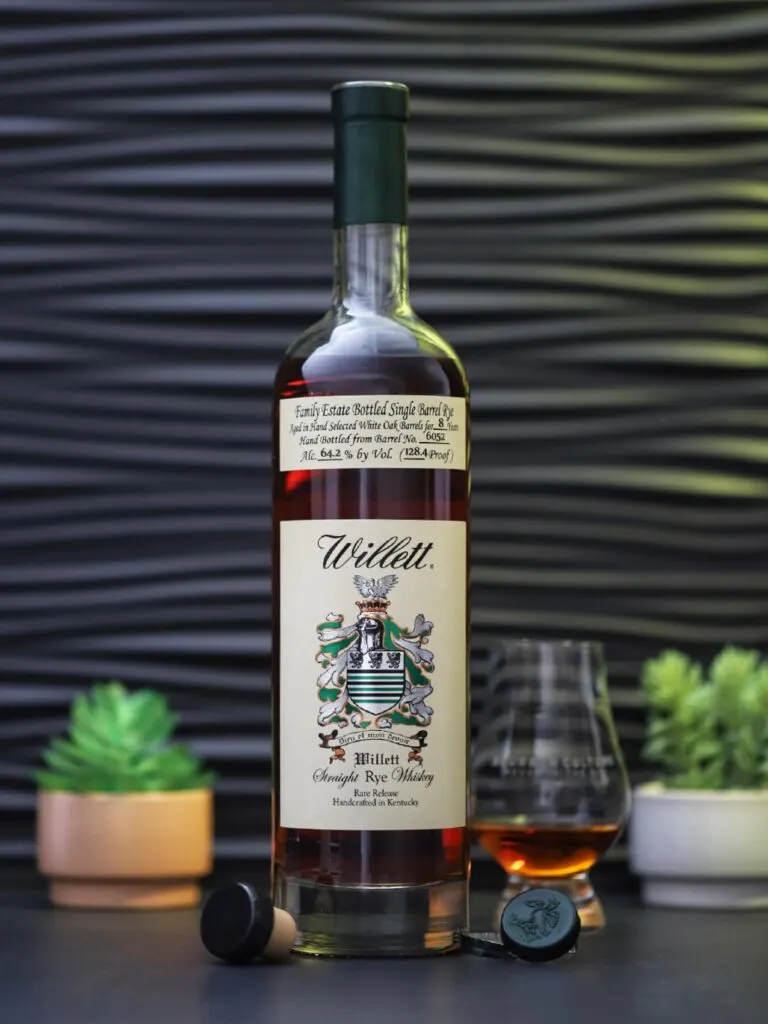 I have been particularly turned off when I have tasted the bourbon they put in these modern-day bottles. I find them to still taste youthful, grassy and thin in their own ways.
The price is what kills me too. Most of these Willett bottles command $30 to $40 per-year-aged which is just way too much money for bourbon that tastes like it needs more time in the barrel.
When looking at their rye whiskey, it's a different story. Until now, my only experience with their rye whiskey has been the four year old WFE Small Batch Rye Whiskey.
For that label, they blend together two rye whiskey mash bills (a high and a low percentage rye) and bottle it at cask strength. While the age statement says it's still pretty young, the overall taste is pretty remarkable and well worth the price (typically $60).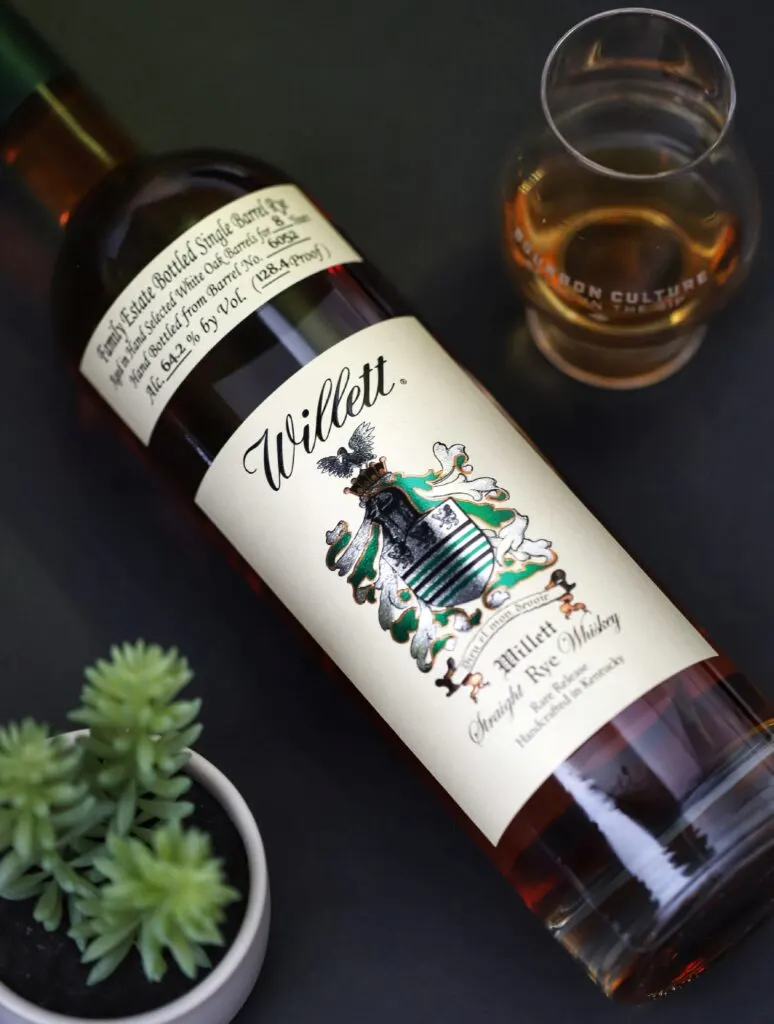 Thanks to a generous friend, today I get to try an 8 year old, single barrel version of their rye whiskey.
Based on the Bourbonr.com website, I have determined that the rye whiskey mash bill used for this bottle (Barrel #6052) is the "high rye" recipe containing 74% rye, 11% corn and 15% malted barley.
For the record, Willett's "low rye" rye whiskey mash bill of 51/34/15. Both variations are put into the barrel at 110 proof which makes the proof this one gained over 18 points! That's pretty impressive. Now that we know what's in it, how will it taste? Let's find out. I sampled this neat in a glencairn.
Tasting Notes
Nose: Sweet caramel and melted butterscotch are the perfect opening to any whiskey in my book. The rye scents of herbs, gingerbread and spring-scented dryer sheets come next.
I typically don't find oak/wood notes on modern Willett products, but I do find some toasted oak notes here. Additionally, I'm getting a scent that I can only categorize as "toasted sesame seeds." It's strange, but it works well with the others.
Finally, the spice scents are numerous with clove, nutmeg and a bit of cinnamon. Overall, the nose is impressive in its range and diversity.
Palate: Sweet, herbal flavors coat my tongue upon the first sip. Fruit flavors are always welcome and each sip contains a nice variety.
Lemon drops, sweetened rhubarb and peppery papaya are some of the more interesting ones I find. Flavors of Riccola Cough Drops provide both syrupy rich coating and a sort of menthol cooling sensation.
There is a nice smattering of baking spices too with cinnamon, nutmeg and allspice all present. Overall, when you add in the oak component to everything I just said, this is a superbly complex and delicious rye whiskey, right up there with Thomas H. Handy.
Finish: Spiced honey and breakfast tea add an interesting and eloquent finish to this impressive sip. The ending is also accompanied with cinnamon stick, mint, rosemary and citrus peel.
It's this combo of flavors that are somewhat standard but come off as longer-lasting and more robust in this pour. The fact it's 128 proof might have something to do with this as well.
Score: 8.9/10
I may have a lot to complain about when it came to Willett's own bourbon, but their rye whiskey is the total opposite. This bottle has big, bold flavors that never seem to end.
They pile on with the power of other heavy-hitting Kentucky ryes like the beforementioned Thomas H. Handy. There may not be any other comparisons besides that unless we look outside of the Bluegrass State (Kentucky Owl Rye Batch 4 comes close).
This is simply excellent with my only small nitpick being I wish it had more oak, leather or tobacco. It should eventually get there, though, because this is about as old as you're going to get for the time being. Willett is still kind of a new player in the distilling scene of Kentucky after all.
Final Thoughts
I'm not going to go into some big, long finale on this one. Willett Family Estate Rye Whiskey shouldn't be slept on. If you see it and it's a reasonable price (some of these are retailing for low to mid $200s), then buy it. Ignore their bourbon.
With my comparison of THH and the price that it fetches on secondary (around $700), this Willett is the only competitor to it that is made in Kentucky… unless Michter's starts releasing their 10 Year Rye at Cask Strength. This is one that you don't want to miss out on.
Featured Products
Description:

The Aged & Ore Neat Traveler is a complete travel kit for spirits. We combined our widely praised Neat Glass with one of our 3oz Flight Bottles and housed them together in a custom EVA travel case. Perfect for a night away with your favorite pour. The tie
Description:

The Aged & Ore Bottle Flight is a premium set of 4 custom silicone wrapped glass bottles designed to transport and share samples of your favorite spirits. The flight bottles come in a custom EVA travel case that fits perfectly in any small bag. An Aged &
Description:

This Bundle combines two of our crowd favorite products, creating the ultimate travel bundle to bring along your favorite spirits and glassware. Bundle Includes: Neat Traveler (Gray) Bottle Flight (Gray) Note: This bundle is only available in gray and col
*Bourbon Culture is reader-supported. When you buy through links on our site, we may earn an affiliate commission.