If I were to ask you what Jack Daniel's most expensive bottle currently is, what would you say? I mean, of course you're reading this review and have probably guessed it's Sinatra Select and you'd be correct. But for enthusiasts that are big into the secondary market, we tend to forget the price of regular shelf items. Even when adjusting for the fact that Sinatra Select is sold as a 1 Liter bottle, the price per ounce is still more than all other Jack Daniel's bottles. This includes all of the Special Releases (at retail price) and even the next-highest priced bottle which would be Jack Daniel's Gold No. 27.
On the surface, this makes no sense. Sinatra Select doesn't really carry any additional stats that should make it cost this much. We'll get to those in just a minute. Does that mean that the power of a singer/crooner who died 25 years ago and whose last album came out 40 years ago really holds this much power? Maybe! Or maybe no other celebrity sang it praises with such conviction like old Blue Eyes.
What makes Sinatra Select Different?
Let's get this out of the way – Jack Daniel's Sinatra Select costs so much because of the special packaging and the name recognition of Frank Sinatra. That's really it. Strip away those two things and what we're looking at is perhaps a $60 whiskey. How I am backing that statement up involves a few things. First off, let's take a single barrel of Jack Daniel's Single Barrel Select bottled at 94 proof. These have been aged on the top floor of Jack Daniel's rickhouses for around 5 years.
Sinatra Select does not mention which floor the barrels were aged on, but I'm guessing it wasn't the top. The reason I'm saying that is because it's rumored to be aged longer than standard Jack Daniel's products. And if Jack Daniel's is typically made up of barrels aged 4 to 6 years old, then the barrels used for Sinatra Select would be around 5-7 years old.
Let's talk about those special barrels
We also have to talk about the cooperage that Jack uses to age this whiskey too. One of the most talked about features of Sinatra Select is how the barrels have special grooves cut into the inside of the barrel. Here's a picture of what that looks like (far right) next to a standard charred barrels (the ones on the left).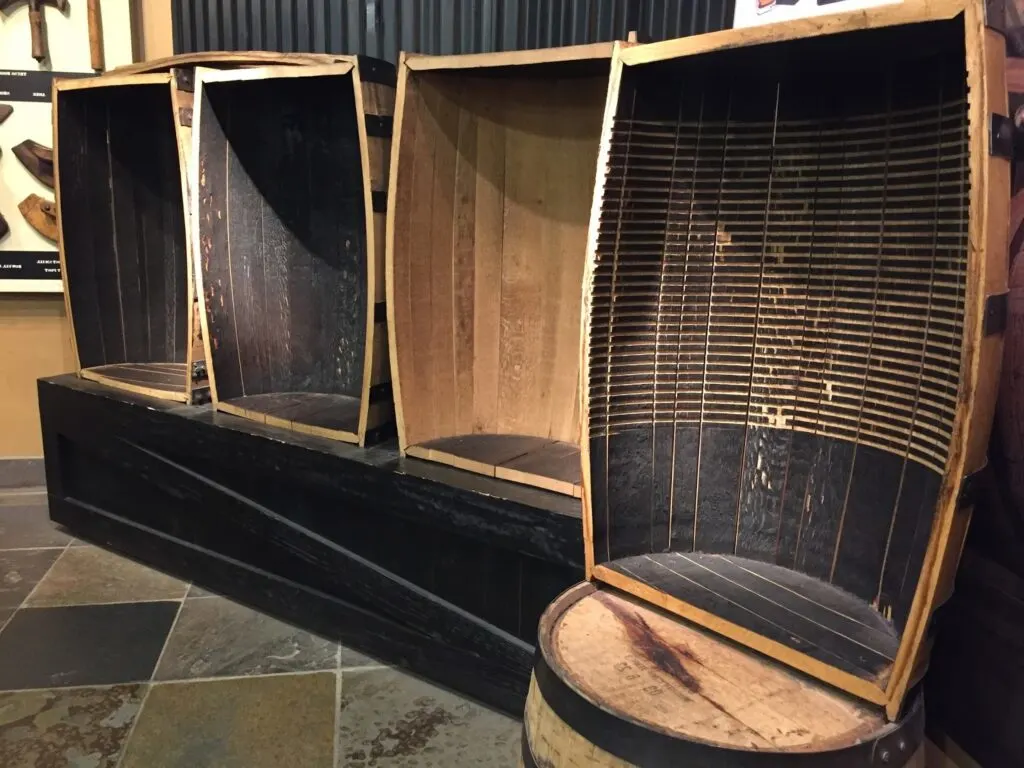 As you can see, the whole inside does not have this cut groove pattern, just the middle. It's achieved by first creating the barrel, then charring it, then removing the top metal hoops and head. They lower a special tool inside that spins on its axis to carve the grooves into the wood. The resulting sawdust/barrel char falls to the bottom of the barrel – where they just leave it! The head is put back on and the hoops are reattached and then the barrel is filled with 125 proof Jack Daniel's Bourbo, err Tennessee Whiskey.
Jack Daniel's Master Distiller Jeff Arnett described this process on a Bourbon Pursuit Podcast. One of the more interesting tidbits was how they asked the TTB if they could modify the barrel like this. The TTB was fine with it but apparently recommended that they not remove any of the wood that was carved out from the barrel. That would ensure that nobody could say that the insides were tampered with for the aging process. Jack Daniel's complied and this whiskey is the result of that experiment.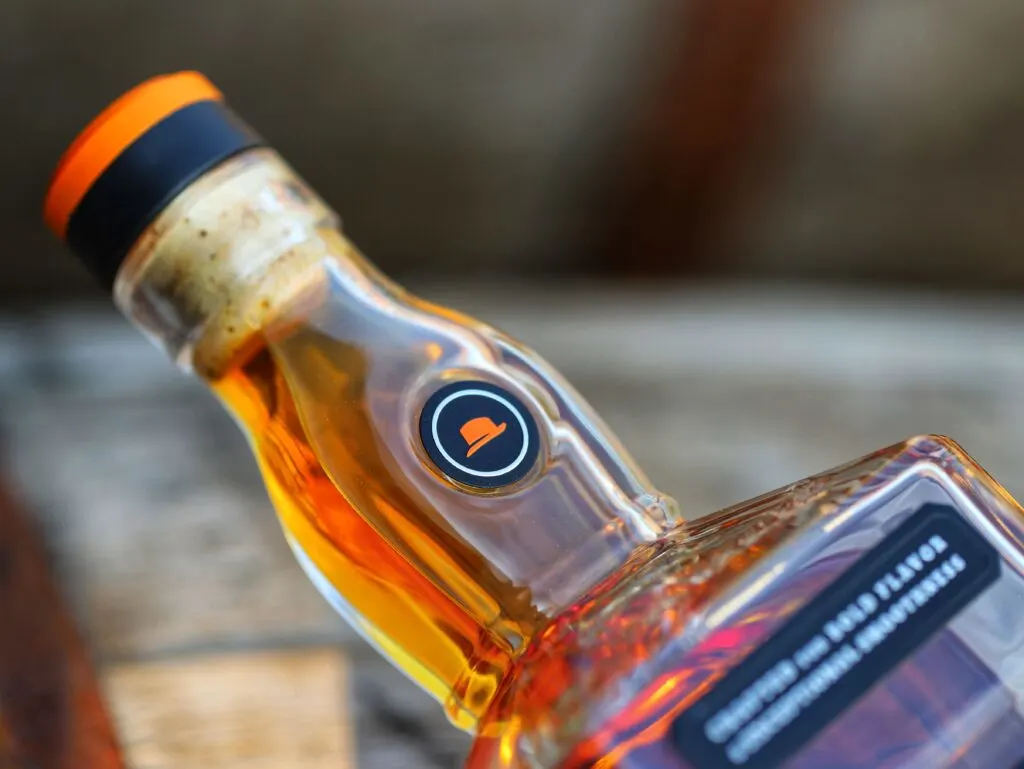 As a quick aside, if you're wanting to taste a product that uses the same types of grooved barrels – but for a fraction of the costv- check out Cooper's Craft 100 Proof Bourbon. It's made by Old Forester (a Brown Forman brand, just like Jack Daniels) and carries a pricetag of around $30. It's been aged for a similar amount of time and uses a different mash bill.
Now that we know some backstory about Sinatra Select, how does it taste? Well, they certainly give you enough of it to be thorough about it (why 1 liter, Jack?). So let's stop talking about it and get down to taste it. As usual, I sampled this neat in a glencairn but I don't think Frank Sinatra would have ever drank it that way. He was much too cool to look like such a nerd.
Tasting Notes
Nose: The opening scents are on the lighter side of things. For 90 proof, this is understandable. What I immediately find to be interesting is that rather than it just smelling like banana bread the whole time, I find some lively, fruity aromas like citrus peel and a little bit of cherry. This is not common for me and Jack Daniel's products, but is nice to see something different. As I would expect, a lot of the trademark Jack notes can still be detected like vanilla, caramel, honey and toasted wood. What's interesting is I am picking up on this "ashy" scent that I am sure comes from the residual wood that was carved out when the inside was grooved.
Palate: I'll skip the suspense and jump right into it: Sinatra Select has a pleasant depth of flavors that I normally don't find in regular Jack products. Cherries, bananas, raisins and pecans are sweetened up with some caramel sauce. The oak is noticeable and adds a nice layer of maturity to the overall blend.
Can we all agree that Jack Daniel's never really shows off its age? Even with 9 year old stuff like Coy Hill or the 10 and 12 year old versions, the oak is so non-descript it never speaks to its full maturity. There is much more pep in each sip than I was expecting too with some barrel char, cinnamon and black pepper. Strangely, those spicier notes seem a little at odds with the sip as a whole
Finish: The finish is sweet and satisfying with notes of sweet oak, banana bread and candied nuts. The finish also has a texture that it leaves in your mouth (different from the palate) that is more velvety than usual. Dare I say it has a quasi-luxurious feel to it. The finish is better than the palate by a hair, leaving you with a positive feeling about what you just drank.
Score: 7.3/10
There is a lot to say about Sinatra Select and the score I gave it. First off, I'm going to anger a lot of people by saying that price was factored into this score. If this was a $50-60 bottle, the score would've been higher, but still not quite into the "8s." On the positive side of things, I do legitimately think that Sinatra Select stands out enough from other, more standard Jack Daniel's offerings by how it tastes. It is different and does not rely solely on the overdone banana bread trope that so many other JD products are known for.
Sinatra Select surprised me with more variety in terms of fruit notes and tasted fully fleshed-out. The spice on the palate was slightly too much (strange of me to say for a 90 proof whiskey) but I'm reducing its score because of that. It feels like Frank would've just added more water to his glass to make it go away anyway.
Final Thoughts
Out of all the brands that I review, Jack Daniel's has one of the fiercest fanbases. What I mean by that is nobody that drinks Jack on a regular basis is going to be persuaded or dissuaded by what I have to say about Sinatra Select. The fans are so loyal to the brand that they will continue to buy whatever Jack produces no matter what. It's clear that Sinatra Select is here to stay.
So I assume you've made it this far in the review because you are wondering if it's worth it to buy. I do not personally believe that Sinatra Select is the best Jack has to offer but it's also not the worst either. If you have somebody in your life that adores the brand, this is a good gift to give. But if you are an enthusiast who has lots of experience with various whiskies, this is one you can confidently skip.
Featured Products
Description:

The Aged & Ore Neat Traveler is a complete travel kit for spirits. We combined our widely praised Neat Glass with one of our 3oz Flight Bottles and housed them together in a custom EVA travel case. Perfect for a night away with your favorite pour. The tie
Description:

The Aged & Ore Bottle Flight is a premium set of 4 custom silicone wrapped glass bottles designed to transport and share samples of your favorite spirits. The flight bottles come in a custom EVA travel case that fits perfectly in any small bag. An Aged &
Description:

This Bundle combines two of our crowd favorite products, creating the ultimate travel bundle to bring along your favorite spirits and glassware. Bundle Includes: Neat Traveler (Gray) Bottle Flight (Gray) Note: This bundle is only available in gray and col
*Bourbon Culture is reader-supported. When you buy through links on our site, we may earn an affiliate commission.