*Bourbon Culture is reader-supported. When you buy through links on our site, we may earn an affiliate commission.
Frey Ranch Bourbon joins the ranks of the growing number of craft distillers that have decided to not release their own bourbon until it has aged for at least 4 years.
This used to be unheard of for a new distiller, but doing it this way shows respect not only for the bourbon itself, but also the customer.
Most craft distillery's products get automatically snubbed by whiskey fans for releasing whiskies that are too young and undeveloped. There are reasons why they have to do that in most cases, but it can begin to put a damper on the excitement of a local distillery releasing their first products if customer's have a mindset it's not going to be good.
What initially attracted me to the bottle is just how stunning its packaging is. The heft and symmetry of the glass actually makes this feel like it holds one liter instead of 750ml.
The shape also vaguely reminds me of a small artillery shell. The cork topper is special too because it uses a heavy bronze metal that looks as good as it feels.
The bottle also has a similar real metal label set into the glass on the front that really gives the bottle an upscale look. The label is bright and noticeable, which helps it stand out on a shelf.
Frey Ranch
For Frey Ranch, their bourbon is aged at least 4 years with some 5 year old barrels also making their way into this batch. The mashbill uses four grains (non-GMO corn, winter cereal rye, winter wheat, and two-row barley) instead of a more traditional 3 grain recipe like a majority of Kentucky distillers use and is bottled at 90 proof.
My opinion on why they use a four grain mashbill is because you'll typically find that a young wheated bourbon will have an absence of flavors until it reaches an older age whereas a young ryed bourbon may be harsh and astringent.
Using four grains tends to balance each other out, so it's usually a good call to do for a bourbon under 6 years old.
But you're here because you want to know what it tastes like, so let's see how the bourbon is on the inside. I sampled this bottle neat and from a Glencairn over the course of a week.
Tasting Notes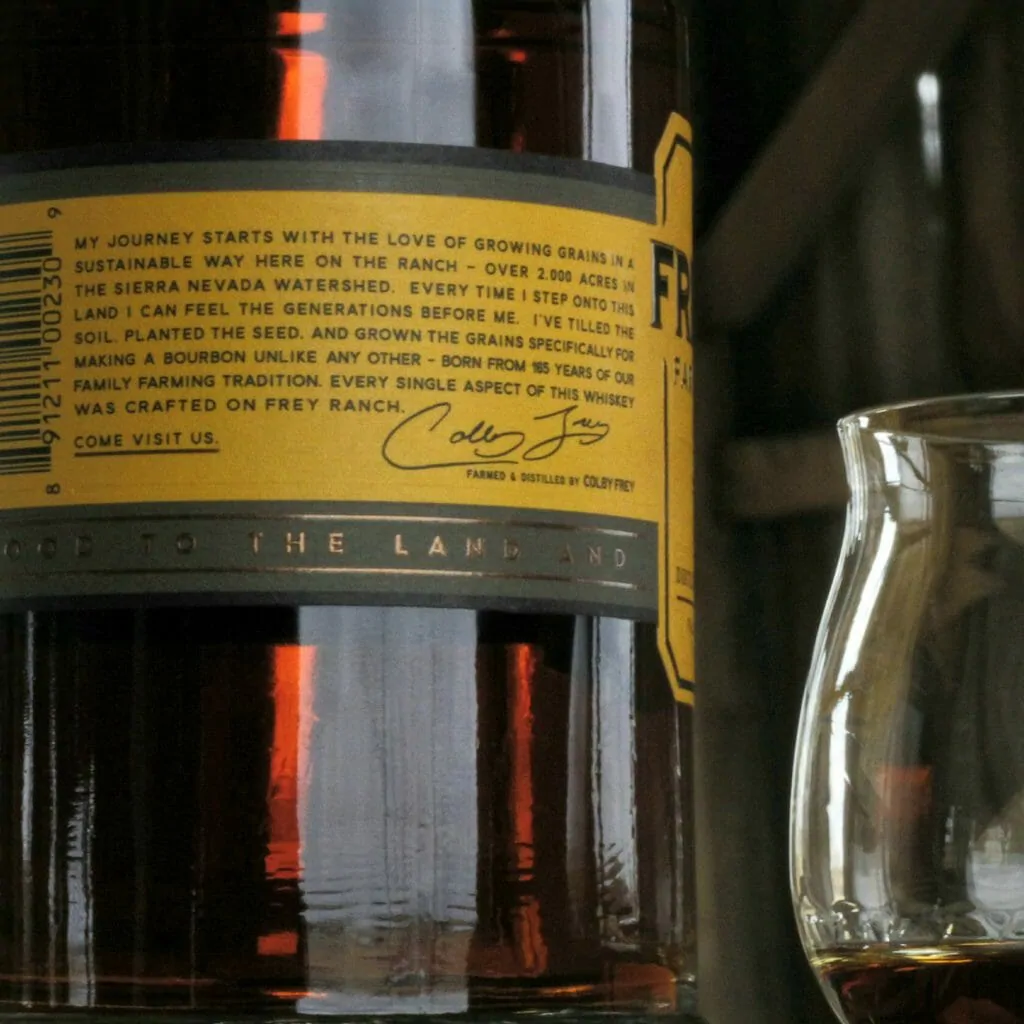 Nose: The initial pour had a scent of Sour Apple Jolly Ranchers immediately. But as the dram sets for about 10 minutes, that slowly disappears and turns into some sweet cotton candy grapes.
There's a traditional scent of vanilla cupcakes as well as the softer scent of baking cinnamon. A really delicious aroma of brown sugar butter slathered on a warm piece of cornbread shows even more depth of sweetness and some of the telltale grain notes that makes up a majority of the mashbill.
Palate: On my tongue, the first taste I can identify is a surprisingly upfront amount of oak, which is a welcome trait for a 4-5 year old bourbon. It is not bitter, but instead adds a nice layer of depth.
The cinnamon from the nose is also on the palate where it gives a little bit of a heat kick to the overall experience. Thick and creamy caramel sweetness followed by a fruit flavor that tastes like a blend of baked apples and baked pears.
While I was searching for more flavors, I did notice a slight touch of green wood that gave away the youthful age of the bourbon, but it was not noticeable enough to take away from the experience.
Finish: The finish was pleasant and fairly long. The taste of a caramel dipped apple that you'd get at a county fair was foremost while rye spice added a little bit of heat and complexity on the end.
There was also the sweet heat that was reminiscent of a handful of Cinnamon Imperials candies.
Score: 7/10
There are a couple things that really stood out for me with this excellent bourbon. The first is that the mouthfeel seemed thicker and more oily than I was expecting for a 90 proof bourbon, which coats the tongue and allowed me to experience all of the sensations and flavors that this had to offer.
This is more than likely due to the fact that Frey Ranch decided to not chill filter this bourbon, which is always the right thing to do.
The second was just how nicely I could detect the rye spices doing their thing in the background, but having the wheat there to smooth over any younger traits.
While I have only experienced a handful of four grain bourbons, this one seemed to get the ratio of spice and softness right, meaning that bourbon newcomers will not be chased away and experienced drinkers will be happy to find their favorite flavors.
Final Thoughts
For $50, this seems right in line with what a new-ish distillery is charging for a product of this age. Remember, part of what you're paying is the ability for the distillery to keep the momentum going from their initial release.
The $50 also seems well justified just by the attractive packaging as well (I am not ashamed to admit that I have bought bottles in the past based on looks alone).
But what really justifies the price is that they got the little things right, like the grain-to-glass quality made possible by growing their own crops, aging at their farm and distilling a quality product.
These things get overlooked by a lot of distilleries today that charge even more for a lesser product. And this is why I'm excited to see what the future brings for this brand and all of their products.
Ratings Breakdown
1 | Disgusting | Drain pour (Example: Jeffers Creek)
2 | Poor | Forced myself to drink it
3 | Bad | Flawed (AD Laws 4 Grain BiB, Clyde Mays anything)
4 | Sub-par | Many things I'd rather have (Tincup 10 year)
5 | Good | Good, solid, ordinary (Larceny, Sazerac Rye)
6 | Very Good | Better than average (Buffalo Trace, OGD BiB)
7 | Great | Well above average (Old Ezra Barrel Proof, Old Weller Antique)
8 | Excellent | Exceptional (Michter's Barrel Proof Rye, Four Roses Barrel Strength)
9 | Incredible | Extraordinary (GTS, 13 Year MGP or Canadian Rye)
10 | Insurpassable | Nothing Else Comes Close (William Larue Weller)
Featured Products
Description:

The Aged & Ore Neat Traveler is a complete travel kit for spirits. We combined our widely praised Neat Glass with one of our 3oz Flight Bottles and housed them together in a custom EVA travel case. Perfect for a night away with your favorite pour. The tie
Description:

The Aged & Ore Bottle Flight is a premium set of 4 custom silicone wrapped glass bottles designed to transport and share samples of your favorite spirits. The flight bottles come in a custom EVA travel case that fits perfectly in any small bag. An Aged &
Description:

This Bundle combines two of our crowd favorite products, creating the ultimate travel bundle to bring along your favorite spirits and glassware. Bundle Includes: Neat Traveler (Gray) Bottle Flight (Gray) Note: This bundle is only available in gray and col
*Bourbon Culture is reader-supported. When you buy through links on our site, we may earn an affiliate commission.