*Bourbon Culture is reader-supported. When you buy through links on our site, we may earn an affiliate commission.
For many bourbon enthusiasts (including myself), our first allocated bottle that we scored was a bottle of Elijah Craig Barrel Proof. It's not a terribly hard bottle to find because it is released 3 times a year ever since it first came out in 2013.
For a period of time, it looked like Elijah Craig Barrel Proof was destined for the chopping block. In late 2016, Heaven Hill announced that due to dwindling stocks, they were removing the age statement from Elijah Craig Small Batch (12 years old). They said that the rise in bourbon popularity meant that they were running out of 12 year old barrels faster than they could be produced. Many fans of the brand panicked because they thought that it could spell the end for ECBP.
Luckily for the community, ECBP was not cancelled and did not lose its age statement when the the brand released their new bottle design in early 2017. This redesign has resulted in ECBP aficionados to refer to the different bottles as "old label" and "new label"
Old Label Elijah Craig Barrel Proof
For the first 12 batches, Elijah Craig Barrel Proof used the bottle design that you see here. They did not wear alphanumeric batch numbers like the modern ones, but there are a few internet websites to look up which batch you have according to the proof. The bottle I'm reviewing today is Batch 12 which comes in at 136 proof.
It is widely assumed that these "old label" batches were made up of barrels that were much older than the 12 year age statement would suggest. While no official literature exists to prove that theory, the bourbon that was bottled up tastes distinctly different and much more aged from the newer releases.
Heaven Hill had been coming out of a glut of bourbon that they had been setting on in the early 2000s and ECBP is widely assumed to have been the recipient of some of these older barrels that they needed to use before they got overoaked.
However, seeing as how this was the last batch of the "Old Label" ECBP bottles, my assumption is that it contains the smallest amount of those really old barrels. This means that the majority of the barrels used in this blend are probably right at the 12 year mark.
So how does this one taste? Let's find out. I sampled this neat in a glencairn.
Tasting Notes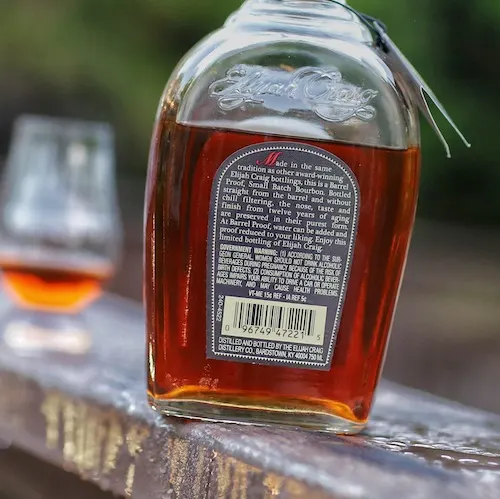 Nose: This nose packs a punch with melted Milky Way candy bar followed by a bit of brown baking spices. Powerful scents of caramel dipping sauce, seasoned oak and vanilla custard. You can pick up on Portillo's Chocolate Cake too. While this is 136 proof, it comes off as much less because the scents are so developed and strong without using the heat to remind you of it.
Palate: The nose seems much more gentle than the liquid does on your tongue. Each sip is thick and viscous. The strength of all 136 proof points doesn't really come off as overwhelming, but you can still tell it packs a punch.
Circus Peanuts, candy corn, cinnamon stick, clove and heavy oak. There's even a hint of vanilla that fights to stay relevant. Fruit preserves come and go throughout the session with cherries and date syrup being the easiest to recognize.
This is not a fruit heavy bourbon, but those are nice notes to find. Occasionally, a peppery spice note will penetrate and give your tongue a brief sting.
Finish: The fruit notes shifts to apples on the tongue. Aged oak and tobacco are everywhere, showing off a bourbon that tastes much older than its 12 year age statement lets on. Cinnamon spice and peppery notes hang around on a finish that is extremely long.
Score: 8.3/10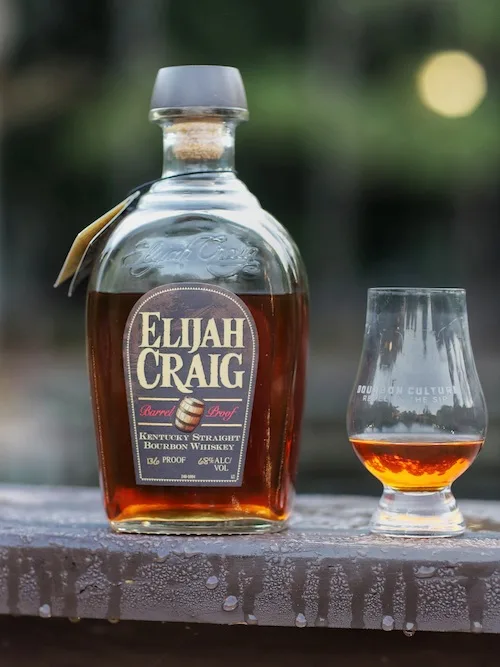 Elijah Craig Barrel Proof needs to be understood for what it is before it can be properly appreciated. It is not going to be exploding with unique flavors and scents; just powerful ones.
It is more like a standard Heaven Hill product turned up to 11. It is also not as layered or complex as other bourbons out there, likely because the high proofs take over and allow only the strongest notes to be found by your tongue and nose.
But the amount of time that it spent in a barrel mellows out any harshness and balances all of the heat and makes this a bourbon you can enjoy any way you like.
For all the more mystery surrounds these old label Elijah Craig Barrel Proof batches, it must be said that the bar was generally much higher for them than it is for the current batches.
That's not to say that modern batches have been bad, but one sip of these classics will show you that they still had a little bit of magic inside of them that isn't as obvious with modern day batches. Try your hardest to find them while you still can.
Ratings Breakdown
1 | Disgusting | Drain pour (Example: Jeffers Creek)
2 | Poor | Forced myself to drink it
3 | Bad | Flawed (AD Laws 4 Grain BiB, Clyde Mays anything)
4 | Sub-par | Many things I'd rather have (Tincup 10 year)
5 | Good | Good, solid, ordinary (Larceny, Sazerac Rye)
6 | Very Good | Better than average (Buffalo Trace, OGD BiB)
7 | Great | Well above average (Old Ezra Barrel Proof, Old Weller Antique)
8 | Excellent | Exceptional (Michter's Barrel Proof Rye, Four Roses Barrel Strength)
9 | Incredible | Extraordinary (GTS, 13 Year MGP or Canadian Rye)
10 | Insurpassable | Nothing Else Comes Close (William Larue Weller)
Featured Products
Description:

The Aged & Ore Neat Traveler is a complete travel kit for spirits. We combined our widely praised Neat Glass with one of our 3oz Flight Bottles and housed them together in a custom EVA travel case. Perfect for a night away with your favorite pour. The tie
Description:

The Aged & Ore Bottle Flight is a premium set of 4 custom silicone wrapped glass bottles designed to transport and share samples of your favorite spirits. The flight bottles come in a custom EVA travel case that fits perfectly in any small bag. An Aged &
Description:

This Bundle combines two of our crowd favorite products, creating the ultimate travel bundle to bring along your favorite spirits and glassware. Bundle Includes: Neat Traveler (Gray) Bottle Flight (Gray) Note: This bundle is only available in gray and col
*Bourbon Culture is reader-supported. When you buy through links on our site, we may earn an affiliate commission.