*Bourbon Culture is reader-supported. When you buy through links on our site, we may earn an affiliate commission.
For years now, Blood Oath bourbon releases have piqued the interest of many enthusiasts. The creative mind of John Rempe (Luxco Master Distiller) was determined to showcase his blending abilities at a time when Luxco was caught between building their own distillery, contract distilling at Heaven Hill and sourcing barrels at Heaven Hill.
There was a lot going on but the Blood Oath bourbon series started out as a way to give Luxco a limited release that could build excitement towards the company and their other brands.
Blood Oath Bourbon
The concept behind Blood Oath bourbon releases is that they typically blend together 3 different bourbons. One of the bourbons is usually older (double digit age statement), one of the bourbons is younger (around 7 years old) and one of the bourbons is finished in a unique cask. For 2021, the unique cask chosen was Sauternes, which is a sweet, white dessert wine.
Sauternes Casks
I'm no wine expert, but the limited amounts of whiskies that are finished in Sauternes casks have always been extra thick and oily as well as extra sweet, almost like the syrup in a fruit cup. This usually pairs very well with whiskies that may lack sweetness or have too much oak.
Another trait of Sauternes finishes is that it seems to improve the viscosity of the whiskey and add bright fruit notes to the profile. But distilleries have to watch out because it might also throw the whiskey off-balance by imparting too much sweetness overall.
Blood Oath bourbon bottles always come packaged in eye-catching wooden boxes with the requirement that they all be bottled at 98.6 proof; the temperature of blood. I've had a positive experience with each of the previous six releases of this label and wouldn't expect this one to disappoint either.
After all, it has 14 year old Heaven Hill bourbon in the mix (along with two 8 year old batches of barrels). That Heaven Hill component could change next year since MGP has recently bought out Luxco, but for now the information we have to go on is that only Heaven Hill bourbon was used in Pact 7.
In the meantime, let's see what John and his team have created for this year's release. I sampled this neat in a glencairn.
Blood Oath Bourbon Tasting Notes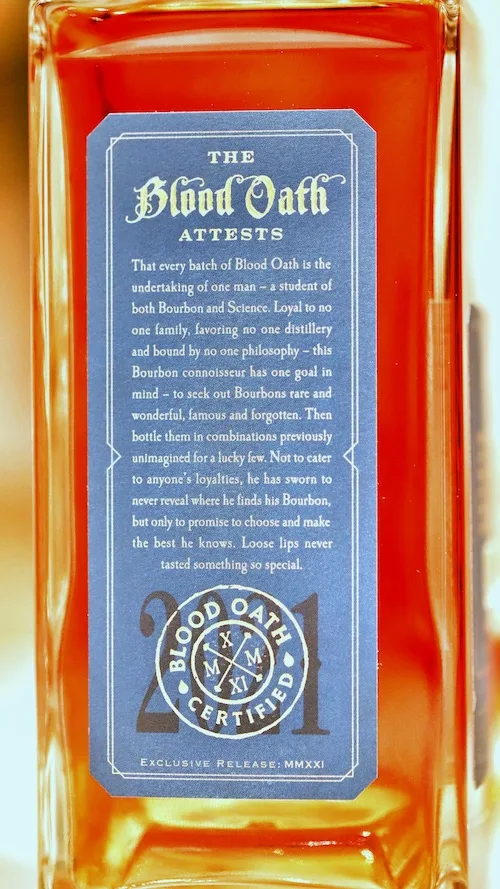 Nose: A nice amount of sweetness on the nose shows off those Sauternes barrels and some of the aged Heaven Hill oaky distillate underneath.
Honeycomb, a touch of brown sugar (dissolved in butter) and lots of vanilla keep the scents on the sweeter side while fruit notes like baked pears and white grape juice add a fruity element that surely is coming from the barrel finishing.
Palate: The wood flavors on my tongue are nicely developed and rather sweet. Sticky honey sweetness abounds and fresh floral and fruity notes stand out the most.
This is really quite a difference from a typical Heaven Hill bourbon and I'm liking it a lot. Dates, cantaloupe, cinnamon and more vanilla all play nicely together. Occasionally I pick up on a bit of this white wine note that comes off a bit like a Kendall Jackson Chardonnay.
Finish: It's only on the finish that a blind taster could finally be able to realize that this is a Heaven Hill base product if you didn't already know the history behind Luxco.
There is a small amount of bitter oak coupled with stone fruit, but then some nuttiness comes out. Open your mouth and smack your tongue a few times and the nuttiness REALLY comes out.
The sweetness also comes down a lot after the sip is complete with melon notes being one of the few that attempt to give your tongue any sort of sweet reprieve.
The lack of sweetness makes way for more dry notes to become exposed, which is a shame because it was going so well up until this point.
Score: 7.8/10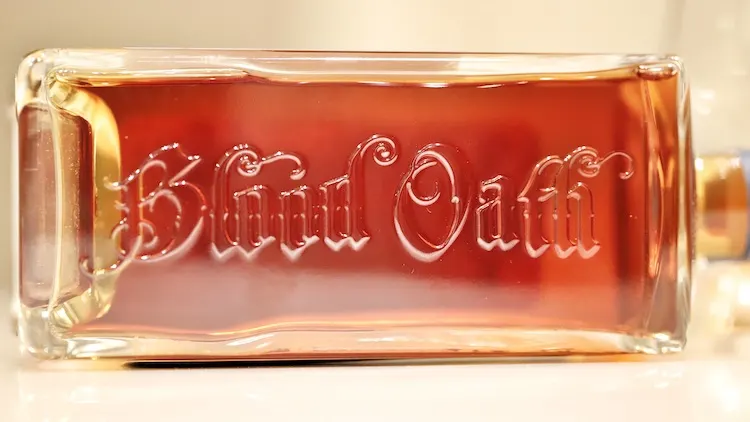 I enjoyed this Blood Oath Pact 7 from the delightful scents on the nose to the sweet, fruity flavors on the tongue. But it was the finish that turned drier and somewhat one dimensional that caused it to lose some points.
Ultimately I think that this release had more positives than negatives going for it and the score reflects a solid effort.
As I was drinking Pact 7, one specific bourbon kept coming to mind that I believe comes very close to rivaling it: Belle Meade Cognac Cask finished Bourbon.
This label is getting hard to find because the owners of Nelson's Greenbrier said that they have discontinued the 90.4 proof batched versions. Belle Meade had used barrels that were probably around 7 to 9 years old which would compare closely with the age profile found in this Blood Oath release.
I find the flavors that come from the Cognac barrels are pretty close to the flavors from Sauternes casks as well. The added bonus of the Belle Meade version is that it is about $20 cheaper compared to the retail price of Blood Oath releases. So if you missed out on finding a Pact 7, might I suggest going for the alternative instead?
As much as I enjoy Blood Oath, I find that Pacts 1 through 4 were the pinnacle of these releases. So let me caution you to carefully consider this bottle before you buy it because $100 is a decent amount to pay for a bourbon that is so low in proof.
If the flavor of Sauternes is something you absolutely must have, then by all means buy this. But if value appeals to you more, the Belle Meade Cognac Finish is cheaper and comes very close to it. Collectors will certainly buy these up immediately but if it's something you're unsure on, try to find a bar or a friend you can get a taste of it from first.
And if you end up disappointed that you tried it, liked it and can't find it, then fear not. Blood Oath typically releases a 3 pack of these after every 3rd Pact meaning you'll have a chance to get one in the next 2 years.
Ratings Breakdown
1 | Disgusting | Drain pour (Example: Jeffers Creek)
2 | Poor | Forced myself to drink it
3 | Bad | Flawed (AD Laws 4 Grain BiB, Clyde Mays anything)
4 | Sub-par | Many things I'd rather have (Tincup 10 year)
5 | Good | Good, solid, ordinary (Larceny, Sazerac Rye)
6 | Very Good | Better than average (Buffalo Trace, OGD BiB)
7 | Great | Well above average (Old Ezra Barrel Proof, Old Weller Antique)
8 | Excellent | Exceptional (Michter's Barrel Proof Rye, Four Roses Barrel Strength)
9 | Incredible | Extraordinary (GTS, 13 Year MGP or Canadian Rye)
10 | Insurpassable | Nothing Else Comes Close (William Larue Weller)
Featured Products
Description:

The Aged & Ore Neat Traveler is a complete travel kit for spirits. We combined our widely praised Neat Glass with one of our 3oz Flight Bottles and housed them together in a custom EVA travel case. Perfect for a night away with your favorite pour. The tie
Description:

The Aged & Ore Bottle Flight is a premium set of 4 custom silicone wrapped glass bottles designed to transport and share samples of your favorite spirits. The flight bottles come in a custom EVA travel case that fits perfectly in any small bag. An Aged &
Description:

This Bundle combines two of our crowd favorite products, creating the ultimate travel bundle to bring along your favorite spirits and glassware. Bundle Includes: Neat Traveler (Gray) Bottle Flight (Gray) Note: This bundle is only available in gray and col
*Bourbon Culture is reader-supported. When you buy through links on our site, we may earn an affiliate commission.