*Bourbon Culture is reader-supported. When you buy through links on our site, we may earn an affiliate commission.
The James E. Pepper Distillery and its brands succumbed to the period in time when America fell out of love with whiskey. Shortly after World War II, the whiskey industry had started to decline due to the population's shifting preferences towards other spirits and many had to close their doors for good like the Pepper Distillery did in 1958.
Some of the most important events and people in bourbon had a connection to this landmark distillery such as Scottish Chemist James C. Crow (which Old Crow is named after) who perfected the sour mash process.
The bourbon that came from JEP Distillery was admired and drank by many US presidents including Ulysses S. Grant (who drank it when he was still a general).
James E. Pepper Distillery
It also owned the record of the largest distillery in the United States at one point in time and was one of the few distilleries that were granted permission to produce spirits during Prohibition. All of this history seemed doomed to be forgotten.
It would take almost 60 years for JEP to be resurrected by Amir Peay, who found out his family had a connection of sorts with the brand dating all the way back to the Revolutionary War.
His excitement and passion to bring it back to life began with him reclaiming the name in 2008. He needed some whiskey to start selling while his plans for a distillery were being put together, so he turned to MGP (which was still owned by CL Financial at the time) to source barrels of bourbon and rye whiskey.
Sales of those bourbon and rye whiskey barrels brought the public eye back to the brand while also keeping it afloat. It wasn't until 2016 that ground was broke for the new (but much smaller) distillery. It filled its first barrel at the end of 2017.
It's probably going to be several more years until we see their own whiskey bottled, so until then the decision was made to continue to source bourbon and rye whiskey from MGP. Long gone are the barrels that carried age statements of 10 years or older and now it is assumed that the bourbon and rye that are being sourced is around 3 to 4 years old.
The bottle you see before you today is an MGP sourced bourbon that is supposedly a higher rye mashbill than the standard mashbill of 60/36/4 (which is already extremely high).
Some review websites have published that it is higher than 38% (which would make it 57 or 58% corn). This could be true considering the fact that Breckenridge Distillery in Colorado also claims to source a similar mashbill from MGP.
So how will a super high-rye bourbon mashbill that is fairly young taste bottled at 100 proof? There's only one way to try out. I sampled this neat in a glencairn.
Tasting Notes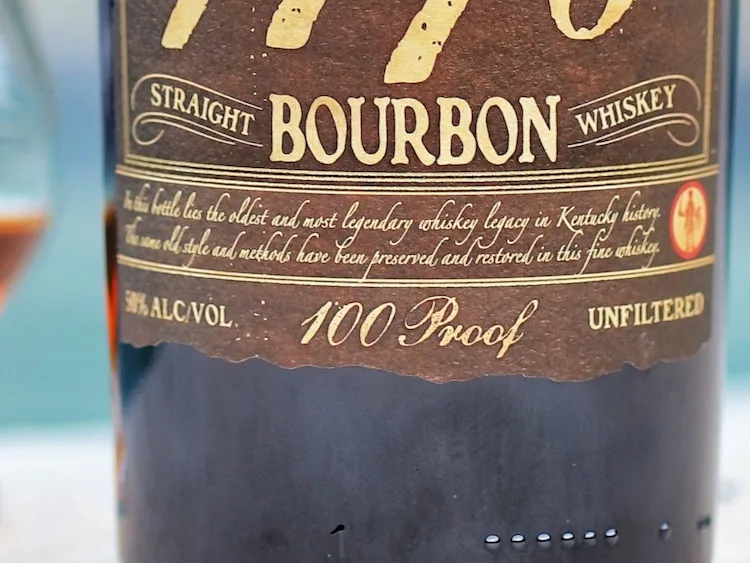 Nose: A slightly nutty aroma coupled with light caramel and vanilla scents. A small amount of cinnamon spice helps round out the basic notes I've found so far.
The smell of grains can be caught but it's not offputting or astringent. This does smell young overall but aside from some oak scents here and there, there's not too much going on with it overall.
Palate: A thin mouthfeel is not at all what I was expecting with this bourbon. There is caramel sweetness coupled with some peppery spice and cinnamon but as for fruits or other unique flavors, I find very little.
There is a touch of citrus rind and some oak but overall it's not what I was hoping to find for MGP distillate.
Finish: A very basic finish that doesn't last long (partly due to the lack of viscosity I feel this has), standard notes of caramel and vanilla couple with a bit of oak. It's not bitter and it's not dry but this feels so basic.
Score: 4.5/10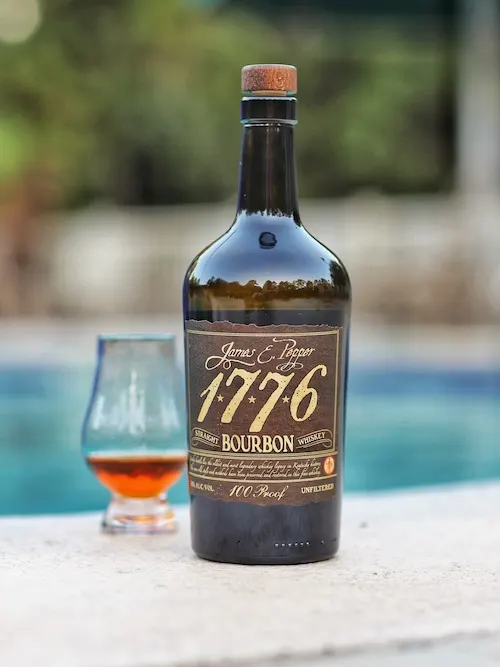 I've drank my fair share of young MGP bourbon but this one seems to be made up of a selection of poor barrels. In fact, had I been given this blind, I would've guessed this to be a very cheap Jim Beam product due to the nuttiness I kept finding.
There's just not much going on here that is impressive or makes you want to keep coming back to it. Thank god the price was low because I would have upset paying more than the $30 or so it was priced at when I could've got something much better at the same price, like Knob Creek 9 Year for instance.
I think the history behind the James E. Pepper brand is really interesting and I want to see the brand succeed once all is said and done, but I must make an observation thus far about the barrels they've bought from MGP; they're just not good.
This isn't a ding on MGP as much as it is on whoever picks the barrels. Even among MGP enthusiasts, JEP single barrels of bourbon or rye whiskey have a reputation for being very poor. In fact, out of all of the ones I've tasted, maybe the best product that they've ever released was an extremely limited amount of 15 year old 95/5 rye whiskey that they cut down to 95 proof.
Otherwise their 10-12 year old single barrels of bourbon hold almost no value on the secondary market. They have done about as poor of a job with their single barrel releases as Joseph Magnus.
Final Thoughts
This leaves me with this conclusion: either the people sourcing barrels of whiskey from MGP have really bad taste when it comes to picking them OR they are buying the cheapest barrels they find to make a quick buck and turn a profit. Either way you slice it, it doesn't speak well to a brand that probably has very lofty goals for the future and a storied history to uphold.
The one thing I can give them some credit on is that the packaging is generally very nice to look at. But with so many different whiskies to pick from these days, that's not reason enough to buy this bottle.
Ratings Breakdown
1 | Disgusting | Drain pour (Example: Jeffers Creek)
2 | Poor | Forced myself to drink it
3 | Bad | Flawed (AD Laws 4 Grain BiB, Clyde Mays anything)
4 | Sub-par | Many things I'd rather have (Tincup 10 year)
5 | Good | Good, solid, ordinary (Larceny, Sazerac Rye)
6 | Very Good | Better than average (Buffalo Trace, OGD BiB)
7 | Great | Well above average (Old Ezra Barrel Proof, Old Weller Antique)
8 | Excellent | Exceptional (Michter's Barrel Proof Rye, Four Roses Barrel Strength)
9 | Incredible | Extraordinary (GTS, 13 Year MGP or Canadian Rye)
10 | Insurpassable | Nothing Else Comes Close (William Larue Weller)
Featured Products
Description:

The Aged & Ore Neat Traveler is a complete travel kit for spirits. We combined our widely praised Neat Glass with one of our 3oz Flight Bottles and housed them together in a custom EVA travel case. Perfect for a night away with your favorite pour. The tie
Description:

The Aged & Ore Bottle Flight is a premium set of 4 custom silicone wrapped glass bottles designed to transport and share samples of your favorite spirits. The flight bottles come in a custom EVA travel case that fits perfectly in any small bag. An Aged &
Description:

This Bundle combines two of our crowd favorite products, creating the ultimate travel bundle to bring along your favorite spirits and glassware. Bundle Includes: Neat Traveler (Gray) Bottle Flight (Gray) Note: This bundle is only available in gray and col
*Bourbon Culture is reader-supported. When you buy through links on our site, we may earn an affiliate commission.