*Bourbon Culture is reader-supported. When you buy through links on our site, we may earn an affiliate commission.
Rural Inn 2020 Pick vs Rural Inn 2021 Pick
Eagle Rare Bourbon is a label I love to hate. It's so easy to get into when you're new to bourbon because it has a reasonable price and is actually a really great pour overall. As my palate expanded, I thought I was too good for Eagle Rare and left it on shelves when I saw it.
After a while, I didn't even see it on shelves because the hype was so big around it. But every now and then a friend would give me a blind sample of ER and I'd find myself coming back to the reasons why I liked it so much in the first place. It's just a really great product.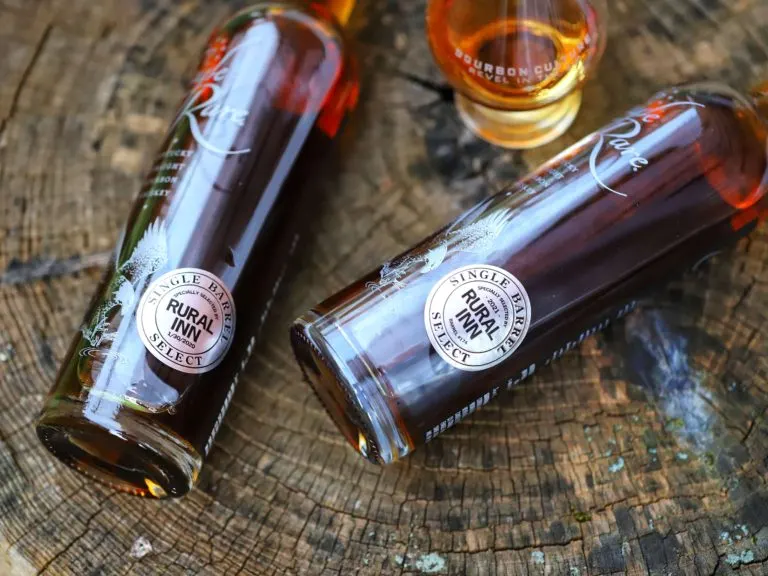 Over the past couple years, I was able to get a hold of two bottles of Eagle Rare store picks that came from the Rural Inn. Ray, the owner, has a new strategy of trying to spread the wealth to as many customers as he can: try to have single barrels bottled in 375ml bottles so that more customers can get one. He has also been limiting those single barrel bottles to one per customer. Now twice as many customers are able to experience his picks.
Eagle Rare Bourbon Taste Profiles
In 2022, I decided to finally open up these two bottles because I realized I wasn't saving them for any special occasion. The first bottle was from 2020 and the second is from 2021. Being a single barrel means that these two could be radically different or somewhat the same.
Out of all Buffalo Trace Single Barrels, I have found the greatest variance in profile with Eagle Rare bottles, so I was excited to see if one of these stood out more than the other. I decided to taste them semi-blind in a side by side shootout to determine the better bottle. Both were sampled in a glencairn. Here are my results:
Eagle Rare Bourbon Tasting Notes
Rural Inn Pick from 2020
Nose: Rich fruit scents of Luxardo cherries and apricot jelly start the nose off. Caramel and butterscotch add sweetness and are a great parallel to the spicy notes of cinnamon and allspice I also find. Since Eagle Rare Bourbon is aged for at least 10 years, I'm not surprised to find some toasted oak scents as well as a little bit of vanilla.
Palate: A really nice fruity opening starts with grape jelly, orange peel and grenadine syrup. Sweeter yet are the notes of butterscotch chips, vanilla and a bit of oak spice. Cinnamon spice combine with a few flakes of red pepper giving this dram a perfect spicy body that doesn't get out of hand. There's even the tiniest hint of mint which give away the rye content.
Finish: The fruit and spice rests on your tongue the whole time leaving a beautiful taste in your mouth. The lingering fruit flavors of cherry, orange and even that strange grape jelly note is delicious and an unexpected treat for a bottle of Eagle Rare (usually I find Buffalo Trace to be pretty fruity). From there, a dusting of cinnamon doesn't give off much heat as it does flavor. There's more flavor than you'd expect from only being 90 proof and this one tastes really special.
Rating: 8.1/10
Final Thoughts: Drinking this reminds me of why Buffalo Trace products are so damn good. I hate gushing about Eagle Rare pick but I reallllly like this one. It has so much depth. The grape jelly note is as strange as it is delicious, but the other fruits are cause for celebration too. While not on par with the fruitiness of Buffalo Trace, I still can't get over how much they show up in this bottle. The spice notes pair perfectly with them.
Eagle Rare Bourbon Tasting Notes
Rural Inn Pick from 2021
Nose: Smelling this side-by-side with the 2020 makes me realize that this has more of a classic bourbon vibe. Heavier caramels and more wood can be found along with a touch more vanilla. Musty cherry (which is probably the first time I've ever used that adjective about cherries) combine with a touch of butterscotch and a little bit of cocoa butter.
Palate: My tastebuds pick up on some jammy fruits and candied citrus peel to start out. These are followed by more caramel, cinnamon and vanilla. The oak has a nice, seasoned balance to it. Overall, this is classic Buffalo Trace flavor profile and one that is delicious but doesn't color too far out of the lines.
Finish: Lingering notes of vanilla latte with a caramel drizzle and cinnamon dusted on top. The oak is perfect and well-seasoned with a touch of leather alongside it. I can even still taste some fading notes of sweet stone fruit jam.
Eagle Rare Bourbon Rating
Rating: 7.7/10
Final Thoughts: This is very similar to other non-store pick bottles of Eagle Rare that I'm used to. It's perfectly crushable in every way but it's not trying to be an attention hog with wild flavors like the 2020 single barrel was. Whereas the 2020 pick was more vibrant and fruitier, the 2021 pick had a more wood-driven presence with creamy undertones (cocoa butter, vanilla latte). There's nothing wrong with that but I'm a person who enjoys unique barrels over the standard profile ones if given the choice.
Eagle Rare Bourbon Review
For about $20 each, these were money well spent. Both drink older and higher in proof than they were which is a hallmark of a quality bourbon. Of course, if you're reading this you may already know that Eagle Rare is highly coveted and that they do not last long on shelves anymore. But at most places it's still somewhat inexpensive which makes stocking up on them the right call.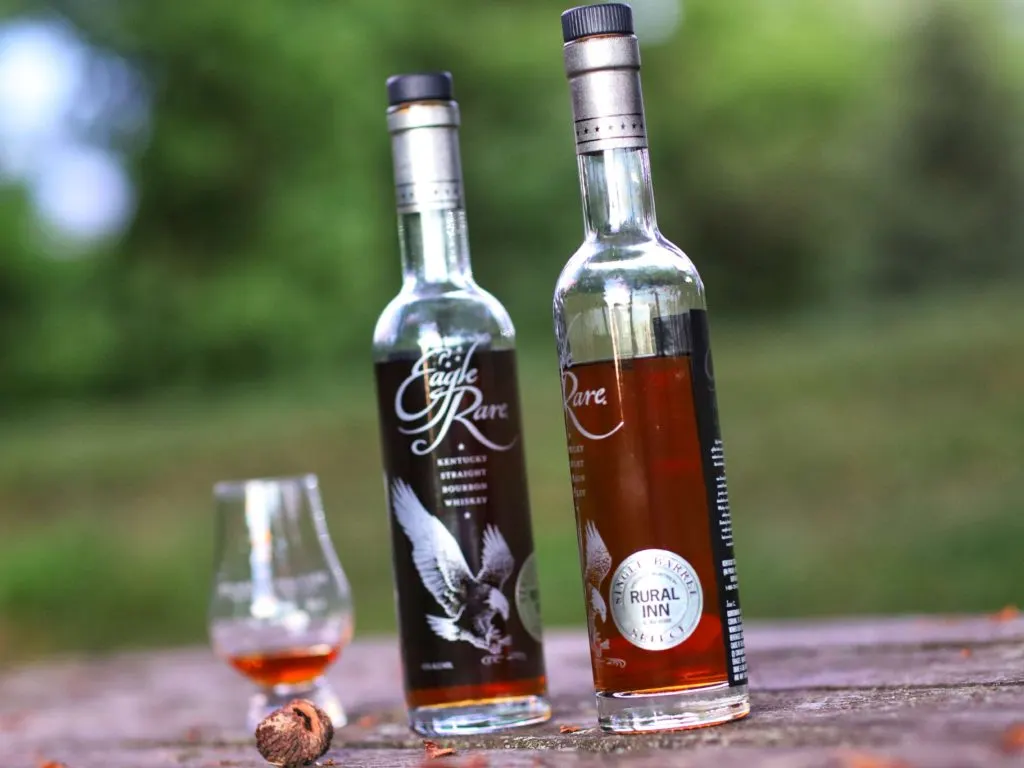 I have tried quite a few of Rural Inn's store picks that come from Buffalo Trace throughout the years and I'm always impressed by what Ray comes back with. I find that he leans towards heavy fruit flavors and butterscotch (if it's in a barrel, he will find it). I've had other store picks from retailers around town, but I have much more confidence when it comes to Rural Inn.
So if you're an enthusiast that can't buy every single barrel pick in your area, my advice is to find the stores that have picks that align with your preferences and stick with them. This should promise you great picks for years to come.
Featured Products
Description:

The Aged & Ore Neat Traveler is a complete travel kit for spirits. We combined our widely praised Neat Glass with one of our 3oz Flight Bottles and housed them together in a custom EVA travel case. Perfect for a night away with your favorite pour. The tie
Description:

The Aged & Ore Bottle Flight is a premium set of 4 custom silicone wrapped glass bottles designed to transport and share samples of your favorite spirits. The flight bottles come in a custom EVA travel case that fits perfectly in any small bag. An Aged &
Description:

This Bundle combines two of our crowd favorite products, creating the ultimate travel bundle to bring along your favorite spirits and glassware. Bundle Includes: Neat Traveler (Gray) Bottle Flight (Gray) Note: This bundle is only available in gray and col
*Bourbon Culture is reader-supported. When you buy through links on our site, we may earn an affiliate commission.