*Bourbon Culture is reader-supported. When you buy through links on our site, we may earn an affiliate commission.
Picking up where I left off with Part 1 of our Designer Dram experience, I had just concluded what my ideal blend would be. I decided that 2/3 of the blend would use MGP's 95% rye recipe (which DD labels as "Pure Rye") and the other third of the blend would use MGP's high-malt rye whiskey recipe (51% rye and 49% malted barley). I found this delivered the perfect sip of spicy rye with softer notes from the malted barley content.
Designer Dram Recipe Ratios
When I went to place my order on the website, I found out that you could only adjust the ratios based on 5% increments. So instead of the 66/33 ratio I was set on, it ended up being 65/35. Not a big deal but one that I figured I'd point out. There was one surprise that I encountered at the very end of the process that surprised me enough to mention.
It involves selecting the proof for the final product. Coming into the project with no previous experience, I mistook the website's wording of "select your desired ABV" to infer that you could pick any proof from 80 all the way up to cask strength. In reality, you only get to pick a final proof of either 86 proof or 94 proof.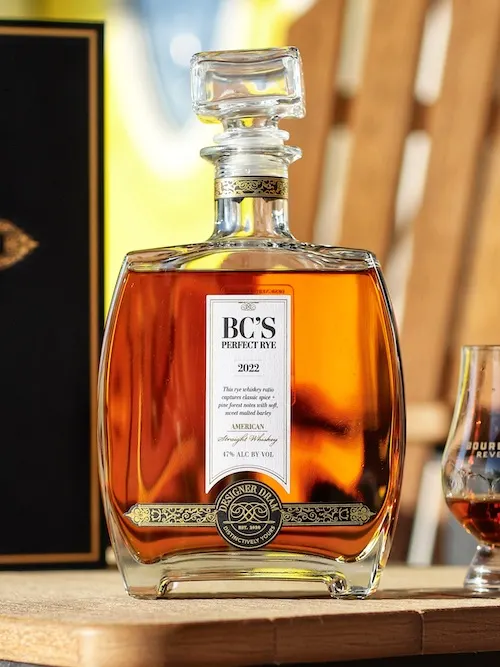 Depending on your level of experience with bourbon (or the person you're gifting this to), the proof may not be what you were looking for. In a nutshell, a higher proof generally tends to carry with it deeper and more robust flavors. Proofing it down involves adding water to the distillate but at least Designer Dram has chosen to not chill-filter their final product. This allows as much flavor as possible to remain in the bourbon by not removing the flavor-carrying fatty acids that carry so much of it.
Designing Your Own Whiskey Label
After picking the proof and the mash bill, the final step to the process is designing your own label. No pictures can be added to the label but what is written on the front is fully customizable. Since I could not put our own Bourbon Culture logo on, I elected to use the initials "BC." The space below it seemed like a good spot to create a name for the whiskey, so I elected to name it my "Perfect Rye."
There was even a space to write a description or a message to the giftee. There are character limits but as you'll see from my label in the picture, there was more than enough room to be descriptive. Lovers of Twitter's 140 character limit should feel right at home with making their own label.
I placed my order on May 31st and received an email 3 days later with a PDF file showing how the final label would look. You are given the opportunity to make any changes that you may have overlooked or you can just reply back that it looks good. If you don't say anything at all, it will be assumed that everything is good to go and production is okay to commence. I chose the latter.
The final bottling was completed 7 days later and it was shipped from California. It arrived via FedEx and required a signature to accept since it's a package containing alcohol. If you're new to signing and accepting FedEx packages, then it's worth pointing out that you could reschedule your delivery or even pick it up from a designated location when it's convenient for you. The FedEx App lets you do all of this for no charge (unlike UPS which charges $6 to redirect the package).
Opening & Unboxing the Custom Whiskey
Shipping took 4 days to arrive to my house in Indiana. Upon opening the box, I noticed how everything was well-wrapped and padded. The bottle was tied up with a nice, black satin bow and felt like unwrapping a gift within a gift. The box itself was very similar to the initial tasting box with tasteful flexography and a satisfying texture. The presentation is classy without being over-the-top. Even non-bourbon drinkers will have their eyes light up with the attention to detail.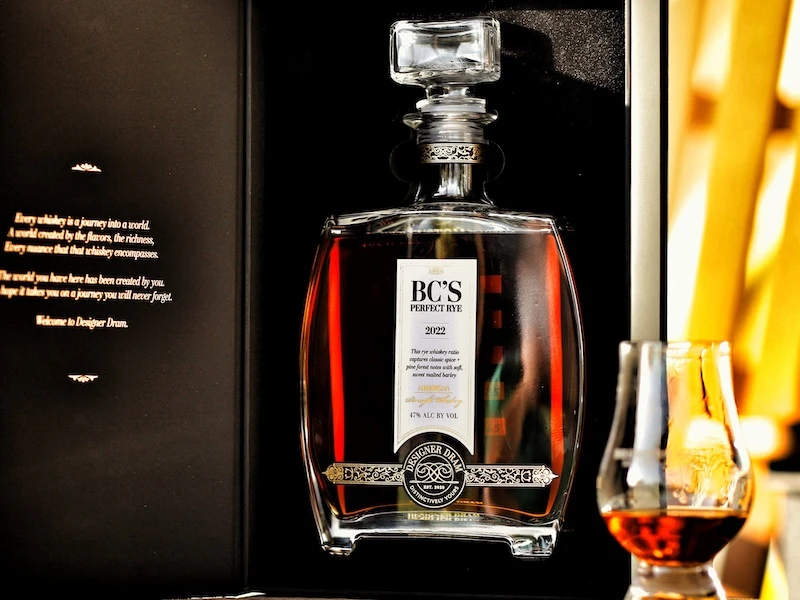 In regards to the bottle itself, it uses a design that no other bourbon bottle currently has. This will make it stand out on your shelf. The slim side profile will also make it easier to fit into oddly shaped cabinets or to rest flush against the wall on a shelf. I imagine that most people will use it in the role of a decanter long after the whiskey inside is gone.
The stopper is not cork or synthetic cork, but instead multiple rows of flexible plastic ridges that do a good job of sealing the bottle. The worst part about off-the-shelf decanters is that the stopper does not often create an air-tight seal. Why does that matter? Well many drinkers find that subtle oxidation changes the taste of the spirit inside. You shouldn't have this problem here and it should serve as a great decanter bottle when you're all done with it though.
How is the Whiskey
So how is the whiskey? After comparing my final home-blend 86 proof product to this 94 proof bottle, it was the right choice to go with the higher proof. I found more flavor with the cinnamon and clove being amplified in addition to an even richer sweetness to the rye. Overall I found my blend to be a very good rye whiskey and one that I would happily serve my friends. I imagine some of the allure would be to brag on yourself and say "I did that" while they're tasting it.
So is Designer Dram for you? I will answer that in a moment but first I will tell you about a common sight I've personally witnessed in liquor stores lately. A customer walks in and immediately asks the cashier behind the counter to help them find a bottle of whiskey between $100 and $200 as a gift to a friend/family member. Their rationale is that at that price, there is it will come off as more meaningful because they spent a lot on it.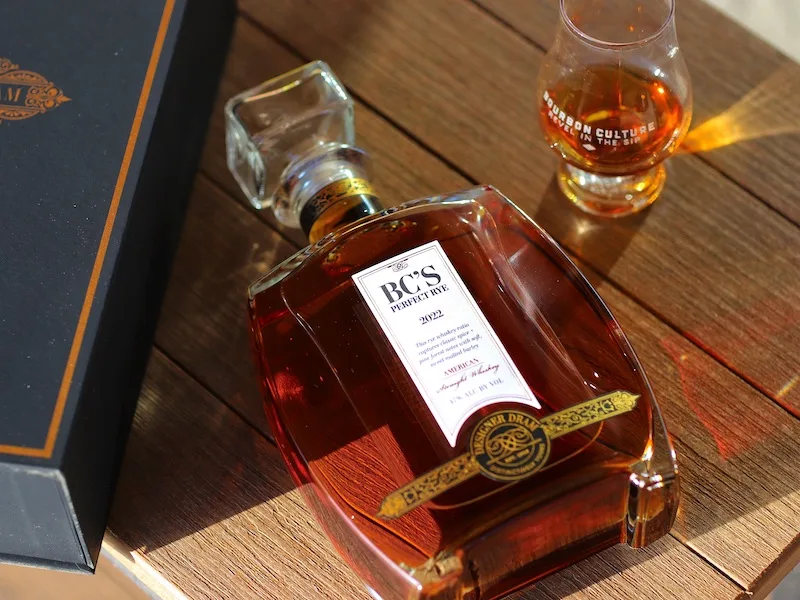 But the bad news is there are many $100-$200 bottles setting on liquor store shelves that don't come anywhere near what the quality should be for that price. Store employees may have been told to push these expensive, unwanted bottles to anyone they can. If this applies to you, you may have experienced not getting the reaction you hoped for on your recipient's face.
By choosing to gift Designer Dram, you'd be able to give a person a much more personalized bottle that they could make themselves for about the same price. Best of all, it's completely unique. They even have the ability to make their own label. This is an obvious upgrade to just handing them another engraved bottle of Angel's Envy or Woodford Reserve.
Final Thoughts on Designer Dram
So the answer is yes, Designer Dram does fill the spot for the person who frets over which bottle to gift the whiskey lover in their life. I imagine that this is just the start and that as time goes on, DD will offer a few more customizable perks to their product. Until then, feel good knowing that gifting a box is one of the more thoughtful and unique ways to give the whiskey drinker in your life a present they haven't received before.
Featured Products
Description:

The Aged & Ore Neat Traveler is a complete travel kit for spirits. We combined our widely praised Neat Glass with one of our 3oz Flight Bottles and housed them together in a custom EVA travel case. Perfect for a night away with your favorite pour. The tie
Description:

The Aged & Ore Bottle Flight is a premium set of 4 custom silicone wrapped glass bottles designed to transport and share samples of your favorite spirits. The flight bottles come in a custom EVA travel case that fits perfectly in any small bag. An Aged &
Description:

This Bundle combines two of our crowd favorite products, creating the ultimate travel bundle to bring along your favorite spirits and glassware. Bundle Includes: Neat Traveler (Gray) Bottle Flight (Gray) Note: This bundle is only available in gray and col
*Bourbon Culture is reader-supported. When you buy through links on our site, we may earn an affiliate commission.