*Bourbon Culture is reader-supported. When you buy through links on our site, we may earn an affiliate commission.
A few months ago, we reached out to the team at Designer Dram letting them know we'd be interested in trying out their whiskey creation services. Knowing a little bit about the industry, I was not that surprised that this kind of service was a thing.
For a while now, groups or individuals have been struggling to find a way to obtain their very own barrel of whiskey if they didn't have the money or the connections. Designer Dram solves those problems by allowing a customer to purchase as little as one bottle of whiskey all the way up to thousands of bottles to their own specifications.
Designer Dram's website gives you all of the information on how their system works and offers different packages depending on the experience you want to get. They sent us a box that had all of the tools needed to create a whiskey along with some instructions.
Create Your Own Custom Whiskey
Inside the box were five different sample bottles containing assorted MGP whiskey that you can experiment blending with. Once you find the blend that you like best, you tell the Designer Dram team what it is and how much you want to order and they ship it to you.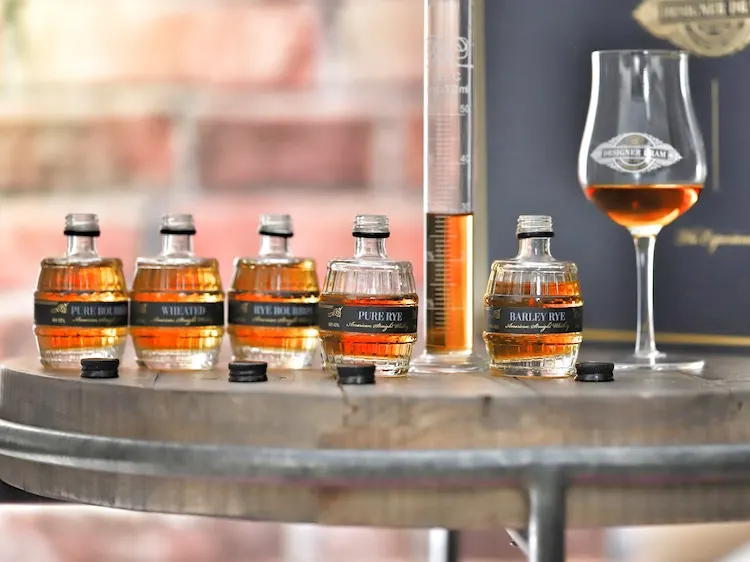 The following is based on my experience with the creation of my very own bottle. Designer Dram is very upfront by saying that they use only whiskey from MGP in Lawrenceburg, Indiana. They've dropped hints here and there within the website that they might expand their source of whiskey in the future, but for now this is your only option.
If you're new to bourbon, you may be grumpy about it not being from Kentucky, but let me assure you that MGP is an amazing distillery that is every bit on par with the big Kentucky distilleries. The five whiskies that were included in the kit are a mix of the classic recipes that put MGP on the map and some newer ones that they've only recently created around 2013.
Designer Dram Whiskey Review
The classic whiskies include a "Ryed Bourbon" (which they fail to mention if it's the 21% or the 36% mash bill recipe) and a "Pure Rye" which refers to the 95% rye, 5% malt recipe. The newer recipes contain whiskies that a lot of people haven't had a chance to experience yet. They include a "Pure Bourbon" (99% corn and 1% malt like what Old Hamer uses), a "Wheated Bourbon" (51% corn, 45% wheat and 4% malt), a "Barley Rye" which is an obscure rye whiskey that MGP created primarily for blending that is 51% rye and 49% malted barley.
A pamphlet and some online literature is available to guide a new person who might not know what they are doing. I was already well-versed in all of these mash bills (even the Barley Rye to an extent) so I could dive right in with certain expectations. The one thing I was most concerned about is creating a whiskey with as little youthful traits as I could find.
Designer Dram doesn't give you the exact ages of the whiskies that are in the sample bottles, instead, they say they're all a blend of 5 to 10 year old barrels.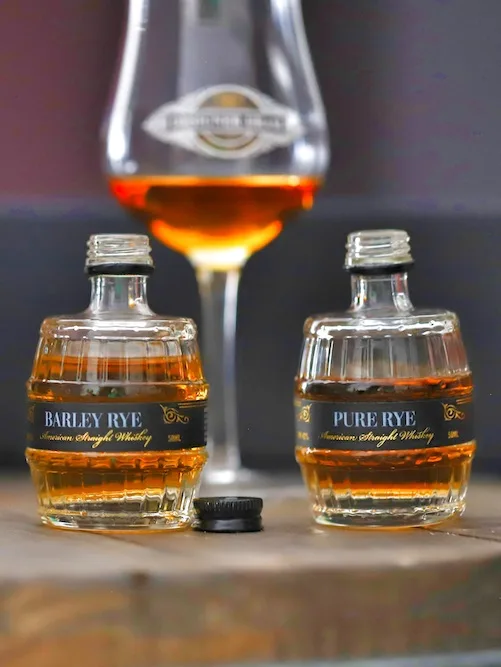 I started by sipping through each of the whiskies by themselves. At only 86 proof, it's not a big deal and most of the flavors are about what I expected them to be. I immediately wrote off the wheated bourbon because it tasted far younger than I expected. Later, just for kicks, I did blend the wheated bourbon in with the standard ryed bourbon and found that I could still taste the youth in it.
Next up I tried the "Pure Bourbon" recipe and found it to be very simple tasting. I knew this would be the case because West Fork Whiskey's Old Hamer line uses the same barrels and it has proven itself to be ideally suited for barrel finishes, not so much for stand-alone single barrels. Blending it with the ryed bourbon produced no noticeable increase in quality or flavor, so I decided that I would not be using that in the blend either.
Blending the Perfect Whiskey
Nixing two of the bottles right off the bat left me with three remaining options. Either I could create a sort of "Bourye" where I would blend rye whiskey and ryed bourbon together (this has been done a lot recently), I could create a rye whiskey blend or I could just specify to have my custom bottle be all ryed bourbon. The last option sounded boring and one that probably goes against the allure of a program like this. I settled on creating my own rye whiskey instead.
It's hard to not like MGP's standard 95/5 rye whiskey. The rye spice is perfectly balanced for a whiskey that contains so much of the grain in the mash bill. The Barley Rye Whiskey, on the other hand, was initially created as a rye whiskey that could be used for blending in order to "soften" the spicy rye punch. The intent was for blenders who wanted to fine tune their own rye blends. Malted barley is already a fantastic grain by itself and it shouldn't be thought that this version of rye whiskey is bland or anything. It's got plenty of its own fruit character going on behind the scenes.
Creating Your Own Whiskey Bottle
I began blending ratios to see what gave me the bold rye spice notes I craved while also offering me a unique experience that I couldn't get anywhere else. Creating a 50/50 blend seemed to soften the entire experience up too much in my opinion. I felt like some of the brown sugar and pine notes that I associate with MGP rye were covered up. So I tried for ratios between 3/4:1/4 and 2/3:1/3.
I felt like using the Barley Rye for only 1/4 of the ratio didn't impact it enough whereas using the Barley Rye for 1/3 of the ratio gave a really nice balance to both components. I had just enough left in the sample bottles to retest myself a few days later to ensure that I had made the right choice. Once I confirmed it, the time came to finalize my order and await for my bottle to come in.
To highlight my experience thus far, I must say that the packaging for this program was top-notch. Giving this to a friend or loved one would be high on my list as a desirable gift to receive. The one thing I disagree with Designer Dram about is that they proofed down the sample bottles to 86 proof.
I do understand the underlying reason why (so that new drinkers aren't blown out of the water with high proof) but the program should have the option for your sample box to have either 86 proof sample bottles or barrel proof sample bottles. They already give you the choice as to which proof you want it to get bottled at, so why not make this an option? Speaking of which, I wanted my final proof to be 117 (I'll get to that reason in Part 2) but I am not aware of what the ceiling is on proof. That would have been nice to know.
Initial Thoughts
The price tag for making your own bottle seems a bit steep to me, but that's only because I did some loose calculations on how much it would be for me to go out and obtain barrel proof bottles of all of the included recipes. I will admit that I do not know where I could find the "Barley Rye" recipe, so that kind of throws a wrench in things.
But I must remember that the kit does come with a free copita glass and a the final bottle as well as shipping for both, so it does start making some sense when the numbers are added up.
Check out Part 2 below!
Featured Products
Description:

The Aged & Ore Neat Traveler is a complete travel kit for spirits. We combined our widely praised Neat Glass with one of our 3oz Flight Bottles and housed them together in a custom EVA travel case. Perfect for a night away with your favorite pour. The tie
Description:

The Aged & Ore Bottle Flight is a premium set of 4 custom silicone wrapped glass bottles designed to transport and share samples of your favorite spirits. The flight bottles come in a custom EVA travel case that fits perfectly in any small bag. An Aged &
Description:

This Bundle combines two of our crowd favorite products, creating the ultimate travel bundle to bring along your favorite spirits and glassware. Bundle Includes: Neat Traveler (Gray) Bottle Flight (Gray) Note: This bundle is only available in gray and col
*Bourbon Culture is reader-supported. When you buy through links on our site, we may earn an affiliate commission.