*Bourbon Culture is reader-supported. When you buy through links on our site, we may earn an affiliate commission.
As a brand, Buffalo Trace is relatively new. Yes the distillery that produces their whole range of products has been standing for centuries, but it was not until Sazerac purchased the grounds in 1992 that they began to build the core line of products you see today.
Buffalo Trace bourbon came around in 1999 followed by a slow and steady growth of labels that Sazerac either scooped up (like the Eagle Rare label) or invented (like the Single Oak Project and the Buffalo Trace Experimental Collection).
Along the lines of labels that Buffalo Trace created recently was the Colonel E.H. Taylor line. First bottled in 2011, the idea for this brand extension was to honor the man who is most credited with creating the Bottled in Bond movement, Edmund Haynes Taylor.
Throughout the 10 years since then, the EHT line produces 3 main products (Small Batch bourbon, Single Barrel bourbon and a Straight Rye Whiskey) as well as 2 annual releases; EHT Barrel Proof and a special experiment or noteworthy release.
Small Batch Bourbon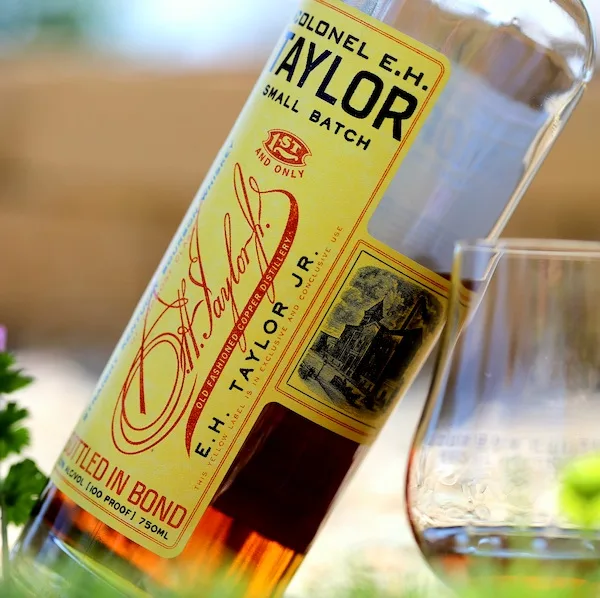 Today's review concentrates on the entry level bottle of the lineup: Small Batch Bourbon. Typically aged for anywhere from 7 to 8 years depending on the batch (roughly the same age as Buffalo Trace), it's proofed down to 100 proof and chill filtered before being bottled up.
Retail price is supposed to be around $40, but the explosion of bourbon across the country has resulted in prices going all over the place.
The question this review hopes to explain is not just is EHT Small Batch a good bourbon but is it worth the $20-$40 upcharge that most places are selling it for these days? Let's find out. I sampled this neat in a glencairn.
Tasting Notes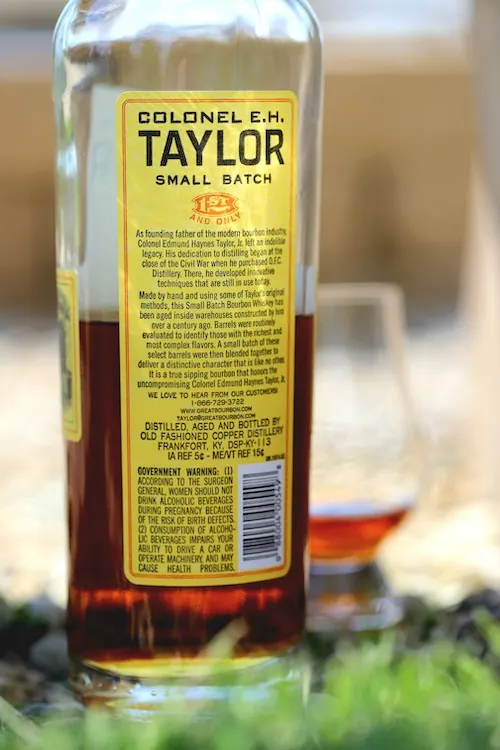 Nose: The nose is very fruit forward with notes of Maraschino Cherries as well as vanilla blossoms. The age shows itself with a small amount of oak along with a slight toasted almond nuttiness. The scent of melted butter is also one that's warm and inviting too.
Palate: Flavors of vanilla pound cake and black cherries give me the same notes that I was expecting from the nose. There's this nutty aspect that's similar to walnut oil, but it's somewhat strange to find in a BT product. The palate also is a little bit spicy as small amounts of black pepper make the intensity pop along with some faint rye spices.
Finish: Lingering dark red fruits (with raspberries being the most dominant) carry on with thick caramel that's slightly burnt. The spice transforms into gingersnap cookies, peppercorns and sweet mint. Normally I don't get that many rye traits with a Buffalo Trace Mashbill #1 product, but it's nice.
Score: 6.6/10
EHT Small Batch is simple and easy to enjoy. The additional proof over standard Buffalo Trace bourbon lets more flavor intensity shine through which is always a plus in my book.
I always find BT products to have a nice amount of fruits and sweetness coupled with a low amount of burn and this one didn't disappoint. For $40, this is a bourbon that is on par with other equally priced BiB bottles out there such as Henry McKenna BiB and Four Roses Single Barrel (which isn't a BiB, but close enough).
But the question I'm here to answer is how much more over retail is this bourbon worth? I would say not much over $50 or $55.
Granted, there's not much else in the realm of bourbon at this proof and age in the BT lineup (or else you'll start hitting the super-allocated releases) but the question becomes what else is similar in taste, easier to find and just as cheap that comes from another distillery? The answer is: quite a lot.
So go ahead and splurge if you find this bottle somewhere for under $60. It's got great packaging (that tube will impress anyone) and the bourbon inside will please casual drinkers and enthusiasts alike. But please, whatever you do, don't act like this is something more fancy than it actually is.
Ratings Breakdown
1 | Disgusting | Drain pour (Example: Jeffers Creek)
2 | Poor | Forced myself to drink it
3 | Bad | Flawed (AD Laws 4 Grain BiB, Clyde Mays anything)
4 | Sub-par | Many things I'd rather have (Tincup 10 year)
5 | Good | Good, solid, ordinary (Larceny, Sazerac Rye)
6 | Very Good | Better than average (Buffalo Trace, OGD BiB)
7 | Great | Well above average (Old Ezra Barrel Proof, Old Weller Antique)
8 | Excellent | Exceptional (Michter's Barrel Proof Rye, Four Roses Barrel Strength)
9 | Incredible | Extraordinary (GTS, 13 Year MGP or Canadian Rye)
10 | Insurpassable | Nothing Else Comes Close (William Larue Weller)
Featured Products
Description:

The Aged & Ore Neat Traveler is a complete travel kit for spirits. We combined our widely praised Neat Glass with one of our 3oz Flight Bottles and housed them together in a custom EVA travel case. Perfect for a night away with your favorite pour. The tie
Description:

The Aged & Ore Bottle Flight is a premium set of 4 custom silicone wrapped glass bottles designed to transport and share samples of your favorite spirits. The flight bottles come in a custom EVA travel case that fits perfectly in any small bag. An Aged &
Description:

This Bundle combines two of our crowd favorite products, creating the ultimate travel bundle to bring along your favorite spirits and glassware. Bundle Includes: Neat Traveler (Gray) Bottle Flight (Gray) Note: This bundle is only available in gray and col
*Bourbon Culture is reader-supported. When you buy through links on our site, we may earn an affiliate commission.