*Bourbon Culture is reader-supported. When you buy through links on our site, we may earn an affiliate commission.
Distilled by Bunnahabhain
Bottled by Signatory
Region: Islay
Type: Single Malt
Age: 5yrs
ABV: 59.7%
For those that aren't familiar with Signatory, they are not a distillery, instead they are an independent bottler (IB) who purchases whisky from distilleries and bottle it themselves.
For today's review, I will be looking at a cask strength whisky from Bunnahabhain distillery called Staoisha which is the their heavily peated line. As Signatory is a quality IB, this single cask is bottled without added color or chill filtration.
Tasting Notes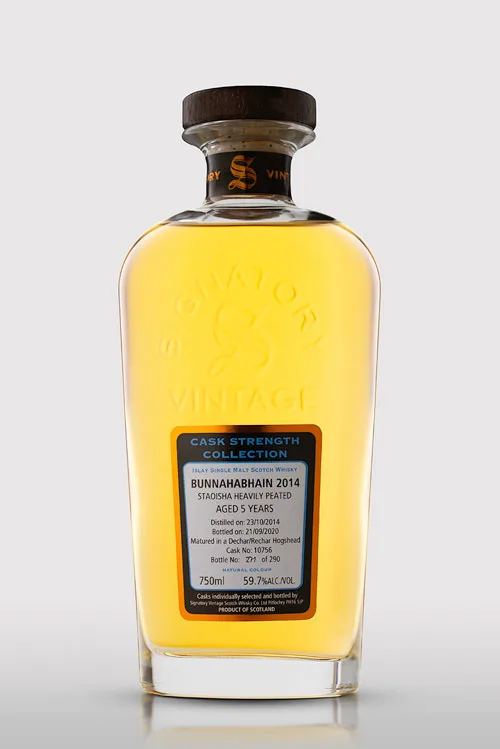 Nose: A tidal wave of minerality assaults the nose with crushed sea shells, chalk and an old packet of vitamin C pills. Behind those scents are a touch of vegetal peat, some ash and faint ripe fruit. Those notes barely make themselves known as the mineral notes threaten to overwhelm everything.
Palate: Medium body and a welcome reprieve from the nose's aggressive mineral character; here we find spicy/herbal notes which start as a dash of salt and pepper followed by some baking spice and smoked honey sweetness.
Finish: Long and angry, initially some slight medicinal character, more ash and peppery spice along with some honey. But all of those notes are quickly smothered by the returning deluge of expired vitamin c and mineral, chalky despair.
Score: 4/10
Conclusion: This isn't good. Signatory is a good bottler and Bunnahabhain is a fantastic distillery, but this particular offering is marred by that dominating minerality that doesn't play well with any of the other notes that are here. Instead the chalky and vitamin character dominate the nose and finish and leave a poor taste in my mouth.
Featured Products
Description:

The Aged & Ore Neat Traveler is a complete travel kit for spirits. We combined our widely praised Neat Glass with one of our 3oz Flight Bottles and housed them together in a custom EVA travel case. Perfect for a night away with your favorite pour. The tie
Description:

The Aged & Ore Bottle Flight is a premium set of 4 custom silicone wrapped glass bottles designed to transport and share samples of your favorite spirits. The flight bottles come in a custom EVA travel case that fits perfectly in any small bag. An Aged &
Description:

This Bundle combines two of our crowd favorite products, creating the ultimate travel bundle to bring along your favorite spirits and glassware. Bundle Includes: Neat Traveler (Gray) Bottle Flight (Gray) Note: This bundle is only available in gray and col
*Bourbon Culture is reader-supported. When you buy through links on our site, we may earn an affiliate commission.