*Bourbon Culture is reader-supported. When you buy through links on our site, we may earn an affiliate commission.
Once upon a time, if you were doing a barrel pick at Buffalo Trace, the staff would give the selection team a 375ml bottle that you could fill up directly from the barrel.
The bottle had a small label on it so you could fill out the barrel details from your pick and it would also carry a stamp that mentioned something about it being a sample and that it was not taxed. This was a courtesy they did as a way for you to take home a special memento from your big day.
This awesome perk was quickly ruined by a few shitheads who decided to put their sample bottles up for sale on the secondary market.
Of course, there was an audience eager to buy cask strength Buffalo Trace, Blanton's or Eagle Rare straight from the barrel. But secondary market snitches were quick to rat them out to the powers-that-be at Sazerac and the whole "take-home bottle" process was cut.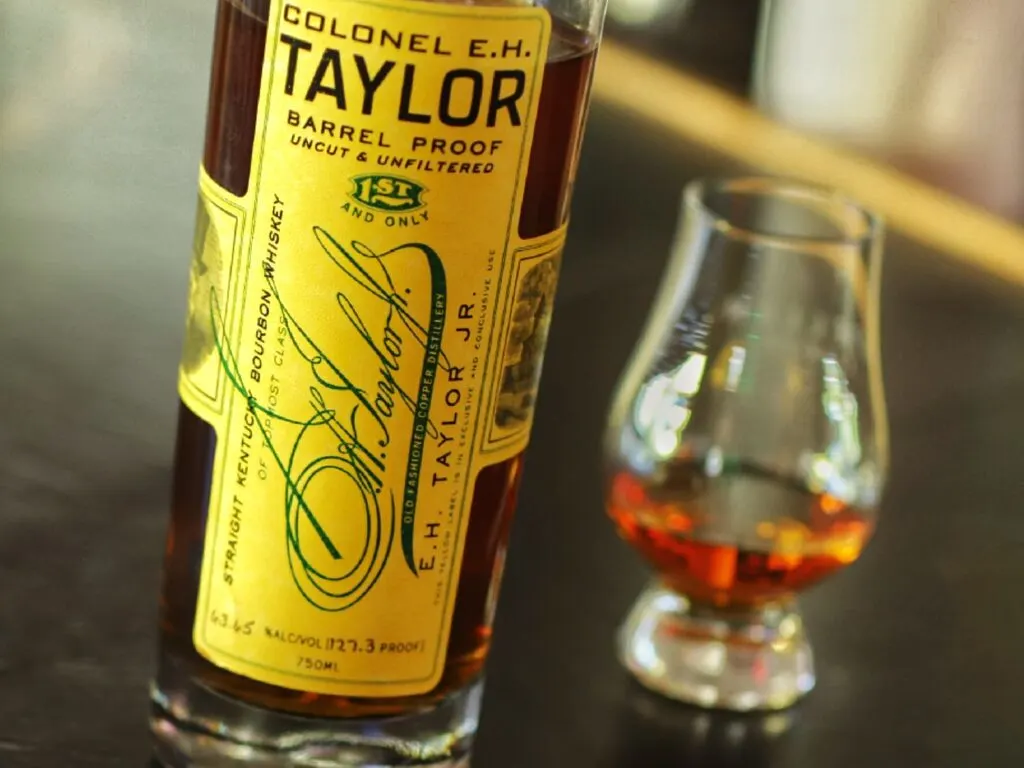 Colonel EH Taylor Barrel Proof Bourbon
I tell this story because it demonstrates that there was and still is such a huge market for cask strength Buffalo Trace products to this day. Buffalo Trace only offers six ways to get a cask strength product from them, three if you cut out the ones in the Buffalo Trace Antique Collection.
That leaves only Blanton's, Stagg Jr or EH Taylor Barrel Proof. Blanton's Straight From The Barrel wasn't sold in the US until recently (and still I've never seen a 750ml on the shelves) and depended on your connections overseas or overseas retailers.
Stagg Jr was a reliable twice-per-year release and EHTBP came out only one time per year. Guess which was the hardest to get?
From the outside, there is not much difference between EHTBP and Stagg Jr. For a while now it was theorized that EHTBP was a batch of 8 to 10 year old barrels and Stagg Jr was a batch of 7 to 9 year old barrels. Both were from barrels of Buffalo Trace Mash Bill #1 (low rye bourbon).
But the differences between each were profound enough due to the tasters identifying barrels with a certain flavor profile. Stagg Jr barrels typically have a much more fruit-forward profile (ala cherries) whereas EHTBP had a more butterscotch-forward profile.
A common opinion is that Butterscotch is kind of a holy grail of bourbon notes. Why that is, I'm not sure, but aficionados will tell you that is the main flavor character they look for in the dusty bourbons from the past.
The Barrel Proof version of EH Taylor has been in especially high demand recently due to all of the concern about the George T Stagg label being discontinued.
Today's 2021 bottling (which is the 10th Batch in the series) was especially sought after because the 2021 George T. Stagg BTAC label had been cancelled last year. This meant that EHTBP was the oldest barrel proof version of Buffalo Trace Mash Bill #1 released last year.
So while it was never supposed to replace that highly regarded bottle, many hoped it would come close because they had no other choices.
Now it's time to find out how this bottle performs. For today's review, I sampled it neat in a glencairn.
Tasting Notes
Nose: The scent is all at once rich and robust with scents of seasoned oak and butterscotch. Toffee and vanilla pudding add even more to the occasion. The cherry on top (not that there are cherries to find) is definitely the white chocolate mousse scents. It's perfect
Palate: For close to 130 proof, the heat is nicely restrained. This allows powerful oak and tobacco flavors to shine. The fruits are dark and condensed like figs and raisins. Nary a Stagg Jr cherry can be found. The mouthfeel is thick and oily too.
I notice a bit of chocolate showing up here and there but the butterscotch remains constant. This batch has no unique traits that you wouldn't normally find in other EHTBP batches.
Finally, the spices on my tongue are bold and appealing. Cinnamon, pink peppercorns, Urfa Chili Pepper flakes all offer smoldering heat that is restrained and adds to the flavor.
Finish: A long lasting finish containing more butterscotch, toffee and vanilla custard. I want these flavors to linger forever and they kind of do. The oak is equisite, but not so much to make it bitter or smother other flavors. I even get a bit of Macadamia nut cookies too. It's heavenly.
Score: 8.7/10
EHTBP releases are tough to rate because I feel as if this rating makes it seem as if there are flaws in the liquid. Let me be clear, there are has no flaws here, this is about as good as any bourbon can get.
The heat is restrained, the oak is loud and proud and the flavors are all as rich and decadent as some of the best bourbons I've had.
It doesn't score a perfect 10 because I feel as if it needs to have another further layer of flavors or scents before it could match the ambrosia that GTS gives you. Otherwise, this is an amazing bottle.
Final Thoughts
The 2021 release follows a long line of other EHTBP releases that have always impressed. Many will argue that the first two batches cannot be topped, but I think that they are factoring in their extremely limited production and the scarcity.
And while I have not tried all of the batches of EHTBP, I will make the claim that from what I've tasted so far, this Batch 10 falls into place with the others. It is exquisite and nothing is out of place.
True to form, EHTBP concentrates on butterscotch as its hallmark trait and makes sure the other flavors supporting it are there in perfect harmony.
In my opinion, it's strange how not even the Single Barrel or Small Batch versions of EHT bourbon come anywhere close to the barrel proof version (can we at least have some watered-down butterscotch? Please?).
This makes it even more desirable in the sense that you can't get close to the tastes in this bottle with any other version of Buffalo Trace. And for this reason alone, EHTBP is truly a bottle worth its weight in gold year after year.
Featured Products
Description:

The Aged & Ore Neat Traveler is a complete travel kit for spirits. We combined our widely praised Neat Glass with one of our 3oz Flight Bottles and housed them together in a custom EVA travel case. Perfect for a night away with your favorite pour. The tie
Description:

The Aged & Ore Bottle Flight is a premium set of 4 custom silicone wrapped glass bottles designed to transport and share samples of your favorite spirits. The flight bottles come in a custom EVA travel case that fits perfectly in any small bag. An Aged &
Description:

This Bundle combines two of our crowd favorite products, creating the ultimate travel bundle to bring along your favorite spirits and glassware. Bundle Includes: Neat Traveler (Gray) Bottle Flight (Gray) Note: This bundle is only available in gray and col
*Bourbon Culture is reader-supported. When you buy through links on our site, we may earn an affiliate commission.