*Bourbon Culture is reader-supported. When you buy through links on our site, we may earn an affiliate commission.
I'm going to begin this review by making a statement that is probably obvious to the people who have tried Bomberger's Bourbon in the past: it has always been good. There is no need to question if you should buy a bottle if given the opportunity (within reason). So if you're staring at a bottle right now and it's priced less than $175, I wouldn't question buying it. With that being said…
The 2022 Bomberger's Declaration Bourbon
I have managed the good fortune of trying each year's Bomberger's Declaration release. Not only are they all excellent, they get better with each subsequent release. Part of the reason why that is revolves around Michter's (the distillery that produces Bomberger's) decision to age a portion of the bourbon in Chinquapin Oak. From 2019 to 2021, the description on Michter's website indicated that the ratio of Chinquapin Oak barrels to regular barrels grew larger than the previous year's. This year's description appears to make no mention of an increase to that ratio, so perhaps they decided it was good as it was going to get.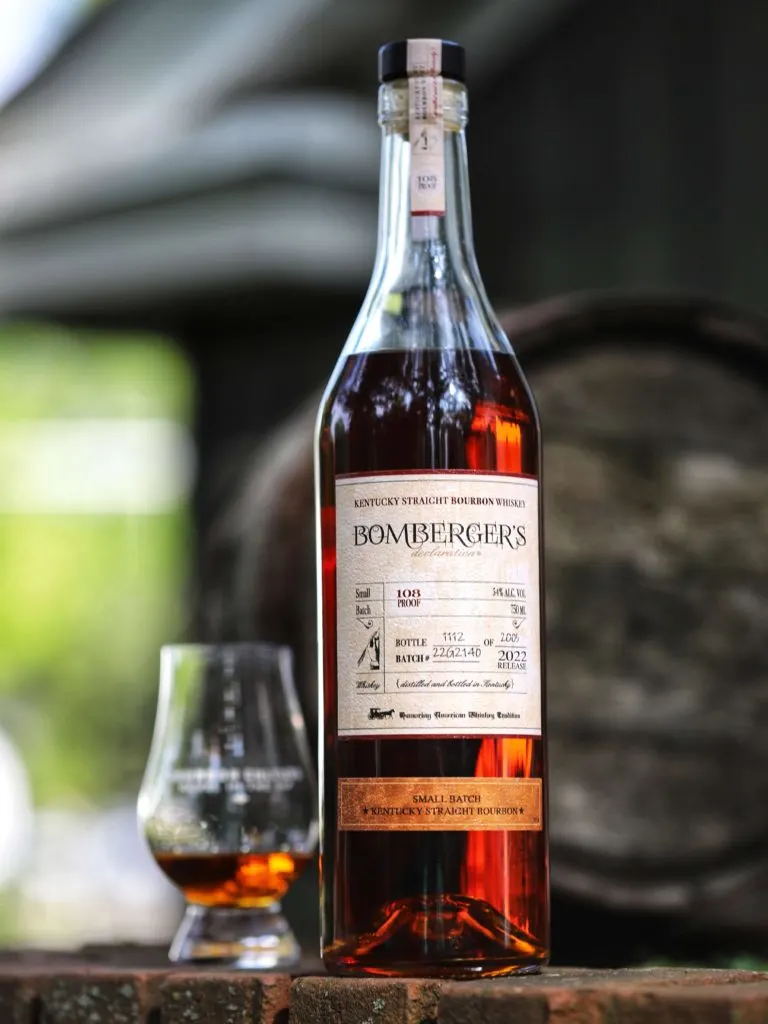 Everyone from enthusiasts to coopers to master distillers will have a different opinion on what exactly makes Chinquapin Oak different from White Oak in terms of the flavors it imparts. Some will say there is no difference to be noted at all. My own opinion is that the oak flavors are more robust and heavy than the flavors that a standard white oak barrel imparts. It is almost like the American version of French Oak.
Don't mistake my descriptor as meaning it is more bitter (which happens when too much oak flavor gets into the liquid). I have not tasted a bourbon that has been aged in Chinquapin Oak yet that tastes over-oaked. In fact, I find that the marshmallow notes are especially highlighted in previous batches (but that could be due to the toasting process that the barrel undergoes first).
Here are the basic facts that show the similarities and differences between Michter's bourbon and Bomberger's. Both are likely distilled from the same bourbon mash. I speculate the recipe is around 80% corn, 15% rye and 5% malted barley, but I have no proof of that. The rye provides a nice amount of spice but isn't overpowering in a way that I find with 20+% rye mashbills. Both come off the still at around 138 proof and go into the barrel at 103 proof. Michter's barrels are typically made with staves that are air dried for 18 months before being assembled, toasted and charred. Bomberger's barrels are made with staves that are air dried for 36 months before being assembled, toasted and charred. The Chinquapin Oak barrels are also air dried for 36 months before being assembled, toasted and charred. Both brands are aged in heat cycled warehouses for around 5 to 6 years before being pulled and batched.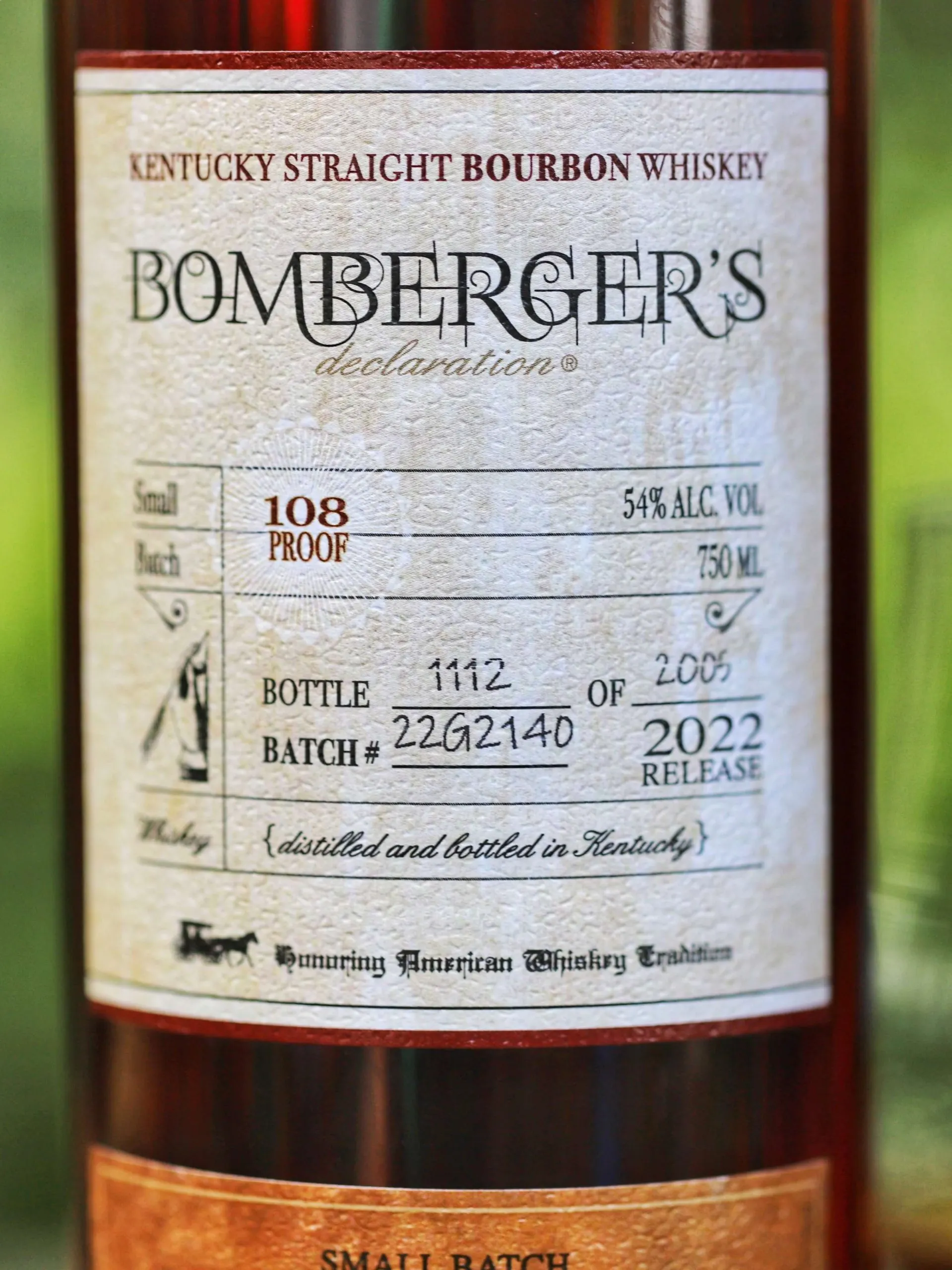 Once upon a time, Joe Magliocco revealed that each batch of Michter's Bourbon consisted of no more than 24 barrels. I expect this remains true with Bomberger's. Each batch has a bottle count in the low 2000's, so the numbers add up. Consistently bottled at 108 proof, Bomberger's isn't a barrel proof bourbon but is probably damn close to being there. I have noticed that most Michter's barrel strength products are bottled anywhere from 106 to 114 proof. As a final point, I'd like to point out that there are multiple batches of Bomberger's released at the same time each year. I mention this because some people I've talked to believe that there were only ~2,000 bottles released nationwide. That would make it amongst the hardest allocated bottles to get if it was true!
Enough with the history, let's talk about how this tastes! Are there any differences between this years and last years? Let's find out. I tasted this neat in a glencairn.
Tasting Notes
Nose: I dig the chocolate cream pie notes I get right off the bat. It's an excellent introduction to any bourbon's nose. The oak (and oak spice) also has a big impact upon each sniff. There's a ton of vanilla and sweet pipe tobacco. The overall impression of the nose is very heavy and dark. I am also happy to find some fruit notes as those don't typically get highlighted in normal Michter's products. The fruit isn't the young, bright kind. Instead it centers more around the dried variety that are are concentrated in their sweetness. Raisins, cherries and figs are what it smells like.
Palate: The opening flavor bursts centers almost entirely around spice notes. It's quite a change up from what I was expecting based on the sweet nose. Cinnamon, chili oil and peppercorns all amp up the heat on each sip, but it never gets out of hand. Oak influence swoops in to save the day and adds some counter battery fire with its blanket of tannins. In fact, the oak makes each sip taste around 10 years old. Sweetness ramps up with toasted brown sugar and creme brulee. I even find more fruit which I was still not expecting (despite the nose telling me there will be some). Chopped dates, sugarplums and orange flesh add a beautiful layer of depth to an already impressive array of flavors.
Finish: Long and rich flavors finish this dram off nicely. Notes of cedar cigar box, oak spice and caramel sweetness stretch the finish for a very long time. Once again, I'm getting notes of chocolate that comes off like a Tootsie Roll. There's even a nice amount of vanilla as the flavors slowly fade away
Score: 8.5/10
Bomberger's has once again nailed the landing with this year's release. To some, the description and the score I give doesn't answer the question "but would I like that?" So I decided to categorize it more in depth. If you like the rich, oaky tastes of Knob Creek Single Barrel (especially the ones that were 13-15 years old) but without the nutty tastes, this one is for you. If you like Russell's Reserve Single Barrels because of the manageable proof and complimentary spice, this one is for you. If you like Old Forester 1920, 1910 or Woodford Reserve Double Oaked, you'll find many of the similar oak and spice-forward flavors here as well.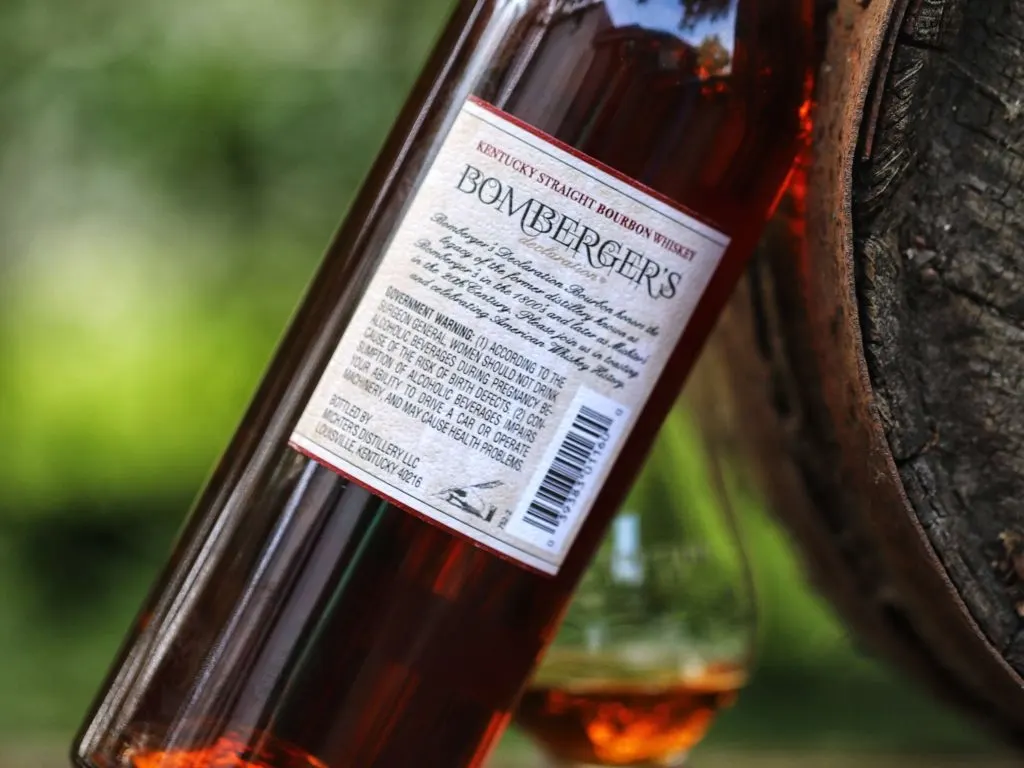 This year's Bomberger's stays more-or-less on the same level as last year's release in terms of how good it is. The main difference between the two seems to be the large amount of chocolate notes that could be found. This is something that I think anyone would enjoy and makes this a top-notch bourbon. Michter's seems to really pour their heart and soul into this bottle yet I still have this feeling that it is undervalued among enthusiasts. Please note, I'm not saying it's undervalued on the secondary market so please don't raise the value of this anymore, taters!
Final Thoughts
To come back to the opening paragraph of this review, you don't even have to read this whole thing to know that Bomberger's is good. Now in it's 5th year, this annual release has yet to let me down. I figured it wouldn't drop in quality seeing as how they didn't tinker with the recipe this time around (unlike Shenk's). There may still be a couple small differences from the 2021 release, but overall, it's just as solid as before. Many people view this bottle as a consolation prize if they can't manage to snag any of the other desirable Kentucky fall releases, but I think that it should be looked at the other way around. If you manage to snag one of these bottles, you already got the top prize.
Featured Products
Description:

The Aged & Ore Neat Traveler is a complete travel kit for spirits. We combined our widely praised Neat Glass with one of our 3oz Flight Bottles and housed them together in a custom EVA travel case. Perfect for a night away with your favorite pour. The tie
Description:

The Aged & Ore Bottle Flight is a premium set of 4 custom silicone wrapped glass bottles designed to transport and share samples of your favorite spirits. The flight bottles come in a custom EVA travel case that fits perfectly in any small bag. An Aged &
Description:

This Bundle combines two of our crowd favorite products, creating the ultimate travel bundle to bring along your favorite spirits and glassware. Bundle Includes: Neat Traveler (Gray) Bottle Flight (Gray) Note: This bundle is only available in gray and col
*Bourbon Culture is reader-supported. When you buy through links on our site, we may earn an affiliate commission.