*Bourbon Culture is reader-supported. When you buy through links on our site, we may earn an affiliate commission.
In August of this year, Buffalo Trace quietly released a revamped lineup of their bottom-shelf staple, Benchmark Bourbon. For years, Benchmark wore no age statement and was watered down to a measly 80 proof.
But Buffalo Trace, not being content until they're the best at everything, decided that they needed to corner the bottom shelf market even more by introducing new expressions of this lowly shelf turd by invigorating some age and proof into the mix.
Thus, 5 new labels were born: Small Batch (90 proof), Top Floor (92.5 proof), Single Barrel (95 proof), Bottled-in-Bond (at least we have an age statement and 100 proof!) and the top rung "Full Proof." One of the most recognizable Full Proof products before this one is ironically produced by Barton's 1792 brand (both are owned by Sazerac).
Together, they both use a ryed bourbon mashbill and are bottled at 125 proof, which is the same proof they entered the barrel at. While 1792's Full Proof was verbally said to be made up of 8 year old barrels (according to an early press release), we can probably be assured Benchmark's Full Proof version is much younger if for the simple fact that it is half the price of the 1792 label ($20 vs $40).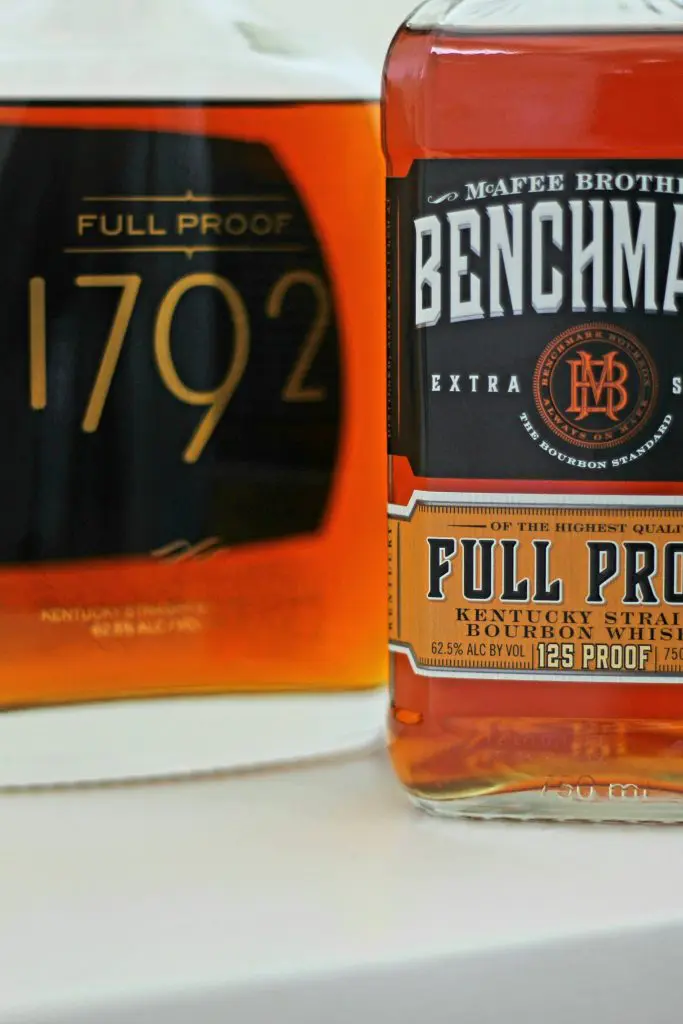 As I often do, I decided to pit together these two siblings and see if the new Benchmark is a match for 1792's Full Proof label and if it's not, then how close does it come? After all, this may become one of the years hottest buys as it begins to hit shelves nationwide. I decided a semi-blind comparison was in order, so let's dive in. I sampled these both neat and in a glencairn.
Blind Glass 1
Nose: Caramel candies straight from the wrapper, orange and cherry scents with vanilla custard. There's some nice brown sugar sweet scents followed with a volley of tannins that I guess I wasn't expecting: worn leather and seasoned oak.
Palate: The orange scent comes through on my tongue in the form of a concentrated orange oil. There's also baking spices with cinnamon leading the way with a nice sweetness and oily texture on my tongue. The tannins have calmed down from the nose.
Finish: The fruit intensifies with some heat that was unrecognized on the palate. There's a lingering note of barrel char and leather baseball glove straps that give this some age. The heat is nice and smoldering, as it should be for 125 proof, but it still has some sweet and enjoyable aftertastes that linger.
Score: 7.5/10
Final Thoughts
This is a perfectly good sweet, fruity and oaky bourbon. Extremely enjoyable and well integrated. It's only faults are that it misses some complexity and depth.
Blind Glass 2
Nose: This glass appears to have more fruit scents than Glass 1. It's lacking in tannins, however. There are brown sugar notes accompanied by shortbread cookies and vanilla. It's simple and surprisingly satisfying.
Palate: Oranges, cherries and raspberries lead the way on this fruit-filled flavor ride. The texture seems to be almost buttery. I'm still noting a lack of tannins and oak, but there does seem to be some slight astringent notes present. If I had to compare this to something non-alcoholic, I'd almost say it tastes like flat Faygo Orange Soda.
Finish: The finish is hot, but still approachable. There are lots of cherries and even some rye spice pops up. Cinnamon spice and burnt caramel stand out the most, but this is overall a finish that is very satisfying.
Score: 6.5/10
Final Thoughts
Everything seemed very nice on this one! Compared to Glass 1, this one lacks complexity but makes up for it a bit by just being simplistic in its approachability. I can see this being a daily sipper for those that don't want to think about their bourbon too much, but still enjoy what they're tasting.
Blind Reveal
Glass 1: 1792 Full Proof
Glass 2: Benchmark Full Proof
Winner: 1792 Full Proof!
There wasn't much surprise on this one because I'd expect a bottle that's priced twice as much and aged twice as much to have the better score. The final tally shows that this ended up being the case. All of that isn't to say that the Benchmark is a slouch though! On the contrary, I was quite surprised that Buffalo Trace didn't try to shove an incomplete, hot mess of a bourbon into the market just to make a cash grab.
Instead, this bottle seems to incorporate all of the best traits of a Buffalo Trace product while somehow skipping over the bad that could come with a young, high proof bourbon.
I don't know how they manage to keep generating hits like this, but I guess I shouldn't be surprised. If we were to call Buffalo Trace the "Mercedes Benz" of bourbon brands, you'd still have to admit the C-Class sedan is remarkably buttoned-down for an entry-level car.
Thus, Benchmark Full Proof does its job exactly as they wanted it to: showcasing that higher proof Buffalo Trace products start off with a much higher bar and only go up from there.
Stagg Jr and EH Taylor Barrel Proof have twice the age (or more) as Benchmark, but even they retain many of the same delicious traits as this one. For all of those that have been looking for high proof, obtainable Buffalo Trace products, your prayers have been answered.
Ratings Breakdown
1 | Disgusting | Drain pour (Example: Jeffers Creek)
2 | Poor | Forced myself to drink it
3 | Bad | Flawed (AD Laws 4 Grain BiB, Clyde Mays anything)
4 | Sub-par | Many things I'd rather have (Tincup 10 year)
5 | Good | Good, solid, ordinary (Larceny, Sazerac Rye)
6 | Very Good | Better than average (Buffalo Trace, OGD BiB)
7 | Great | Well above average (Old Ezra Barrel Proof, Old Weller Antique)
8 | Excellent | Exceptional (Michter's Barrel Proof Rye, Four Roses Barrel Strength)
9 | Incredible | Extraordinary (GTS, 13 Year MGP or Canadian Rye)
10 | Insurpassable | Nothing Else Comes Close (William Larue Weller)
Featured Products
Description:

The Aged & Ore Neat Traveler is a complete travel kit for spirits. We combined our widely praised Neat Glass with one of our 3oz Flight Bottles and housed them together in a custom EVA travel case. Perfect for a night away with your favorite pour. The tie
Description:

The Aged & Ore Bottle Flight is a premium set of 4 custom silicone wrapped glass bottles designed to transport and share samples of your favorite spirits. The flight bottles come in a custom EVA travel case that fits perfectly in any small bag. An Aged &
Description:

This Bundle combines two of our crowd favorite products, creating the ultimate travel bundle to bring along your favorite spirits and glassware. Bundle Includes: Neat Traveler (Gray) Bottle Flight (Gray) Note: This bundle is only available in gray and col
*Bourbon Culture is reader-supported. When you buy through links on our site, we may earn an affiliate commission.