*Bourbon Culture is reader-supported. When you buy through links on our site, we may earn an affiliate commission.
In April 2013, MGP announced that they would begin distilling 6 new mash bills of whiskey. This was big news for a distillery that hadn't deviated from the same styles of whiskey they always made since the dissolution of Seagram's in 2000. Among these new whiskies was a wheated bourbon (think: Maker's Mark or Weller). But rather than using around 12-16% wheat in the mash bill, they went all-out and declared that the recipe would dedicate a whopping 45% of the mashbill to wheat. The remaining ratios were 51% corn and 4% malted barley. No other major distillery had a bourbon recipe with that much wheat in it.
MGP's Wheated Bourbon comes of age
News of this style of bourbon faded into the background for a while since whiskey needs time to come of age. Starting around 2019/2020, there were small releases here and there from Non-Distiller Producers (NDPs) that contained this wheated bourbon in it. I reviewed a bottle from the private label "Vance's Private Reserve" a couple years ago and was extremely impressed by it. At just under 7 years old, the taste was well-rounded and showed an impressive amount of aged traits. It was also extremely fruity; no doubt showcasing the "V" yeast strain's (yes, the same V yeast strain from Four Roses) propensity to add a fruity touch to all of the whiskey it touched.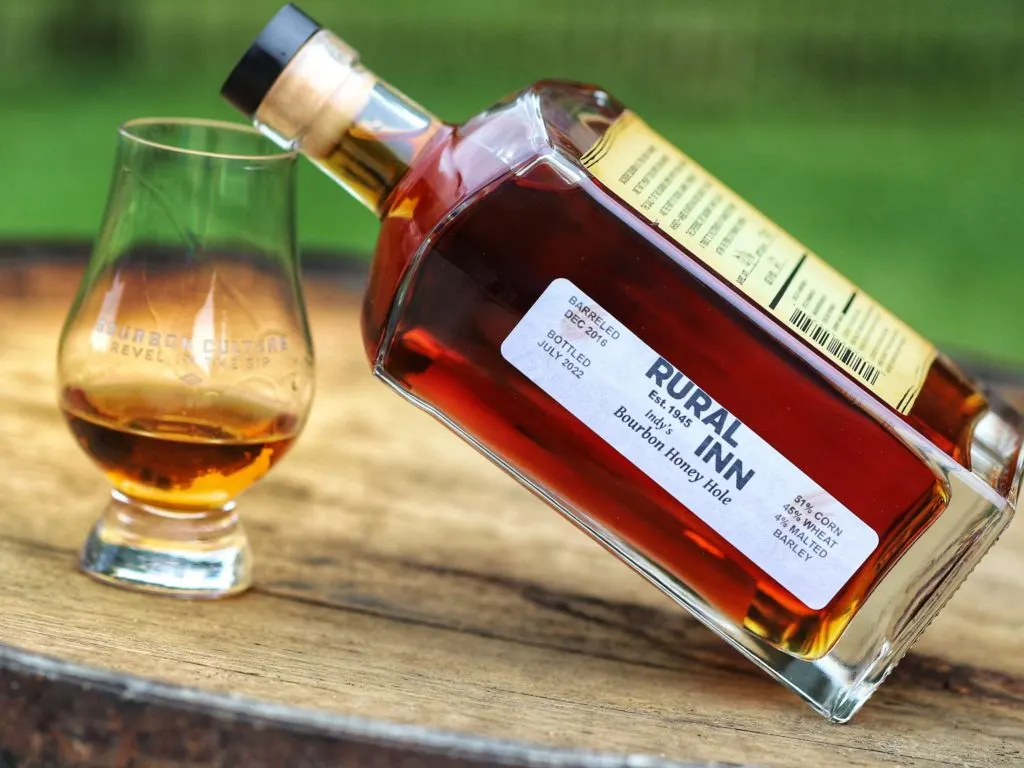 It wasn't like the tap had turned on full blast after that. MGP's wheated bourbon is still very hard to find. I think it has something to do with the lack of barrels that MGP has released. This may hint to a future where there are suddenly large amounts of highly aged, wheated MGP bourbon on the market… or at least that's what I hope.
Today's bottle contains that same wheated bourbon but is only 5 years (and 4 months) old. Backbone Bourbon Company has been buying up as much MGP whiskey as they can get their hands on and I was happy to see they had grabbed up some barrels of the wheated bourbon. Rural Inn, a well-respected liquor store in Indianapolis, had done a pick of this and finally released it in late August of this year. I was going to buy a bottle regardless, but what convinced me to buy it even quicker was that the proof was so high. I've noticed a recent lack of MGP-sourced whiskies that are over 120 proof these days. I know that MGP's aging warehouses and climate may be a big culprit behind this, but I think the high proof ones are worth seeking out.
So how is it? Let's pop the cork and find out. I tasted this neat and in a
glencairn
.
Tasting Notes
Nose:
The
nose
is quite sweet up front with notes of
caramel and chocolate chips
… a melted Rolo if you will. But there is also the telltale sign that it's still a bit young when I find some scents of cornbread here and there. Luckily, other developed scents round everything out with notes of
toffee, cherries, melted butter and A LOT of vanilla.
That's one note that I have been finding a lot more of in Backbone releases recently and wonder how they keep getting barrels with overwhelming vanilla. Anyway, toasted wood and ground cinnamon add some depth to the rest of the aromas in a nice, inviting way.
Palate: The fruit is quite nice with this one. There is lots of citrus peel, but the fruit flavors continue on with cherries and apricots. I'm fascinated to find flavors of star anise (think licorice) because that flavor and apricot are two notes I associate more with rye grain. I'm not complaining because I think they both add character, but it's interesting. As you read above, I am a big fan of high proof MGP and heat is what I'm finding on my tongue with each sip. Specifically, cinnamon stick and white pepper. The sweetness and the dark chocolate notes do their best at taming the heat but ultimately it may have just needed a bit more time in the barrel to mellow out. Speaking of youthfulness, there is still some mild grainy flavors to be found but I don't think it really hurts the experience. This is still one strong (and a little bit wild) wheated bourbon that makes me smile with each sip.
Finish: The finish finds itself at the crossroads of really nice, aged flavors (Oak and Leather) and sharp, youthful notes (more white pepper, burnt wood). But the drink isn't destroyed by that. There are plenty other flavors to find on the finish that are worthy of remembering like candied lemon peel and heavily caramelized sugar. Even butterscotch shows up at the end, which is always a treat. In fact, finding that residual flavor may have been responsible for a small bump in my final rating.
Score: 7.5/10
Overall, this was a very well done bourbon for being so young. I don't think they could have eeked out any more positive tasting notes from a bourbon at this age. I found everything I hoped I would in a wheated bourbon (chocolate, cherries, wood and some fruit) while it satisfied my itch for a nice, high-proof pour. Best of all, this didn't really break the bank; it was only $59.99.
The best part about this bourbon was that it's accessible. Yes, this is a single barrel. So once it's gone, it's gone. But Backbone does such a good job at continuously sourcing them that if you can't get your hands on one, chances are that you can just look at a different liquor store chain and they'll have one just like it. I like that about the brand. They've also done a great job of sourcing as many different types of whiskey that they can. In their early days it was just MPG rye whiskey and bourbon. But I've seen them move on to bottle Light Whiskey, Canadian Rye Whiskey, Tennessee Rye Whiskey, Kentucky Bourbon and even dabble in blending (The Forge) and finishing. Best of all, they keep their prices low compared to other brands that use fancier bottles. But it's the whiskey inside that counts and they do a great job at that as well.
Final Thoughts
This is why I make it a habit of picking up every bottle of Backbone Bourbon, Bone Snapper Rye or Old Bones I see in a store. Turn the bottle around in your hands because you never know which surprising stat will jump out at you. If you find one that looks interesting, then buy it. Ray didn't tell me anything about this bottle until I picked it up and read that it was wheated bourbon on the side label. Then I started peppering him with questions. He just smiled because he knew he had something that was going to fly under the radar unless you were in the know. So now that you know that Backbone is bottling wheated bourbon, I highly encourage you to go out and find one.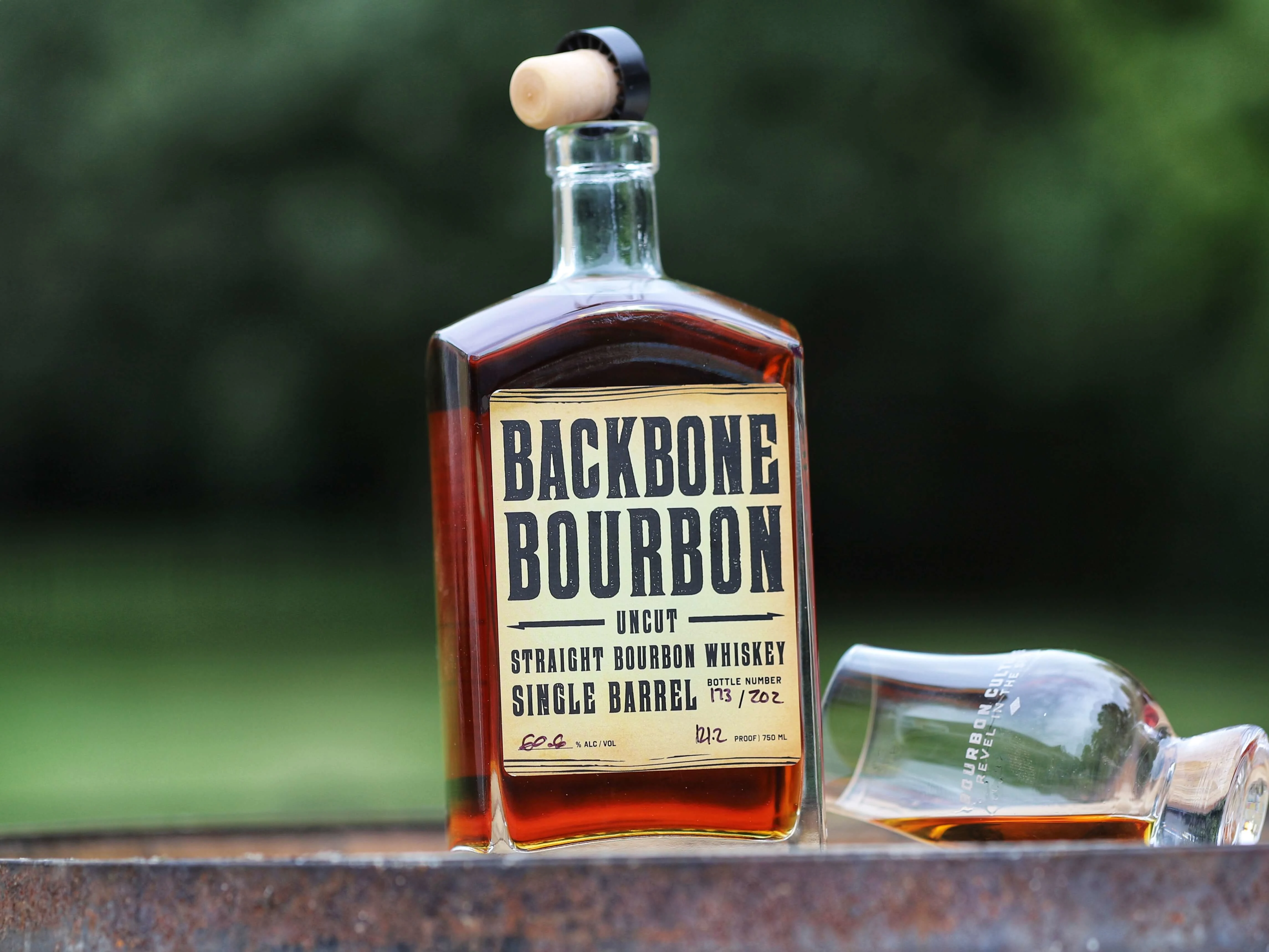 Featured Products
Description:

The Aged & Ore Neat Traveler is a complete travel kit for spirits. We combined our widely praised Neat Glass with one of our 3oz Flight Bottles and housed them together in a custom EVA travel case. Perfect for a night away with your favorite pour. The tie
Description:

The Aged & Ore Bottle Flight is a premium set of 4 custom silicone wrapped glass bottles designed to transport and share samples of your favorite spirits. The flight bottles come in a custom EVA travel case that fits perfectly in any small bag. An Aged &
Description:

This Bundle combines two of our crowd favorite products, creating the ultimate travel bundle to bring along your favorite spirits and glassware. Bundle Includes: Neat Traveler (Gray) Bottle Flight (Gray) Note: This bundle is only available in gray and col
*Bourbon Culture is reader-supported. When you buy through links on our site, we may earn an affiliate commission.