*Bourbon Culture is reader-supported. When you buy through links on our site, we may earn an affiliate commission.
A. Smith Bowman Distillery shocked the bourbon community in mid-2021 when they announced a new, limited edition bottle that would become a standard annual release.
Coming in at 10 years old and over 140 proof (141.1 to be exact), this new expression left many scrambling to make sure they could secure a bottle.
Its specs were enough to make any bourbon lover salivate, but the fact that the company itself is owned by Sazerac and has a well-known connection with Buffalo Trace Distillery sent the hype around this bottle through the roof.
A. Smith Bowman Distillery
For all the more that bourbon drinkers repeat stories about their favorite distilleries, one story is retold over and over about the A. Smith Bowman Distillery; that they get their bourbon straight off the stills from Buffalo Trace.
Arguments ensue about which mashbill it is exactly, but Brian Prewitt, master distiller of the distillery, set the record straight with Bourbon Pursuit.
He said that the liquid that is trucked in from Kentucky is just the high-wine distillate that they get from Buffalo Trace and that it's a unique mashbill that they specified.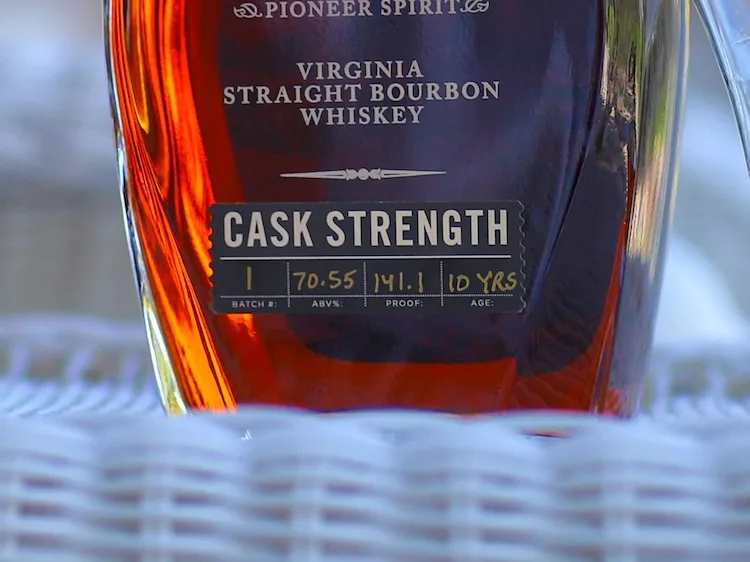 But what really matters is that if you are a fan of Buffalo Trace products, then you're going to find those same traits in most Bowman products.
When the press release came out talking about this new bottle, the one thing that stood out to me was that they mentioned that the barrels that made up this batch came from the "lower tiers" of their warehouses.
This makes no sense as it's generally accepted that the lower tiers of any warehouse typically have cooler temperatures and therefore, will actually lose proof rather than gain it.
Since it's assumed that A. Smith Bowman puts this bourbon into the barrel at 125 proof (just like Buffalo Trace and Barton do), then the fact it gained on average 16 proof points in 10 years is pretty amazing.
And even though I'm skeptical that this bourbon truly did spend all of its life aging closer to the ground, it is logistically pretty hard to rotate them since the Bowman warehouses stack their barrels on pallets (which means they stand upright).
But all of that is of little consequence anyway. Nobody is complaining that the proof got this high. In fact, it only makes it more desirable. Luckily for me, I was able to get a sample through a good friend. So without any further ado, let's see just how it turned out.
Tasting Notes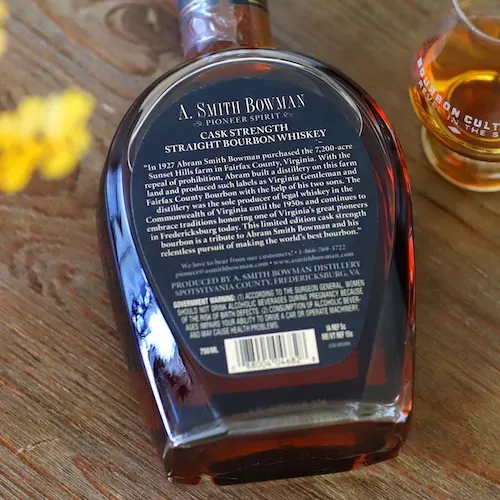 Nose: Loads of vanilla bean, cinnamon stick and a hint of clove attack your smell receptors while waves of liquified brown sugar and charred oak deliver haymakers to your brain.
Rich, fruit-forward scents of citrus oil and cherry strudel round out the amazing complexity and brashness that the following sips will surely contain.
Palate: There is no escaping the powerfully intense flavors and heat that come your way. I have an experienced palate and even I was caught off-guard by the initial punch in the mouth.
But after the first sip, it does calm down quite a bit. Brown Sugar, Luxardo cherries and dark chocolate all provide a velvety dessert-like sweetness that is mesmorizing.
The deep oak character coupled with rich tobacco shows off the age (and then some, it seems a bit older than it actually is) while notes of Amaretto, candied citrus peel and cinnamon add depth.
I can taste other baking spices, but the intensity is so high it's hard to tell them apart from each other. The heat from each sip is right on the cusp of overpowering without ever making you feel like you'd want to stop.
Finish: Citrus (mainly orange) peel and oak are the strongest flavors present on the finish. There is also cherries and chocolate galore that are followed by a trademark Buffalo Trace note of butterscotch. The lingering hint of spice comes courtesy of cinnamon and peppermint.
Score: 9/10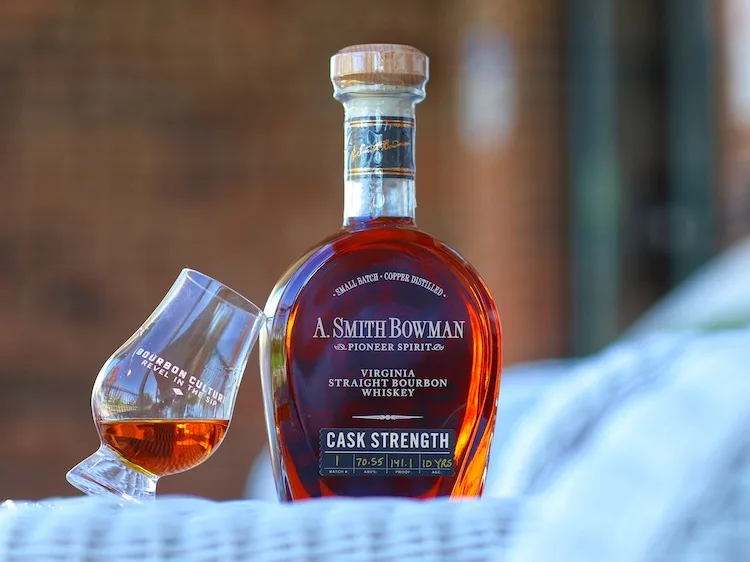 A. Smith Bowman Distillery shocked the world when they announced the release of a 10 year old, 141 proof bourbon. But Buffalo Trace shocked the world even more a few months later when they announced that there would be no release of George T. Stagg Bourbon for this year's annual Buffalo Trace Antique Collection.
Well I'm here to tell you that if you're mourning the fact that there will be no GTS this year, that this bottle could easily take its place.
In previous years, GTS was often created from some of the higher proofed barrels from the upper sections of Buffalo Trace's warehouses. Many releases approached (or exceeded) HAZMAT levels in proof too.
A. Smith Bowman tastes so similar to some of those that it's spooky. And while many would argue that the specs on this bottle should garner comparisons closer to Stagg Jr. or EH Taylor Barrel Proof, I'd argue that it has that extra oomph of depth and complexity that take the experience far past those two.
Final Thoughts
2021 has had its share of highs and lows as far as the bourbon industry is concerned. The strike at Heaven Hill, the cancellation of this year's GTS and the fact that Wild Turkey stooped low enough to give us a Master's Keep release that was finished in toasted barrels are all reason enough to simply throw in the towel and shout "Bourbon is Dead!" from the rooftops.
But for those few moments that I could sit back and slowly sip this amazing cask strength bourbon from A. Smith Bowman, all of those troubles seemed to go away. Long live this year's GTS replacement.
Ratings Breakdown
1 | Disgusting | Drain pour (Example: Jeffers Creek)
2 | Poor | Forced myself to drink it
3 | Bad | Flawed (AD Laws 4 Grain BiB, Clyde Mays anything)
4 | Sub-par | Many things I'd rather have (Tincup 10 year)
5 | Good | Good, solid, ordinary (Larceny, Sazerac Rye)
6 | Very Good | Better than average (Buffalo Trace, OGD BiB)
7 | Great | Well above average (Old Ezra Barrel Proof, Old Weller Antique)
8 | Excellent | Exceptional (Michter's Barrel Proof Rye, Four Roses Barrel Strength)
9 | Incredible | Extraordinary (GTS, 13 Year MGP or Canadian Rye)
10 | Insurpassable | Nothing Else Comes Close (William Larue Weller)
Featured Products
Description:

The Aged & Ore Neat Traveler is a complete travel kit for spirits. We combined our widely praised Neat Glass with one of our 3oz Flight Bottles and housed them together in a custom EVA travel case. Perfect for a night away with your favorite pour. The tie
Description:

The Aged & Ore Bottle Flight is a premium set of 4 custom silicone wrapped glass bottles designed to transport and share samples of your favorite spirits. The flight bottles come in a custom EVA travel case that fits perfectly in any small bag. An Aged &
Description:

This Bundle combines two of our crowd favorite products, creating the ultimate travel bundle to bring along your favorite spirits and glassware. Bundle Includes: Neat Traveler (Gray) Bottle Flight (Gray) Note: This bundle is only available in gray and col
*Bourbon Culture is reader-supported. When you buy through links on our site, we may earn an affiliate commission.