*Bourbon Culture is reader-supported. When you buy through links on our site, we may earn an affiliate commission.
There's an Instagram account that I love to follow called "Coming Whiskey" that scours the TTB's website daily for newly submitted labels by distillers both large and small.
Scrolling through them is like opening presents on Christmas morning with some being more exciting than others. I personally get excited when I see new barrel finishing treatments and also when I see craft distilleries rolling out with older products. It's a great time to be an enthusiast.
But one brand that always remains kind of the same to me is Jack Daniels. It's not because they never put out anything new (they do) but a lot of it has to do with how their products all taste basically the same.
Tennessee Whiskey
It's true that they produce Tennessee Whiskey products from 80 proof all the way up to single barrels that could be as high as 140, but in reality they all have the same basic notes.
The only way they are different is by how strong or weak the proof they're bottled at makes them taste.
For this reason, I did not feel as excited as I'm sure many fans of the brand did when the new Jack Daniel's 10 Year Old Tennessee Whiskey was announced this year.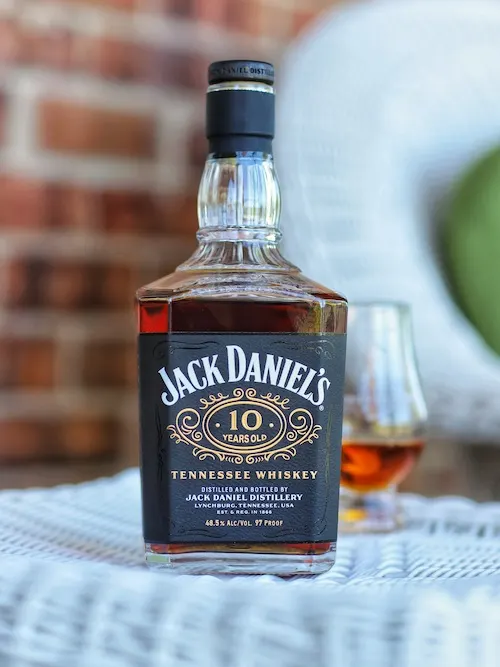 Sure, it was the first Jack Daniel's product to carry an age statement that was this old in over 100 years, but what exactly was that going to do to the bourbo…err, Tennessee Whiskey inside the barrel?
The press releases even mentioned the fact that although it truly was 10 years old, that the barrels were on the upper floors for only 8 of those years before being moved to the lower floors.
Once they're down there, the aging process really slows down. Overall, it's still an impressive feat for a Jack Daniels product as most of them rarely see aging past the 5 to 6 year mark.
But my main issue with this Jack Daniels product or any other Jack Daniels product is this: if all of their whiskey has to go through the Lincoln County Process (the process of filtering the white dog through 10 feet of sugar maple charcoal) then it will always produce the same uniform liquid no matter where it ages or how long it ages.
There is so little variability to the liquid after it goes through the LCP that every product generally comes out the same (even their rye whiskey tastes similar to their Tennessee Whiskey!). To some, that's a good thing, but for those that enjoy something different and unique, they don't really find that with Jack.
So I did not go into this purchase with the highest of hopes. But I did want to experience it for myself just to make sure. I sampled this neat in a glencairn.
Tasting Notes
Nose: Upon first sniff, the nose still gives off that classic Jack Daniels character. Personally, it reminds me a lot of the Heritage Barrels that were released in 2018 and 2019.
The nose is sweet, but not too sweet. Instead, toasted oak, roasted nuts and campfire marshmallows show a side that likely comes from a lot of the barrel influence.
The old "JD Nanner's" note is here as well, but it smells like a banana creme pie to me. There's also plenty of vanilla and a faint wisp of chocolate and caramel.
Palate: The toasted and roasted notes of the nose translate to the tongue except they are noticeably oakier and drier. The sweets are more caramelized now and I am picking up on more toffee.
Some of my favorite flavors begin to develop with overdone pie crust, cinnamon, nutmeg and banana pudding. The flavors are all great, but I detect nothing exceptionally unique compared to other JD products.
Finish: The finish becomes slightly nuttier (like toasted pecans) and is followed by lots of caramelized sugar. This tamps down on the sweetness and allows the oaky notes and a little bit of dry tobacco materialize.
Score: 7.6/10
Overall it's hard to say that Jack Daniels 10 Year is a very special product. But don't mistake me for saying that it's a bad product either. I didn't experience anything new or exciting but the notes it did deliver were well-balanced, deeply layered and had a maturity that you could taste.
It's hard to tell if 97 proof was the best proof to stop at for this release, but I'm assuming that the higher proofs would have resulted in a whiskey that leaned towards being more dry and less sweet.
I also think that the folks at Jack Daniels wanted to find the perfect proof point that wouldn't step on the toes of any current or recent whiskey that they've released (like their single barrel at 94 proof or their 100 proof Heritage Barrels).
However, by virtue of the extra years it was aged, Jack Daniels 10 Year tastes like they did just enough differently to separate it from the rest of their lineup without getting too crazy.
At $70 a pop, the price for this bottle is probably worth it. But as I was casually brushing up on all of my JD products while writing this review, my focus zero'ed in on Jack Daniels Sinatra Select.
For a few years now, Sinatra Select has justified its extra barrel stave groove process and slightly older aging (1 to 2 additional years of age compared to the rest of the lineup) as a reason why it's $130 a bottle. But packaging differences aside, the JD10 beats the crap out of it in virtually every major category.
And while JD10 has a much higher secondary market value, it's still not impossible to find (there were 24,000 bottles made after all). I know it's a strange rant, but don't buy Sinatra Select. It's a terrible value.
Final Thoughts
I will conclude with this: if you are a big enough Jack Daniels fan, you're going to find a way to buy this and you won't care what I have to say. If you think that Jack Daniels products are fine, but not worth the chase or secondary value, then skip this and buy barrel proof store picks instead.
But if you are new to bourbon/whiskey and think that this is an important/valuable bottle to find then let me tell you right now it's not. There are many Jack Daniel's products out there and they all basically taste the same.
Jack Daniels 10 Year improves upon it just enough but there's no reason to fear missing out on it. It's a book you've read before.
Ratings Breakdown
1 | Disgusting | Drain pour (Example: Jeffers Creek)
2 | Poor | Forced myself to drink it
3 | Bad | Flawed (AD Laws 4 Grain BiB, Clyde Mays anything)
4 | Sub-par | Many things I'd rather have (Tincup 10 year)
5 | Good | Good, solid, ordinary (Larceny, Sazerac Rye)
6 | Very Good | Better than average (Buffalo Trace, OGD BiB)
7 | Great | Well above average (Old Ezra Barrel Proof, Old Weller Antique)
8 | Excellent | Exceptional (Michter's Barrel Proof Rye, Four Roses Barrel Strength)
9 | Incredible | Extraordinary (GTS, 13 Year MGP or Canadian Rye)
10 | Insurpassable | Nothing Else Comes Close (William Larue Weller)
Featured Products
Description:

The Aged & Ore Neat Traveler is a complete travel kit for spirits. We combined our widely praised Neat Glass with one of our 3oz Flight Bottles and housed them together in a custom EVA travel case. Perfect for a night away with your favorite pour. The tie
Description:

The Aged & Ore Bottle Flight is a premium set of 4 custom silicone wrapped glass bottles designed to transport and share samples of your favorite spirits. The flight bottles come in a custom EVA travel case that fits perfectly in any small bag. An Aged &
Description:

This Bundle combines two of our crowd favorite products, creating the ultimate travel bundle to bring along your favorite spirits and glassware. Bundle Includes: Neat Traveler (Gray) Bottle Flight (Gray) Note: This bundle is only available in gray and col
*Bourbon Culture is reader-supported. When you buy through links on our site, we may earn an affiliate commission.