*Bourbon Culture is reader-supported. When you buy through links on our site, we may earn an affiliate commission.
It was just a matter of time before Kenny and Ryan, hosts of the Bourbon Pursuit Podcast, would be lured into the world of expanding their bourbon brand.
Bourbon Pursuit Series
They already have the top bourbon podcast and their own whiskey line called "Pursuit Series." Those concentrate solely on single barrels that have been well received and quickly sell out almost as soon as they are released.
But releasing only single barrels is a time consuming process. Not only do dozens (perhaps hundreds) of barrels need to be sampled through, but each one will only produce about 150 to 190 bottles.
This means that if they want to continue down this path, all of their free time may be consumed by the neverending need to keep sorting through barrels to find ones they like. This inevitably led them to the idea of creating a batched product.
Batching multiple barrels together would create more bottles to sell per release while also allowing a bit of wiggle room in case one of the barrels used was slightly off-balance.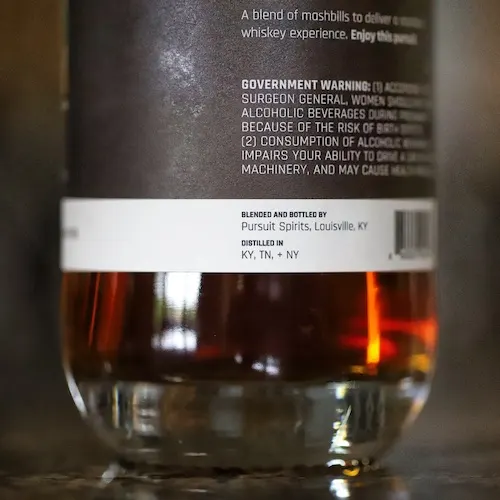 Rather than stick with just one producer, they decided to get creative and use multiple bourbons from different distilleries. These aren't the normal distilleries that you're probably thinking.
They are very transparent in the fact that their Kentucky bourbon comes from Bardstown Bourbon Company, the New York bourbon comes from Finger Lakes Distilling and the Tennessee Bourbon comes from an undisclosed distillery that is not Cascade Hollow (Dickel).
These barrels were purchased a while ago with the help of a handful of financiers that had faith in the duo that they'd ultimately create a great blend. Kenny and Ryan didn't disappoint when from some of the brightest rising stars in the field of contract distillation.
There has been a total lack of speculation on the internet about where this mystery Tennessee bourbon comes from, but I'm going to throw out a guess and say that I believe it's from Chattanooga Whiskey.
They have the capacity (a huge 36 inch column still) along with the warehouses to become a future source for Tennessee bourbon (that doesn't taste like vitamins).
But the point I want to make with that is that Chattanooga Whiskey Company puts out some great bourbon and rye whiskey and sourcing from them would absolutely be the right move when the guys were putting together this blend.
So here it is, a bourbon that is a combination of four year old wheated and ryed mashbills, bottled at 108 proof and ready to deliver bold spicy flavors coupled with classic wheated notes like chocolate and various fruits.
But could they really deliver all that was promised? Let's find out. I sampled this neat in a glencairn.
Tasting Notes
Nose: Smooth milk chocolate and vanilla custard clash with sharp notes of cinnamon. The light scent of sweet tea also confronts a strong peppermint candy cane note while cedar wood plays nicely with the light, fruity scents of cherries, dates and figs. The nose seems to be fighting itself in what it wants to be, but is entertaining at least.
Palate: Sweet stone fruit jam like apricot and peach are confronted with a nice punch of peppery rye spices and allspice. I do eventually recognize the undeniably smooth wheated bourbon character of caramel, cherries and cinnamon.
There are some mildly harsh oak notes that come across as not fully developed while flavors of orange peel come off as a little bit sour.
Finish: A kind of "honeyed" malt character takes over at the end with additional notes of oak and tobacco. The tannins need a bit more time to develop though. The fruits seem to disappear quickly leaving a kind of overdone waffles and syrup note.
Score: 6.1/10
Pursuit United drinks just as strange as the sum of its three components seemed like it would. The one positive is that it is so unique that there's not a bourbon out there that I've tasted that reminds me of it.
Specifically, the nose was very interesting and it caught me off-guard with how wheat-forward it seemed even though peppery, rye whiskey notes were present too.
From the first sniff to the last sip, I couldn't help but think that the presence of the Finger Lakes distillate was the most dominant profile of the three.
It's hard to explain why I felt that way, but since I just recently did a review of a 7 year old Finger Lakes Single Barrel (ironically, from the Pursuit Series family of single barrels), but it was still fresh in my mind.
And even though I felt so-so about that Finger Lakes bourbon, the lackluster traits that stood out to me back then were gently covered up here. It just helped create a more layered approach overall.
But what the Pursuit United series really boils down to is that it's such an interesting blend that it's going to keep your attention throughout the whole glass.
Final Thoughts
I really did mean it when I said that there's nothing else quite like it out there, even from guys that already have been blending together various mashbills for a while now (like Barrell Craft Spirits).
For the components that didn't work well perfectly this time around, I would expect that their potential will only increase as the barrels continue to age. So if you're on the fence about getting this bottle now, that's completely understandable. But keep a lookout for how this progresses in the years to come!
Ratings Breakdown
1 | Disgusting | Drain pour (Example: Jeffers Creek)
2 | Poor | Forced myself to drink it
3 | Bad | Flawed (AD Laws 4 Grain BiB, Clyde Mays anything)
4 | Sub-par | Many things I'd rather have (Tincup 10 year)
5 | Good | Good, solid, ordinary (Larceny, Sazerac Rye)
6 | Very Good | Better than average (Buffalo Trace, OGD BiB)
7 | Great | Well above average (Old Ezra Barrel Proof, Old Weller Antique)
8 | Excellent | Exceptional (Michter's Barrel Proof Rye, Four Roses Barrel Strength)
9 | Incredible | Extraordinary (GTS, 13 Year MGP or Canadian Rye)
10 | Insurpassable | Nothing Else Comes Close (William Larue Weller)
Featured Products
Description:

The Aged & Ore Neat Traveler is a complete travel kit for spirits. We combined our widely praised Neat Glass with one of our 3oz Flight Bottles and housed them together in a custom EVA travel case. Perfect for a night away with your favorite pour. The tie
Description:

The Aged & Ore Bottle Flight is a premium set of 4 custom silicone wrapped glass bottles designed to transport and share samples of your favorite spirits. The flight bottles come in a custom EVA travel case that fits perfectly in any small bag. An Aged &
Description:

This Bundle combines two of our crowd favorite products, creating the ultimate travel bundle to bring along your favorite spirits and glassware. Bundle Includes: Neat Traveler (Gray) Bottle Flight (Gray) Note: This bundle is only available in gray and col
*Bourbon Culture is reader-supported. When you buy through links on our site, we may earn an affiliate commission.