A social media post is making its way around the channels this evening showing a picture of the upcoming batch of Elijah Craig Barrel Proof – Batch B523 – sporting an age statement that's less than 12 years old. People are losing their minds.
But is seven months really a big deal? In the grand scheme of things, not really. Plus, the label just has to state the youngest barrel in the whole blend. There still could be 12, 13 maybe even 15 year old barrels in there too. That's not as likely, but remember the label just has to state the youngest barrel in a blend.
Some of the questions out of enthusiasts mouths (or fingertips) have been "Why did Heaven Hill decide to change things?" "Are the old labels now going to be the new hot commodity in the secondary market?"
"How will this affect availability?" "Will this be a permanent thing?" Let's put on our rational thinking caps and tackle these one at a time.
Why did Heaven Hill decide to change things?
Let's be clear, Heaven Hill has been messing with Elijah Craig for over 10 years now. In fact, the only constant is that they will continue to make changes to Elijah Craig. Let's look at the timeline to get a better understanding:
June 2012
Heaven Hill announces that they will be replacing the regular release of Elijah Craig 18 Year Bourbon with a more limited edition labeled Elijah Craig 20 Year.
Their reasoning is that 18 year bourbon is running very low and by releasing their 20 year version in smaller quantities will help alleviate an impending aged barrel situation. What they don't say is that a majority of EC18 single barrels consisted of 19 to 20 year old barrels.
March 2013
Heaven Hill releases Elijah Craig at Barrel Proof. This stumps many enthusiasts who had been led to believe that Heaven Hill was running out of aged stock and cutting back on releases in the interest of saving old barrels.
Having a standard 12 year old 94 proof product and a barrel proof product will go through barrels even quicker. So why are they doing this?
April 2015
Heaven Hill announces they are moving Elijah Craig's 12 year age statement to the back label. This only applies to the 94 proof Small Batch label.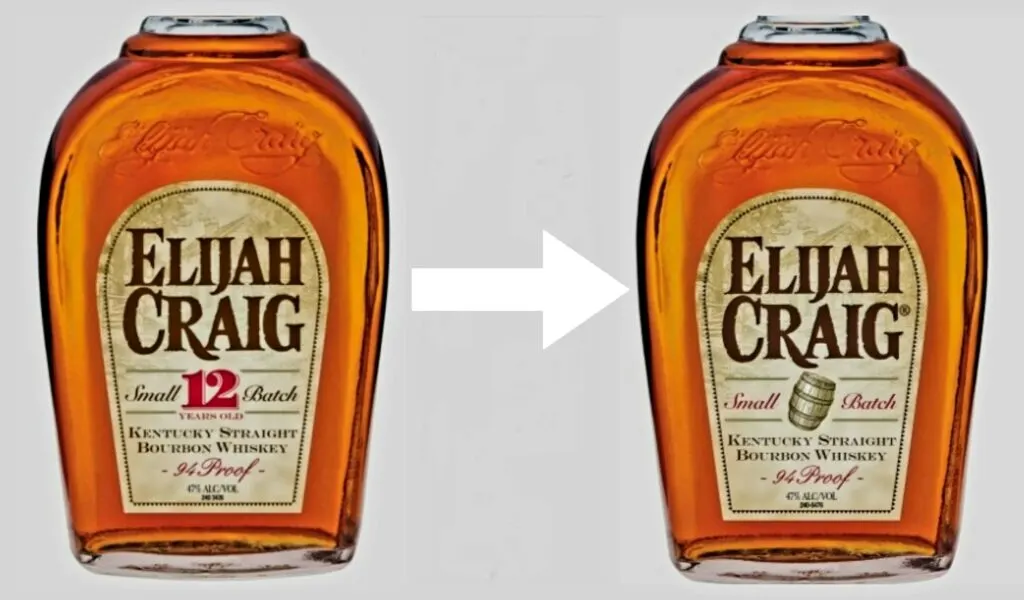 June 2015
After enormous online backlash about the future of Elijah Craig's age statement, Bernie Lubbers (Heaven Hill's Spokesperson) releases this impassioned response:
Eagle Rare (Buffalo Trace), and Elijah Craig (Heaven Hill Brands) have both come under some criticism lately for a label change. The age statements of 10 and 12 years have been moved to the back label. In the case of Elijah Craig, we put a barrel on the front, and emphasized Small Batch more. Well my goodness when you read some of the threads online you'd think were drowning people's puppies, or are doing something SO devious that we are just trying to hide that we will definitely take the age statement off, and SOON.
Well we are NOT being devious, or trying to be misleading in any way. Whether the age statement is on the front or the back, or in writing, or in numbers, every drop is still 12 years old – PERIOD. There might be a time where we are faced with a decision of whether to take the age statement off completely, or leave it on forever. But these are just decisions you have to make in real time when reality raises it's head and you're faced with either keeping a whiskey at a certain age, or taking the age off, and trying as best as you can to keep the flavor profile the same.

source: http://recenteats.blogspot.com/2016/01/despite-previous-denials-elijah-craig.html
January 2016
Elijah Craig Small Batch drops the 12 year age statement only 6 months after Bernie Lubbers comments. Elijah Craig will now be a blend of 8 to 12 year barrels. Heaven Hill also begins drowning puppies.
January 2017
Elijah Craig changes the bottle shape for the entire brand in January and switches to a new batch labeling format. A1xx, B5xx and C9xx become standardized.
B517 wins "World Whiskey of the Year." But enthusiasts notice an overall decline in how old the liquid tastes. It is still 12 years old, but this leads many to hypothesize that the previous labels contained bourbon that was much older.
January 2021
We don't know it yet, but this begins the period of time where Elijah Craig batches will never exceed 125 proof again. Batch A121 clocks in at 123.6 proof. The secret of why this is comes out 5 months later.
March 2021
Heaven Hill shocks enthusiasts by allowing single barrels of Elijah Craig to be bottled at barrel proof. The catch is that barrel picks can only be done with barrels aged 8 to 11 years. The Bourbon Culture modifies and uploads the following picture on Instagram which causes Ray at the Rural Inn to receive hundreds of phone calls over the course of a week asking when they can buy his single barrel. He is very mad at us.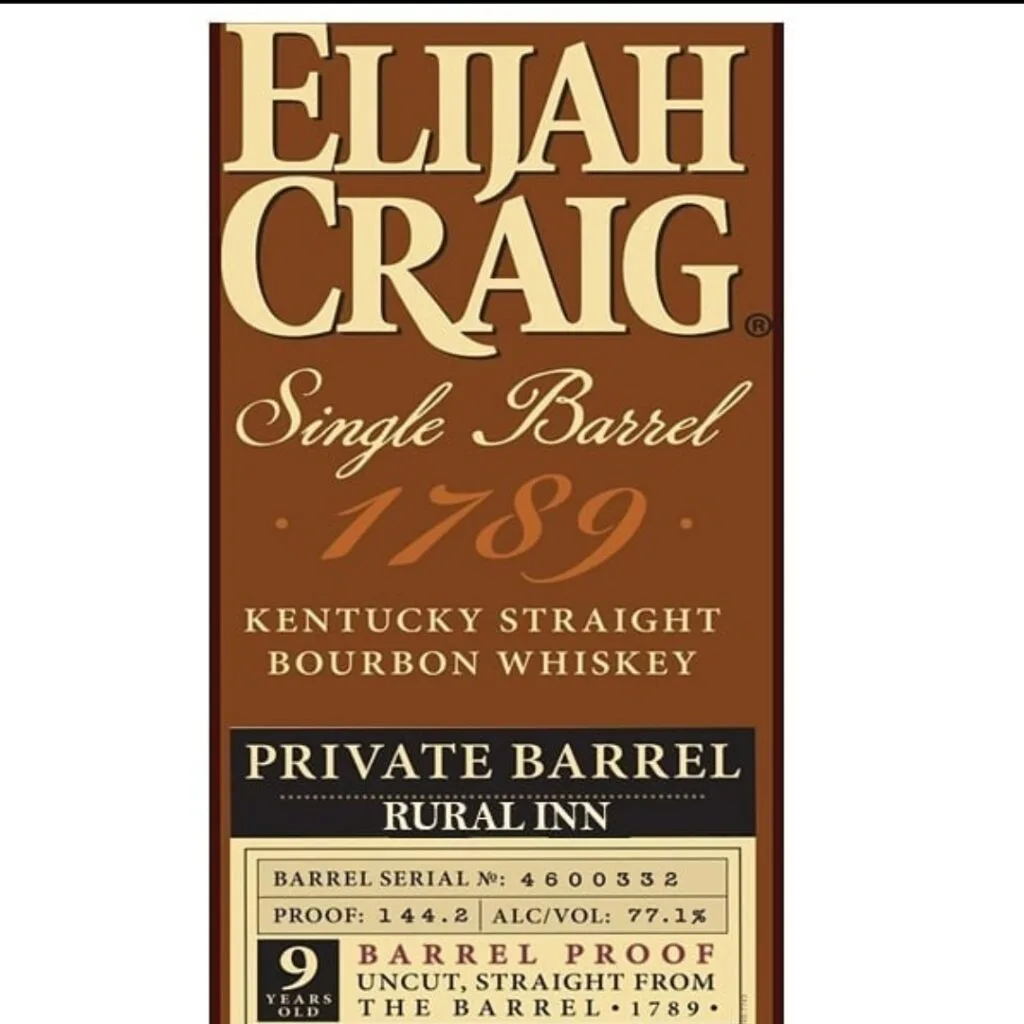 May 2021
B521 is ECBP's lowest barrel proof ever at 118.2. What's going on?
June 2021
The Heaven Hill Experience, complete with a "You Do You" bottling experience opens up. If you take the tour, you get the opportunity to bottle one of 4 different whiskies. Elijah Craig will always be a mainstay but never uses 12 year old barrels.
Tour guides begin to tell guests that ECBP barrels are now only picked from 3 particular warehouses and their barrels come from the middle or bottom floors. That explains why the barrel proofs are so low. They will continue to remain low too.
A theory comes out that barrels aged in the lower regions of a rickhouse will have less evaporation. That means that less barrels can be harvested to create the same batch size. Doing it this way will stretch batches of Elijah Craig Barrel Proof. Smart for them but boring for us.
January 2023
Heaven Hill calmly states that everything is fine, we're just going to start putting flexible age statements on the labels of Elijah Craig Barrel Proof and maybe we'll surprise you with a 13 year old release or something fun like that. Seriously guys, you can trust us.
Cinco de Mayo 2023
Hoping that bourbon fans will be too drunk on tequila to notice, a picture gets leaked showing that ECBP B523 is wearing an 11yr, 5mo age statement. Enthusiasts lose their minds (again). They're going to riot tomorrow after they finish celebrating a holiday that 97% don't realize the significance of.
So now what?
Looking at the timeline, this is nothing new to Elijah Craig. Its a history that shows them continuously falling back to the excuse of "oops, we're running out, let's cut back on the age." But just like you, I'd like to think that the age statements will begin to rise again.
After all, Heaven Hill has invested hundreds of millions of dollars in expansions over the last 25 years. They should eventually have what it takes to put the age statements back on products like this. But the real question is "Will they?" I don't think they will. Here's why.
Heaven Hill has already made up their minds that Elijah Craig Small Batch tastes better being a blend of 8 to 12 year old barrels than it does if it was all 12 year old barrels. I honestly think 90% of bourbon drinkers would poll the same way if given both blind.
Having that range of ages gives batches the ability to naturally amp up the sweetness and brighter notes. These are two things that a 12 year bourbon batch lack.
And while lovers of dusty bourbons and very oak-forward profiles are usually the loudest ones in the room, they aren't the majority. Heaven Hill knows this and that's why I don't see it changing.
My predictions for the future
Here's what I genuinely think will happen. This opinion is based on the observations of a similar product to ECBP: Remus Repeal Reserve. That is MGP's (Ross & Squibb's) own house blend of bourbons. They're set to release their seventh release this year.
The formula consists of blending a range of aged bourbon into unique batches every year. They always change too. I did a write up here showing the breakdown. The gist is that the blending team knows what tastes good and will make a blend that fits the bill, age statement-be-dammed.
We're going to see the same thing with ECBP. The three yearly releases will take turns having a different age statement. Some will be young, some will be old.
There's already been some rumors that Heaven Hill is readying a 13 year old batch for September. I'm actually confident that will happen. Then January 2024 will see a return to 12 year and then after that, it's going to be a game where Heaven Hill will give enthusiasts one really old batch per year and two younger ones.
Heaven Hill is wagering that we'll eventually stop complaining and just buy what they sell us. And for the most part, I believe that too. Consumers are pretty powerless when it comes to allocated products. If we take a stand and say we're going to boycott it, there are 50 more people behind us that will gladly buy one. It's a crappy way of looking at it, but it's true.
So while I'm confident that Heaven Hill's blenders will do a great job and still make a tasty bourbon, I can't help but wonder what will happen once their aged barrel inventory begins to climb. I don't think we'll see it go back into Elijah Craig Barrel Proof products again.
Remember what happened to $20 Heaven Hill 6 Year Bottled in Bond? It only came back after Heaven Hill rebranded it, gave it one more year in the barrel and slapped a new $50 price tag on it. The same thing will happen with ECBP. I think those 12+ year old barrels will be set aside for newer and more premium labels designed to make more profit.
An even more frightening idea is they begin to sell a 12 year age stated version of ECBP (but might call it something else) in a fancier bottle for more money.
Will this be a permanent thing?
While there are other publications that will surely come to the defense of Heaven Hill in the coming days, I just can't see things going back to the way they were.
Premiumization is here to stay and everything is being examined at the macro level for max profits. I don't normally advocate to do this that much, but if you know a store that has Elijah Craig Barrel Proof on the shelf right now, it's probably time to go buy it. I'm not sure things are going to ever go back to the way they were.
A victim of its own success.
Featured Products
Description:

The Aged & Ore Neat Traveler is a complete travel kit for spirits. We combined our widely praised Neat Glass with one of our 3oz Flight Bottles and housed them together in a custom EVA travel case. Perfect for a night away with your favorite pour. The tie
Description:

The Aged & Ore Bottle Flight is a premium set of 4 custom silicone wrapped glass bottles designed to transport and share samples of your favorite spirits. The flight bottles come in a custom EVA travel case that fits perfectly in any small bag. An Aged &
Description:

This Bundle combines two of our crowd favorite products, creating the ultimate travel bundle to bring along your favorite spirits and glassware. Bundle Includes: Neat Traveler (Gray) Bottle Flight (Gray) Note: This bundle is only available in gray and col
*Bourbon Culture is reader-supported. When you buy through links on our site, we may earn an affiliate commission.