*Bourbon Culture is reader-supported. When you buy through links on our site, we may earn an affiliate commission.
Whiskey Barrel Coffee hails from the outskirts of Denver, CO and has been tinkering with their techniques and roasts for a while now. Recently, I had the opportunity to try two different products of theirs, the classic "Old School" Roast and the "Devil's Cut" Dark Roast. Being a bourbon geek, I'm ashamed that I haven't checked out a coffee aged in bourbon barrels, although I'm aware that these products do exist. When I read up more on it, I was interested to find that their Devil's Cut was made by dumping the green coffee beans directly into a bourbon barrel and letting them soak up all of the flavors and aromas until they were ready to roast. For some reason, I was under the belief that coffee was aged in a whiskey barrel only after the beans had been roasted!
I prefer my coffee through a French Press as I find that I can fine tune it a little bit more. Even though I'm adding about 32oz of water, I find it makes a perfect "2 cups" for me and my wife. I bring a pan of water to boil and then turn off the burner and wait 60 seconds before pouring the water (which should now be around 195 degrees) into the French Press. I typically wait for 3 or 4 minutes before I press and pour.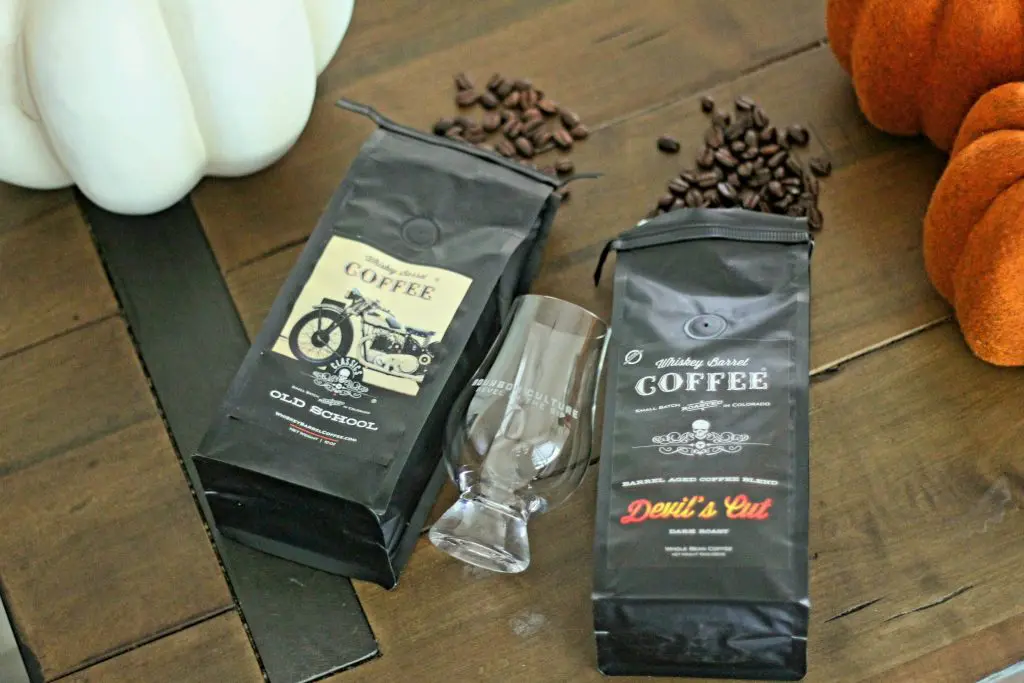 So how did these taste? It wouldn't be a review without some tasting notes, so let's dive in and find out!
"Devil's Cut" Barrel Aged Dark Roast
This thick and oily brew has a dark profile (look, scent, taste) all around, which is obviously the allure to a roast like this. Right away, the nose is packed full of woody barrel char notes. There's a decent amount of smoke and some dark red fruits for sweetness. I could nose the beans or the cup all day long with a smell like this. It was obvious to my wife and I that this was barrel aged. I'm picking up lots of semi-sweet chocolate on the tongue with nicely balanced notes of vanilla, cherries and scorched caramel.
The flavor that I am surprised has integrated so well into the coffee beans was the charred wood taste from the barrel. I'm impressed it was able to extract so much during the whole aging process, but it adds a unique layer that makes this coffee next level. If I were to make an analogy to this whiskey, it would be something well aged, non-chill filtered and packing a punch, kind of like a George T. Stagg. It rides on waves of complex and deep notes that really keep you interested.
The bourbon whiskey that was in the barrel shines through and whatever whiskey was used, I swear it must have a high-malt content because that's one of the more distinctive flavors I can pull out. One part that really impressed me about "Devil's Cut" was the absence of any sort of bitterness. I thought for sure I'd hit a wave of it seeing as how much chocolate it packs, but consider me impressed! And although I hate to use the word "smooth" to describe bourbon, I can't help but find that to be a descriptor for this coffee because it was so easy to sip and enjoy.
"Old School" Dark Roast
True to its name, this is a classic roast and has a somewhat more playful profile that won't overload your tastebuds like much darker roasts. If I were make an analogy to whiskey, I would say this is like a well-aged American Whiskey like Barrell Craft Spirits 18 Year Straight Kentucky Whiskey. If you're not familiar with that bottle, it's a whiskey aged in used barrels that takes many years to fully extract what it can from that wood. The end result is a body that's a little bit lighter and allows you to find and experience more nuanced flavors that would have been covered up if it was aged in a new oak barrel like a traditional bourbon. "Old School" also won't zap your taste buds after more than 1 cup.
This classic roast wasn't aged in a whiskey barrel, but that doesn't mean it doesn't have great flavors on its own. The aromas from a fresh brewed cup include citrus notes like lemon zest and some stone fruits scents like apricots. There's also a little bit of smokiness on the nose which is always a treat.
It's fun to pick up on some dark, acidic chocolate, slightly unripe guava, toasted baking spices, and a nutty flavor like the skin of an almond. Also, I'm surprised it has a little bit of a woody body to the whole profile because this one was not actually aged in a barrel. Overall, this classic roast finishes very mellow and doesn't seem to have a ton of acidic notes that come from other kinds of coffee, especially darker roasts.
A special thanks to Tal for providing me these great samples that I'll be enjoying for the next several mornings. Whiskey Barrel Coffee currently has tours at their building in Colorado if you're in the Denver area. They're located at 4980 Monaco St in Commerce City, CO. They also serve Nitro Cold Brew coffee on site if want to try out this unique coffee style yourself. And finally, if you're looking to try something new in the morning (or whenever you drink your coffee) then give their beans a try! Just go to whiskeybarrelcoffee.com and use the code "BOURBONCULTURE" at checkout to get a 15% discount on anything you order.
Featured Products
Description:

The Aged & Ore Neat Traveler is a complete travel kit for spirits. We combined our widely praised Neat Glass with one of our 3oz Flight Bottles and housed them together in a custom EVA travel case. Perfect for a night away with your favorite pour. The tie
Description:

The Aged & Ore Bottle Flight is a premium set of 4 custom silicone wrapped glass bottles designed to transport and share samples of your favorite spirits. The flight bottles come in a custom EVA travel case that fits perfectly in any small bag. An Aged &
Description:

This Bundle combines two of our crowd favorite products, creating the ultimate travel bundle to bring along your favorite spirits and glassware. Bundle Includes: Neat Traveler (Gray) Bottle Flight (Gray) Note: This bundle is only available in gray and col
*Bourbon Culture is reader-supported. When you buy through links on our site, we may earn an affiliate commission.