*Bourbon Culture is reader-supported. When you buy through links on our site, we may earn an affiliate commission.
In early 2020, the Barrell Craft Spirits Single Barrel program was in full swing. With their newly-hired single barrel manager, Nic Christiansen, the floodgates opened from only single barrels of Tennessee bourbon, Jamaican Rum and Canadian Rye to now include Indiana Rye and Kentucky Whiskey.
The Kentucky Whiskey has created a very large buzz amongst the bourbon-curious crowd because of its 18 year old age statement.
Very few specifics are known on this whiskey aside from the fact that it was distilled and aged entirely within Kentucky (hence the "Straight" designation), was aged in used bourbon barrels and uses a unique 60% corn, 35% rye and 5% malt mashbill.
But just because this is a mashbill used by Four Roses, it supposedly does not come from them. In fact, I was surprised to learn recently that almost every major distillery in the US seems to distill various experimental mashbills and ages them in various barrels with the knowledge that they will probably not be selling them under their current labels.
This probably serves as much of a purpose on the business side as it does on the experimentation/future products side.
This is actually not Barrell's first foray into the world of unfinished American whiskey. In 2015, Barrell released their Whiskey Batch 001 which was a bourbon mashbill that was aged between 7-8 years in used barrels at MGP in Indiana.
Since then, they've only used MGP American Whiskey for finishing in various other casks. So it's interesting to see that they're going back to releasing another unfinished whiskey.
This should signal that their tasters thought this was worthy of standing on its own. So how does it taste then? I sampled this neat and from a Glencairn.
Tasting Notes
Nose: An aroma of a light, Grade A maple syrup is the most dominant note on this nose. But the "dominant" note is nowhere near the strength that it would be on the nose of a comparable bourbon.
There also is a milled corn scent that tells us that despite the age in the barrel, that grains can come through. The vanilla is light and airy, but also easy to find unlike in some bourbons where the heavier notes push it way into the background.
Some of the rye spices become apparent for this high-rye mashbill, with notes of clove and soft cinnamon. The sweet notes of butterscotch pudding cups also pop up, which are a trait I have usually found in MGP Light Whiskey bottlings.
Finally, I can detect a handful of dried fruits like cherries and apricots.
Palate: The palate starts off peppery, which makes it a little hard to sift through the flavors. But as the dram goes on, notes of pink bubblegum, cooked rhubarb and cherry cough syrup begin to reveal themselves.
Interestingly, I can also start detecting some sour orange and lemon traits rather than the usual toasted orange peel. Peppermint oil stands out as a dominant note from the high rye content.
Dry tobacco leaf and green wood give this some tannic values, but is lacking that seasoned or charred wood experience. The palate is also decidedly not sweet compared to a bourbon.
Instead, I would note any sweet notes to be more like burnt sugars that don't add much outside of what those other fruit type flavors showcased.
Finish: The finish has a strange mint and basil herbal note that sticks around for a while. The odd thing is that I'm not detecting too much sweetness on the finish, which is what a bourbon enthusiast would be expecting right now.
Instead, there's just a lot of menthol cooling sensation, some sour fruits and some more of that green wood. I would not define the finish as being "astringent" but it definitely has a trait that would make you think it's much younger than what it actually is.
If this was a bourbon, the finish would be exceedingly short. But the fact is that I can still detect a trace of those sour fruits much longer, but they're very faint.
Score: 7/10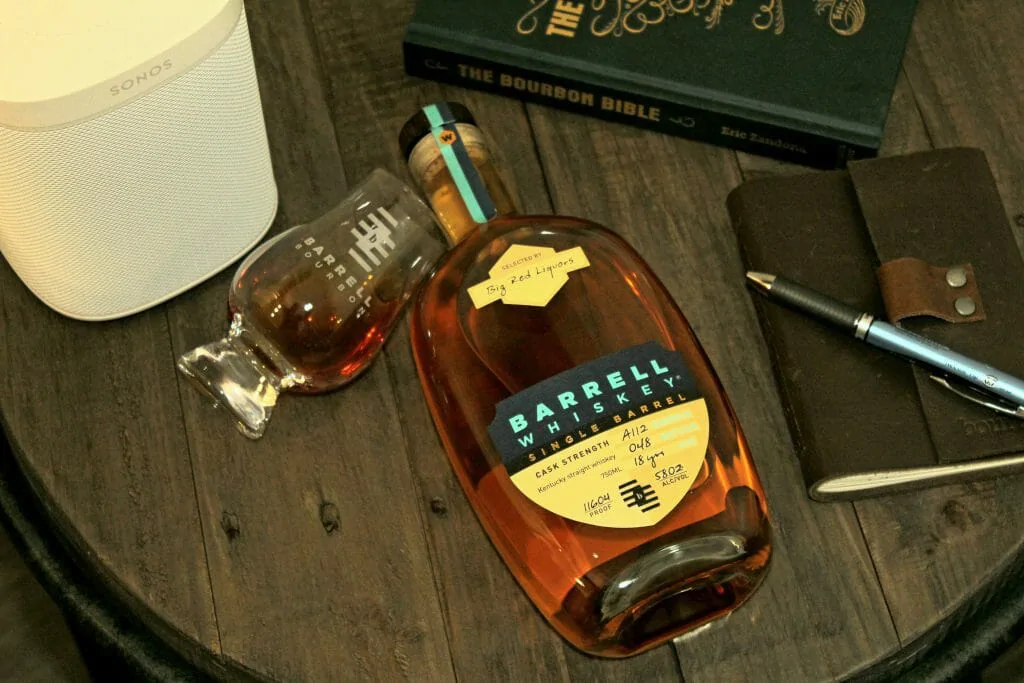 It's hard to summarize this whiskey because most of my summaries are based on comparing similar whiskies or with other labels in the brand's portfolio and then making a value statement.
But in my attempt to do so, I would be remiss to mention that there's not really anything like this on the market right now. There are American Whiskies that have been aged in used barrels, but none quite this long.
I was also thinking of drawing comparisons to Scotch, but the corn grain that I detected on the nose would make that comparison difficult.
In the end, I just had to look at what this whiskey does well, which is the nose offering an almost endless array of aromas because there is no singular dominating trait to cover it all up.
But it starts to fall apart towards the end of the sip. There are pleasant fruit flavors that I don't normally get in a whiskey, but the lack of sweetness and the disappointingly short finish made me seriously ponder what score seems appropriate.
A score of "7" seemed most appropriate because I genuinely enjoyed the nose and the palate was full a interesting fruit flavors. Once I realized that sweetness was lacking on the palate and finish, it lost some of its luster.
Final Thoughts
In the end, I would advise the average drinker that this whiskey is better suited for drinking at home so you can pick it apart and find all of its nuances.
This whiskey would not stand up well at a tasting party because if it's sandwiched between two bourbons, this will come off as thin, hot and devoid of flavor.
It needs to be drank by itself to not get drowned out by other richer and more robust bourbons or ryes. But if you value uniqueness over everything I just said, then there's nothing else like it on the market.
Ratings Breakdown
1 | Disgusting | Drain pour (Example: Jeffers Creek)
2 | Poor | Forced myself to drink it
3 | Bad | Flawed (AD Laws 4 Grain BiB, Clyde Mays anything)
4 | Sub-par | Many things I'd rather have (Tincup 10 year)
5 | Good | Good, solid, ordinary (Larceny, Sazerac Rye)
6 | Very Good | Better than average (Buffalo Trace, OGD BiB)
7 | Great | Well above average (Old Ezra Barrel Proof, Old Weller Antique)
8 | Excellent | Exceptional (Michter's Barrel Proof Rye, Four Roses Barrel Strength)
9 | Incredible | Extraordinary (GTS, 13 Year MGP or Canadian Rye)
10 | Insurpassable | Nothing Else Comes Close (William Larue Weller)
Featured Products
Description:

The Aged & Ore Neat Traveler is a complete travel kit for spirits. We combined our widely praised Neat Glass with one of our 3oz Flight Bottles and housed them together in a custom EVA travel case. Perfect for a night away with your favorite pour. The tie
Description:

The Aged & Ore Bottle Flight is a premium set of 4 custom silicone wrapped glass bottles designed to transport and share samples of your favorite spirits. The flight bottles come in a custom EVA travel case that fits perfectly in any small bag. An Aged &
Description:

This Bundle combines two of our crowd favorite products, creating the ultimate travel bundle to bring along your favorite spirits and glassware. Bundle Includes: Neat Traveler (Gray) Bottle Flight (Gray) Note: This bundle is only available in gray and col
*Bourbon Culture is reader-supported. When you buy through links on our site, we may earn an affiliate commission.