*Bourbon Culture is reader-supported. When you buy through links on our site, we may earn an affiliate commission.
Woodford Reserve was one of the last holdouts among the major Kentucky distilleries to release a barrel proof (err, "Batch Proof") whiskey. In 2018, they came out of nowhere by releasing their inaugural batch of Batch Proof bourbon to the delight of Woodford fans everywhere. It used the same bottle that their "Master's Collection" series had used and was priced the same too at around $130. Each year the proof would be different based on the final ABV from the barrels that were selected.
But Woodford's Batch Proof struggled to become accepted as a truly elite bourbon. That's strange because Woodford Reserve Small Batch is one of the top 2 most recognizable bourbons on the shelf at liquor stores (along with Maker's Mark). But for all the more the entry-level Woodford sells, typical customers of the brand aren't known to look for or demand a higher tiered product. So while Woodford Reserve Batch Proof looks like a no-brainer to buy these days, back when it was first launched there seemed to be no real reason to rush out and buy one. So many more established brands had been releasing their own barrel proof releases for years at a much higher ceiling and a much lower price.
Woodford Reserve Batch Proof
The fact that Batch Proof lacked an age statement did the brand no favors even though it is generally thought to contain barrels aged between 7 and 8 years old. Woodford (and its parent company Brown Forman) typically shy away from putting an age statement on their products due to the fact they age them for much shorter periods of time compared to other distilleries. There's a good reason for that, but it's hard to explain in a way that every customer can understand. If you are reading this and don't know, it's because Brown Forman's heat-cycled warehouses artificially age the distillate at a faster rate and therefore the barrels come of age much quicker. So while a bourbon from them could be 4 years old, it may taste much older. Brown Forman hopes that the customer will taste it and decide that it tastes similar in age to other very old releases out there.
As a final note, since Woodford Reserve is made up of bourbon produced by Woodford's giant pot stills combined with Old Forester distillate from their column still, it's not exactly unique. Old Forester started to release bourbon with higher proofs (like Old Forester 1920 which was released in 2016) that also carried no age statement yet cost almost 1/3 less than Batch Proof. This made the case to shell out all of that extra money even more dubious.
I set out with the intention of getting to the bottom of the question "is Batch Proof a worthy competitor in the premium priced bourbon category?" There's only one way to find out. I sampled this neat and in a glencairn.
Tasting Notes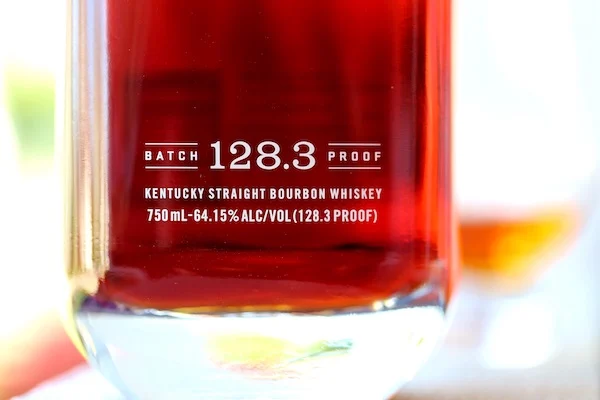 Nose: A very rich an inviting nose of chocolate and caramel blend together with canned cherry pie filling. I also detect the scent of a pat of butter melting on an apple fritter donut. Typical notes of seasoned oak come out slightly softer than most Brown Forman products, which is a plus. But no matter how you slice it, this nose is a bruiser that promises big flavors within.
Palate: Cherries are the dominant flavor that I encounter here, which is quite unusual for Old Forester or Woodford Reserve products. Notes of cinnamon and peppercorns provide a layer of heat that may be challenging for newer drinkers.
There are plenty of sweets (which I also find kind of off character for high proof BF products) like caramel fudge, and chocolate chips. But the sweetness is held in check by layers of rich wood tannins and barrel char.
Finish: This finishes a little bit on the dry side with loads of dried wood, cinnamon and tobacco flavors. Also, melted chocolate and some candied oranges hang around for a while after the sip is complete.
Score: 8.8/10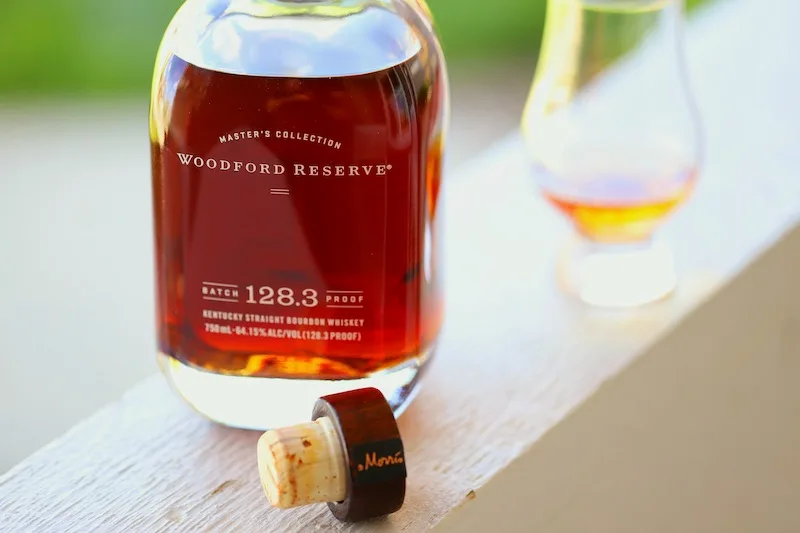 The 2021 Batch Proof is impressively balanced and full of flavor. Each of those flavors were bold and noticeable with virtually nothing hidden in the background. At $150 (and close to $250 on secondary), this bottle is quite expensive but comes off as worth the money in my opinion.
I have had one other Batch Proof in the past (the 2019) and found it to be rich and chocolatey but lacking in many of the other nuances that this one has. I figured that Woodford Batch Proof was more of an exercise in increasing the intensity of a normal bottle of Woodford, but it's slowly evolving into something much more.
My one hot take of this review is that if the they can continue to improve along this path then I'm willing to bet that this will rival Buffalo Trace's George T. Stagg in the years to come.
After tasting this along with Old Forester 150th Anniversary Batches 1 through 3, I'd say that the 2021 WR Batch Proof tastes most similar to Batch 1 (with Batch 2 being a close second). Both are cherry and oak bombs that are packed with tons of flavor.
I know that Old Forester 150th is a harder bottle to find (and is currently going for about $375-400 on the secondary) but if you want to experience one or the other and don't have both bottles, just know that both are very similar. It's obvious that Brown Forman is on the fast track to creating worthwhile releases in the coming years.
Ratings Breakdown
1 | Disgusting | Drain pour (Example: Jeffers Creek)
2 | Poor | Forced myself to drink it
3 | Bad | Flawed (AD Laws 4 Grain BiB, Clyde Mays anything)
4 | Sub-par | Many things I'd rather have (Tincup 10 year)
5 | Good | Good, solid, ordinary (Larceny, Sazerac Rye)
6 | Very Good | Better than average (Buffalo Trace, OGD BiB)
7 | Great | Well above average (Old Ezra Barrel Proof, Old Weller Antique)
8 | Excellent | Exceptional (Michter's Barrel Proof Rye, Four Roses Barrel Strength)
9 | Incredible | Extraordinary (GTS, 13 Year MGP or Canadian Rye)
10 | Insurpassable | Nothing Else Comes Close (William Larue Weller)
Featured Products
Description:

The Aged & Ore Neat Traveler is a complete travel kit for spirits. We combined our widely praised Neat Glass with one of our 3oz Flight Bottles and housed them together in a custom EVA travel case. Perfect for a night away with your favorite pour. The tie
Description:

The Aged & Ore Bottle Flight is a premium set of 4 custom silicone wrapped glass bottles designed to transport and share samples of your favorite spirits. The flight bottles come in a custom EVA travel case that fits perfectly in any small bag. An Aged &
Description:

This Bundle combines two of our crowd favorite products, creating the ultimate travel bundle to bring along your favorite spirits and glassware. Bundle Includes: Neat Traveler (Gray) Bottle Flight (Gray) Note: This bundle is only available in gray and col
*Bourbon Culture is reader-supported. When you buy through links on our site, we may earn an affiliate commission.