*Bourbon Culture is reader-supported. When you buy through links on our site, we may earn an affiliate commission.
Mayor Pingree Bourbon has been on the top of my list of craft bourbons that I wanted to try. The reason is that Valentine Distilling Co. is one of the older and more established craft distilleries in the US.
Founded in 2007 (which seems like eons ago in the craft distillery scene), their first bourbon was called "Woodward Limited" that was bottled at 88 proof and looked just like the Mayor Pingree bottle I'm reviewing today. I don't know why they changed the name, but Mayor Pingree has such a cool backstory that you won't find me complaining.
Since the name change, the Mayor Pingree line of bourbons have experienced a cult following as one of the handful of distilleries that sourced highly aged barrels of MGP bourbon (up to 13 years old). They've been released in batches or single barrels depending on the color of the label (blue or black).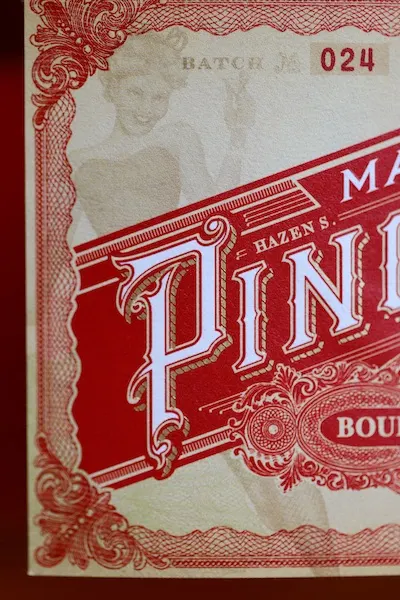 Due to their small distribution network, few people outside of those 9 states knew much about them, but it was MGP enthusiast groups that spread the good word from coast to coast.
Mayor Pingree Red Label
Meanwhile, Mayor Pingree Red Label has seen a shift throughout the years from being bottled at 90 proof and containing all of their own distillate to switching over to a blend of their own distillate and MGP bourbon a few years ago. The proof was also bumped up to 94. It has always been aged around 4 to 5 years with each iteration.
The reasoning behind the switch to a blend is that Valentine Distilling is trying to stretch their own distillate in an attempt to set back more for future batches.
A lot of thought (and cost) goes into producing every barrel (and batch) of Red label. It all starts with the barrels which are made from staves that have been air dried for 24 months and produced with 2 different char levels.
This extreme seasoning process would make even Michter's blush (their staves are seasoned for 18 months). The industry standard for everyone else is anywhere from 3 to 6 months.
Mashbills
Then come the mashbills which sees Head Distiller, Justin Aden, using 4 different ones along with three yeast strains and varying barrel entry proofs after being triple pot distilled.
Aden combines the different mashbill distillates before they enter the barrel but it generally works out to barrels with a final mashbill containing anywhere from 27% rye to 37% rye content. To sum all of that up, each bottle of Red Label is a high-rye bourbon no matter how you slice it.
That's a lot of info to get out of the way, but one that I found most online reviews to be lacking. Count me impressed by the fine details and extra cost that go into each batch of Mayor Pingree. I used to think that the $50 cost per bottle was on the higher side until I found out they did all of this.
Now that I know, let's see if it paid off to create a tasty whiskey or not. I sampled this neat in a glencairn.
Tasting Notes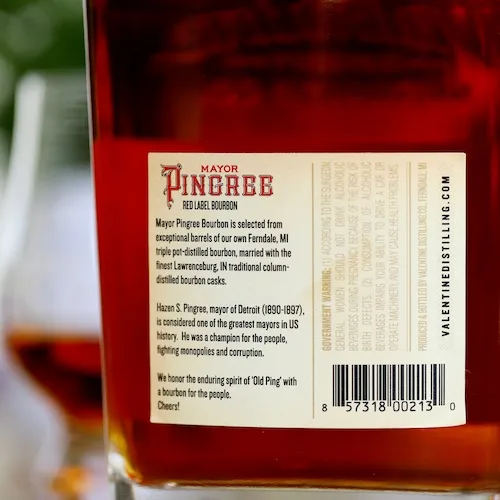 Nose: The scents are pretty solid for a 94 proof bourbon. Notes of honey and vanilla keep things sweet while I also detect a light, but fragrant layer of oak. There's also a scent that's really similar to unwrapping a package of Fig Newtons.
Palate: The mouthfeel is creamier than I expected (but it is non-chill filtered, so this helps) and the tannins are the first flavors I detect. Seasoned wood mixes with a pinch of tobacco to set the mood towards a heavier and richer experience.
Meanwhile, hazelnut liqueur, orange citrus and Thin Mints Girl Scout cookies add really nice layers of complexity. Each sip stays sweet with notes of honeycomb while the spicy nature of the rye grain show up through flavors of cinnamon and clove.
Finish: The finish turns a bit sweeter at the end, morphing into caramel sauce and more figs. The tannins are still in play, but they're nicely balanced overall. More seasoned oak and a bit of tobacco mix with light baking spices. There's even a light amount of citrus acidity at the end that keeps it all interesting.
Score: 7.3/10
Overall, I really enjoyed this bottle of Mayor Pingree Red Label. While its age may make it seem like it's too young to be good, I found that it's very well balanced with virtually no young, grainy notes. And to be honest, I didn't realize the impressive barrel specs until after I had completed my tasting notes.
This explains the really nice seasoned wood flavors and scents throughout. I'd say those barrel traits are the best part of each sip and I would be interested in trying a single barrel of this stuff at barrel proof to experience just how much more influence it gives.
Speaking of Red Label Single Barrels, they do exist (I've seen them range anywhere from 5 to 7 years old). They're a hot commodity and never seem to last long. And even if you know of one coming out, you'd have to be in one of those 9 states they distribute to.
Outside of those, I wouldn't be expecting them to branch out anytime soon because they barely have enough supply to meet demand. But if you've been staring at a bottle of this in a store or online website, I'd encourage you to buy it. This is one of the best craft distillery products I've had in a while.
This bottle was graciously provided by Seelbach's for us to review with no strings attached. All opinions are our own.
Ratings Breakdown
1 | Disgusting | Drain pour (Example: Jeffers Creek)
2 | Poor | Forced myself to drink it
3 | Bad | Flawed (AD Laws 4 Grain BiB, Clyde Mays anything)
4 | Sub-par | Many things I'd rather have (Tincup 10 year)
5 | Good | Good, solid, ordinary (Larceny, Sazerac Rye)
6 | Very Good | Better than average (Buffalo Trace, OGD BiB)
7 | Great | Well above average (Old Ezra Barrel Proof, Old Weller Antique)
8 | Excellent | Exceptional (Michter's Barrel Proof Rye, Four Roses Barrel Strength)
9 | Incredible | Extraordinary (GTS, 13 Year MGP or Canadian Rye)
10 | Insurpassable | Nothing Else Comes Close (William Larue Weller)
Featured Products
Description:

The Aged & Ore Neat Traveler is a complete travel kit for spirits. We combined our widely praised Neat Glass with one of our 3oz Flight Bottles and housed them together in a custom EVA travel case. Perfect for a night away with your favorite pour. The tie
Description:

The Aged & Ore Bottle Flight is a premium set of 4 custom silicone wrapped glass bottles designed to transport and share samples of your favorite spirits. The flight bottles come in a custom EVA travel case that fits perfectly in any small bag. An Aged &
Description:

This Bundle combines two of our crowd favorite products, creating the ultimate travel bundle to bring along your favorite spirits and glassware. Bundle Includes: Neat Traveler (Gray) Bottle Flight (Gray) Note: This bundle is only available in gray and col
*Bourbon Culture is reader-supported. When you buy through links on our site, we may earn an affiliate commission.