*Bourbon Culture is reader-supported. When you buy through links on our site, we may earn an affiliate commission.
Wild Turkey's original master distiller, Jimmy Russell, is a bourbon man through and through. This may be why he refers to rye whiskey as a "fad" and has devoted very little time to it during his tenure at Wild Turkey.
I can't blame him though, rye whiskey was a tough sell for many Americans for a long time. In fact, during the early days at what would eventually become Wild Turkey Distillery (back then it was called the Boulevard Distillery), Jimmy would source rye whiskey from the original Michter's Distillery in Schaeferstown, Pennsylvania. But around 1974, that all changed when Michter's began falling on hard times and Jimmy decided to bring production back to Kentucky.
Wild Turkey Rye Mashbill
The mashbill for Wild Turkey's rye whiskey changed with it too. The original rye whiskey that Michter's contract distilled for them in Pennsylvania called for a recipe that was 65% rye, 23% corn, and 12% barley. But Jimmy changed it to reflect a more "Kentucky style" rye whiskey that used a lower percentage of the spicy grain (52% rye, 36% corn and 12% barley).
After about 8 years aging in a barrel, Wild Turkey Straight Rye was released. It is commonly referred to as "Christmas Rye" due to it's green label and red type font. Eventually, Wild Turkey 101 Rye Whiskey took over and was followed by two versions of Russell's Reserve's Rye Whiskey.
None of the rye whiskey that was made after Campari bought the brand was ever thought to be much over 7 years old, so it didn't exactly attract the attention of enthusiasts.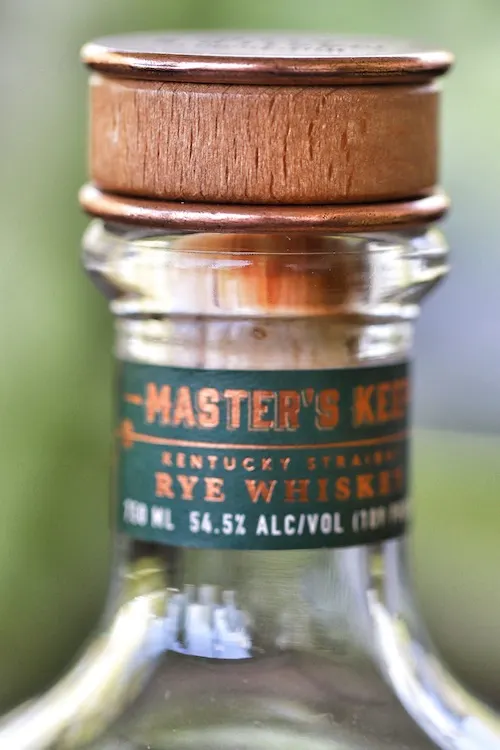 But in 2019, Wild Turkey announced that the newest release of their Master's Keep series would be a blend of 9 to 11 year old rye whiskey barrels. This would make it the oldest age stated rye whiskey that Wild Turkey has ever released. Fans everywhere went wild.
Wild Turkey Master's Keep Cornerstone Rye Whiskey, as it came to be known, likely had the full support of Eddie Russell behind it. He wasn't as rye-skeptical as his dad and probably put these barrels back just in case a future special release would call for an extra-aged rye whiskey.
Luckily, the Master's Keep series was the perfect reason to pull them out of the warehouses. So how would Cornerstone taste with all of that extra age? Fans gobbled up every bottle immediately upon its release and I was lucky enough to have some pours throughout the last couple of years from this polarizing bottle. For my review I sampled this neat in a glencairn to find out.
Tasting Notes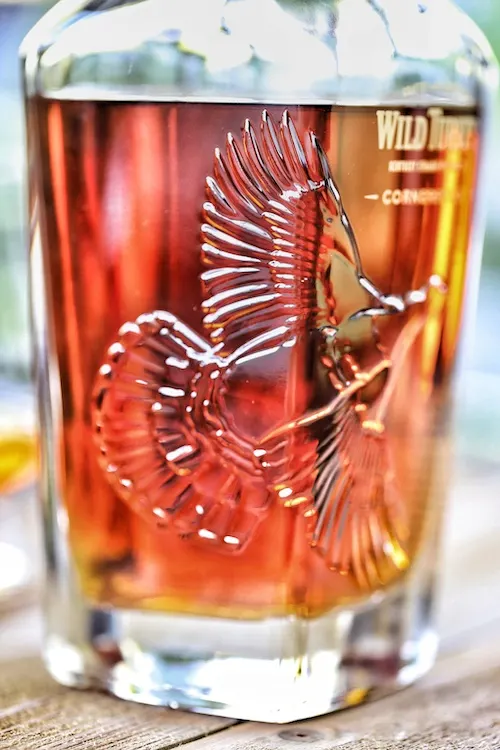 Nose: Unlike Indiana ryes, the nose on this doesn't pack a whole lot of herbal or floral notes, instead it eschews them for heavy baking spices that center firmly around notes of cinnamon.
Scents of toasted nuts and sweet brown sugar combine with buttery graham cracker crust. There's a few notes of peppery spice that let you know that it's a rye whiskey after all.
Palate: Rye spice like spearmint, cinnamon, black peppercorns and chili powder bring on the heat and herbal traits to let you know this rye whiskey has some teeth. The oak is sweeter and seems to really get your attention while caramel candies and cacao nibs provide sweet treats to go along with it.
Finish: As soon as you swallow, two distinct notes hit right away. The first is Junior Mints and the second is black licorice. It's unique that they seem to have been hiding in the palate the whole time but suddenly pop out on the finish, making it one of the most memorable parts about this pour.
The oak sticks around on the finish but it's far from being over-oaked. It just comes off as really well aged. There is also some black cherry notes mixed throughout.
Score: 8/10
I had my first sip of this bottle the very day that Rural Inn received their shipment in 2019. Together with four friends, we all sat around savoring our first pour.
I believe the excitement of trying a highly anticipated bottle made us overly enthusiastic about what we were experiencing. I wrote down some tasting notes and quickly determined it was head and shoulders better than almost any other rye whiskey out there. However, as time went on and I had the chance to resample it, the novelty wore off.
My biggest change of heart came when I tasted it side by side with various Kentucky Owl Rye Whiskey batches. I was shocked at just how much better all of the batches of Kentucky Owl was to Cornerstone.
Even doing a side by side with a single barrel of Russell's Reserve Rye Whiskey seemed to verify that the hype I initially gave Cornerstone was probably more than it deserved.
Final Thoughts
Cornerstone was a nice rye whiskey, but it wasn't as magical when put up against some other heavy hitters at a similar price point. As much as it pains me to say, drinking Cornerstone together with Kentucky Owl really made me stop complaining about how expensive the Kentucky Owl releases were in comparison because I determined that they were probably worth it after all.
Although I still believe Cornerstone is a great whiskey, it just isn't worth the hype or the price tag. It drinks, at best, like a $75 bottle of rye whiskey.
What would $75 get you these days for rye? It could get you a 9 year old rye whiskey from MGP or a 16 year old single barrel of Alberta rye whiskey from WhistlePig. Both of those would also score right around an "8" on my rating scale as well.
In the meantime, if Wild Turkey ever wants to show rye whiskey fans that they still have the chops to make a really desirable rye, they may be better served to re-open their single barrel program for stores to pick from again. I have a feeling that there still are many gems just waiting to be found in those warehouses around Lawrenceburg.
Ratings Breakdown
1 | Disgusting | Drain pour (Example: Jeffers Creek)
2 | Poor | Forced myself to drink it
3 | Bad | Flawed (AD Laws 4 Grain BiB, Clyde Mays anything)
4 | Sub-par | Many things I'd rather have (Tincup 10 year)
5 | Good | Good, solid, ordinary (Larceny, Sazerac Rye)
6 | Very Good | Better than average (Buffalo Trace, OGD BiB)
7 | Great | Well above average (Old Ezra Barrel Proof, Old Weller Antique)
8 | Excellent | Exceptional (Michter's Barrel Proof Rye, Four Roses Barrel Strength)
9 | Incredible | Extraordinary (GTS, 13 Year MGP or Canadian Rye)
10 | Insurpassable | Nothing Else Comes Close (William Larue Weller)
Featured Products
Description:

The Aged & Ore Neat Traveler is a complete travel kit for spirits. We combined our widely praised Neat Glass with one of our 3oz Flight Bottles and housed them together in a custom EVA travel case. Perfect for a night away with your favorite pour. The tie
Description:

The Aged & Ore Bottle Flight is a premium set of 4 custom silicone wrapped glass bottles designed to transport and share samples of your favorite spirits. The flight bottles come in a custom EVA travel case that fits perfectly in any small bag. An Aged &
Description:

This Bundle combines two of our crowd favorite products, creating the ultimate travel bundle to bring along your favorite spirits and glassware. Bundle Includes: Neat Traveler (Gray) Bottle Flight (Gray) Note: This bundle is only available in gray and col
*Bourbon Culture is reader-supported. When you buy through links on our site, we may earn an affiliate commission.