Whiskey Del Bac is a small distillery in Tucson, Arizona known for their unique takes on American Malt Whiskey. One of the things that brought them early fame was how they married mesquite smoke together with malted barley.
In a nutshell, the process mimics how some Scottish distilleries use peat as the fuel underneath the malting floor to raise the temperature to the point where the malting process stops. This is how their grains become impregnated with a signature smokey flavor that carries through the fermentation and distillation process.
Whiskey Del Back Sentinel Rye Whiskey
When I received this bottle of Sentinel Rye Whiskey in the mail, my first thought was that this was Whiskey Del Bac's attempt to malt rye grain by using the same mesquite-burning process. But after reading the label and doing some more research, it turns out that WDB decided to source rye whiskey from MGP in Indiana.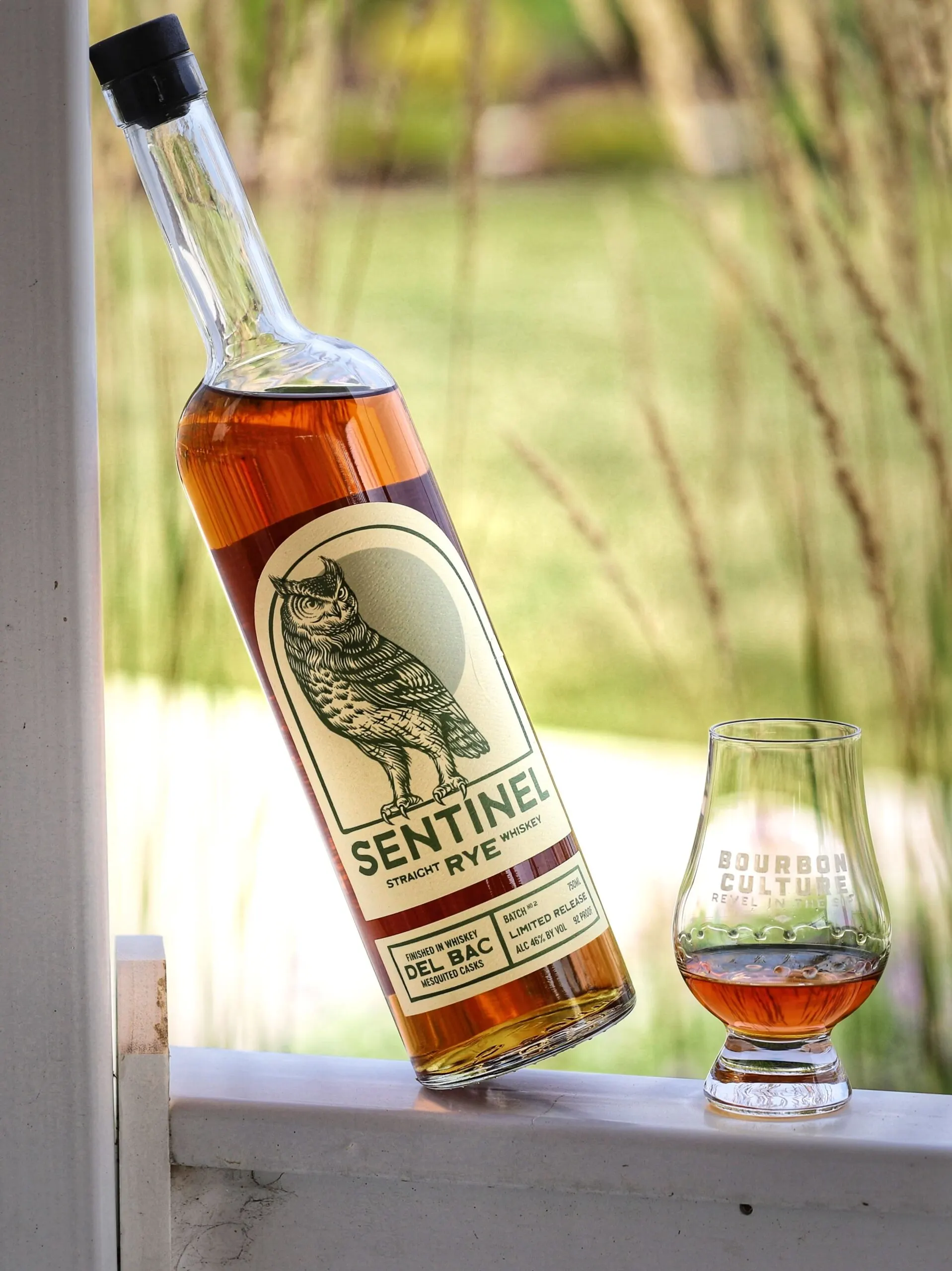 I was somewhat relieved when I learned that the rye whiskey they chose was the tried-and-true 95/5 recipe. Too many producers (I'm looking at you, Smoke Wagon) are hopping on MGP's new 51/45/4 rye whiskey or their 51/49 rye whiskey. Both of those seem like a compromise in flavor from the bold, beefy style of the 95/5 recipe.
Unfortunately, Sentinel Rye Whiskey lists on the label that it contains barrels "Aged No Less Than 2 Years." I'd later find out that some 3 year old barrels made it into the blend. That's still quite young.
Where WDB makes this product truly theirs is by finishing that MGP rye whiskey in casks that formerly held their mesquited-not-peated malt whiskey. I'd like to point out (for science) that WDB primarily uses 15 gallon barrels to mature their whiskey in, so I'm guessing that's what was used here.
And just to make sure that enthusiasts don't miss out on the mesquite, they opted to filter all of the finished whiskey into a bed of mesquite charcoal. That would be the same mesquite that was burnt underneath the malt floors. This is a very similar process to Wild Turkey Longbranch.
A word about Whiskey del Bac's respect to the environment that they distill and live in
Tucson, Arizona is a beautiful place in the heart of Sonoran Desert. I've been there only once while I lived in El Paso but I fell in love with the natural beauty that was all around. However, the American Southwest is a delicate ecosystem where water is scarce and the population is booming. WDB is aware of this and tries to conserve resources whenever possible when they distill (a process that involves a lot of water itself).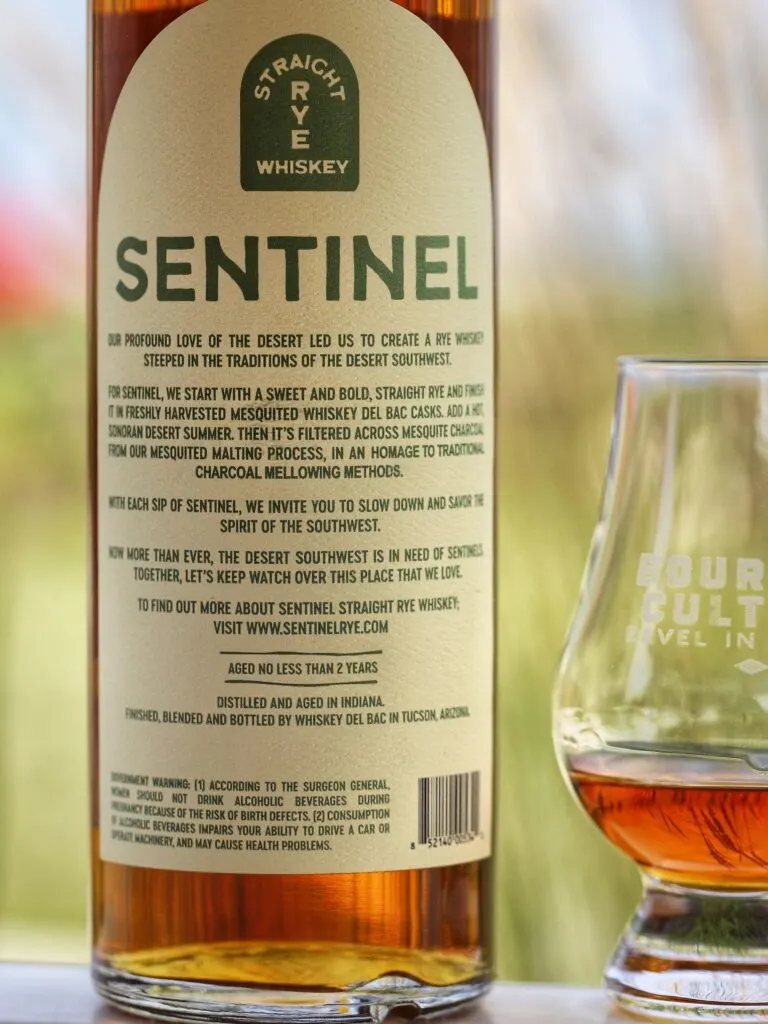 The reason why you won't see me complaining about WDB sourcing rye whiskey rather than making their own is that they're not using the very valuable ground water from Tucson to make a product that has already been perfected elsewhere.
If they had to pick any rye whiskey producer, I'm glad they chose MGP because I feel as if they make the best kind out there. WDB makes some damn good malt whiskey, so they should keep that up, but there's no sense in re-inventing the wheel by making a separate spirit.
Now that you know the specifics of the rye whiskey, let's get down to tasting this. Will this be a mesquite bomb? Or will MGP's rye whiskey overpower it? I'm pouring a glass now. As usual, I sampled this neat in a glencairn.
Tasting Notes
Nose: My nose tells me this is a much more rye whiskey-forward character than I was expecting. I smelled the mesquite smoke only during my first glass from this bottle. What's odd is that with subsequent pours, it's like it completely disappeared.
This was observed over multiple days! The herbal notes hit hard and behind it is a strange wood note that doesn't necessarily come off like mesquite even though I'm sure it's a result of the charcoal filtration. Each sniff brings forward some damp earth that is accompanied by green wood and sharp cinnamon.
And while those notes may sound young and off-putting, they're all somehow pulled together under a singular theme of "the great outdoors."
Palate: A strange bitterness accompanies pops of baking spices like clove, anise and cinnamon. For 92 proof, this isn't hard to roll around on my tongue to explore the flavors – but it does get flashes of heat like a dish that's had too much pepper added to it.
Sweetness comes from honey and fruit flavors are diverse and include melon rind, apple skins, tart cherries, pine needles and orange blossom tea. I get a strange flavor that I liken to an iron-fortified bran cereal that makes me wonder if it's the mesquite in disguise.
Finish: Lacking mesquite notes this whole time, I finally find them at the end. There is an acrid sort of bitterness that's not dominant, but it is noticeable. There are plenty of herbal and earthy notes remaining after the sip is done.
The honey sweetness is cut in half. A word of warning: You're going to have to be a rye lover to enjoy this finish. Luckily I am one, but I felt like I needed to offer that word of warning.
Score: 6/10
As I was sipping on this and enjoying the surprisingly delicious rye whiskey profile, a thought popped into my head – this is way better than the modern-day High West Double Rye! bottles. They're both the same proof, use MGP rye whiskey (High West blends it with their own distillate) but the Double Rye is $10 less. So does the Sentinel taste $10 better? I think it does! It has a uniqueness about it that rises above some of the youthful notes.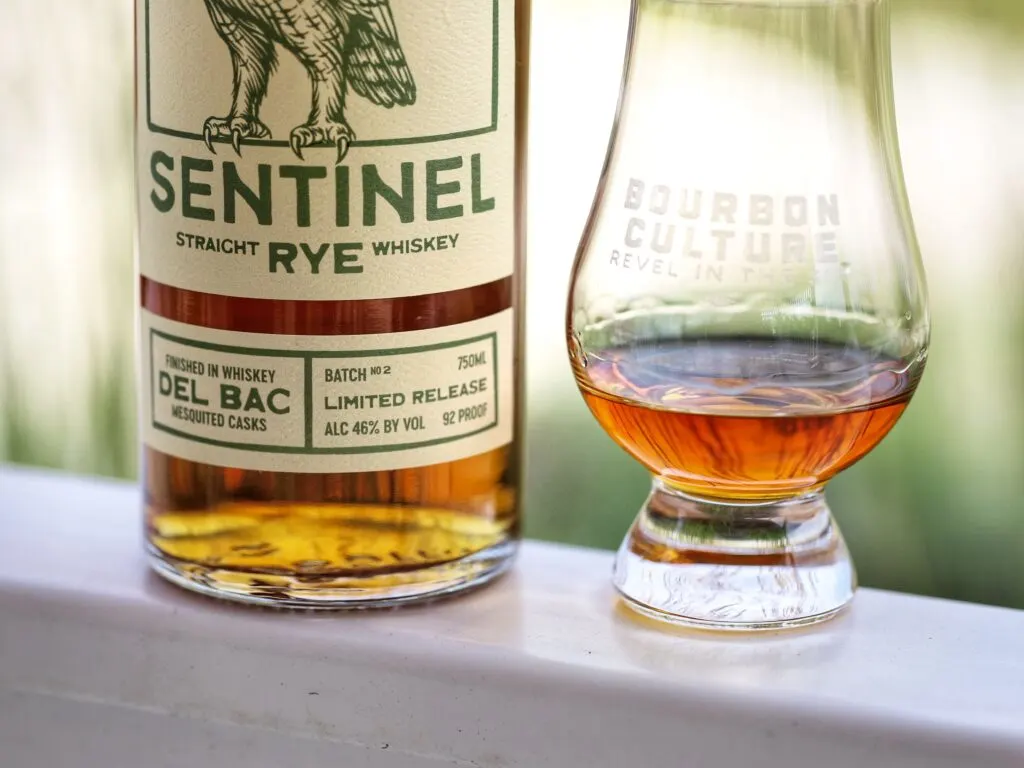 What's strange is that the mesquite smoke note either disappeared after my first glass (not likely) or my nose got so used to it that it didn't really register anymore (is that called "going noseblind?"). I don't have an explanation for it. But if you were thinking of buying this bottle purely for the mesquite effect, you might be let down.
Final Thoughts
Based on how much you like rye whiskey, my score may not reflect your experience. I have been a rye whiskey enthusiast for a while now and love to explore new ideas that these producers come up with.
This is one of them and I'm quite happy with it with my biggest complaint being it needs more age. Your mileage may vary. Also, the color of this whiskey is a bit lighter than other similar whiskies at similar proofs. I think this has to do with the charcoal filtration process occurring after the whiskey was matured (just like Dickel Rye). Color may not be a concern for a lot of buyers out there, but at least you'll understand why.
I like that WDB is expanding into other types of whiskies because they seem to be a distillery full of fun new ideas. So count me as a fan of Sentinel Rye. If you're looking for an easy sipping rye whiskey with some gusto, this is your bottle. It should even stand out in a cocktail like a Manhattan. It's one you don't have to feel nervous about taking a chance on.
Featured Products
Description:

The Aged & Ore Neat Traveler is a complete travel kit for spirits. We combined our widely praised Neat Glass with one of our 3oz Flight Bottles and housed them together in a custom EVA travel case. Perfect for a night away with your favorite pour. The tie
Description:

The Aged & Ore Bottle Flight is a premium set of 4 custom silicone wrapped glass bottles designed to transport and share samples of your favorite spirits. The flight bottles come in a custom EVA travel case that fits perfectly in any small bag. An Aged &
Description:

This Bundle combines two of our crowd favorite products, creating the ultimate travel bundle to bring along your favorite spirits and glassware. Bundle Includes: Neat Traveler (Gray) Bottle Flight (Gray) Note: This bundle is only available in gray and col
*Bourbon Culture is reader-supported. When you buy through links on our site, we may earn an affiliate commission.