*Bourbon Culture is reader-supported. When you buy through links on our site, we may earn an affiliate commission.
For years now, the two biggest names in wheated bourbon have always been Maker's Mark and Weller. These sweet sipping bourbons have usually made such an impression that many new whiskey drinkers immediately make their mind up that wheated bourbons are the superior bourbon.
Experienced bourbon drinkers know that this isn't really true, but can see why people form those types of opinions.
Whereas the sales and hype of Maker's Mark products have remained steady, Weller products have simply exploded in popularity. Nowhere (except maybe Ohio) does any Weller product just set on the shelf.
In fact, if there was one bottle that was instantly recognizable for its cult status aside from Blanton's, Weller is probably it.
The obsession with Weller isn't that hard to explain. Weller products were initially produced by Stitzel-Weller, makers of some of the highest regarded bourbon in the world (even after they went out of business in 1992).
And when Julian Van Winkle III entered into a contract with Buffalo Trace in 2002, he moved his giant inventory of Stitzel-Weller barrels with him to Buffalo Trace where they became the first bottlings of Weller Bourbon alongside his Pappy products.
Eventually, those Stitzel Weller barrels ran out and Buffalo Trace's own wheated bourbon began to fill the bottles you see today.
For a while, the only bottles in the Weller lineup were Special Reserve, Antique and 12 Year (and the famous William Larue Weller bottle of BTAC fame).
However, starting in 2018, Buffalo Trace began to expand that lineup to include a Create Your Perfect Barrel (CYPB) label followed by a Full Proof label in 2019 (and Single Barrel in 2020).
Once upon a time, Weller Antique used to be considered a "Full Proof" bourbon back when it was initially created due to the barrel entry proof matching the proof it was ultimately bottled at (107).
Buffalo Trace saw that as a tradition they wanted to carry on with their modern Weller products by creating the same concept where they bottled it at the same proof it went into the barrel at (114 proof).
They also went one step further and decided that Weller Full Proof would not be chill filtered, making it the first Weller product (not including WLW) to do so across the board.
As a final factoid, Weller Single Barrel, Full Proof, Special Reserve and Antique are all around the same age; roughly 6.5 to 7.5 years old. It's just a matter of what proof they get put into the bottle at that dictates the label they get.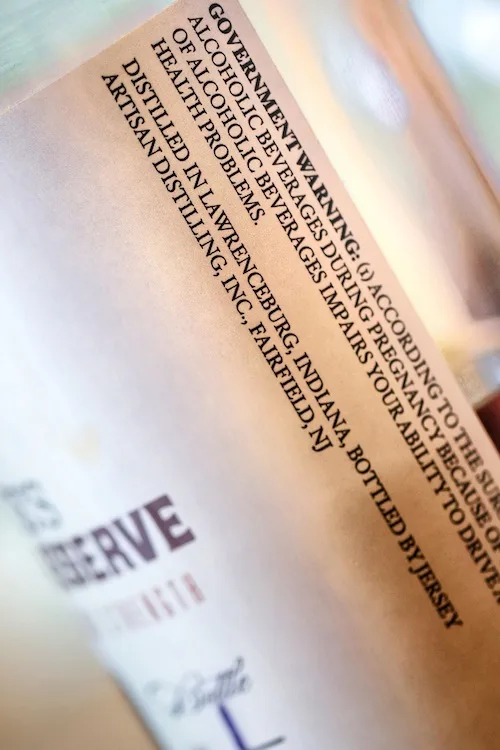 Meanwhile across the Ohio River, MGP was not going to stand by idly and focus on only a few basic mashbills. In April 2013, they announced that they were adding an additional six mashbills into their core lineup.
One of the mashbills happened to be a wheated bourbon that used 51% corn, 45% wheat and 4% malted barley. It was not until they started to turn 7 years old that some Non Distiller Producers (NDPs) begin to release single barrels of this new mashbill.
Vance's Private Reserve, an Independent Bottler located in New Jersey, had access to quite a few of these wheated MGP bourbons. The bottling you see before you today is of the first "batch" (but in reality it's a single barrel) that just so happens to also come in at 114 proof and was aged just under 7 years old.
With barrel specs matching up almost perfectly, I had no choice but to do a blind comparison review to see which one was better. So let's get down to it. These were sampled neat in a glencairn and the results were revealed to me afterwards.
Blind Glass 1:
Nose: Dark fruit scents couple with seasoned wood to create a fantastic overall nose. Notes of vanilla bean, caramel and barrel char also hint to a rich and full bodied experience that await on the tongue.
Palate: For both of these bottles being roughly the same age, this one tastes somewhat older if all of these oak notes are to be believed. There are plenty of cinnamon spiced fruits and those Atomic Fireball candies.
Each sip has a decent amount of heat but is somewhat quelled by notes of brown sugar that sweeten it up a bit.
Finish: Leaning towards more of a cinnamon and spice-forward finish, the trend of oak doesn't let off the gas, even at the finish. There are also some nice notes of tobacco and dried cherries. The sip finishes quite nice and does seem balanced overall.
Score: 8/10
Final Thoughts: Each sip is balanced, sweet and shows its age well. It's a bit uncomplicated but everything that it does, it does well.
Blind Glass 2:
Nose: A swarm of fruit scents burst out of the glass. Cherries, raspberries and peaches all join together with a lovely vanilla scent. I find lots of additional sweetness like brown sugar and Grade B maple syrup that offers a nice contrast to a sharp cinnamon note.
Palate: Whichever bourbon this ends up being, it's clearly got less heat. The cinnamon spice is reduced to a silky, almost sultry profile. The fruit scents from the nose transfer over and become even better with notes of various red fruits.
The mouthfeel is oily and thick and has some nice oak notes. Overall, this tastes about 10 proof points less than Glass #1.
Finish: Cherry cobbler and lots of buttery pie crust. Caramel sweetness also takes the bite away from any tannins or sharp notes that may have been in the finish leaving behind mainly sweet fruity notes.
Score: 8.1/10
Final Thoughts: Loaded with fruits of all kinds, this bourbon seemed more complete and richer in flavor. Although it didn't taste quite as old as Glass 1, the sweet, fruity notes more than compensated for that by giving it more flavor.
Reveal:
Glass 1: Weller Full Proof
Glass 2: Vance's Private Reserve
Winner: Vance's Private Reserve!
Wow! These were both fantastic bourbons. I feel like I'm splitting hairs by picking one over the other. In the end it really just comes down to preference of what you like more.
The MGP wheated bourbon has more fruit notes which really surprised me seeing as how fruity I find Buffalo Trace products to be.
But on the other hand, the MGP wheated bourbon still uses the "V" yeast strain that typically gives Four Roses and MGP bourbon their fruity characteristics as well.
I sent these samples (blind) out to 4 different sets of friends and received an equal split on which one they preferred. I think their choices gravitated towards their bourbon preferences they carried in the first place.
Those that preferred the MGP bourbon profile gravitated towards the Vance's while those that loved Buffalo Trace products ended up choosing the Weller Full Proof.
Final Thoughts
The one thing that is certain is just how excited I am for the MGP wheated bourbon barrels to start hitting the 10 year old mark. I think we're going to see it absolutely become a Pappy-fighter in terms of how good they become in the next few years and beyond.
As for the Weller Full Proof, it's a really great bourbon to enjoy but the secondary pricing on it makes little sense value-wise unless you are a die-hard Weller fanatic and are willing to drop serious money just to own a bottle.
The future looks bright for both, but the decision should ultimately come down to the price that you're more comfortable paying for.
Ratings Breakdown
1 | Disgusting | Drain pour (Example: Jeffers Creek)
2 | Poor | Forced myself to drink it
3 | Bad | Flawed (AD Laws 4 Grain BiB, Clyde Mays anything)
4 | Sub-par | Many things I'd rather have (Tincup 10 year)
5 | Good | Good, solid, ordinary (Larceny, Sazerac Rye)
6 | Very Good | Better than average (Buffalo Trace, OGD BiB)
7 | Great | Well above average (Old Ezra Barrel Proof, Old Weller Antique)
8 | Excellent | Exceptional (Michter's Barrel Proof Rye, Four Roses Barrel Strength)
9 | Incredible | Extraordinary (GTS, 13 Year MGP or Canadian Rye)
10 | Insurpassable | Nothing Else Comes Close (William Larue Weller)
Featured Products
Description:

The Aged & Ore Neat Traveler is a complete travel kit for spirits. We combined our widely praised Neat Glass with one of our 3oz Flight Bottles and housed them together in a custom EVA travel case. Perfect for a night away with your favorite pour. The tie
Description:

The Aged & Ore Bottle Flight is a premium set of 4 custom silicone wrapped glass bottles designed to transport and share samples of your favorite spirits. The flight bottles come in a custom EVA travel case that fits perfectly in any small bag. An Aged &
Description:

This Bundle combines two of our crowd favorite products, creating the ultimate travel bundle to bring along your favorite spirits and glassware. Bundle Includes: Neat Traveler (Gray) Bottle Flight (Gray) Note: This bundle is only available in gray and col
*Bourbon Culture is reader-supported. When you buy through links on our site, we may earn an affiliate commission.