*Bourbon Culture is reader-supported. When you buy through links on our site, we may earn an affiliate commission.
Being an Ohio native, I love to support anything that comes from the heart of America. So when I found out that there was a distillery that has been making whiskey for a decent amount of time (since 2008) AND they were using the old pot still from Michter's previous distillery in Pennsylvania, I knew I had to buy a bottle. Just to note, Michter's bought that pot still back from Tom's sometime around 2018 and has installed it in their Fort Nelson Distillery location in downtown Louisville. Any batches made after 2018 probably were made with their new still.
Anyway, with that being said, Tom's Foolery started out making Applejack, which is very similar to brandy, except made with apples. They weren't content with just making that spirit alone, so they began to distill whiskey. Not content with the standard approach of making just one or two mashbills and perfecting them, their early days seemed to be full of distilling dozens of mashbills and various barrel types and carefully documenting them on their website so that the customer could see what they had in each bottle. It's an amazingly nerdy way to get lost for a few hours.
Single Barrel 111 Bonded Bourbon
For this review, I found the link to my single barrel that I'll be reviewing today: Single Barrel 111 Bonded Bourbon | Cleveland, Ohio If you don't want to click on the link, it's basically a pictorial history of every step of the process they took to make the bourbon, what the mashbill was (my bottle is 59% white corn / 21% winter wheat / 20% pale barley malt). It then tells you the barrel entry proof (mine was 109.5 proof), the barrel exit proof (mine was 110 proof), the exact day the barrel was filled and pulled, how many bottles came from the barrel, what the char level was (mine was 3.5), who the barrels were made by, whether or not it's chill filtered (mine is not) and if it's a small batch, it'll tell you all of the barrel ages and their numbers so you can look up their characteristics. This is simply unheard of in the whiskey world and I'm not quite sure of any other distiller producing this amount of variance and keeping as many detailed notes at Tom's Foolery has.
So now that we have the background out of the way, how does this single barrel taste? I sampled it neat and with a glencairn.
Tasting Notes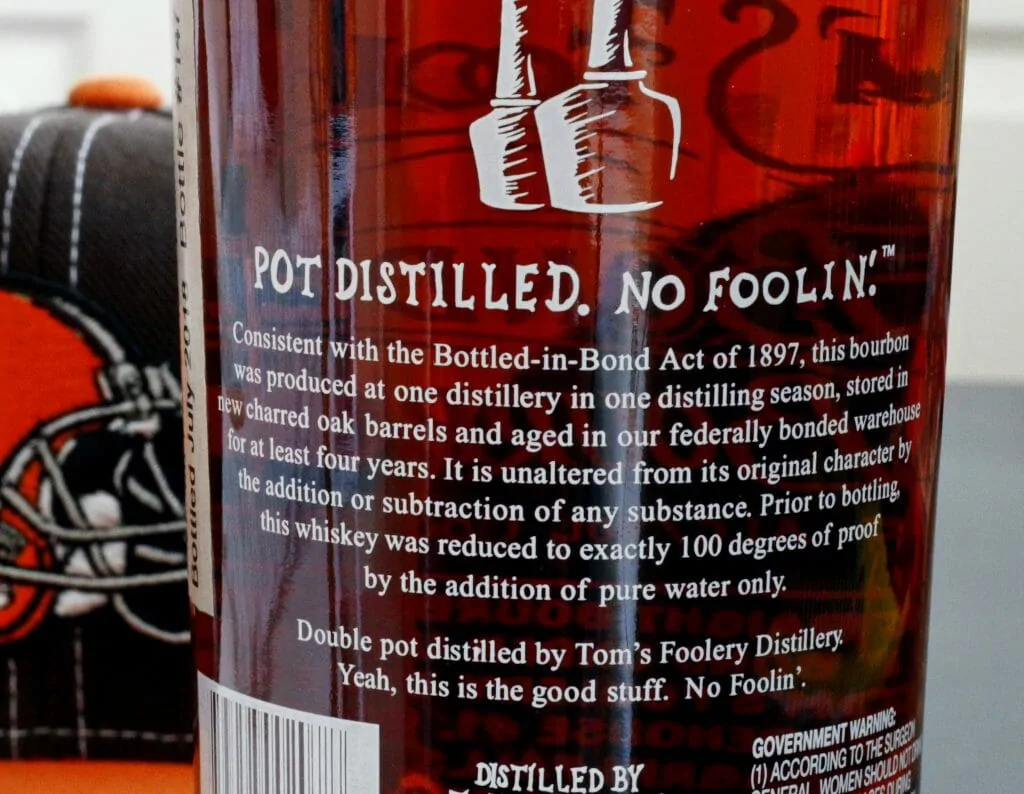 Nose: Remember how Tom's Foolery started it's life making Applejack? Well it's right here in the nose: cinnamon spiced apples, sliced pear fruit cup, caramel dipping sauce, lemon and lime zest. The rye spice is also there, adding a uniquely floral and orchard-like nose.
Palate: Rye spice hits this bourbon hard. And it should, there is an extremely low amount of corn in this mashbill. There is the orchard fruits quality, only not as sweet (slightly unripe I'd say). The malty, cereal sweetness on the palate comes across as very young, even though this bourbon isn't as young as almost all other micro-distillers. The most intriguing part of this whole dram is the fact that the sweetness is really lacking overall.
Finish: Cinnamon spice peps the finish up, but there's an acetone note accompanied with green apples that really ends this dram on a low note. There's mint, apricot/stone fruit tartness and that's about it.
Score: 4/10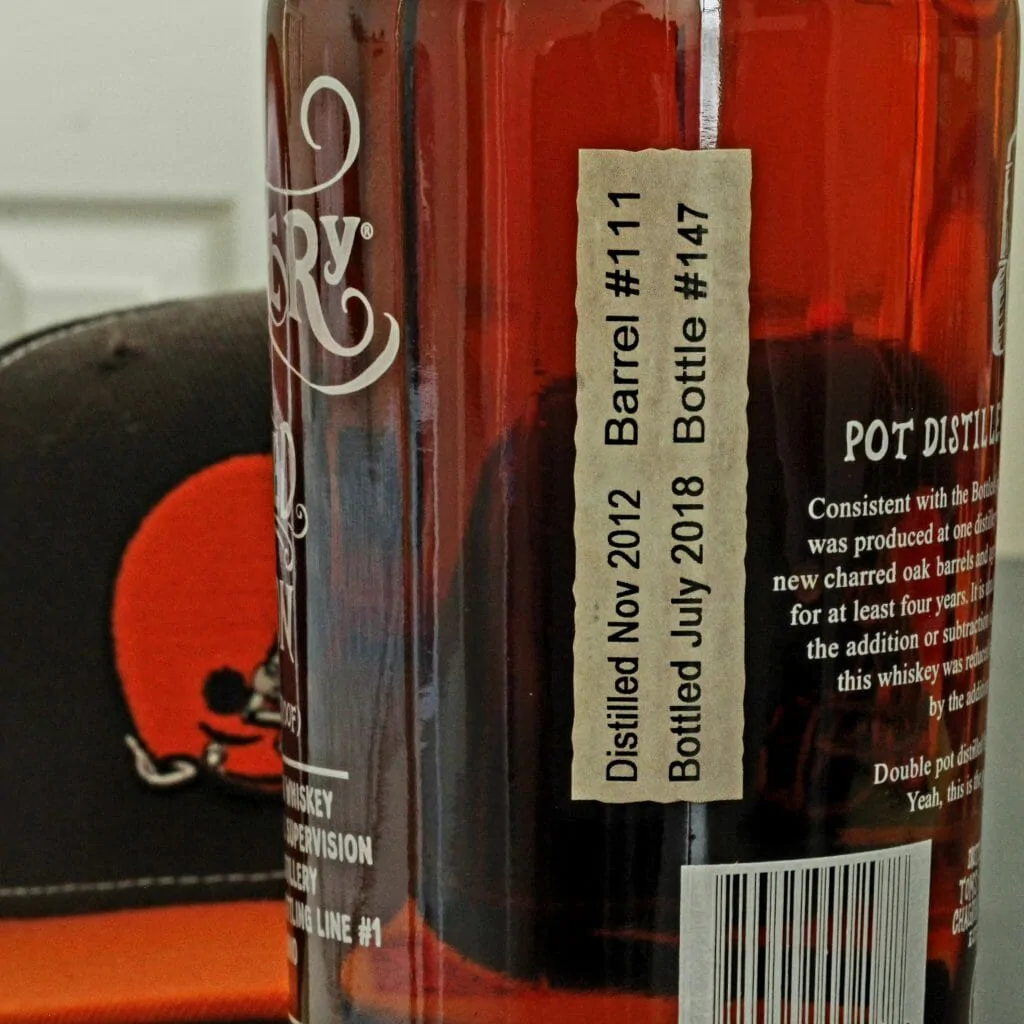 Realistically, I have probably scored this bourbon too high. But being from my home state makes my heart bleed a little. The nose started off promising but the flavors seemed underdeveloped and still lacked the crucial sweetness that makes bourbon, or any whiskey for that matter, such a flavorful treat. I blame this mostly on the distillery's location, which is in a very cold part of Ohio. There's not much temperature fluctuation and winters are harsh.
Final Thoughts
Realistically, their bourbon could be the next Rare Perfection Whiskey 15 year whiskey (after it ages an extra 10 years), but it's currently not even there. The worst part is, being a single barrel means that there still could be some great bourbon in the rickhouses of Tom's Foolery that don't represent what was in my bottle, but I am a little less inclined to go buy another one until I start hearing more positive reviews coming out. But I won't give up hope just yet, I just hope they end up finding something that works.
Ratings Breakdown
1 | Disgusting | Drain pour (Example: Jeffers Creek)
2 | Poor | Forced myself to drink it
3 | Bad | Flawed (AD Laws 4 Grain BiB, Clyde Mays anything)
4 | Sub-par | Many things I'd rather have (Tincup 10 year)
5 | Good | Good, solid, ordinary (Larceny, Sazerac Rye)
6 | Very Good | Better than average (Buffalo Trace, OGD BiB)
7 | Great | Well above average (Old Ezra Barrel Proof, Old Weller Antique)
8 | Excellent | Exceptional (Michter's Barrel Proof Rye, Four Roses Barrel Strength)
9 | Incredible | Extraordinary (GTS, 13 Year MGP or Canadian Rye)
10 | Insurpassable | Nothing Else Comes Close (William Larue Weller)
Featured Products
Description:

The Aged & Ore Neat Traveler is a complete travel kit for spirits. We combined our widely praised Neat Glass with one of our 3oz Flight Bottles and housed them together in a custom EVA travel case. Perfect for a night away with your favorite pour. The tie
Description:

The Aged & Ore Bottle Flight is a premium set of 4 custom silicone wrapped glass bottles designed to transport and share samples of your favorite spirits. The flight bottles come in a custom EVA travel case that fits perfectly in any small bag. An Aged &
Description:

This Bundle combines two of our crowd favorite products, creating the ultimate travel bundle to bring along your favorite spirits and glassware. Bundle Includes: Neat Traveler (Gray) Bottle Flight (Gray) Note: This bundle is only available in gray and col
*Bourbon Culture is reader-supported. When you buy through links on our site, we may earn an affiliate commission.