*Bourbon Culture is reader-supported. When you buy through links on our site, we may earn an affiliate commission.
Belle Meade is desired by many for their fantastic selection of single barrel MGP bourbons and their unique barrel finished MGP bourbon releases (notably: The Honey Cask releases). But since all of those are very hard to find without a hookup or inside knowledge, how do their standard 90.4 proof finished bourbons fare? They can be found readily in most liquor stores around here in Indianapolis for anywhere from $50 to $70. But do they deliver a good value for the money? The MGP base bourbon is thought to be around the 6 to 8 year mark and comes in 3 different barrel finishes: Cognac, Madeira and Sherry barrels.
Cognac and Madeira barrel finished bourbons
Today, I'm going to look at the Cognac and the Madeira barrel finished bourbons. Just a quick note before I start, some people refer to the Cognac barrel finished as the "XO barrel finished" but the letters "XO" denote how long the cognac was aged in the barrel prior to bottling. In most cases, XO indicates that the Cognac was aged for 6 years.Comparing Cognac to Madeira wine is a bit like comparing apples and oranges, but I still feel like a semi-blind taste test is the best way to figure out which one I like better and why. So I poured both of these neat in a glencairn and decided to let my senses be the judge.
Blind Glass #1
Nose: Rich and creamy Mexican Flan and vanilla are readily apparent. There's also a lightly scented oak as well as a separate scent of Pledge Wood Cleaner
Palate: Fizzy vanilla cream soda starts out on my tongue, which is hugely entertaining. There are some fruity characteristics like white grape juice and apricots. The bourbon has a slight astringency that is does not detract from the taste, but it leans more towards a light, effervescent soda water. It is very interesting and I'd say that there are few whiskies out there I've ever experienced this with.
Finish: A light and carbonated effect continues from the palate and can be felt all the way down. There's a creamy aftertaste of Crème Brule and fresh marshmallows from a new bag that add a very nice softness to the finish. There is some oak on the end, but it borders between fresh cut wood and seasoned wood.
Score: 7/10
Blind Glass #2
Nose: Whereas Glass 1 was all about light and bubbly flavors, Glass 2 immediately jumps your nose with dark cherries, brandy soaked raisins, and simmering peaches. There's additional sweetness with scents of caramel dipping sauce and toffee. There's also a hint of spice with some sharp cinnamon notes.
Palate: You can tell this liquid is much more dark and heavy than Glass #1. The tannic qualities of oak and pipe tobacco along with a dry Merlot wine adds a thick mouthfeel and plenty of dryness. Overall, the mouthfeel is reminiscent of a heavy red wine. There are plenty of sweet fruit notes though, like plum and fig with a little bit of salt and pepper effect at the end.
Finish: The finish shows off more dark red fruit and ginger preserves, which give it a spicy-ish finish. The tannins are still present like oak spice. But the finish never turns dry and actually gets sweeter as the session goes on.
Score: 7.4/10
Reveal:
Glass #1: Belle Meade Cognac finished bourbon
Glass #2: Belle Meade Madeira finished bourbon
Winner: Belle Meade Madeira finished bourbon!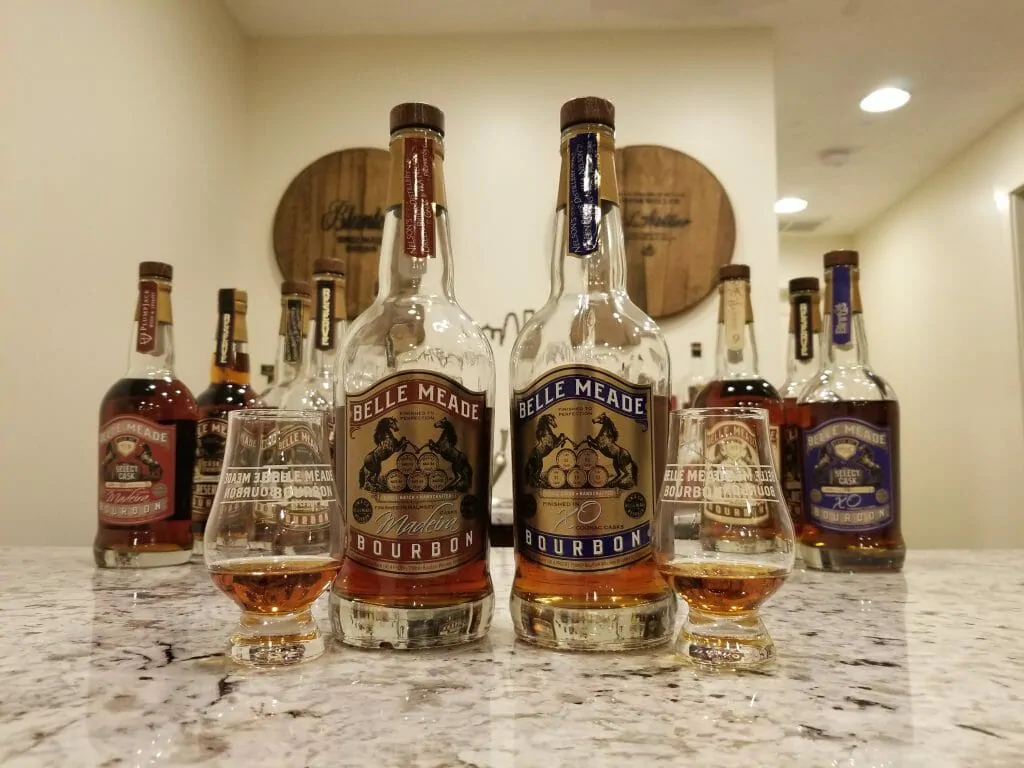 Both of these bottles are delicious in their own way. Whereas the Cognac finished is light and sweet and perfect for a warm summer night, the Madeira is dark and spiced, perfect for cold winter nights. These are two very different finishes and although it's hard to say one is really that much better than the other, I think they both have their own purposes for what they're best at. As for the price, and not being age stated, I'd say it's a stretch to pay $70 for each of these bottles, especially when their cask strength versions could be found for about $85 and are far more worth it.
Final Thoughts
These are both definitely very much worth the $50 when I found them on sale and I'd do it again in a heartbeat. They bring a level of flavor and intensity to 90 proof bourbon that makes you not even realize you're drinking 90 proof bourbon. And this is why this lineup has remained on the shelves for more than half a decade.
Ratings Breakdown
1 | Disgusting | Drain pour (Example: Jeffers Creek)
2 | Poor | Forced myself to drink it
3 | Bad | Flawed (AD Laws 4 Grain BiB, Clyde Mays anything)
4 | Sub-par | Many things I'd rather have (Tincup 10 year)
5 | Good | Good, solid, ordinary (Larceny, Sazerac Rye)
6 | Very Good | Better than average (Buffalo Trace, OGD BiB)
7 | Great | Well above average (Old Ezra Barrel Proof, Old Weller Antique)
8 | Excellent | Exceptional (Michter's Barrel Proof Rye, Four Roses Barrel Strength)
9 | Incredible | Extraordinary (GTS, 13 Year MGP or Canadian Rye)
10 | Insurpassable | Nothing Else Comes Close (William Larue Weller)
Featured Products
Description:

The Aged & Ore Neat Traveler is a complete travel kit for spirits. We combined our widely praised Neat Glass with one of our 3oz Flight Bottles and housed them together in a custom EVA travel case. Perfect for a night away with your favorite pour. The tie
Description:

The Aged & Ore Bottle Flight is a premium set of 4 custom silicone wrapped glass bottles designed to transport and share samples of your favorite spirits. The flight bottles come in a custom EVA travel case that fits perfectly in any small bag. An Aged &
Description:

This Bundle combines two of our crowd favorite products, creating the ultimate travel bundle to bring along your favorite spirits and glassware. Bundle Includes: Neat Traveler (Gray) Bottle Flight (Gray) Note: This bundle is only available in gray and col
*Bourbon Culture is reader-supported. When you buy through links on our site, we may earn an affiliate commission.