*Bourbon Culture is reader-supported. When you buy through links on our site, we may earn an affiliate commission.
Shortly after I published my review on Angel's Envy Finished Rye, I was contacted by a person who claimed to have in-depth knowledge of their inner workings. They described the process by which they'd recharge the rum casks used to finish Angel Envy's rye whiskey. It involved pouring in a concentrated rum-flavored syrup into the bunghole to re-coat the insides of the barrels. It was said that they'd often forget to dump out that syrup before adding the rye whiskey into them again. "Oops."
He also went on to say that out of all the years that they had been producing that rye, they had never retired any of those old rye whiskey barrels. They were essentially wooden vats used to blend together rum syrup and rye whiskey. People familiar with the rules of finished whiskey know how devious this all seems.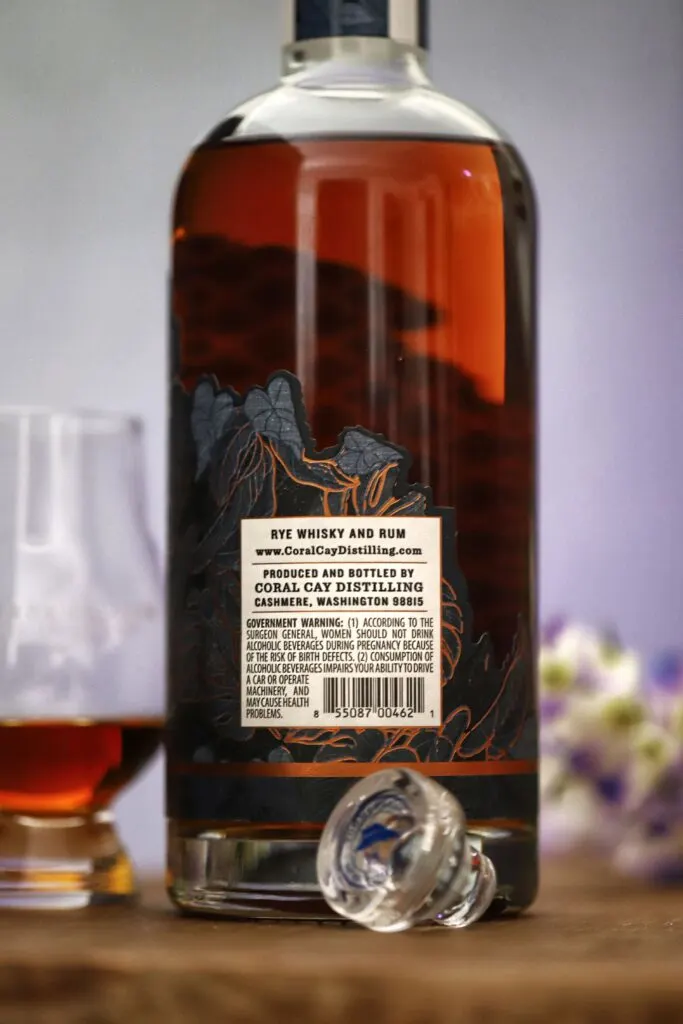 I asked around to a few other sources to find out if the Angel's Envy story was true. The results pointed to yes. They even added in stories of other limited releases from them that underscored just how much the rules get skirted there – especially with the ice cider finished rye released a year or so ago.
What makes Tommy Bahama Rye Whisky and Rum different?
Why am I talking about Angel's Envy in a Tommy Bahama Rye Whisky and Rum review? Because Tommy Bahama – a spirits brand endeavor of Coral Cay Distilling – at least respects the consumer enough to tell them that they're mixing together rum and rye whisk(e)y. There's no shame in that if you own it and label it as such.
So what is in this bottle that I'm reviewing today? I'll let Tommy Bahama's website speak for itself about this product:
A blend of award winning 95/5 Rye mash bill aged minimum 4 years in #3 char American oak barrels; blended with 22% light and heavy Rum aged minimum 8 years in #2 char ex-bourbon barrels with staves of new charred American Oak. Young and peppery, this Tommy Bahama Rye brings a spicy splash to any cocktail.
The 95/5 rye whiskey used in this product is from MGP Distillery in Indiana. That's great! They're the kings of rye whiskey. The light and heavy rum portion is a bit more murky where it is sourced from. It could be a product made on the still at Blue Spirits Distillery in Leavenworth, Washington (not to be confused with Blue Run Distillery that will be constructed in Kentucky). They're the ones who made this blend for Coral Cay in Florida. Or maybe they just supplied the rye whiskey portion. I'm not sure because they don't explain it.
I have found no evidence on social media that the copper still featured in Blue Spirit's many Instagram pictures is actually operational – even after 10 years of being on the property. If it was, they may have distilled the rum used in the blend. But since I haven't found any posts or website information indicating that Blue Spirit has ever distilled anything (except maybe vodka), I'm guessing that they sourced the rum too.
I am also assuming that Blue Spirit blends the rum and rye whiskey before it is transferred to Florida where Coral Cay Distilling is located. There, it is bottled under the Tommy Bahama brand. And as much as I love to over-explain stuff, I'm not going to do a deep dive on who or what Tommy Bahama is. Just look up pictures of a Jimmy Buffet concert and realize who their main clientele are.
With summer approaching, or already here, I felt like this was an especially pertinent bottle to review. Summertime is when most of us switch over to lighter or fruitier drinks. This one might have what it takes to remain in your rotation as the weather heats up. So how is it? Let's find out. I sampled this neat in a glencairn.
Tasting Notes
Nose: Scents of gingerbread with spices like allspice and clove sticking out the most. There's a pure cane syrup scent coupled with passionfruit, banana and lemon-poppyseed poundcake. The rye is noticeable by the amount of wintergreen mint and black pepper it brings along with it. Overall, the nose is sweet, fruity and has a decent amount of rye traits. It never seems as young as the website claims it is.
Palate: Interestingly, the flavors and mouthfeel are not as light as I thought this 93 proof specialty whiskey would be. It drinks more like a rum than a rye whiskey too. The rye fights back and shows off some of its herbal and floral qualities. You can definitely tell this is MGP rye if you are a person familiar with that style. There's flavors of sugar cookie, minty gum and cinnamon. The rum brings forward a lot of familiar sweet flavors like caramel, papaya, banana and a bit of citrus. I'm frankly stunned how much I'm enjoying this.
Finish: Lingering notes of Crème de menthe, cocoa powder and tropical fruit (more citrus and passionfruit). Rye whiskey flavors like pine needles, caramel, cinnamon, coffee beans and ground pepper also hang around. Overall, the spirits are complimentary to each other and offer a really relaxing island-vibe theme to the end.
Score: 7.2/10
A good friend of my family had gifted me this bottle after a vacation she took to Florida last year. I appreciated the gesture but did not have the highest hopes for what was inside of the bottle (sorry, Tara! But keep reading!). The label… the name… the blending of two different spirits (the horror!)… all sent up red flags. I knew celebrity endorsed whiskies were a thing, but a clothing brand? Come on…
Then I tasted it. It was eye-opening how delicious and enjoyable this whiskyrum really is. It's extremely similar to Angel's Envy Finished Rye at almost half the price (around $50). It uses the same base rye whiskey (albeit maybe a year or two younger) and is only 7 proof points less. But the taste and experience is very similar. I feel like I need to spread the word about how competent of a blend this really is despite coming off as a gimmick. If this was available in more states, Angel's Envy should be be very worried about their sales.
Final Thoughts
Every now and then there's a whiskey or a blend of spirits that comes along that defies all expectations. I expected Tommy Bahama Rye Whisky and Rum to be a cash grab; something a blender was told to make in order to get rid of some young, unwanted barrels of rye whiskey and rum. It turned out to be much more than that. The flavors worked well with each other to create a refreshing blend of tropical and springtime fresh flavors and scents.
I know that purists will whine and complain that finished whiskies are bad enough and that outright blending together the spirits is a bridge too far. I disagree. Tommy Bahama proves just how harmonious they can work together. The one part that I applaud them on is not slapping a pretend "barrel finished" name on the bottle. Just call a spade, a spade. Plus, the barrel-finishing process that most producers use already is rife with loopholes and loose ethics. This is refreshingly honest. There's no funny business, just a focus on what's in the bottle and letting the enthusiast be the judge. And this enthusiast thinks the final product is pretty darn good.
Featured Products
Description:

The Aged & Ore Neat Traveler is a complete travel kit for spirits. We combined our widely praised Neat Glass with one of our 3oz Flight Bottles and housed them together in a custom EVA travel case. Perfect for a night away with your favorite pour. The tie
Description:

The Aged & Ore Bottle Flight is a premium set of 4 custom silicone wrapped glass bottles designed to transport and share samples of your favorite spirits. The flight bottles come in a custom EVA travel case that fits perfectly in any small bag. An Aged &
Description:

This Bundle combines two of our crowd favorite products, creating the ultimate travel bundle to bring along your favorite spirits and glassware. Bundle Includes: Neat Traveler (Gray) Bottle Flight (Gray) Note: This bundle is only available in gray and col
*Bourbon Culture is reader-supported. When you buy through links on our site, we may earn an affiliate commission.