*Bourbon Culture is reader-supported. When you buy through links on our site, we may earn an affiliate commission.
Angel's Envy has been in the sourced whiskey business for quite a while now. Their Port Cask finished bourbon is a staple on most shelves across the US with their rye whiskey usually seen close to it. The source of their bourbon is from Brown Forman (due to the relationship that founder Lincoln Henderson carried over when he left Brown Forman to start his own company) while the rye whiskey comes from MGP in Indiana. Angel's Envy has never released an un-finished product and this rye whiskey is no exception.
Starting with MGP's classic 95% rye mash bill (the other 5% is malted barley) aged for 6 years, it is then introduced to Caribbean Rum Casks for an additional amount of time. After a little research, I found out that the rum casks they're using are from Plantation Rum. Peeling back that layer just a little bit more also revealed that they were Maison Ferrand Cognac Casks before they were shipped to the Caribbean and used for aging rum. So there is a slight chance that not only will the tropical fruit flavors of Plantation Rum come through each sip, but perhaps a bit of Cognac as well. A guy can dream, right?
Conspiracy Theory Time
For a long time, Angel's Envy Rye Whiskey has been lauded by enthusiasts. Perhaps that's because it was one of the earliest rye whiskies to be finished in another cask (with the other major player being High West). To most bourbon and rye drinkers, the rum finish was described as being almost artificially sweet. Many pointed out the lack of the word "straight" on the label, meaning that additives could have (legally) been added into the whiskey. That has never been confirmed, but the reason behind Angel's Envy decision to not use this term could just be that they don't view a whiskey as being straight if it's went through the barrel finishing process. Barrell Craft Spirits is another major producer that also subscribes to this way of labeling. I would like to add my own opinion that it may have to do with the extra cost for each word that had to be etched on the glass of the bottle. Omitting one word may result in the savings of tens of thousands of dollars over a couple years time.
For years, the price has made me steer clear of ever buying a bottle of Angel's Envy Rye Whiskey because it's usually seen at
around the $100 price point.
Occasionally I'll see it on sale all the way down to $81 but that seems to be too much for a rye that has never really received high praise by online reviewers. Maybe it's time for this online reviewer to see if the years of so-so reviews have some truth behind them? Let's dive in. I sampled this neat in a
glencairn
.
Tasting Notes
Nose:
I'm really digging the
nose
because it's so damn unique. It's straight up
Snickerdoodle cookies
combined with
maple syrup-covered French Toast sticks
. It's almost unbelievable that what I'm smelling is a rye whiskey… or what started as a rye whiskey at least. The only hint is a slight rye spice note buried deep under all of those sweet scents.
Palate: There's some rye whiskey here, but not much! The rum is cloyingly sweet in some ways but I'm not complaining too much. If you love the depth and spice of a classic rye whiskey, you won't find that here. Instead, tropical notes of coconut flesh, pineapple, mango and orange rind can all be found kissed with the delicate taste of rubber (that's sarcasm, but the flavor still applies). Rubber is actually one of the many flavors that people can find in rum, so I wasn't really alarmed when I detected the tiniest bit of petrochemical taste to it. Otherwise, the mouthfeel is sweet and syrupy with plenty of sweet berries & cream accompanied by plenty of allspice, nutmeg and clove. I can even taste a bit of the oak from whatever cask it came from. This is just such a weird drink but surprisingly, I like it.
Finish:
The sweetness morphs back into more maple syrup on the
nose
. It's a thin Grade A maple syrup, but it's really fun to pick out.
Cinnamon, allspice, nutmeg and ginger
all hang around until the end. I also find lingering notes of
Hibiscus Tea, leather and coconut.
I can't get over how much I ended up enjoying this.
Score: 8/10
It has been a while, maybe 2 years or so, since my last pour of Angel's Envy Rye. Recalling my previous experience, I thought it tasted artificially sweet and contained no rye whiskey at all. And while this most recent pour didn't radically change my opinion much, it did remind me that AE rye can still be a refreshingly different whiskey to pour on nights where nothing sounds good. I also want to mention that since the last time I had a pour of AE Rye, I have started to enjoy rums more and more. Like every spirit out there, the taste is something you have to acquire before you can enjoy it. But since rum is something that is making its way into my rotation of spirits, I feel like I can appreciate this bottle more than I previously could.
As with any finished product that is regularly released, there will be some variation between batches. I'm saying this because I don't expect everyone to have the same reaction to this rye that I did if the batch numbers were different. I've seen pictures of regular Angel's Envy bourbon side-by-side with a different batch and the color difference was easy to see. This has to do with producers reconditioning the finishing casks after a certain amount of uses to rejuvenate the flavor within. I am sure Angel's Envy employs the same process with these rum casks, which will result in some rye whiskey batches being more rum-forward than others. Just be aware of this before you decide to buy one.
Final Thoughts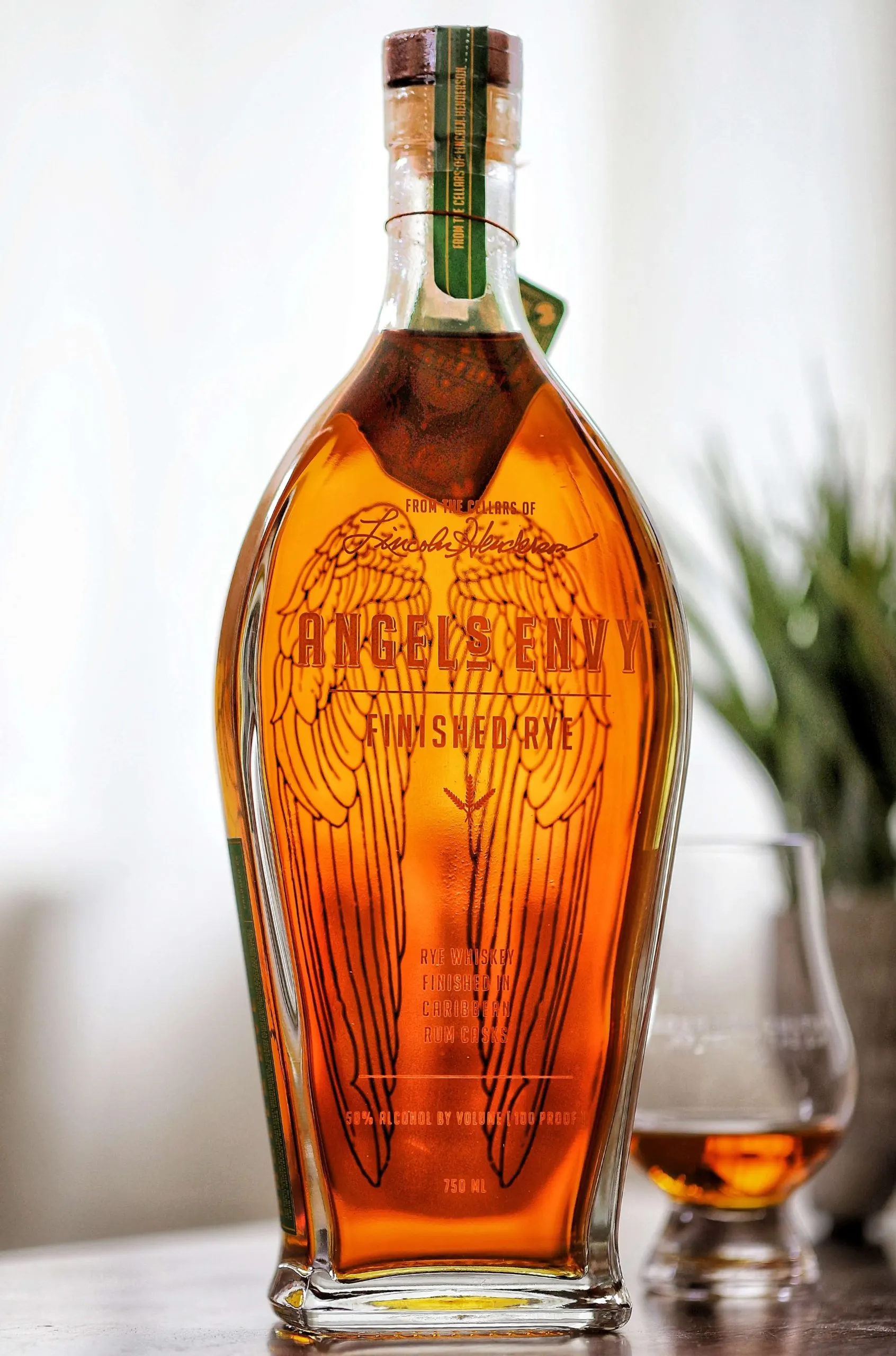 As MGP whiskey prices rise these days, it is sometimes hard to gauge how much we should be spending on labels that contain them. As I said in my introduction, it's hard to pull the trigger on a $100 bottle of something when it's not age stated or bottled at barrel proof. Angel's Envy Rye isn't an everyday sipper, though. I think it works best during the hotter summer months when tropical fruits and sweet drinks seem to fit the weather outside. So if you find yourself switching your drinks to fit the season, then AE Rye could be your next favorite summertime treat.
Featured Products
Description:

The Aged & Ore Neat Traveler is a complete travel kit for spirits. We combined our widely praised Neat Glass with one of our 3oz Flight Bottles and housed them together in a custom EVA travel case. Perfect for a night away with your favorite pour. The tie
Description:

The Aged & Ore Bottle Flight is a premium set of 4 custom silicone wrapped glass bottles designed to transport and share samples of your favorite spirits. The flight bottles come in a custom EVA travel case that fits perfectly in any small bag. An Aged &
Description:

This Bundle combines two of our crowd favorite products, creating the ultimate travel bundle to bring along your favorite spirits and glassware. Bundle Includes: Neat Traveler (Gray) Bottle Flight (Gray) Note: This bundle is only available in gray and col
*Bourbon Culture is reader-supported. When you buy through links on our site, we may earn an affiliate commission.