*Bourbon Culture is reader-supported. When you buy through links on our site, we may earn an affiliate commission.
Staves and Grain is an Independent Bottler located in Northwestern New Jersey. Their small operation has mainly used MGP's various bourbon recipes and 95/5 rye whiskey recipe for their single barrels.
Their labels don't try to conceal this fact and many private groups respect them for being so transparent. Most of these barrels were purchased at around five years old and continue to age at an undisclosed warehouse in New Jersey until a store or group picks one to be bottled.
Neat Drinkers Association (NDA)
When the Neat Drinkers Association (NDA), who are based out of California, went looking for a new barrel to call their own, they were directed towards Staves and Grain.
After meeting up virtually, an agreement was made that they'd like to buy a barrel of their (soon to be 8 years old) rye whiskey. Staves and Grain had 3 barrels to choose from of the standard MGP 95/5 rye whiskey mashbill.
A tasting panel of 5 members from the NDA (myself included) debated which barrel was the best of the bunch before arriving at this one. By time it was bottled, it was already a few weeks past being 8 years old.
The sticker art was designed by Jessica Zed and the inspiration came from music group Tame Impala and their album "Slow Rush."
The woman in the center is surrounded by various herbs which come straight from the tasting notes the group picked out (dill, mint, oregano, etc). MGP rye whiskey is well known for their herbal notes and this one was no different, hence the Easter Egg.
One last thing to note is that since almost 3 months passed between selection and bottling, the proof decreased from 56.57% (which is what the Slow Rush label shows) to 56.1%, which is what the front label states. The increased wintertime humidity of New Jersey likely was the culprit for the almost 1 proof point drop!
So how was Slow Rush? Let's find out. I sampled this neat in a glencairn.
Tasting Notes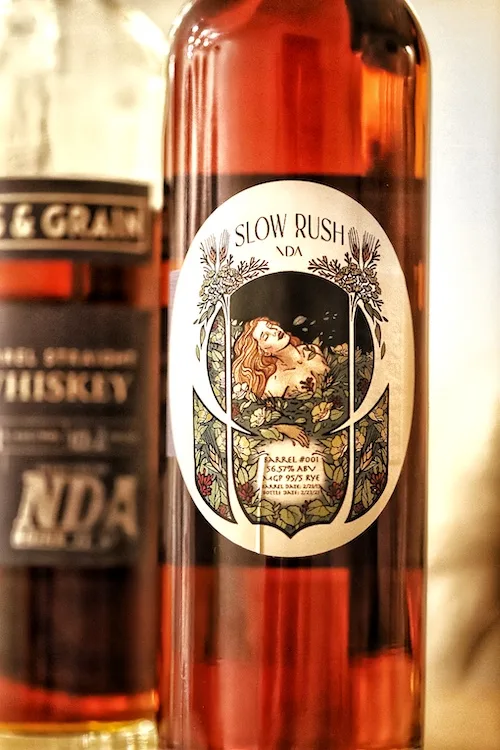 Nose: This rye whiskey is definitely on the sweet end of the spectrum of ryes. Fresh citrus, lemon peel, mint and apple tarts keep the nose fresh and fruity while I even detect the smallest amount of coffee beans.
Palate: Citrus and mint hit first, kind of like a Medicine ball tea from Starbucks. The cooling effect of menthol is found right next to sweet candied citrus rinds and sour cherries.
There's also a nice amount of rye spice notes like cinnamon, tarragon and a load of dill. Ground peppercorns add some spice and a little bit of heat while lighter notes of rose water delicately expose themselves throughout.
For all the more MGP rye whiskey lacks oak influence, this one has a small amount if you look hard enough. It's also coupled with barrel char elements.
Finish: Flavors of cinnamon sprinkled pinwheels, a touch of bakers chocolate and candied orange peel keep the finish sweet and interesting.
What's also good is that the herbal nature of the palate did not completely disappear with notes of flower bouquets, herbs and peppermint patties.
Score: 8.1/10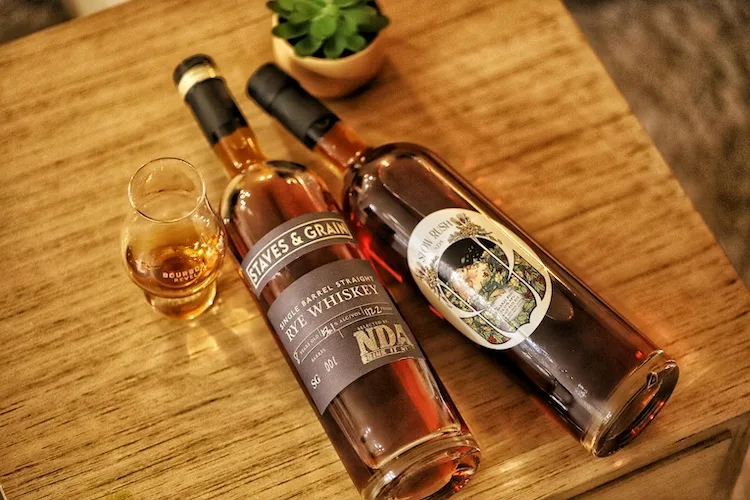 For the few oddball notes I found within this rye whiskey, it really is just an amped-up, classic MGP rye at heart. There was enough sweetness to not let the sip get bogged down in spice and heat while also showing off some great herbal characteristics. I'm very pleased with how this barrel turned out.
MGP 8+ year old rye whiskey barrels from various NDPs are now becoming a common sight on the shelves. Most have even bottled at cask strength.
But as I pointed out in a recent Bone Snapper Rye Whiskey review, many of them are developing overwhelming amounts of vanilla within. I'm not sure why this is but it's something other reviewers are noticing too. If this was a bourbon, I could see that being a welcome trait, but in rye whiskey it seems wrong.
Final Thoughts
Luckily, Slow Rush stands apart from the pack by not being a victim of having too much vanilla. Those enthusiasts that really love when the rye notes sing should take comfort in that.
I know that like the rest of the rye whiskey enthusiasts out there, we are all anxiously awaiting for 2022 when there should be a tidal wave of 10 year old MGP rye whiskey that hits the market. However, it would be foolish to think that these current 8 and 9 year old single barrels that have been popping up are not already worthy of your money.
If anything, these barrels that have been released in 2021 show us all that we don't have to wait until next year just for this rye whiskey can arbitrarily turn 10 years old. This is already a great whiskey that you can get right now. I can't wait to see what the next pick will be!
Ratings Breakdown
1 | Disgusting | Drain pour (Example: Jeffers Creek)
2 | Poor | Forced myself to drink it
3 | Bad | Flawed (AD Laws 4 Grain BiB, Clyde Mays anything)
4 | Sub-par | Many things I'd rather have (Tincup 10 year)
5 | Good | Good, solid, ordinary (Larceny, Sazerac Rye)
6 | Very Good | Better than average (Buffalo Trace, OGD BiB)
7 | Great | Well above average (Old Ezra Barrel Proof, Old Weller Antique)
8 | Excellent | Exceptional (Michter's Barrel Proof Rye, Four Roses Barrel Strength)
9 | Incredible | Extraordinary (GTS, 13 Year MGP or Canadian Rye)
10 | Insurpassable | Nothing Else Comes Close (William Larue Weller)
Featured Products
Description:

The Aged & Ore Neat Traveler is a complete travel kit for spirits. We combined our widely praised Neat Glass with one of our 3oz Flight Bottles and housed them together in a custom EVA travel case. Perfect for a night away with your favorite pour. The tie
Description:

The Aged & Ore Bottle Flight is a premium set of 4 custom silicone wrapped glass bottles designed to transport and share samples of your favorite spirits. The flight bottles come in a custom EVA travel case that fits perfectly in any small bag. An Aged &
Description:

This Bundle combines two of our crowd favorite products, creating the ultimate travel bundle to bring along your favorite spirits and glassware. Bundle Includes: Neat Traveler (Gray) Bottle Flight (Gray) Note: This bundle is only available in gray and col
*Bourbon Culture is reader-supported. When you buy through links on our site, we may earn an affiliate commission.