*Bourbon Culture is reader-supported. When you buy through links on our site, we may earn an affiliate commission.
Single Cask Nation is an Independent Bottler (IB) that follows in the footsteps of the many traditional IB's of Scotland. Independent Bottlers are similar, but different to Non Distiller Producers (NDPs) which are much more common in the United States.
The main difference between the two is that NDPs typically buy large quantities of barrels through brokers (middlemen) and release them either in batches or single barrels and sometimes with their own finishing treatments.
But Independent Bottlers, in the traditional sense, usually have a connection with the distilleries themselves and are allowed to sample through the barrels to buy them individually.
They then release them in true single barrel form with no filtering or water/coloring added.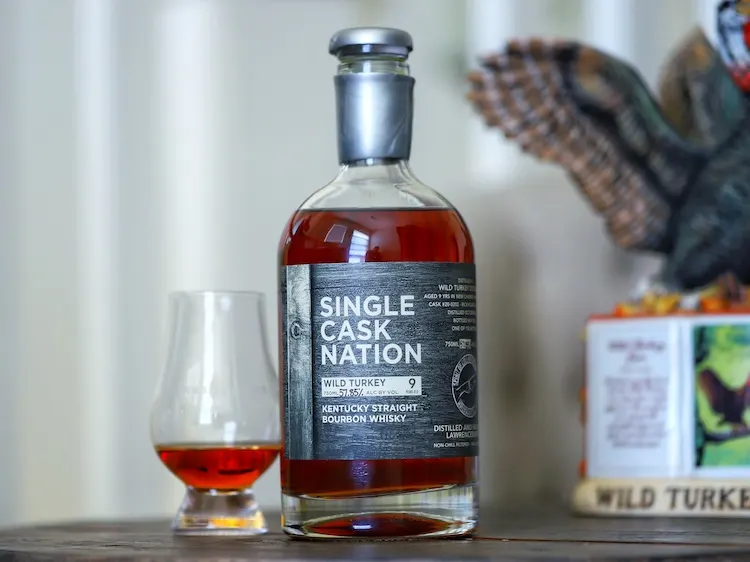 While Single Cask Nation initially started out bottling only Scotch, it didn't take long for them to make connections with distilleries in the United States.
The number of bourbon barrels that they've been able to put out has been tiny compared to the mountains of Scotch they're constantly releasing.
But it's been their success with the barrels they've found from Wild Turkey that have given them legendary status among enthusiasts.
For years now, the only way to get Wild Turkey at cask strength has been to buy either Rare Breed, some of the Master's Keep releases or the dated Russell's Reserve limited editions (1998, 2002 and 2003).
But Rare Breed carries no age statement and is chill filtered, so your options become even more limited (and pricey) if you want a true, untouched Wild Turkey product.
Single Cask Nation
Enter Single Cask Nation. They have bottled every Wild Turkey barrel at cask strength. Not only that, but they also choose not to chill filter it (unlike most WT products).
Finally, the barrels they typically release are at or above the 9 year-old mark too. All of this is a recipe for success in the age of hyper-taterdom.
Warehouse G, 2020
I was lucky to get my hands on a bottle of last year's Warehouse G release. The whole barrel only produced 150 bottles and came out to be 115.7 proof.
But one thing I love about these SCN bottles (aside from the fact this one matches the size and shape of a standard bottle of Russell's Reserve) is that they put profile descriptions on the side of the bottle so that you would know what to expect before you ever lift a glass up to your face.
Those descriptions didn't surprise me much when I saw that the main characteristics of this bottle were sweet and rich with nutty and oaky notes rounding it out.
But what other peculiarities would I find within? There's only one way to find out. I sampled this neat in a glencairn.
Tasting Notes
Nose: Sweet is definitely the dominant trait on the nose as notes of toffee, marzipan and simmering vanilla pudding all fill my nostrils.
More complex notes of baking spices, brown butter and bee pollen will raise an eyebrow or two for their uniqueness. Fruit is not always a trait that stands out among Wild Turkey products, but in this one I can distinctly smell raisins and figs.
Finally, the non-chill filtered aspect of this dram must be responsible for the aged and weathered oak aroma that I find at the end.
Palate: If sweetness was the dominant scent, then toasted nuts is the dominant flavor. The nutty scents mesh together with plenty of oak, dark chocolate and crushed walnut shells which makes each sip slightly dry.
Sweet notes prevent the dram from being too dry with flavors of crème brule and apple-and-raisin spiced tartlets. There is plenty of spice throughout as peppercorns, red pepper flakes, sharp cinnamon and allspice all provide some exciting bursts to keep your tongue entertained.
Finish: The nuttiness continues while lots of cinnamon-sugar spiced coffee cake remains. Oak and tobacco are present, but in a lighter capacity. But it is my opinion that the vanilla and toffee are the stars of the finish.
Score: 8/10
Up until I drank this bottle, I have had only one other experience with a private pick from Warehouse G. This was a single barrel picked by Rural Inn last year.
To put it lightly, I didn't really care for it. There was just something so simple and one dimensional and frankly, "boring" about it. Even Rarebird101 describes barrels that come out of Warehouse G as "complex & balanced profile that's some of everything (yet not too much of a single feature)."
Disregarding the first word of his description, the rest of it sounds like he's saying that it's a jack of all trades and master of none.
Final Thoughts
In the case of this Single Cask Nation pick, I found I enjoyed it much more than that Rural Inn pick, but it wasn't anything groundbreaking or unique.
Still, I did find the flavors and scents to be deeper and more vivid which I appreciated, but it lacked any sort of special element that could have resulted in a higher score and more praise.
This SCN pick was great, but nothing stood out as memorable. Nutty, sweet and slightly fruity, it's got a lot to make you happy when drinking it.
But when I think of SCN's reputation on picking barrels that highlight their discriminating palates, I was a little disappointed to find this tastes extremely close to a common Russell's Reserve single barrel.
Maybe this just goes to show the limitations of Warehouse G overall. And maybe that means that out of all the warehouses that single barrels rolled out of last year, that it was Warehouse E that truly was the best.
Ratings Breakdown
1 | Disgusting | Drain pour (Example: Jeffers Creek)
2 | Poor | Forced myself to drink it
3 | Bad | Flawed (AD Laws 4 Grain BiB, Clyde Mays anything)
4 | Sub-par | Many things I'd rather have (Tincup 10 year)
5 | Good | Good, solid, ordinary (Larceny, Sazerac Rye)
6 | Very Good | Better than average (Buffalo Trace, OGD BiB)
7 | Great | Well above average (Old Ezra Barrel Proof, Old Weller Antique)
8 | Excellent | Exceptional (Michter's Barrel Proof Rye, Four Roses Barrel Strength)
9 | Incredible | Extraordinary (GTS, 13 Year MGP or Canadian Rye)
10 | Insurpassable | Nothing Else Comes Close (William Larue Weller)
Featured Products
Description:

The Aged & Ore Neat Traveler is a complete travel kit for spirits. We combined our widely praised Neat Glass with one of our 3oz Flight Bottles and housed them together in a custom EVA travel case. Perfect for a night away with your favorite pour. The tie
Description:

The Aged & Ore Bottle Flight is a premium set of 4 custom silicone wrapped glass bottles designed to transport and share samples of your favorite spirits. The flight bottles come in a custom EVA travel case that fits perfectly in any small bag. An Aged &
Description:

This Bundle combines two of our crowd favorite products, creating the ultimate travel bundle to bring along your favorite spirits and glassware. Bundle Includes: Neat Traveler (Gray) Bottle Flight (Gray) Note: This bundle is only available in gray and col
*Bourbon Culture is reader-supported. When you buy through links on our site, we may earn an affiliate commission.