*Bourbon Culture is reader-supported. When you buy through links on our site, we may earn an affiliate commission.
The name "Starlight Distillery" and "Barrel Finished Whiskey" is practically synonymous these days. Sure, Starlight does produce some very good bourbon and rye whiskey that is unfinished, but the ones they're known for are finished. Enthusiasts from multiple states have started to latch onto the brand solely because of their single barrels that are finished in rare or unique barrels. Other distilleries haven't been as fast to join the party leaving Starlight in very select company.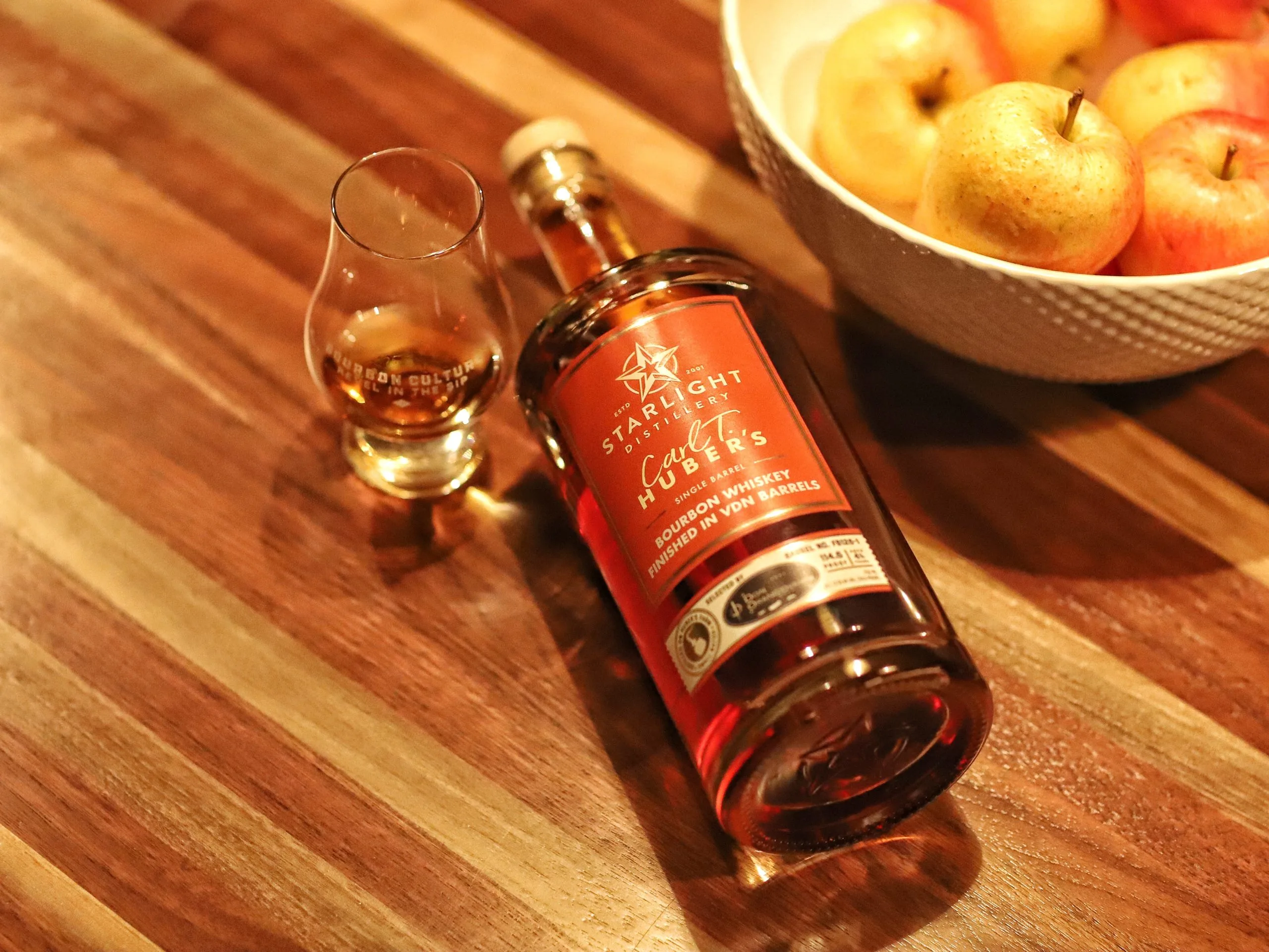 Before Starlight was created, it was only known as Huber's Winery. The Winery had a relatively long history of making various fruit brandies alongside of their wine with peach brandy being their most recognizable ones. But the bottle I'm reviewing today was not finished in a leftover brandy or wine cask from their grounds. Instead, the bourbon bourbon was rested for many months inside of a Vino de Naranja (VDN) cask that comes from the Andaluica territory of Spain. VDN is made with fresh orange peels macerated with white wine. Through this process of soaking, the wine extracts subtle orange flavors without the use of heat. Once those barrels were dumped and transported to Indiana, Starlight has been filling them up with both bourbon and rye whiskey. The bottle I am reviewing today is from an unknown group that gave it the name "Don Orangiovanni." I know no other information that this, but it seems like it's a made up name.
Base Bourbon Stats
The quick stats on the base bourbon is that it is a blend of 4.5, 5 and 6 year old bourbons. Those barrels contained a blend of Starlight's 3 grain mashbill (60% corn, 20% rye and 20% malt) and their 4 grain mashbill (51% corn, 20% rye, 20% malt and 9% wheat). This blend is typically used to fill up the finishing casks as needed which technically results in a "single" barrel product in the end.
Starlight has a few finishing casks that get a lot of attention from enthusiasts and VDN is definitely one of them (along with their Cigar Batch, Honey and Peach finishes). I believe enthusiasts have embraced this one so much because Heaven Hill released a similar bourbon in
2019 in the form of a Parker's Heritage release.
That one saw bourbon being finished in
Orange Curacao barrels.
The difference between Orange Curacao and VDN seems to be that Curacao is made with a base of either grain neutral spirits or cognac whereas VDN is a wine. So does that mean that the orange taste in this release from Starlight will have less orange influence? There's only one way to find out. I sampled this neat in a
glencairn
.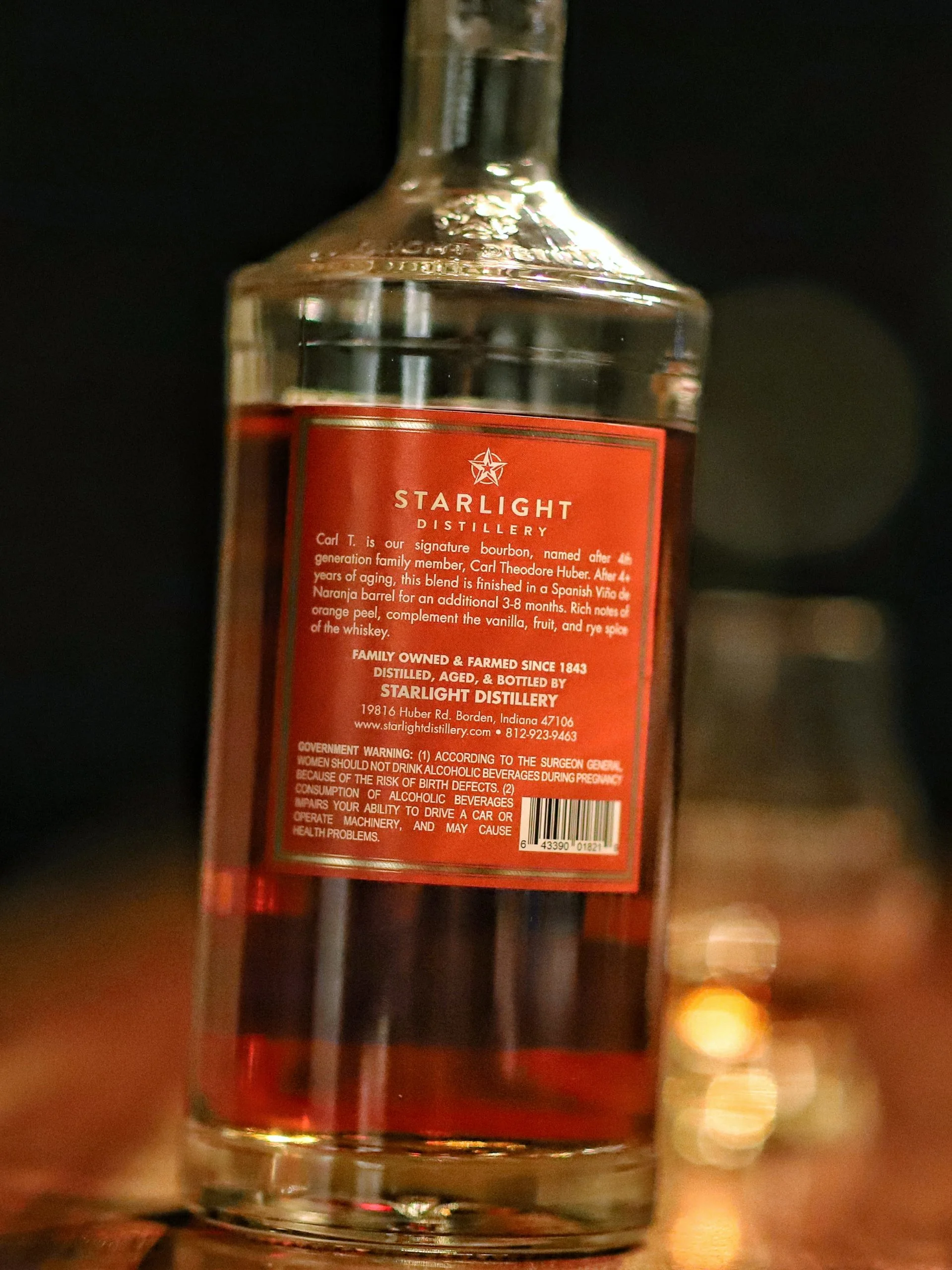 Tasting Notes
Nose
: You'd think oranges would be the first note I would find, but it is actually the smell of melted Halloween Candy Corn. Those artificially sweet notes actually combine quite well with notes of
pithy orange flesh
and sharp cinnamon. This is a really fascinating
nose
when all of those notes combine with oak spice and a more mellow, seasoned oak.
Palate: The spice is very prevalent upon each sip, attacking the tip of your tongue. Cinnamon rolls smothered with orange creme icing showcase a sweeter version of Starlight's standard bourbon. It has very bold flavors but cannot completely cover up the youthfulness of the bourbon underneath. Each sip straddles a line between orange juice and its distant cousin "Sunny-D." There is a certain antiseptic mouthwash quality that gradually increases as the session goes on. I wish it wasn't there. The barrel char influence from bourbon barrel peaks its head out every now and then but gets easily overwhelmed by the waves of orange flavors. As a final note, every now and then I pick up on a sensation that makes me think I'm tasting a malt whiskey, it's odd but it's just something that I circled a lot in my tasting notes.
Finish: Orange notes stay on my tongue stick around for a long time. They are a bit sweeter than they tasted on the palate. There is still sharp cinnamon flavors and other baking spice notes floating around giving a warm Kentucky Hug all the way down. The oak turns somewhat dry too. The bourbon underneath shows some lingering notes of oak and vanilla. Overall, the VDN barrel helps cover up about 90% of the youthful bourbon flavors but I still think that this could be a really special bourbon with about 2 more years in the barrel.
Score: 7.2/10
Overall, the VDN cask used in this single barrel release did what it was asked. It imparted very polarizing orange notes to a bourbon was already pretty good but may have needed a little extra time in the barrel. In my notes, I wrote down that Starlight needs to find a way to increase the age of their barrels because in most of their releases I find that the finishing flavors get interrupted by youthful undertones.
With that being said, I noticed the VDN barrels seemed give the bourbon less orange-forward notes than the Parker's Heritage release I talked about earlier. In regard to that one, the Orange Curacao barrels made it taste like Mop N' Glo floor cleaner. This Starlight release's orange influence is somewhat less than that, but still unmistakable.
Conclusion
In the world of bourbon flavors, there are really only about a couple dozen flavors that naturally occur through the distillation process and from interaction with the oak of a barrel. Orange is one of them and many people prize bottles that contain a lot of it. I view finishing bourbon in VDN barrels as a way to just accentuate the orange note, which is why I ultimately enjoyed this bottle. So if you are a person who also enjoys the fruit-forward notes in your bourbon, then Starlight's VDN finished bourbon may be for you.
Featured Products
Description:

The Aged & Ore Neat Traveler is a complete travel kit for spirits. We combined our widely praised Neat Glass with one of our 3oz Flight Bottles and housed them together in a custom EVA travel case. Perfect for a night away with your favorite pour. The tie
Description:

The Aged & Ore Bottle Flight is a premium set of 4 custom silicone wrapped glass bottles designed to transport and share samples of your favorite spirits. The flight bottles come in a custom EVA travel case that fits perfectly in any small bag. An Aged &
Description:

This Bundle combines two of our crowd favorite products, creating the ultimate travel bundle to bring along your favorite spirits and glassware. Bundle Includes: Neat Traveler (Gray) Bottle Flight (Gray) Note: This bundle is only available in gray and col
*Bourbon Culture is reader-supported. When you buy through links on our site, we may earn an affiliate commission.