*Bourbon Culture is reader-supported. When you buy through links on our site, we may earn an affiliate commission.
Ammunition Straight Bourbon is the result of winemaker Daylight Wine & Spirits combining their passion for making quality wines with their passion for making quality whiskies. Wine makers typically age their wine in barrels for a short amount of time to achieve the desired oak and tannin traits that give it more depth and complexity. But combining wine and whiskey also has a history going all the way back to Scotch producers seeking out specific wine barrels to age or finish their spirit in. That trend has rapidly begun to take hold in American whiskey production over the last decade with Bourbon, rye whiskey and even American Single Malt getting into wine finished treatments.
Daylight Wine and Spirits Cabernet Sauvignon barrels originally held an equally potent red wine in the form of French Bordeaux. These casks had been used for quite some time, so the Daylight crew decided it was time to dump in their own Bourbon and see what would happen after a few months.
A combination of mash bills? Or a unique mash bill made just for Daylight?
The Bourbon they used has a unique mashbill of 60% corn, 25% wheat, 10% rye and 5% malted barley. The batch contains a combination of barrels that are 2, 3 and 4 years old. If we were talking craft whiskey, I would hesitate at this moment, but I came to find out that it is sourced from MGP in Indiana. While the bourbon is still young, MGP seems to have some mastered some sort of dark magic when it comes to creating bourbon that doesn't taste as young as it is. What I'm unsure about is if the mash bill was specifically produced for Daylight or if it is a combination of MGP's ryed and wheated bourbon mash bills. I suppose it doesn't much matter as the wine finishing should round off any of the rough edges of the bourbon underneath. Additionally, they also proofed it down to a manageable 95 proof which should help cover up any youthfulness.
Daylight states that this bourbon is
finished for no less than 3 months
which seems about right for the industry. Although I'm a fan of whiskey being finished based on taste rather than on a prescheduled timetable, this doesn't seem like that's what is being done here. So how is it? I'm sampling this neat in a
glencairn
to find out.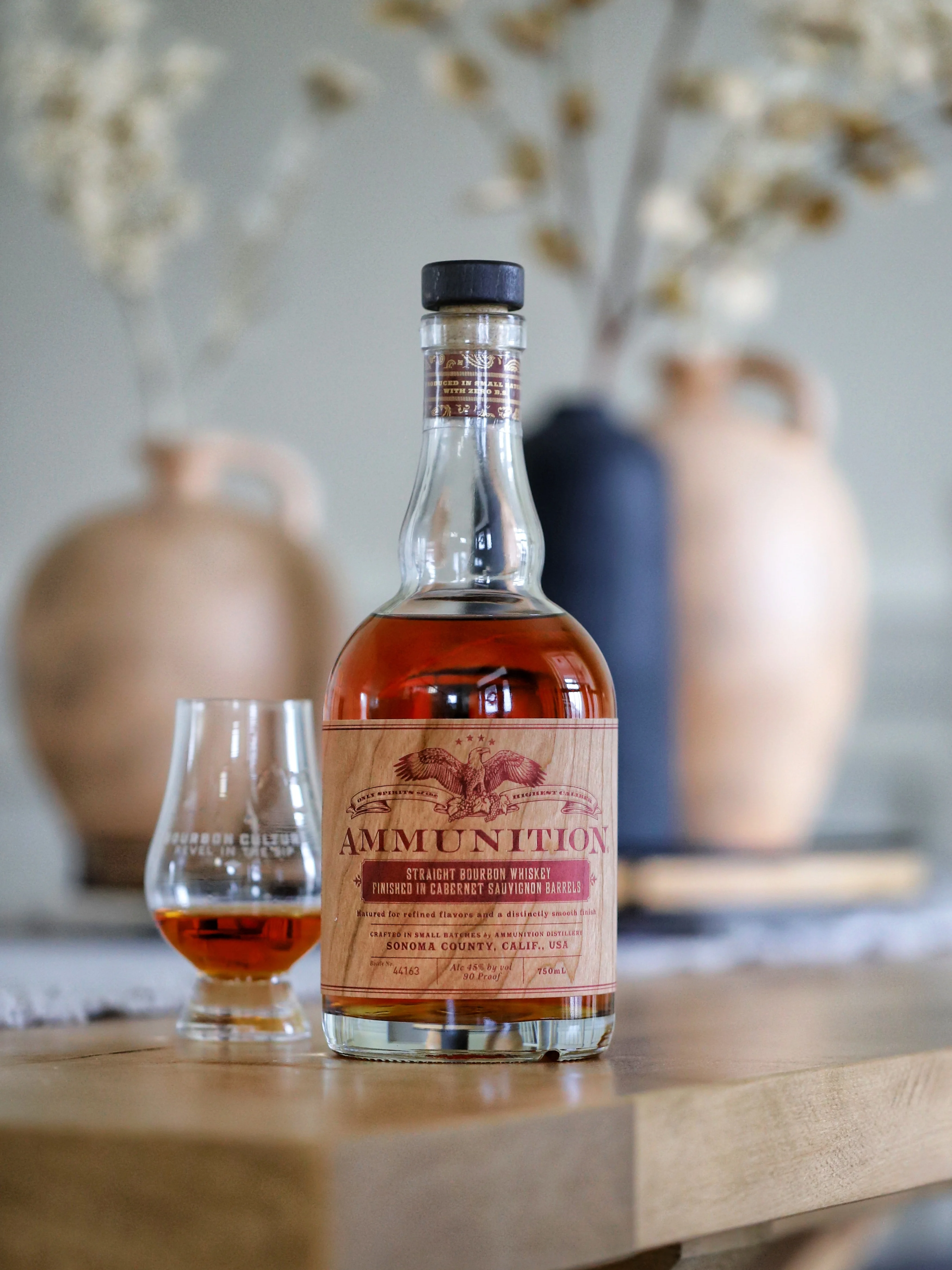 Tasting Notes
Nose:
The
nose
immediately fills your nostrils with
the scent of wine and all the fruits that come with it.
Macadamia nut cookies
coupled with brown sugar and vanilla custard give the impression of a very sweet bourbon overall. Any youthful bourbon notes are covered up very well. But will that remain true on the palate?
Palate: The fruit flavors that I initially find do an excellent job at holding back the youthful bourbon flavors. Sweetened stone fruit flavors can be found with every sip. For being finished in wine casks, I'm surprised that I'm not detecting a lot of grape notes. Holding it in my mouth for a while reveals some green oak, a bit of acetone and some citrus-y lemongrass. These may not sound appealing, but they aren't at the forefront of each sip so they don't ruin the experience.
Finish:
The finish gets a bit more dark than the
wine-forward
nose
and palate have been. Notes of seasoned and
burnt oak
coupled with
stale tobacco
finally show off the barrel influence. There are cherries that remain for sweetness, but it gets covered up a bit by a very sharp tannic note that is hard to pinpoint.
Score: 6/10
The wine barrels certainly helped by imparting this bourbon with a variety of interesting fruit notes that covered up the youthful bourbon underneath. I think it was an odd decision to combine two and three year old barrels with the four year old ones to make this batch. You can taste the youthfulness of those barrels as the session progresses. Maybe a smaller release should have been considered (using just the 4 year old barrels) if it would have increased the quality of the liquid. And it's not like this batch was small either. My bottle number says it's just over 44,000 which indicates the batch was very large.
The wine barrels are the stars of the show here. I could tell from the moment I poured my first dram how much influence they had over the distillate underneath. It brought sweet fruit notes and some additional oak notes to the finish. Having had young, unfinished MGP before, I know that those notes would not have existed. This helped to make the whole experience more dessert-like which is a good thing to be when you have a young whiskey.
Final Thoughts
Should you buy Ammunition Bourbon? I think it has enough good qualities to be a bourbon that makes sense in your rotation. For anyone still on the fence, I want to remind you that we're still talking about a base bourbon that was made by MGP and also that the wine barrels are (from what I can tell) fresh, possibly first-fill barrels that spend their life with a lot of good wine in them. These traits alone make Ammunition Bourbon more special than you'd think. I know that I'm looking forward to even more releases from them and hopefully some single barrels too!
Featured Products
Description:

The Aged & Ore Neat Traveler is a complete travel kit for spirits. We combined our widely praised Neat Glass with one of our 3oz Flight Bottles and housed them together in a custom EVA travel case. Perfect for a night away with your favorite pour. The tie
Description:

The Aged & Ore Bottle Flight is a premium set of 4 custom silicone wrapped glass bottles designed to transport and share samples of your favorite spirits. The flight bottles come in a custom EVA travel case that fits perfectly in any small bag. An Aged &
Description:

This Bundle combines two of our crowd favorite products, creating the ultimate travel bundle to bring along your favorite spirits and glassware. Bundle Includes: Neat Traveler (Gray) Bottle Flight (Gray) Note: This bundle is only available in gray and col
*Bourbon Culture is reader-supported. When you buy through links on our site, we may earn an affiliate commission.