*Bourbon Culture is reader-supported. When you buy through links on our site, we may earn an affiliate commission.
Bourbon that has been finished in a secondary barrel is a relatively new phenomenon among American distilleries. The Scots had been using this idea for decades by seeking out Sherry casks from Spain to mature or finish their Scotch in. So it was only a matter of time before those same techniques would spill across the pond and into our distilleries.
Starlight Distillery's Bourbon finished in a peach brandy cask
Once producers latched onto the idea of barrel finishes, they typically went all-out. High West felt the pulse of the industry and expanded their barrel finishing program after the success of A Midwinter's Night Dram. Belle Meade also became a big hit by releasing a base collection and single barrel series of finished bourbons as well. Barrell Craft Spirits seems hell bent on finding and using every finishing barrel known to man as well. But there is a tiny distillery in southern Indiana (about 20 miles north of Louisville) who decided that this would be the cart they attached their horse to: Starlight Distillery (part of Huber Winery).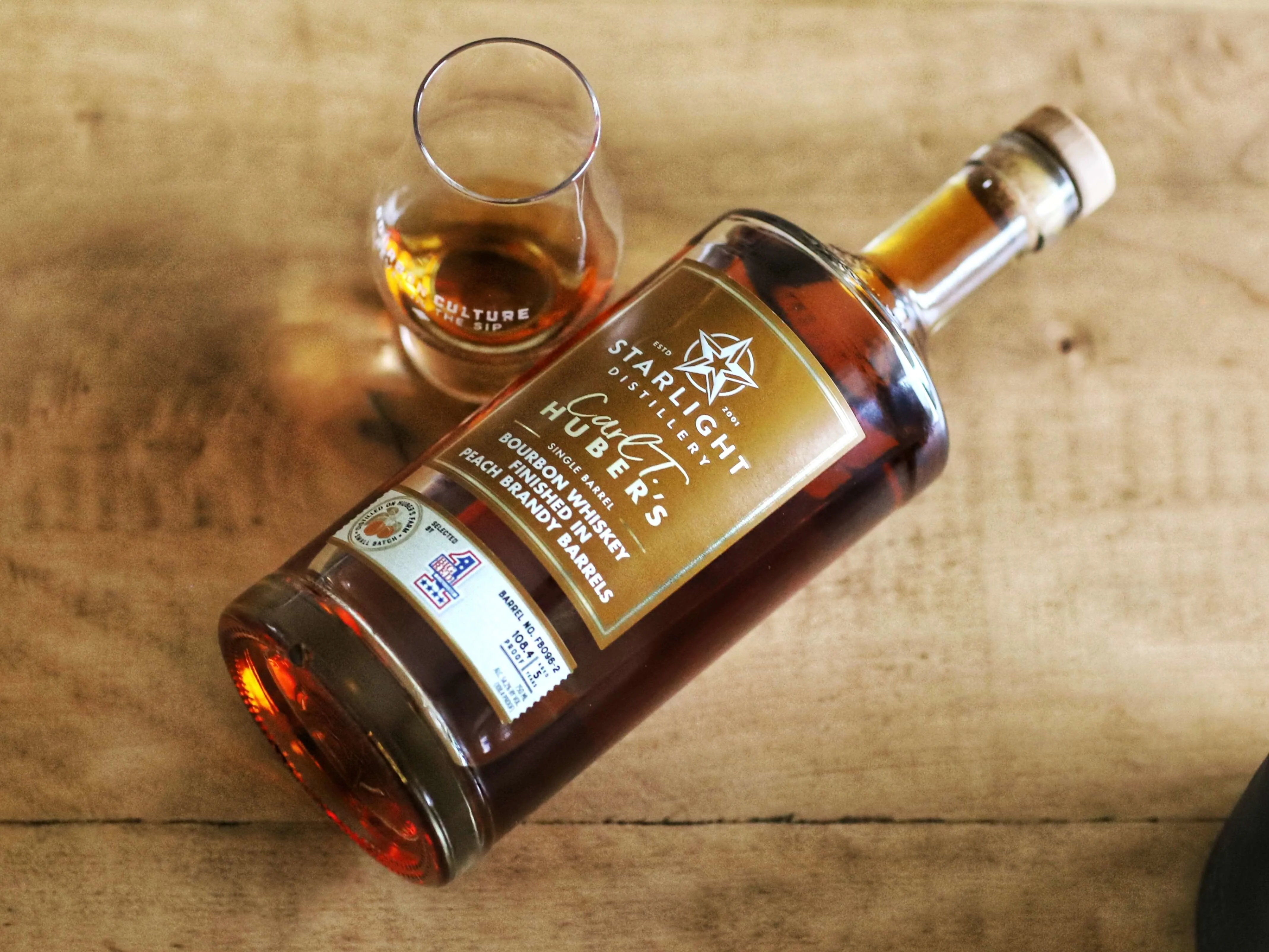 Starlight Distillery has a very competent bourbon and rye whiskey distillation program. They even do the right thing by ensuring that no barrel is released younger than 4 years old. But it's their single barrel program of finished whiskey that gets the most buzz today. Huber sources a huge variety of barrels to finish their bourbon or rye whiskey in and it's created a cult following around the area (and even in the states they distribute to).
Starlight starts by using stocks of their own 4.5 to 5.5 year old rye whiskey or bourbon and finishing them in various barrels. When a group or store comes in to do a single barrel pick, they get to taste straight from the barrel which is also how the whiskey is bottled (at barrel proof). Starlight barrels their whiskey somewhat low (the number always changes depending on who is distilling) so that means the proofs of the whiskey are also low; typically between 104 and 114 proof.
Today's bourbon that I'm reviewing is a single barrel pick from Big Red Liquors that was finished in Peach Brandy Barrels. Starlight Distillery is well-known for their own Peach Brandy (from peaches grown on their farm) which comes in a very ornate tear-drop shaped bottle with a heavy brass topper. However, I've not heard if the Peach Brandy barrels that were used to finish this bourbon were barrels from Starlight's own brandy or if they were sourced from somewhere else. If you know the answer to this, drop me a line! Anyway, the label states that it's 5 years old and comes in at 108.4 proof. These stats seem to indicate good times ahead, so let's see what it tastes like. I sampled this neat in a glencairn.
Tasting Notes
Nose: No surprise here, the nose smells like fresh cut peaches. I was expecting to find a "pie dough" scent as well (this has happened with a bottle of Old Hamer Peach Brandy finished bourbon) but I don't find it here. There is some cornbread scents underneath it though. The whole nose just smells very "soft" and even the oak I find smells soft. The peach is both helping and hurting the nose because it's covering up a lot of the bourbon traits that I'm looking for but at the same time it's probably helping to cover up any youthfulness from the distillate.
Palate: Peach preserves and some light brown sugar make each sip nice and sweet. There is also a decent compliment of spices in the form of clove, cinnamon, red pepper flakes and a touch of chili powder. This makes it a bit spicier than I was anticipating, but it's still nice. Barrel char shows me a drier side of the tannins while a bit of green wood is also present, showing the youthfulness of the bourbon within. A small amount of rye shows through in the form of fresh mint too.
Finish: Peach still is the star of the show on the finish only this time with a touch of menthol coolness. The oak and leather I get on the finish are more developed and taste older than they did on the palate. The spices from the palate are still there and may seem a little more amplified. The proof seems much higher on the finish than the label would have you think.
Score: 6.1/10
This bourbon is somewhat light and very drinkable. Overall the peach is so smothering that it tastes more like Peach Brandy finished in bourbon barrels than the other way around. This is not a bad thing to the right drinker, but I can see many being turned off if they can't taste the base whiskey underneath. Ultimately I did enjoy this for what I expected it to be: a sweet, peachy dram that's perfect for warm weather sipping. I've had Starlight's Peach Brandy before and while it's good at 80 proof, it needs to be higher proofed before I spend my hard-earned money on it. A bottle of this bourbon finished in a peach brandy barrel seems to satisfy my desire for that higher proofed brandy, so I'll take it.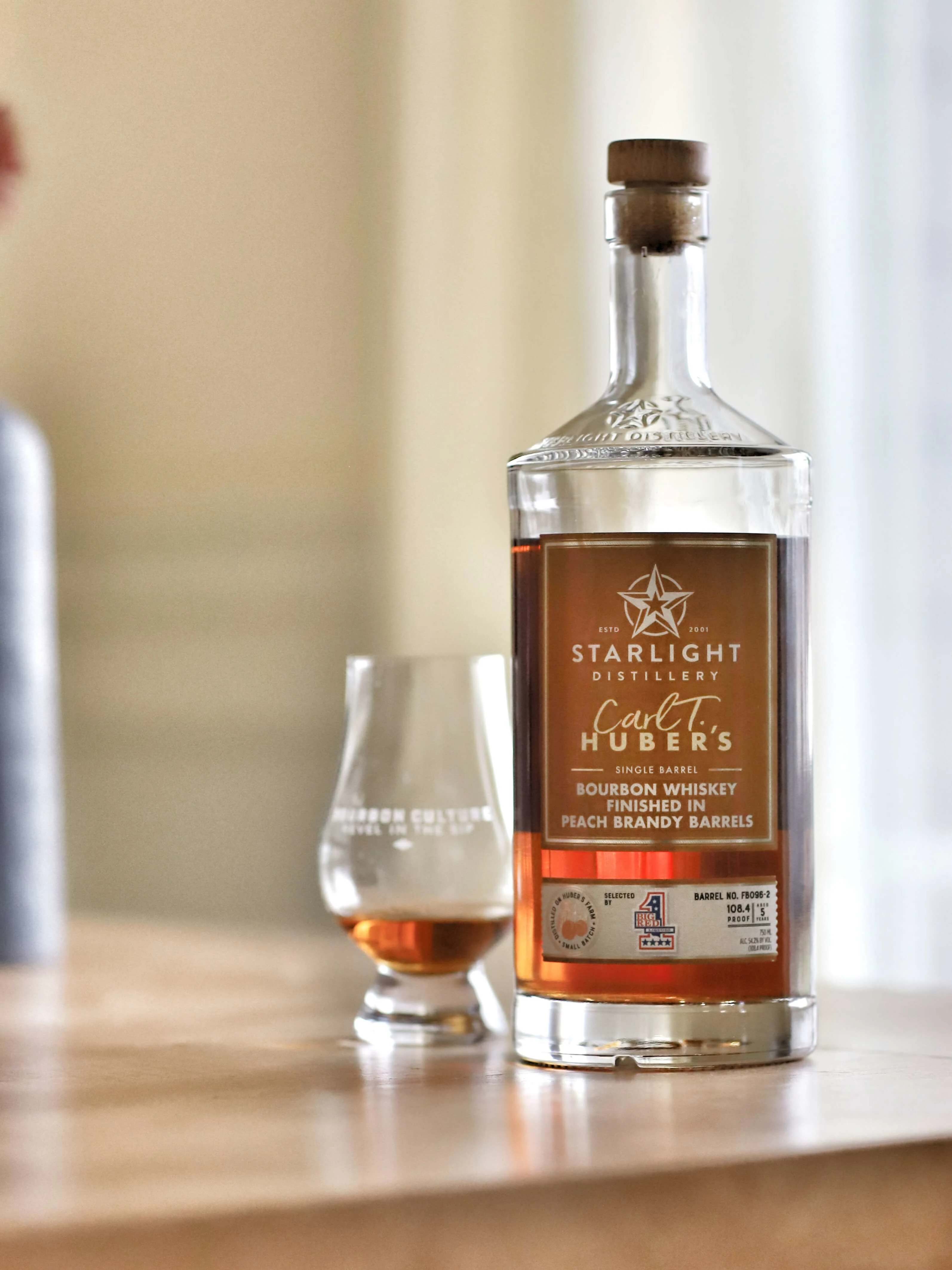 The reason why my score wasn't higher is that Starlight's own distillate still struggles with showing its youthful undertones. It needs more time to mature in the barrel, plain and simple. I've felt that way with most of these Starlight picks unless the finishing barrel was so powerful that it was able to cover up the youthfulness of the whiskey. That's just the way it's going to be for a few more years I suppose, but I do have great faith that Starlight's products will keep improving in the coming years.
Final Thoughts
The best thing that these picks have going for them are their price (usually below $70) and their availability (if you live in a state that sells them). I can be assured that if I miss a release of a certain kind of barrel that I wanted to try, that I'll be able to find it later down the road. That helps alleviate some of the FOMO that so many of us have in this hobby. I look forward to tasting many more of their barrels in the years to come and can't wait to see what they roll out with next.
Featured Products
Description:

The Aged & Ore Neat Traveler is a complete travel kit for spirits. We combined our widely praised Neat Glass with one of our 3oz Flight Bottles and housed them together in a custom EVA travel case. Perfect for a night away with your favorite pour. The tie
Description:

The Aged & Ore Bottle Flight is a premium set of 4 custom silicone wrapped glass bottles designed to transport and share samples of your favorite spirits. The flight bottles come in a custom EVA travel case that fits perfectly in any small bag. An Aged &
Description:

This Bundle combines two of our crowd favorite products, creating the ultimate travel bundle to bring along your favorite spirits and glassware. Bundle Includes: Neat Traveler (Gray) Bottle Flight (Gray) Note: This bundle is only available in gray and col
*Bourbon Culture is reader-supported. When you buy through links on our site, we may earn an affiliate commission.