*Bourbon Culture is reader-supported. When you buy through links on our site, we may earn an affiliate commission.
Spring Mill Bourbon is a brand owned by Heartland Distillers headquartered in Indianapolis. They have been distilling their own spirits since at least 2008. There are some rumors on the internet as to if they source their whiskey or not, but I have not definitively found that to be the case. Also, because of their (relatively) older age as a distiller, it could be assumed that they have had long enough to distill their own distillate and haven't needed to source.
There was one instance where a local liquor store chain gave them some MGP bourbon and asked them to finish it in a local brewery's (Taxman) stout beer casks, but that's about it. Heartland Distiller's website actually has very little information about the products they make aside from names and a brief description but they don't list mashbills or exact aging times. In the summer of 2019, they finally opened their doors for public tours, which is nice because it gives their operation some additional legitimacy.
90 proof, Twice Barreled Bourbon
Today, I have a bottle of their 90 proof, twice barreled bourbon. The rough specs on this one is that they take their own 2 year-old bourbon and then dump it into a brand new barrel for additional aging (I believe up to 9 months). The price for this runs around $25-30, which is roughly half the price of a similar product: Woodford Reserve Double Oaked or for a little bit more money, Old Forester 1910. I was thinking I'd do a comparison review with those two, but on paper I'm just not sure they line up well seeing as how this product is half the price and has half of the age. I did have a glass of the Woodford on hand to do a couple nosings with, but that was the extent. I sampled this neat and in a Glencairn.
Tasting Notes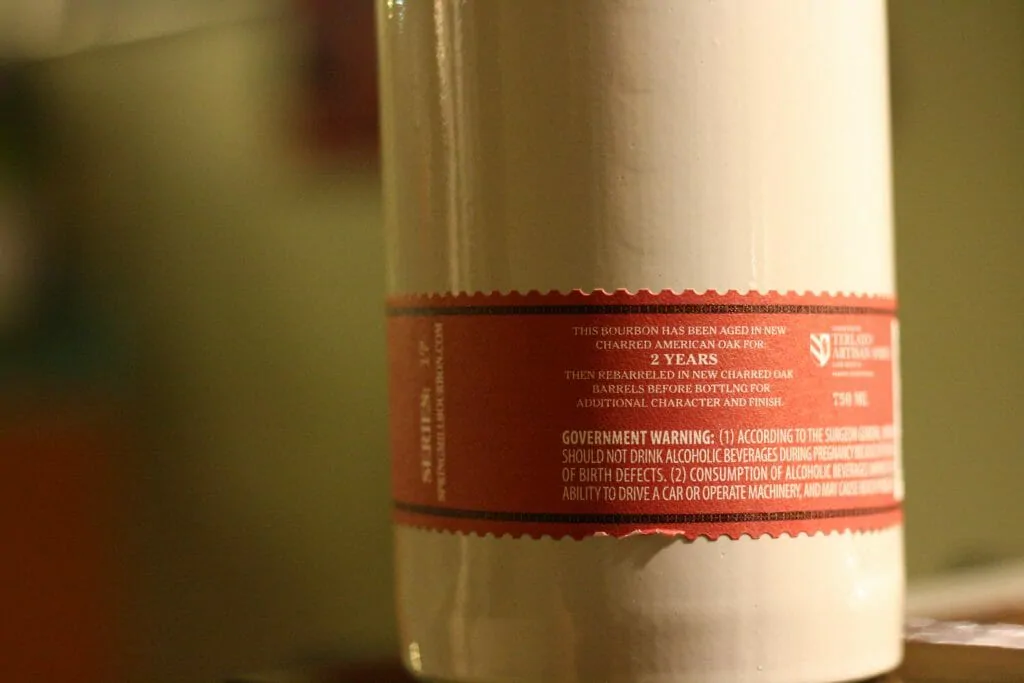 Nose: The nose doesn't have a big punch of sweet scents like most bourbon I'm accustomed to. There's some citrus zest, sweet hay, fresh sawn wood, and wildflowers that are all pleasant enough, but the only sweetness I can find is a little bit of honey and some light vanilla. Otherwise, the nose seems as young as the age statement says it is.
Palate: The mouthfeel is pretty thin overall. This is somewhat interesting given that the mouthfeel for Woodford Double Oaked and 1910 is so rich and thick. The first taste note is like the outside of a charred marshmallow and then there's a little bit of honey sweetness with a hint of chili powder. The best tasting note on my tongue, however, is that of black tea leaves. But overall, there is not a lot of sweetness on the tongue.
Finish: Rye spices come out on the finish, which makes me wonder how much rye is being used in the mashbill. It's pretty strong with some black pepper heat, scorched sugars and barrel char. The last two are probably the after-effects of the double-barrel treatment.
Score: 5.8/10
Spring Mill Twice Barreled Bourbon is unfortunately not up to the standards of Woodford's Double Oaked or Old Forester's 1910 in terms of delivering a sweet, rich and layered sip. I'd like to try to harp on the fact that it's half of those two bourbon's price, but that really doesn't give it a free pass.
Final Thoughts
There are simply too many non-double-barreled bourbons out there at this price that are better than this. I don't understand why they couldn't put an older aged product in the secondary barrel because Spring Mill already sells a 9 year old bourbon (that is supposedly their own distillate as well). In the end, I like to support my local distilleries so that they continue to grow, but there are a few flaws here that need to be addressed for this to be considered for anyone's next purchase.
Ratings Breakdown
1 | Disgusting | Drain pour (Example: Jeffers Creek)
2 | Poor | Forced myself to drink it
3 | Bad | Flawed (AD Laws 4 Grain BiB, Clyde Mays anything)
4 | Sub-par | Many things I'd rather have (Tincup 10 year)
5 | Good | Good, solid, ordinary (Larceny, Sazerac Rye)
6 | Very Good | Better than average (Buffalo Trace, OGD BiB)
7 | Great | Well above average (Old Ezra Barrel Proof, Old Weller Antique)
8 | Excellent | Exceptional (Michter's Barrel Proof Rye, Four Roses Barrel Strength)
9 | Incredible | Extraordinary (GTS, 13 Year MGP or Canadian Rye)
10 | Insurpassable | Nothing Else Comes Close (William Larue Weller)
Featured Products
Description:

The Aged & Ore Neat Traveler is a complete travel kit for spirits. We combined our widely praised Neat Glass with one of our 3oz Flight Bottles and housed them together in a custom EVA travel case. Perfect for a night away with your favorite pour. The tie
Description:

The Aged & Ore Bottle Flight is a premium set of 4 custom silicone wrapped glass bottles designed to transport and share samples of your favorite spirits. The flight bottles come in a custom EVA travel case that fits perfectly in any small bag. An Aged &
Description:

This Bundle combines two of our crowd favorite products, creating the ultimate travel bundle to bring along your favorite spirits and glassware. Bundle Includes: Neat Traveler (Gray) Bottle Flight (Gray) Note: This bundle is only available in gray and col
*Bourbon Culture is reader-supported. When you buy through links on our site, we may earn an affiliate commission.